Table of Contents
Are you looking for the best party ideas? This list features our favorite party ideas for birthdays, baby showers, and gender reveals. There is a theme idea for every boy and girl! You'll find inspiration for every age range to help you plan your invitations, decor, and food for your celebration — even party favors for your theme!
Circus Birthday Party Ideas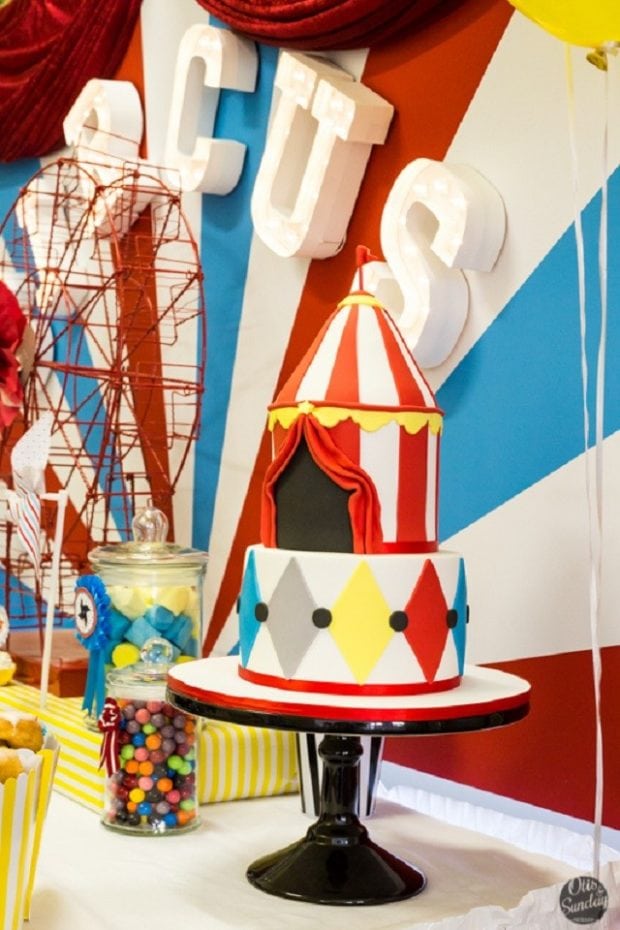 Been to the circus lately? Here's your ticket! This circus party has all of the colorful iconic props, including decorated cookies, cupcakes, and my favorite, clown cake pops. From Kiss With Style via Anders Ruff
Balloons, vibrant decorations, themed games and carnival treats will always shout, party time but Carol's styling is especially appealing. From Partylicious via Spaceships and Laser Beams
Robot Themed Birthday Party Ideas: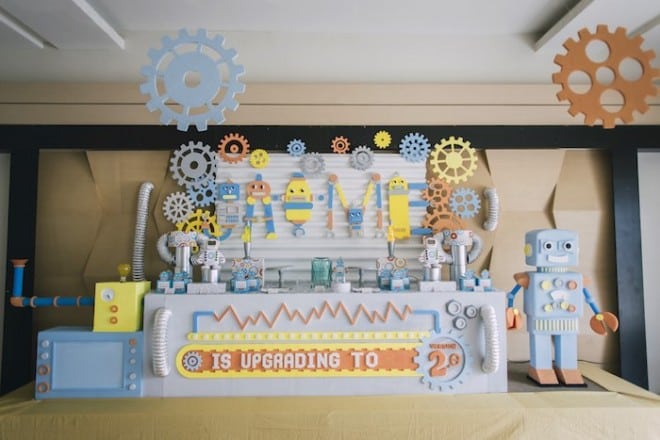 "Data upgrading to version 2.0". Isn't that a cute way to announce a second birthday? Whimsical robots star on all sorts of yummy looking treats. Gear shaped cookies, light bulb-shaped beverage bottles, and awesome themed rice crispie treats are just a few of the delights at this celebration. From Party Deco via Kara's Party Ideas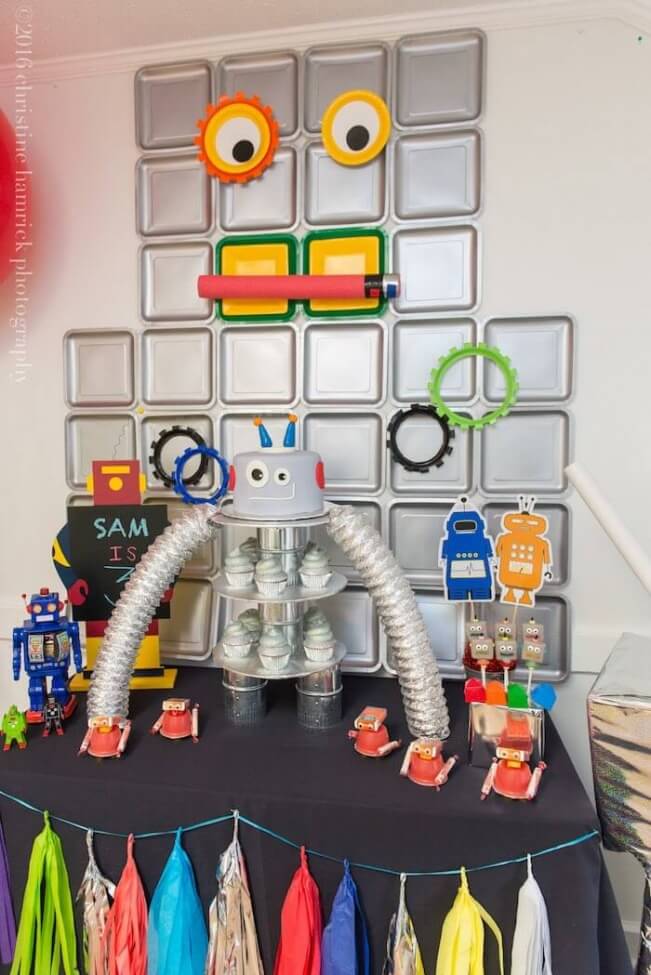 The robot theme is one of my personal favorites for a little guy and this rendition is darling. The oversized robot backdrop made from paper plates is a terrific beginning. A birthday cake with dryer vent arms is sure to make you grin, plus there are so-cute robot applesauce cups, cake pops and great themed activities. The colorful guest table is loads of fun! From Teacups and Trucks via Kara's Party Ideas
Book Themed Party Ideas

Go, Dog, Go! Party
Chantelle's party ideas are delightful! The oversized "book" on the mantel, the tree cupcake stand, clever food choices; one sweet party. From Dolled Up Design via Spaceships and Laser Beams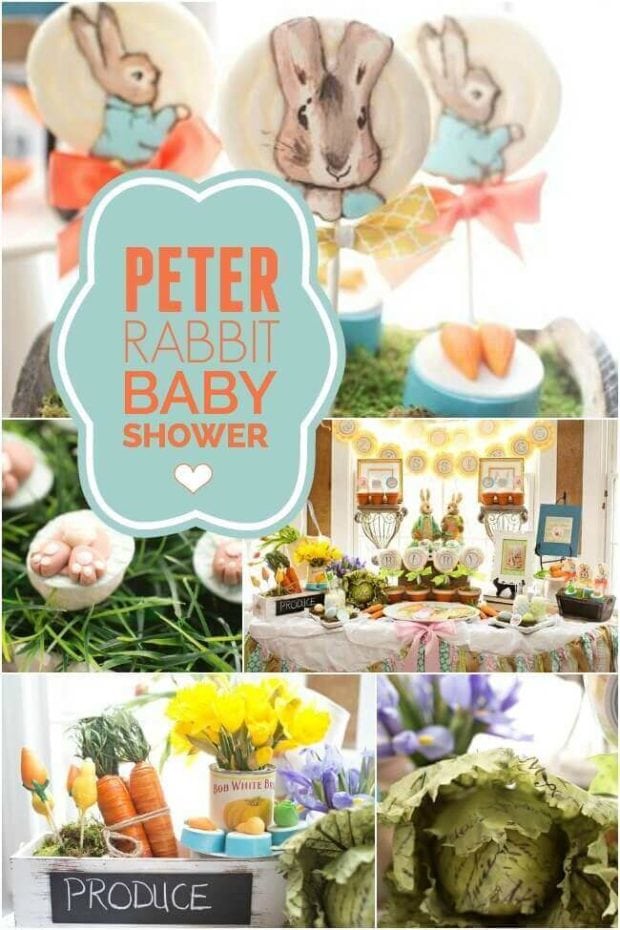 Peter Rabbit Inspired Party
The flowers. The carrots. The lettuce! Fresh colors, amazing desserts and adorable décor make this event a charmer. From Charming Touch Parties via Spaceships and Laser Beams
Dr. Seuss Party Ideas
This event was commemorating Dr. Seuss, but if you're enamored with his brand of childhood whimsy and political commentary, you'll find lots of colorful ideas for your own kid's birthday party. From Crissy's Crafts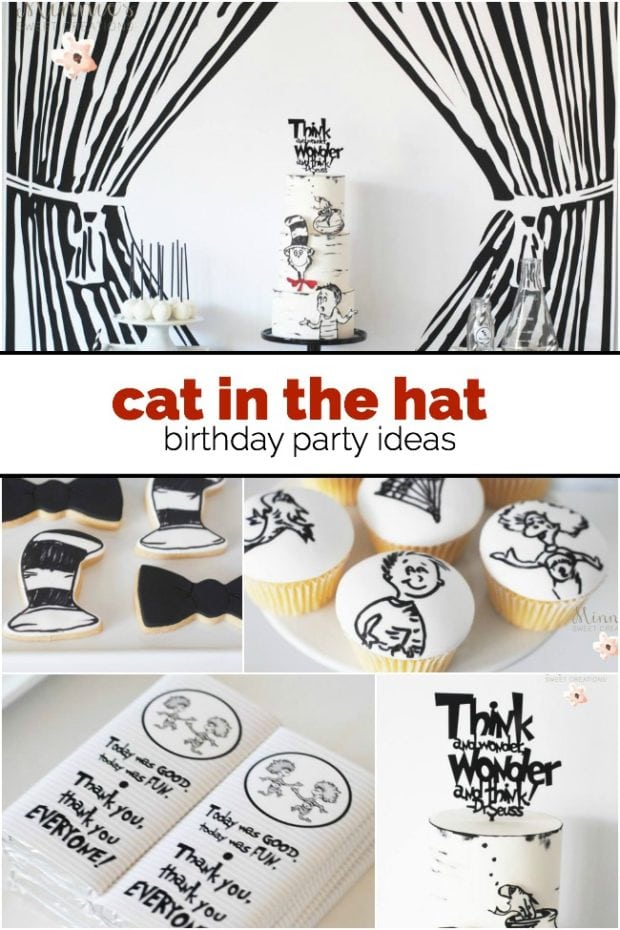 Cat in the Hat Party Ideas
Contemporary black and white pull back the curtain on a way cool party table! An impressive triple-layered cake, detailed cupcakes and themed cookies really please! From Minnie's Sweet Creations via Spaceships and Laser Beams
Colorful and charming, this celebration theme works for back-to-school, end-of-school, birthday parties and playdates! The friendly caterpillar is easy to recreate and he's a great way to introduce fruits and vegetables to kidlet appetites. From ANGELIQUE JUTRAS VIA SPACESHIPS AND LASER BEAMS
Magic Treehouse Birthday Party Ideas
Books and adventure mix well, especially when you add friends to the mix! Heidis party is filled with thoughtful and clever ideas that thrill the birthday boy and engage kid-guests in several satisfying ways. From Parties for Pennies via Spaceships and Laser Beams
Based on the birthday boy's favorite book, Pajama Time, this party is decorated with starshine and stripes, polka dots and giggles! Little ones wearing their pajamas look like they're having one sweet time. From Play.Party.Pin. via Spaceships and Laser Beams
Movie Themed Party Ideas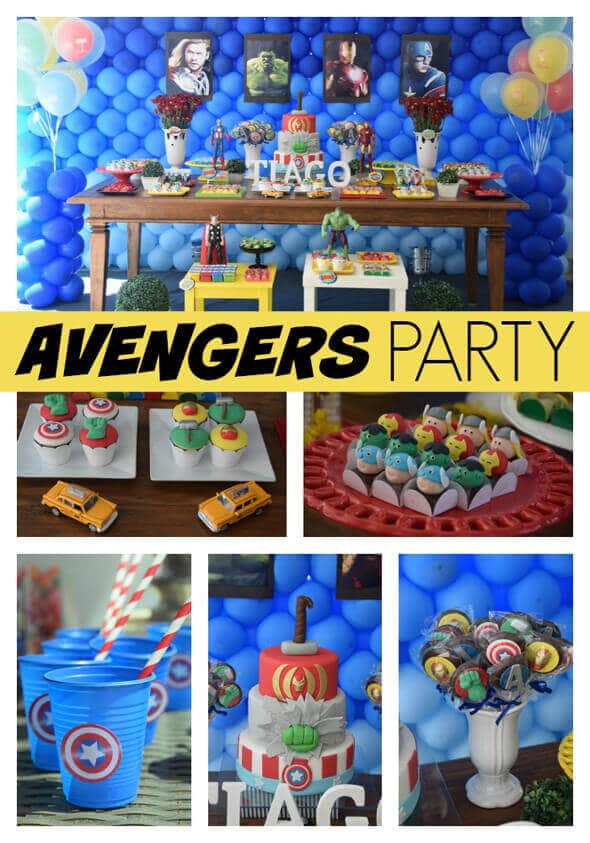 Avengers Party Ideas
If you have a little boy, chances are you have a superhero wannabe. Create a colorful fantasy party with themed cupcakes, lollipops, and candies. Action figures and balloons are easy to include and they really add to the celebration. From Era Uma Vez via Pretty My Party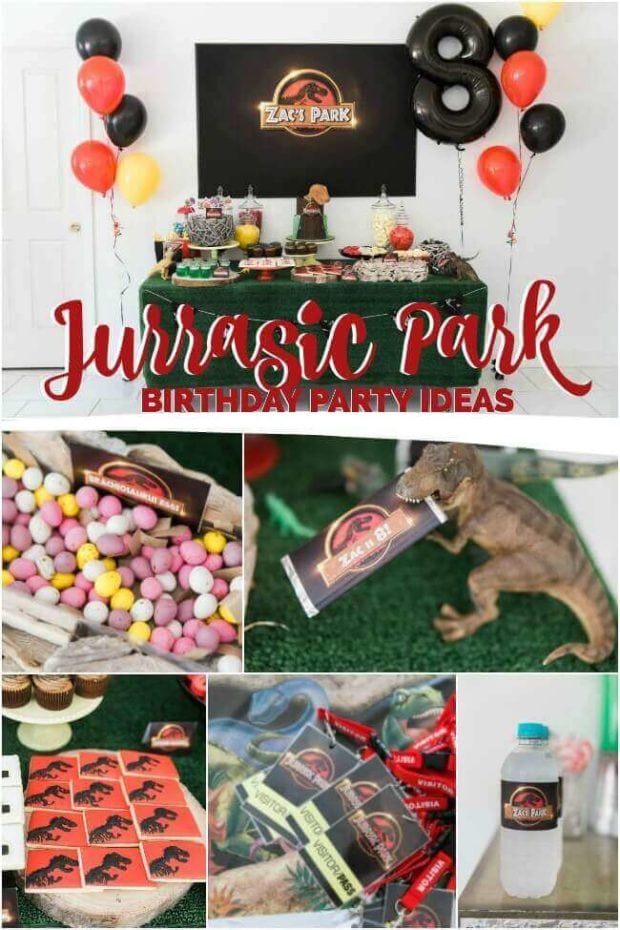 Jurassic Park Party Ideas
Great décor sets the mood for a celebration. If your little guy is into dinosaurs, he'll love this set-up. With all the opportunities for creative dino scenarios, you'll have fun, too. From Zig Zag Events via Spaceships and Laser Beams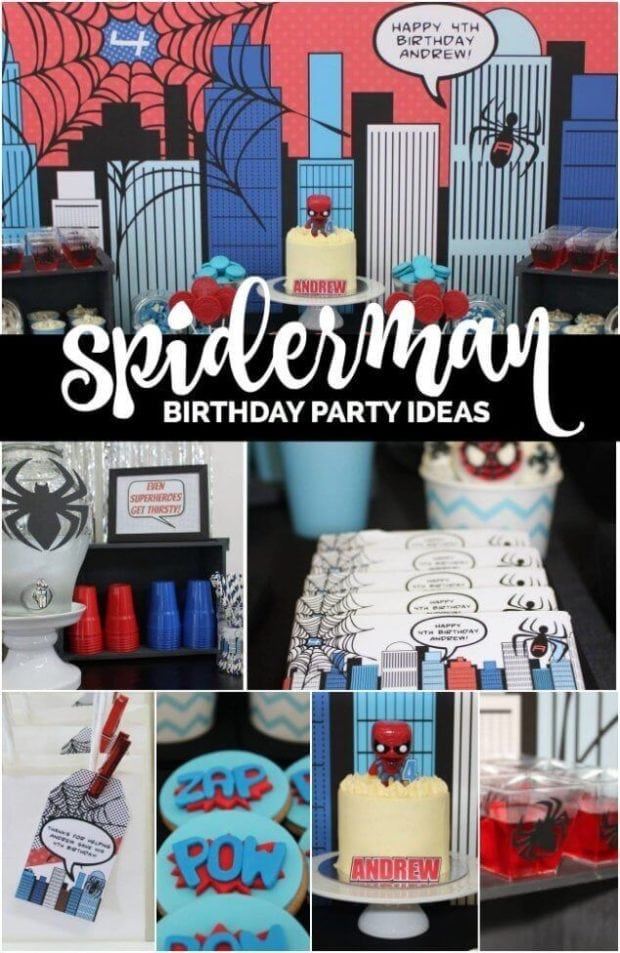 Spiderman Party Ideas
After one look at the dessert table, you know kids would love to stick around at this party! Classic Spiderman thrills little guys and this party pulls out all the stops. From Isabel's Confetti via Spaceships and Laser Beams
Harry Potter Party Ideas
There are magical touches in every area of this unique DIY Harry Potter party. Make sure to check out the Potions class ideas plus take a peek at the incredible Hedwig cake. From Smarty Parties via Spaceships and Laser Beams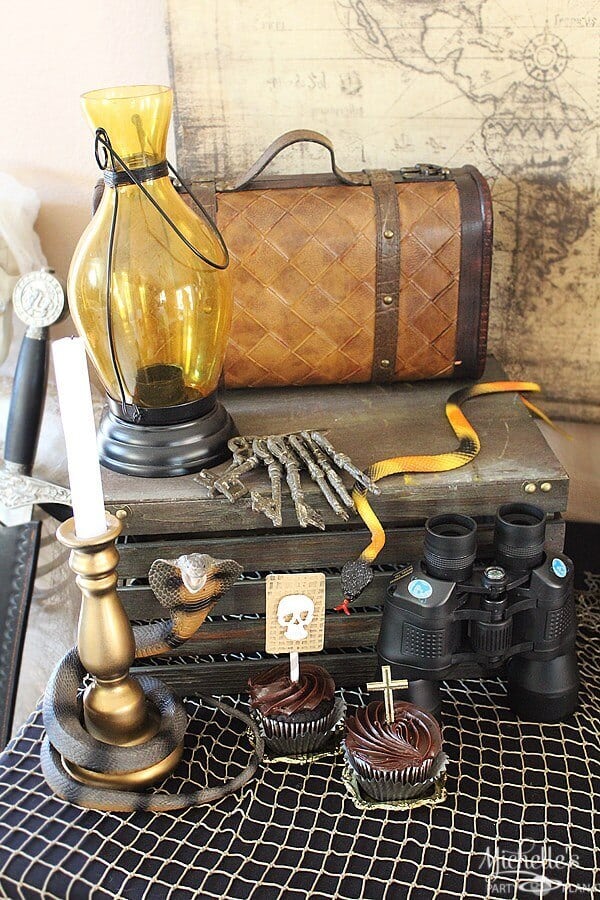 Indiana Jones Themed Party
This celebration wasn't for a boy's birthday but it certainly could be. With such a cool theme, I just had to include it this time. It's a great combo of adventure-scary-vintage and boys would love it. From Michelle's Party Plan-It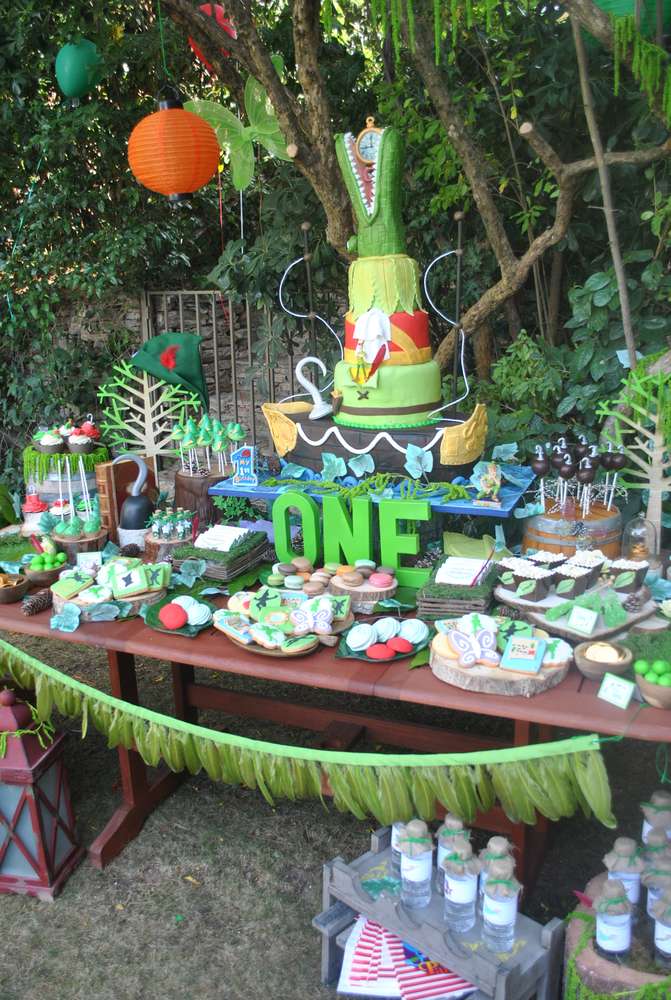 Not sure you want to grow up? Check out this Peter Pan first birthday party for your theme! Feathers, tree stumps and a fully decorated dessert table wow. Love that crocodile topped birthday cake! Also notice the Captain Hook cake pops. Great ideas! From Vivian P. via Catch My Party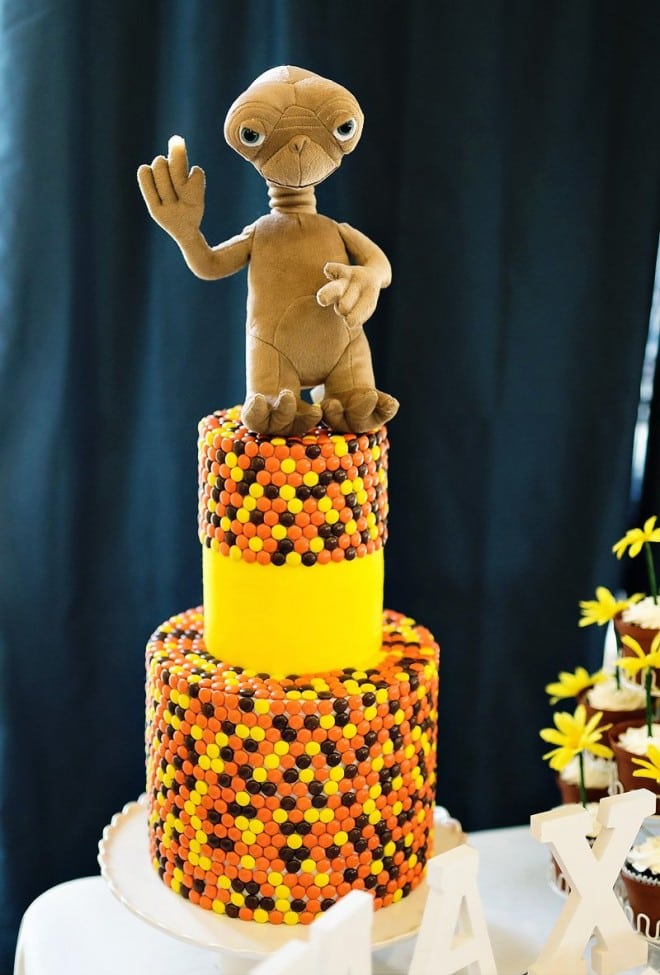 Did you love this movie? You'll love the many clever ideas in this celebration. Remember the dead flower that regenerated under ET's touch? It makes a super guest table centerpiece. ET stars on the cake (with a glowing finger!) and Elliott's red sweatshirt makes a great prop. There's a terrific photo booth, too. From Sakura Paper Co. via Hostess With The Mostess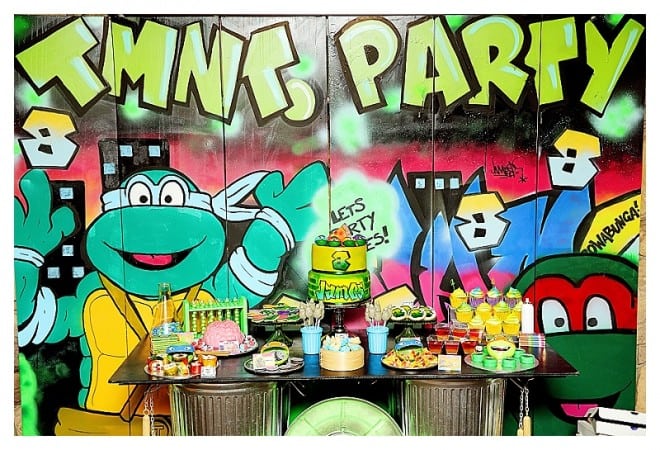 Teenage Mutant Ninja Turtles Party
A trash can table base with an awesome themed backdrop gets the party going. The NYC sewer comes alive with treats such as Ninja Candy Sushi, Krang's Brain Jelly, Graffiti Cupcakes and Rat (shaped) Candy. There's a great collection of ideas you'll want to look at. From Little Wish Parties
Monsters University Party Ideas
Bright colors that make you smile and clever ideas to wow you make this party a favorite for all ages. The cake is awesome for this theme and the dessert table backdrop is perfect. From Danielle via Spaceships and Laser Beams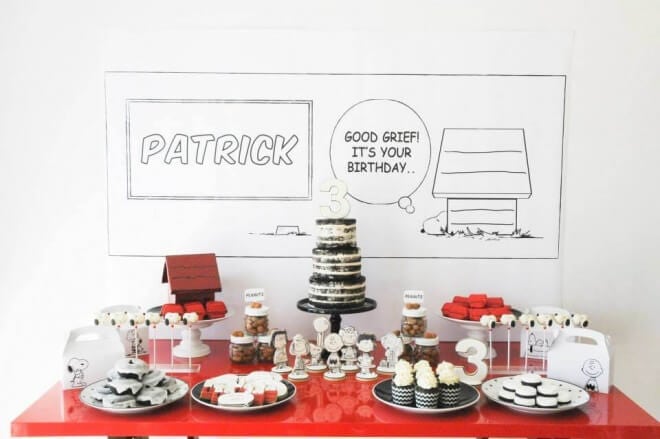 Peanuts-Inspired Birthday Party
Good grief, this celebration is cute! Reminiscent of old-school comics, the black, white and red dessert table is a charmer. Especially notice the winsome Snoopy cake pops and fun cookies. And I love the take-home favor boxes, too. From Frosted by Nicci via The Little Big Company
How to Train Your Dragon Party Ideas
Innovative, colorful and downright fun is how I'd describe this charmer! Dressing up like a Viking is a newer idea for little guys used to superhero everything. From Frog Prince Paperie via Spaceships and Laser Beams
Star shine is mighty fine to include in a celebration and the Star Wars theme has a galaxy full of cool ideas. This event looks awesome and it's full of DIY ideas that would wow any birthday boy and his guests. From Sweet Pea Parties via SPACESHIPS AND LASER BEAMS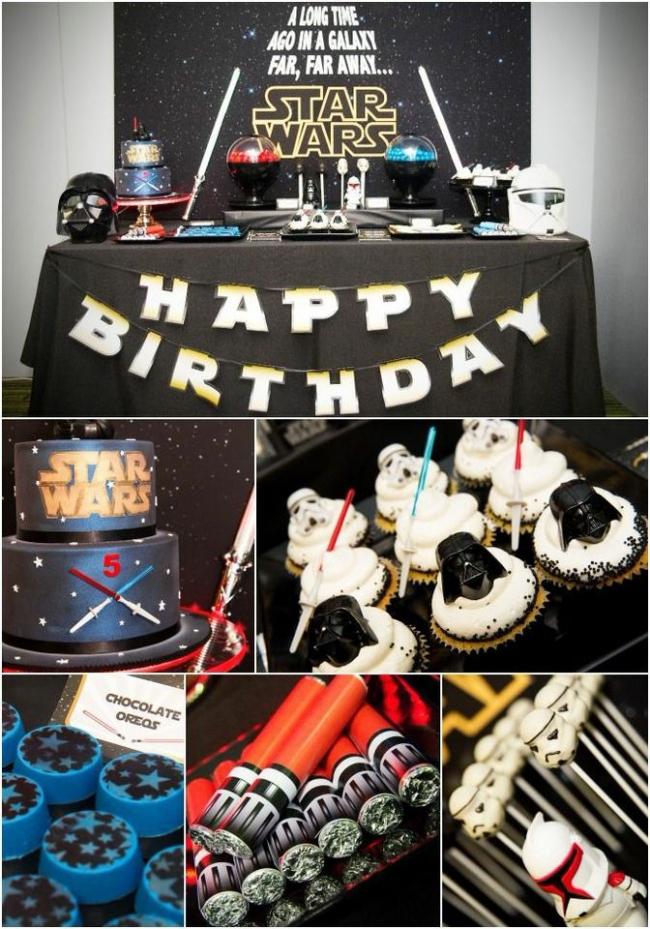 This Star Wars dessert table looks so authentic, you might think you're seeing a piece of the movie set! A Star Wars fan would be delighted to have their birthday cake presented in this style. From Kiss With Style via Spaceships and Laser Beams
What a witty way for boys to strike back. The appealing set-up of this themed dessert table will give you ideas to build your own party. From Julie Anne Events via Spaceships and Laser Beams
Madagascar
This Madagascar party theme is amusing because of the character personalities. Alex and friends are escaping from a crate box cake; comical penguins pose atop cupcakes. An over-the-top dessert table is book ended by balloon palm trees to present a feast for the eyes as well as the stomach. From ParteeBoo via Kara's Party Ideas
Top Gun Party Ideas
Any little fellow would feel like the Top Gun at a party like this! Balloons, red, white and blue décor and an interesting cloud feature caught my attention but I think the awesome water stations would really wow the kids. From Emily Klaparda via Project Nursery
Minion Party Ideas
All of that sunshine Minion yellow couldn't help but create a happy place. Blue and white stripes add punch and the striped plates, mini Mason jar cups and star napkins look super. From THE COOP via Hostess With the Mostess
Disney Party Ideas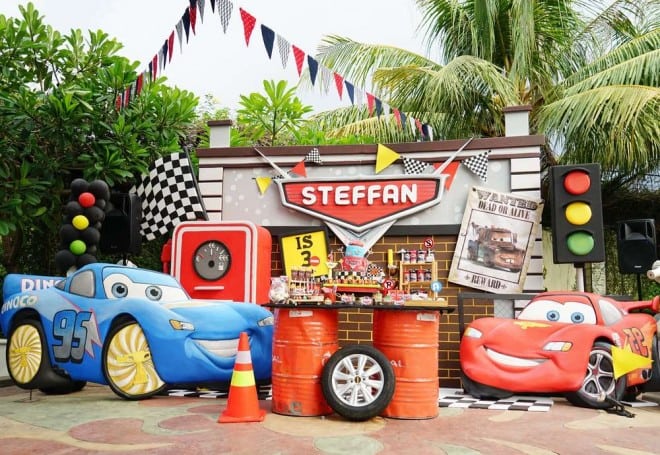 Cars Party
The Disney movie comes to life with this dessert table—what a set-up! Be inspired by the character cars, banners and marvelous birthday cake. From The TruHappiness via Catch My Party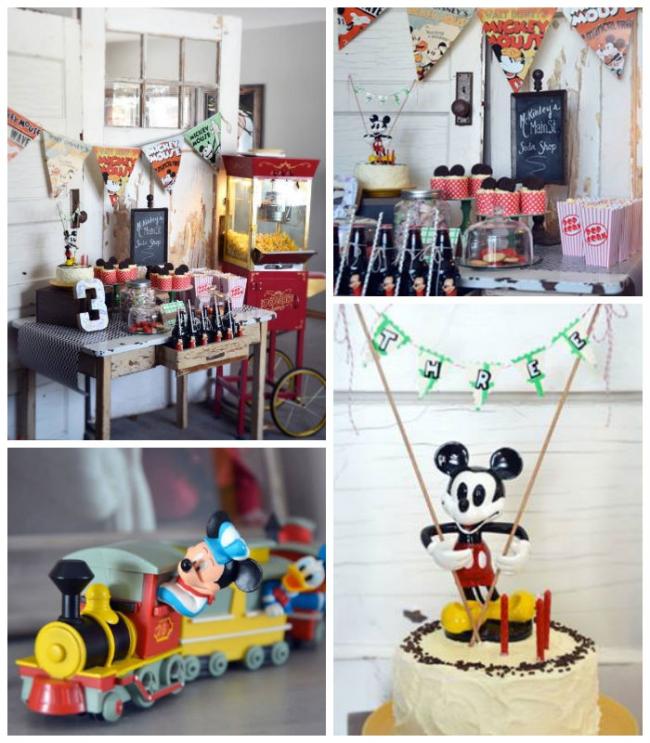 Vintage Mickey Mouse Party Ideas
How can vintage look new? This party manages to do it! The eye-catching pennant banner was actually made from a calendar; the cake topper is a toothbrush holder! From Katie Shurka via Kara's Party Ideas
Toy Story Party Ideas
Yee-haw this is a sweet party! Woody and Jessie give this party friendly cowboy flair in the most stylish way. From Memories are Sweet via Spaceships and Laser Beams
And check out the Toy Story 3 party ideas, too!
Dumbo Themed Party
Bright orange, red, yellow and blue trumpets tons of good wishes for a fortunate three-year-old. Oversized rick-rack and giant peanut cookies embellish a fun cake. From Where the Green Grass Grows via Spaceships and Laser Beams
Disney Inspired UP Party Ideas
Christie worked with a team of talented vendors to produce an awesome first birthday celebration based on the Disney movie, Up. The charming table linens, fabulous cake plus cake pops and cookies, dessert table décor and party favors all added "up" to one delightful birthday party. From Flaired Affairs and Cupcake With Character via Spaceships and Laser Beams
TV Themed Party Ideas
THE LISBETH TIMES via KARA'S PARTY IDEAS :: Flintstones Inspired Birthday Party – Got a rough and tumble little guy? Bam! Got a party theme: caveman. Starting with a dessert table canopy that looks like Fred's Stone Age footmobile was a masterful idea and a fun cake and decorated treats promise a rockin' good time.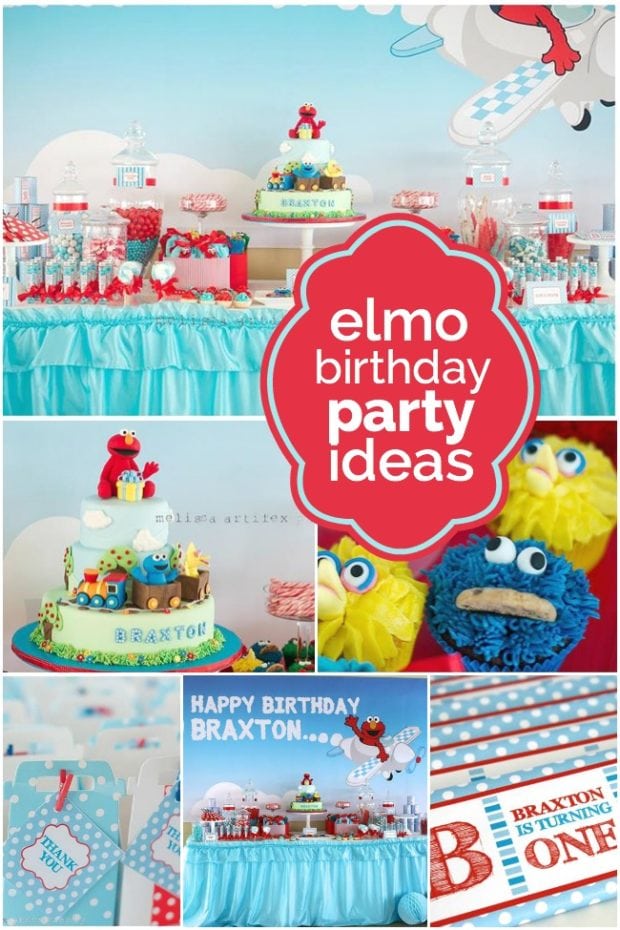 Elmo Themed Party
Favorite childhood icons provide great ideas for party themes. Head on over to the sunny side of the street to meet Elmo and friends at this colorful and well-designed celebration. From CENTRE OF ATTENTION via SPACESHIPS AND LASER BEAMS
Cookie Monster Party Ideas
Heres a delectable party! A Cookie Monster wanna-be would be right at home in this well-designed celebration. Be sure to notice the DIY favor bar awning while you're here. Milk and cookies never looked so good! From Sweetly Chic Events and Design via Spaceships and Laser Beams
Find bright colors and puddle jumping fun in this Peppa Pig birthday theme that is just right for any little fan. From Little Wish Parties via Spaceships and Laser Beams
Little Einsteins Party Ideas
Color, music and delightful details compose a marvelous party scene for birthday boy and guests alike. From Painted and Sprinkled via Spaceships and Laser Beams
Miles from Tomorrowland Party Ideas
Space age fun with favorite cartoon characters like this might send any boy soaring! An awesome cake, terrific personalization, and outstanding themed treats propel this futuristic party into fun for today. From Sugar Lagoon via Spaceships and Laser Beams
Video Game Party Ideas
Minecraft Party
Pixelated partying at its best! Beginning with an awesome 3-D invitation, this celebration builds the fun with over-sized balloon characters and a dessert table full of themed yummies. From Zeelicious via Spaceships and Laser Beams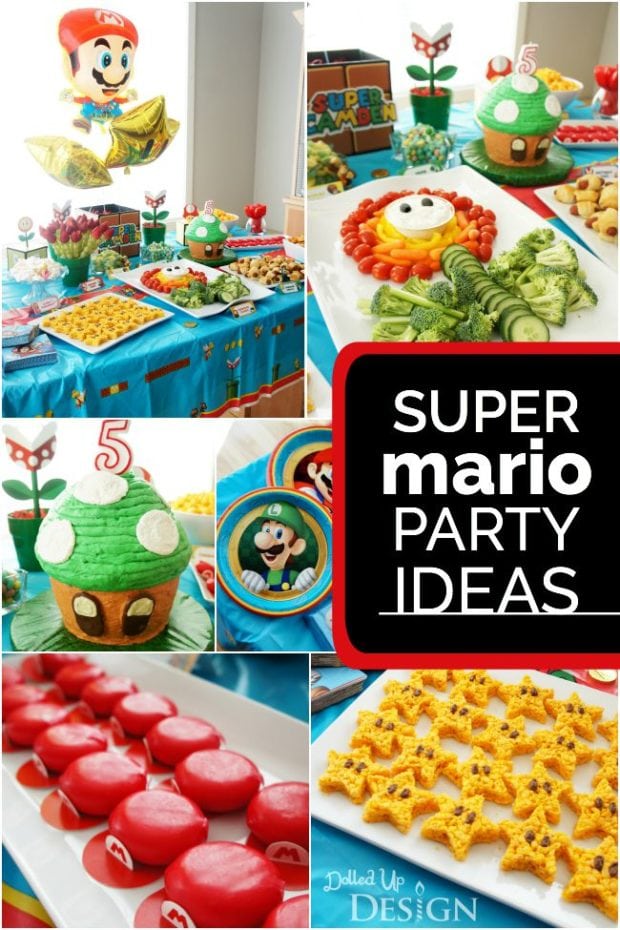 Super Mario Party Ideas
Itsa Party! Not only is the food buffet marvelous, the play room transformed into Mario World is fabulous! You'll want to look closely at this celebration—there are lots of fun ideas. From Dolled Up Design via Spaceships and Laser Beams
This celebration invited kids to enter a life-sized Mario race. A super dessert table kept them energized for the game. From MudPie Parties via Spaceships and Laser Beams
Space Invaders Party Ideas
What a fun idea for a first celebration! Since the birthday boy is too young to play party games, he gets to enjoy the color and activity while guests have a super time gaming. From Zelicious via Spaceships and Laser Beams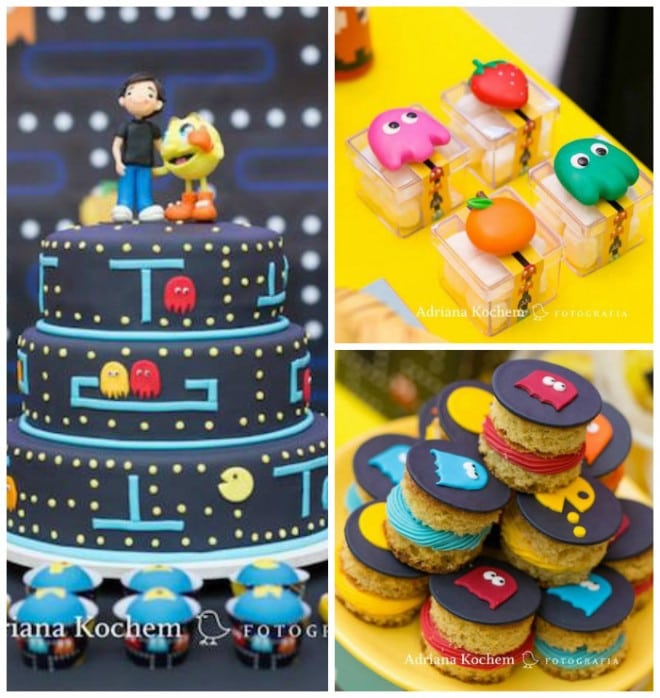 Pac-Man Party Ideas
Remember Pac-Man? That chomping gamer is back with a cool cake, awesome character cake pops and lots of fun treats. I love the coordinating dessert table backdrop, too! From Festit-Pois via Kara's Party Ideas
Plants vs Zombies Party Ideas
Yikes! Zombies are everywhere! Leave it to a talented mom to make even a slightly creepy party theme a tween would enjoy into a colorful celebration a mom could be proud of. From Party Inspirations via Spaceships and Laser Beams
Angry Birds Party Ideas
Colorful and fun decorations and a terrific birthday cake make this a special celebration for an Angry Birds fan. From Olivia's Kitchen via Spaceships and Laser Beams
Truck Themed Party Ideas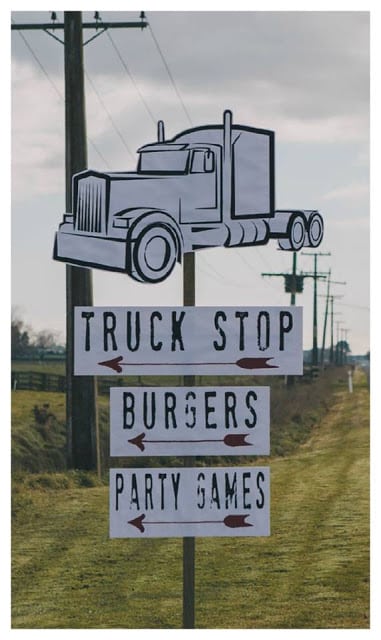 Almost all little guys are big on trucks so I've seen lots of parties with trucks, but this is the first time I've seen the truck stop birthday party theme. The event is simple, but done with style. From Dots n Spots via The Little Big Company
What little guy doesn't love cars? Pop-a-Wheelie is a fresh take on that familiar favorite. Britni used a black plastic tablecloth and yellow crepe paper streamers for a simple and theme perfect backdrop. Adding inflatables make quick work of décor. From Play.Party.Plan
I couldn't believe this theme when I first heard about it! Jennifer made a Garbage Truck Birthday work and created a classy trash bash, much to the delight of all the kids in attendance! From BellaGrey Designs via Spaceships and Laser Beams.
Fireman Party Ideas
No need to sound the alarm over a party as cute as this! That mile-high cake and red tower of donuts are especially noteworthy. Can't forget about impressive cupcakes and cookies, either. Lots of nice details here. From Sugar Coated Candy Buffets via Little Big Company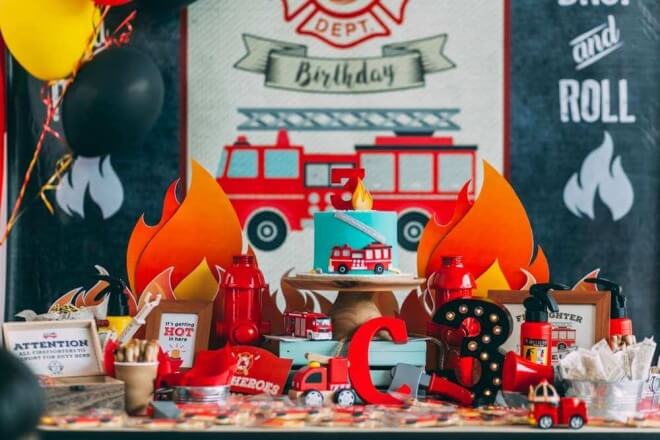 Combine cardboard, burlap, unfinished wood and newsprint and what do you get? In this case, a really handsome boy's birthday party! In addition to the decorative items, the extensive menu and on-site venue made this party special. From Happy & Co. by PC Studios via Catch my Party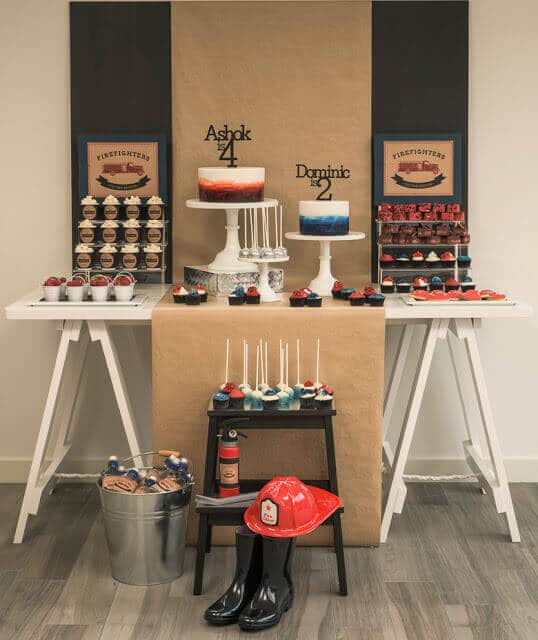 A little bit classic and a little bit industrial and a whole lotta hot! The children's seating area is especially appealing. Adults were welcomed with their own attractive deli-style, cheese sampling bar. Also notice the fun obstacle course idea. From Something Wonderful Happened via The Little Big Company
Construction Party Ideas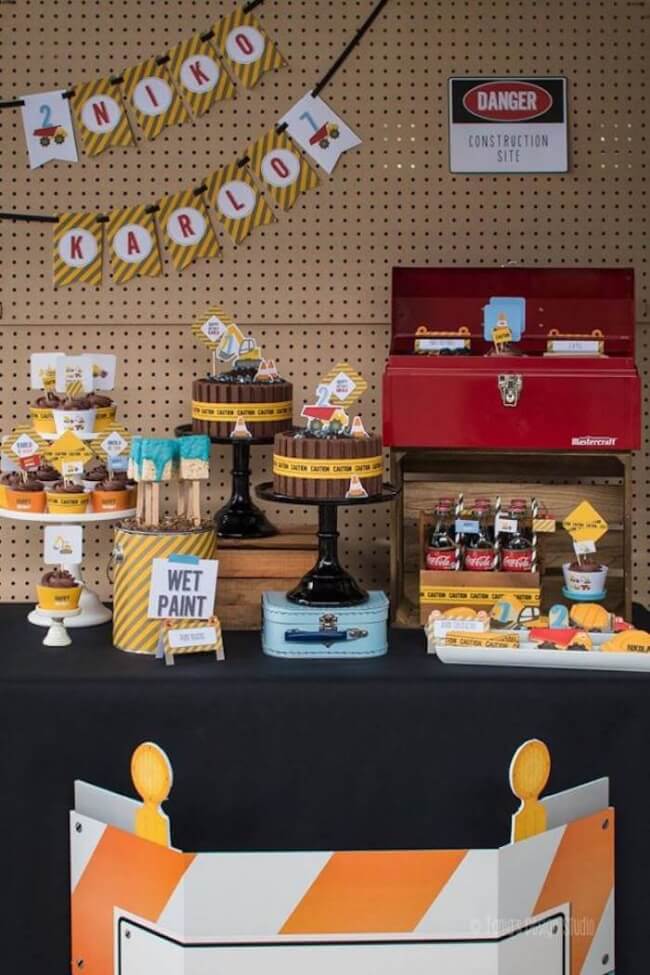 Looking for a load of good times? A construction themed event looks great and if you have a few toy trucks, even the décor is easily built. Check this one out for lots of clever themed treats. From Tania's Design Studio via Kara's Party Ideas
Belinda seems to specialize in clever! Novel display ideas, marvelous treats and engaging, age appropriate activities produce a delightful take on this theme. From Styled by Belle via Spaceships and Laser Beams
Dirt and diggers will always be a favorite party theme with birthday boys. Rebecca created a stylish celebration that looks good, tasted good and it was full of fun party activities. From Little Sweet Styling via Spaceships and Laser Beams
Game Themed Party Ideas
LEGO Party Ideas
Whoever said the LEGO theme always has to be in bright colors? Love this uncommon take on the popular LEGO theme. From One Lovely Day via Style Me Pretty
Look for the really cool DIY ideas at this charmer including a 3D LEGO name plate, temporary tattoos, bracelets and especially the birthday boy's LEGO mini-figure shirt. From Handmade Escapade via Spaceships and Laser Beams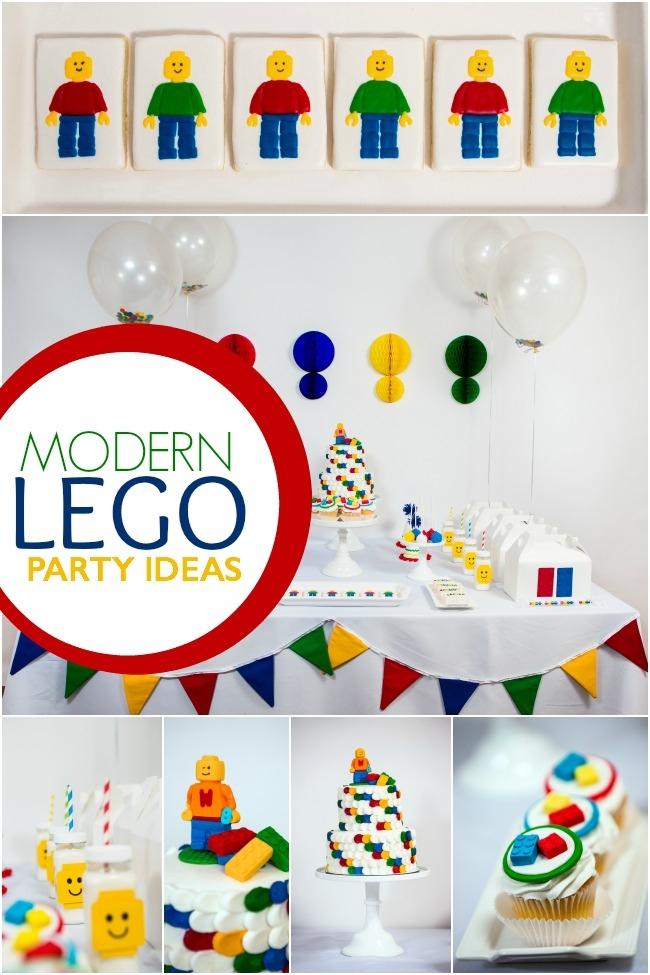 By their nature, most LEGO parties are visually busy celebrations. Bethany kept all the fun that kids love about LEGOs, but she created a fresh event with a contemporary take on a much-loved theme idea quite an accomplishment. From Sweet Georgia Sweet via Spaceships and Laser Beams
Boys build memories and Lego heroes with this Lego Ninjago Party that's full of color. Lego themed celebrations seem to be the fantasy of a wide age range. From SimplyIced via Spaceships and Laser Beams
Chutes and Ladders Party Ideas
Using this popular game as a take-off for an outdoor party theme was a masterful idea! The invitations are perfect, the dessert table is adorable, and even small-fry would love the photo ops. From Pedicures to Puddles via Spaceships and Laser Beams
Monster Party Ideas
Find great splashes of color in this visually exciting fourth birthday celebration. Simple paper lanterns have been transformed into little hanging monsters with silly grins and even the food is looking back at you! From Karo's Funland via Mimi's Dollhouse
city Themed Party Ideas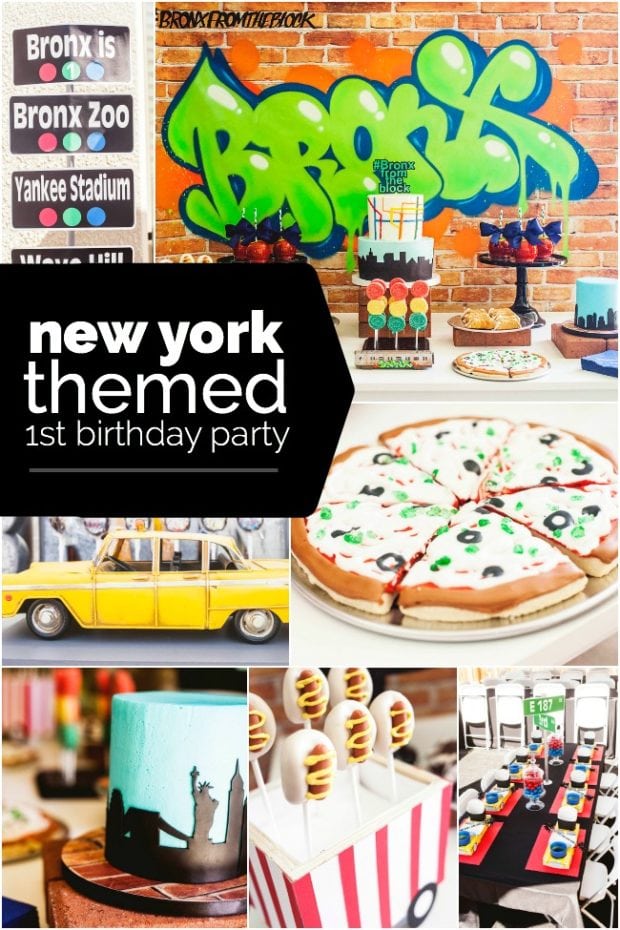 This way cool celebration is a great first birthday party! There are enough colors and interesting details to engage a little guy's attention, but the adults who typically celebrate a first birthday would be wowed with the faux brick backdrop, inspired subway/street signs and awesome desserts. Wonderfully creative! From Mammarella's Sweets & Treats via Spaceships and Laser Beams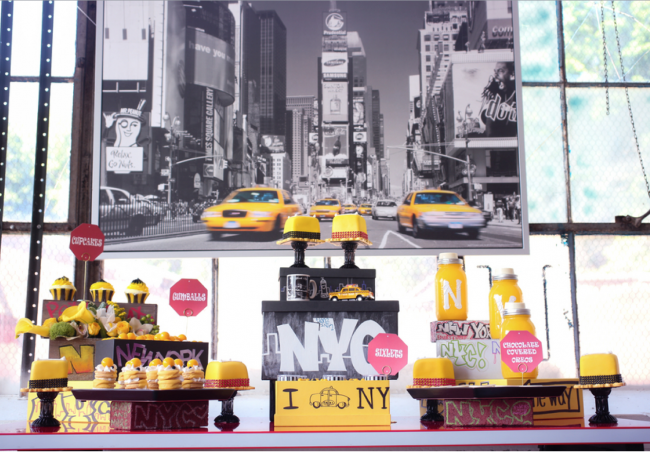 City chic with industrial style and high energy yellow, this setup could actually work outside of the Big Apple. Celebrate with NYC style or adapt the idea for your own hometown wonders. From Digna Toleda Photography via Home Confetti
Parisian Party Ideas
The popular theme gets a makeover with berets and mustaches and lovely décor to celebrate a sweet first birthday. From Creating Awesomenessity via Spaceships and Laser Beams
British Party Ideas
A prince of a little guy gets the royal treatment at this colorful party! See ideas for a delightful dessert table with lots of extra decorations. From Partylicious via Spaceships and Laser Beams
Safari Themed Party Ideas
The collection of animal prints on everything from dessert table to favor bags to guest tables looks awesome. Also notice the interesting textures in décor choices—burlap, paper, metal, wood. From Petite Social via Celebrations at Home
This impressive "Safari Sweet Shop" is full of just the right choices for a third birthday party. Follow Chelle's lead and include a "Safari Shop" filled with party favors…the kids will go ape! From Sweet Tables by Chelle via Spaceships and Laser Beams
The jungle paper cut-outs look fabulous at this celebration, plus a terrific cake, fruit bouquets, the most winsome cake pops, and even the beverage bottle detailing make this party decor outstanding. From Decor By Yael via Little Wish Parties
Animal Parade Party
The sweet watercolor drawing is a lovely backdrop for this winsome gathering. The first-class, gourmet menu will make your mouth water! From Keren Precel Events via Spaceships and Laser Beams
Farm Party Ideas
These gorgeous desserts, vintage props and classic decorations will inspire you to go all farm-fresh for your little one's party. From Caketress via Spaceships and Laser Beams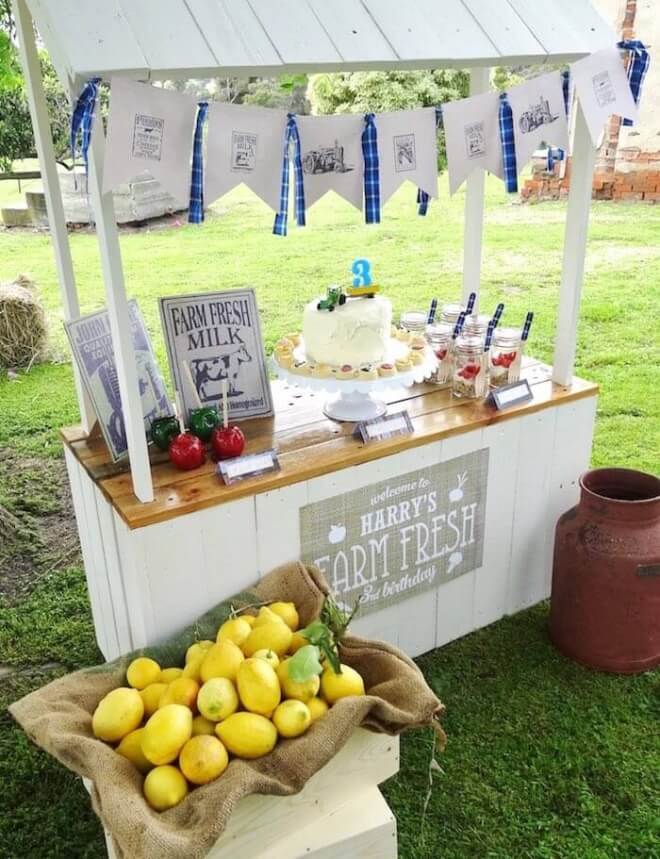 Earth tones and blue plaid look fresh as a summer morning sky and they're also an awesome choice for a little guy's third birthday party. Love the graphics used on printables, bunting and treat bags. Also notice the clever petting zoo. From The Persimmon Pair via Kara's Party Ideas
This is an over-the-top celebration and the details are amazing! The barnyard dessert table backdrop looks like something from a children's theatre production. Each guest table has a miniature farm yard as a centerpiece. Especially worth looking at is the fabulous cake. These Farm Animal Balloons I recently saw would be the perfect touch to do this party yourself. I am obsessed with them. From Dream Flavors Celebrations Party and Favors via Kara's Party Ideas
Fresh-faced kids and a farm-fresh party just go together! This event was done up in sunshine yellow and grass green and it was filled with perfect theme ideas. From Where the Green Grass Grows via Spaceships and Laser Beams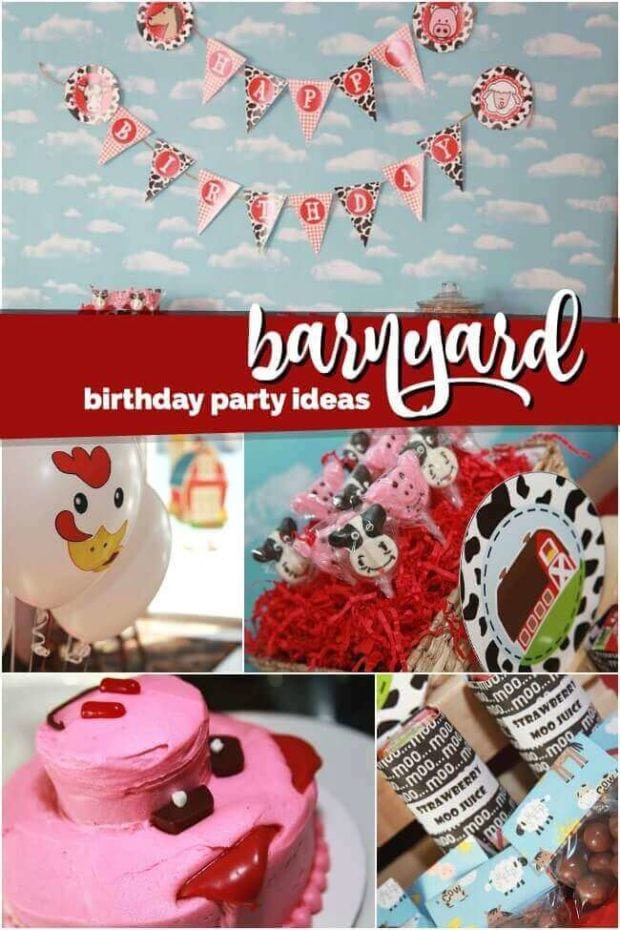 Who wants to party in the barnyard? Sweet one-year-olds love animals and animal sounds. Party guests will also love a pig-shaped birthday cake, moo juice and mini felt, barn-shaped bag favors. From Shindig Diva via Spaceships and Laser Beams
Climb aboard for sweet, simple, and fabulous party ideas for your little caboose. I love it when a dessert table looks this fresh! From Cake, Ink via Spaceships and Laser Beams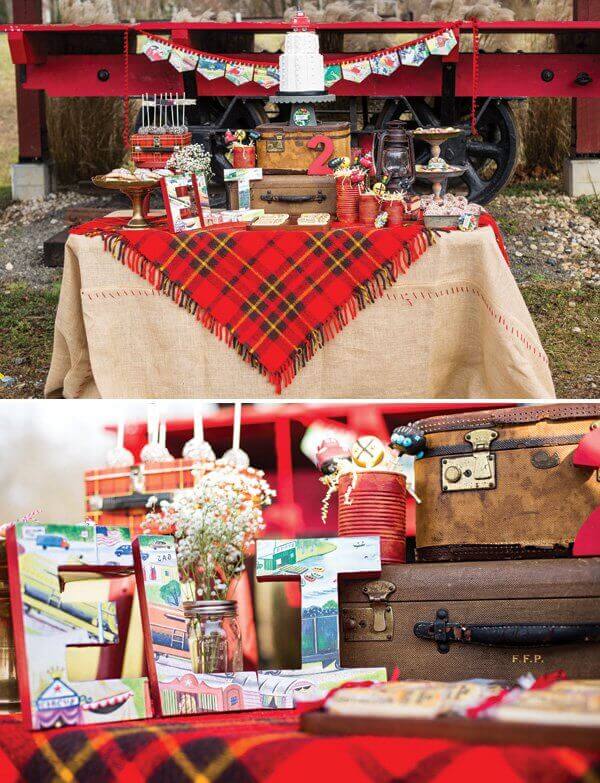 Based on the book, The Little Red Caboose, this celebration is a charmer. Special touches include an invitation that looks like a vintage train ticket punch card, sweet themed desserts, and décor made from pages of the book. From One Stylish Party via Hostess with the Mostess
Cowboy Party Ideas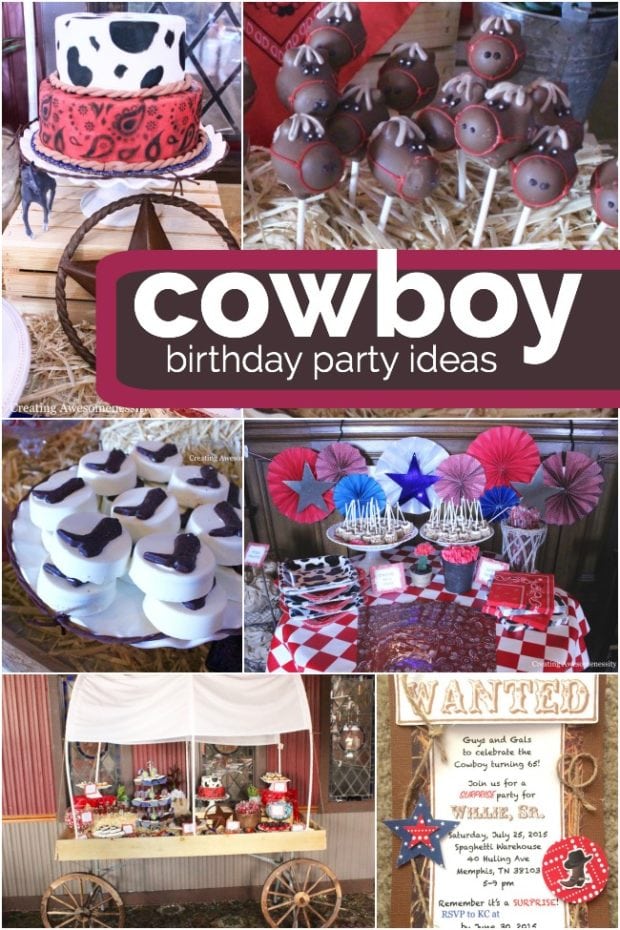 DIY swinging saloon doors, a covered wagon dessert "table", and TNT favors were some of my favorite party elements here, but don't just take my word for it—check out the super party desserts and guest table décor, too. From Creating Awesomenecessity via Spaceships and Laser Beams
This has to be one of the most ruggedly handsome cowboy celebrations I've ever seen! Authentic décor augments a beautiful dessert table with rich colors. From Sugar and Sparkle via Spaceships and Laser Beams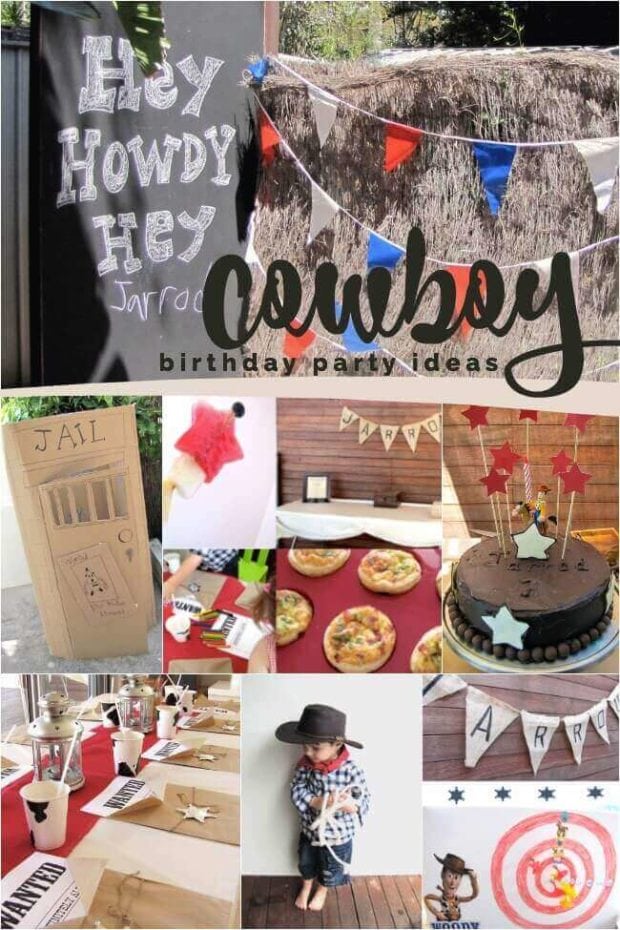 Imaginative play is a certainty at such a cute party with great DIY props. Check out the details and get inspired. From Mini Mocha via Spaceships and Laser Beams
If you want to see an AWESOME birthday party, look at this little piece of the Old West that Michelle created in her living room. No detail was left out! From Michelle's Party Plan-It via Spaceships and Laser Beams
Bug Party Ideas
Are you squeamish around bugs? You won't be at this little guy's bug-themed party! The cute Styrofoam bug centerpieces might just steal your heart and the food and beverage tables certainly entice. From Bettsmade via Spaceships and Laser Beams
Knowing curious little boys love birthday cake and bugs made putting this dessert table together so much fun! I'm very proud of how the printables and desserts partner to create an awesome, creepy-cool party. From Spaceships and Laser Beams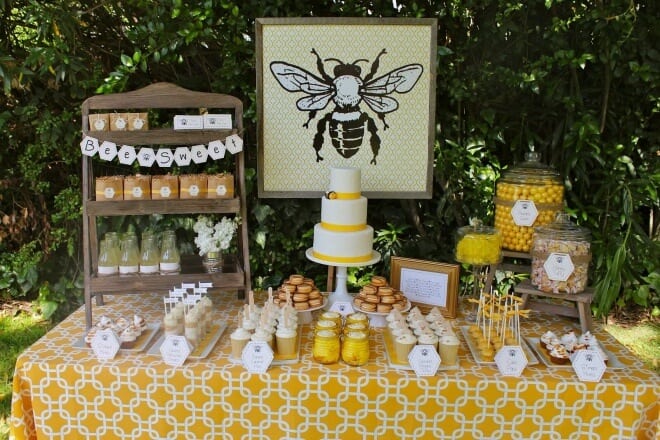 Dare I say it? Yeah…guests would be buzzing about the sweet ideas at this party! With beehive s'mores, honey popcorn, and honey treat bags, the dessert table is filled with impressive themed desserts. Gold, burlap and white are cheerfully little boy appropriate and darling sayings such as "bee kind" and "bee adventurous" are wonderful ways to express best wishes for the birthday boy. Bee sure to notice the adorable party favor, too. From Bloom Designs
Under the Sea Party Ideas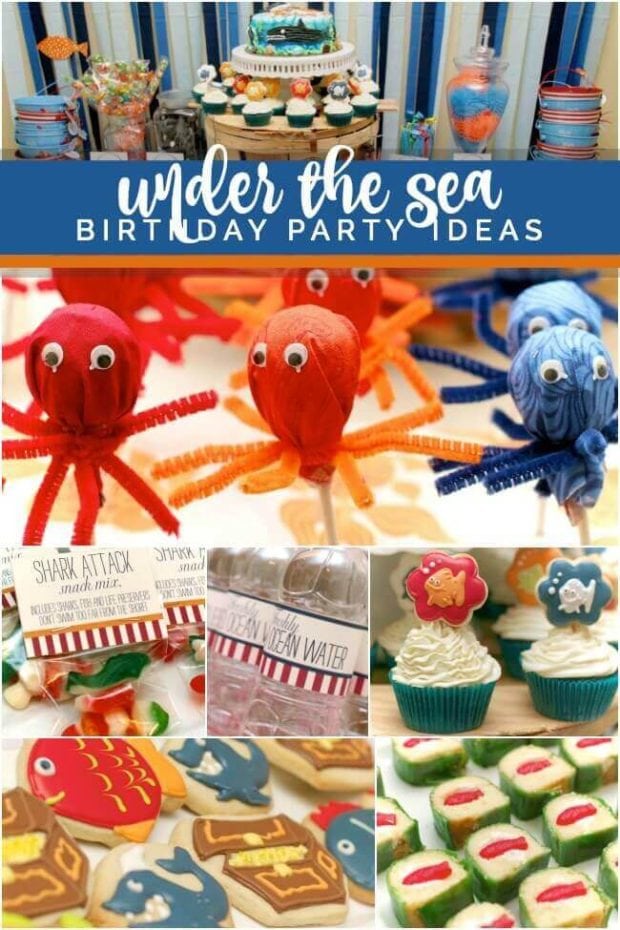 A combination dessert and favor table like the one here would thrill any group of party guests. The cake/cupcake display is entirely winsome. Sweet octopops and kid-friendly dessert sushi are impressive. Decorative touches abound! From Cupkates Event Designs via Spaceships and Laser Beams
Summer Party Ideas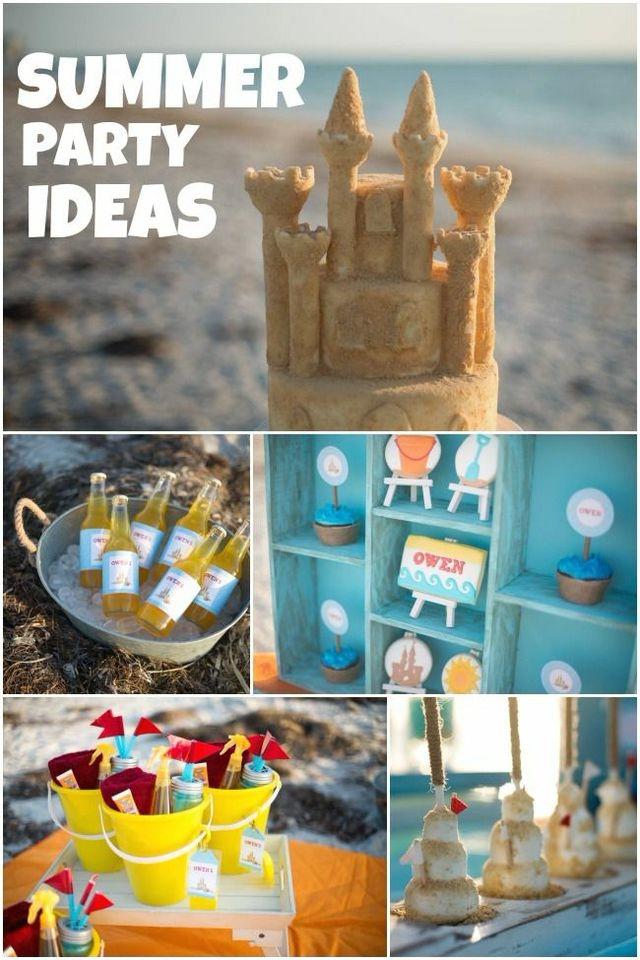 Sandcastle Building Birthday Party – This amazing party will inspire you! Happy colors and delightful details are combined for an awesome summer gathering that will surely be a childhood highlight. From Painted and Sprinkled via Spaceships and Laser Beams
Beach Bash Party
This beach bash was a tented affair just steps from the water but the décor choices for a beach themed event could work far from the shore. Blue and white beach balls, balloons and burlap combine for a stylish arrangement. The souvenir shop dessert table is fabulous. Especially notice the sand castle cake. From Send in the Clowns via Spaceships and Laser Beams
Surfing Themed Party
You say you don't have any surf boards to use as décor? No problem, as you'll see when you check out how this mom circumvented that little detail. Shark fin cupcakes, summer bright colors and an awesome themed menu show how to host a beach-themed blast even when there's no beach. From My Paper Crush via Spaceships and Laser Beams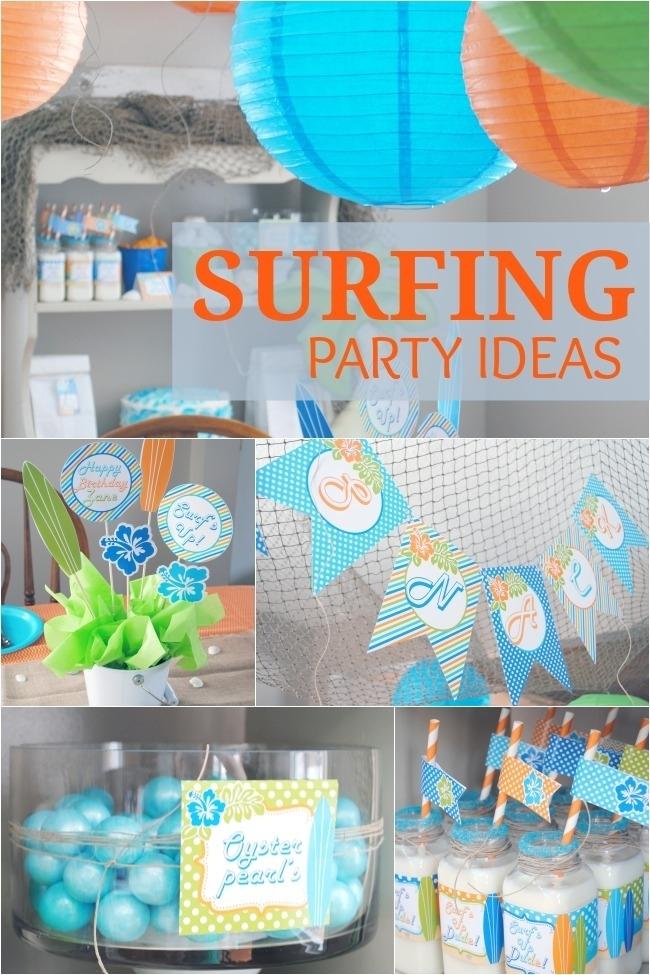 Refreshing color plus stylishly clever décor choices make this a fun party to look at! From Funky Monkey Designs via Spaceships and Laser Beams
Beach Ball Themed Party
Is anyone else dreaming of sunshine and sand? This little guy's birthday celebration might transport you where you wanna go. Love the water-colored décor teamed with rustic elements. So boy handsome! Using beach balls for a one-year-old's party? Perfect. From SUGAR COATED MAMA via KARA'S PARTY IDEAS
Shark Themed Party Ideas
A giant shark and his toothsome smile presides over this poolside celebration in the most benign way! A relaxing blue backdrop and lots of fun details make this party a winner. From Zelicious via Spaceships and Laser Beams
Fishing Themed Party
This is an incredibly cute party and it was done on a budget as skinny as a fishing line! My favorite detail (aside from our party printables!) has to be the clever oversized "fishing bobbers" hanging over the guest table but there are lots of sweet ideas you'll want to catch. From Crossing the Bugger-Dixon Line via Spaceships and Laser Beams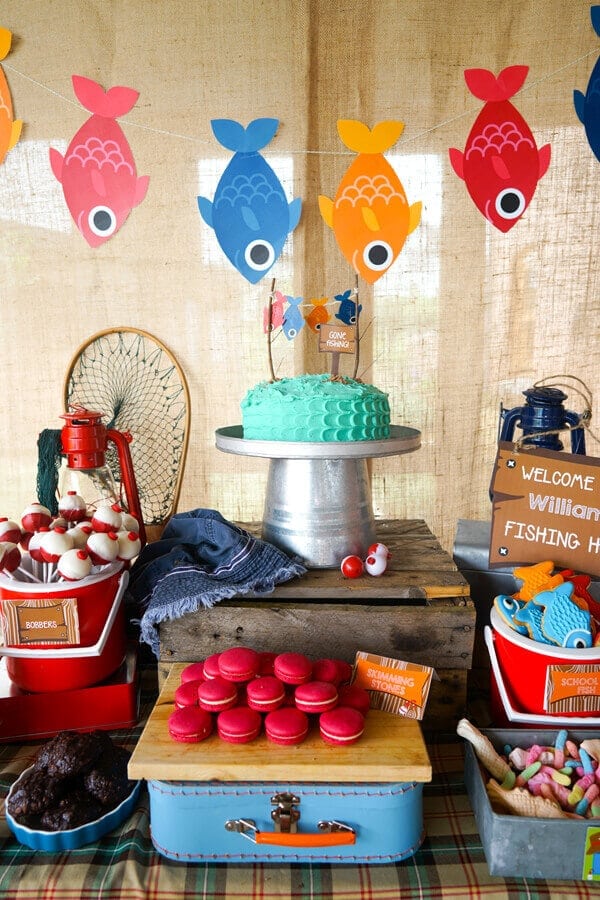 Meet at the fishin' hole or at this dessert table? I know where I'd go! Bobber cake pops, skimming stone macarons, and colorful fish sugar cookies are just the start of all sorts of fun. Bet the kids LOVED the take-home favors, too. From Sunshine Parties via Pretty My Party
StarGazing Party
Stargazing in summer is a perfect way to celebrate a warm weather birthday. Add star charts and constellation flashlights and don't forget stellar treats! From Confetti Sunshine via Frog Prince Paperie
Nautical Party Ideas
With a dessert table full of party inspiration in blue, red and yellow, these nautical themed decorations and sea-inspired treats are sure to please. Notice how the right choice of simple details can take a party from "nice" to "wow!" From Sugarbird via Spaceships and Laser Beams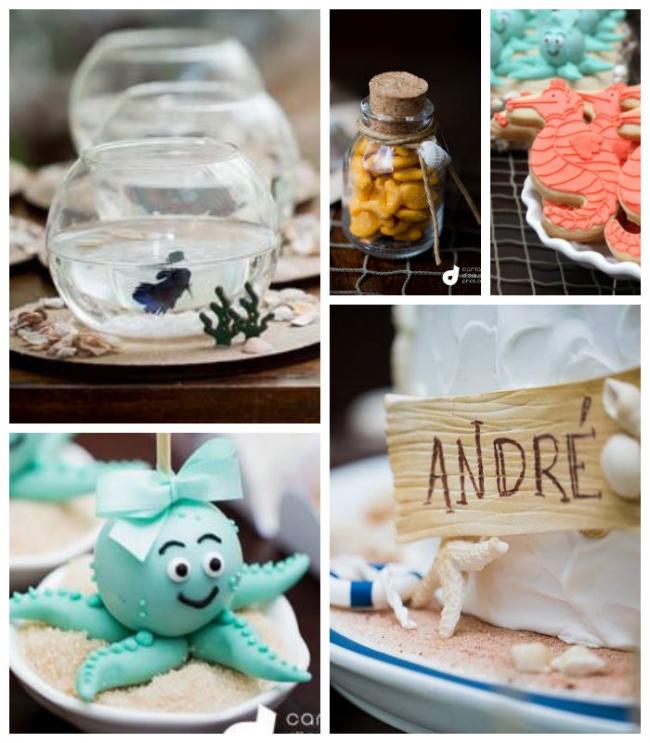 Under the Sea Party Ideas
Here is an interesting party mix: it is gorgeously styled AND it has touches of whimsy. The cake pops are amazing, the crab candy amuses and the entire setting is lovely. From Lacose Acucar via Kara's Party Ideas
Spy Party ideas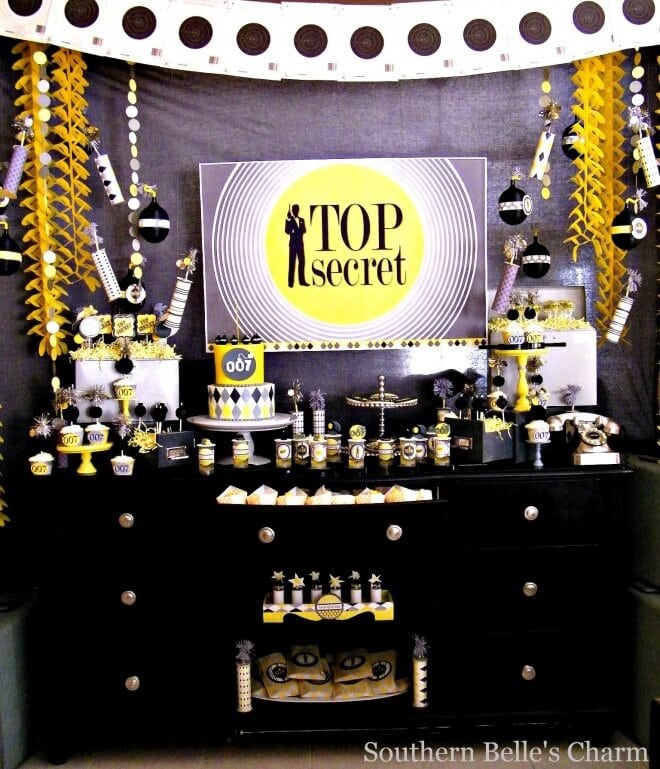 Spy kids training to catch a thief sounds like the kind of party fun boys would love. A sweets table like this stylish black and yellow affair with "bombs" and "dynamite" would add to the excitement, as would the thrilling themed game events. From Southern Belle's Charm via Frog Prince Paperie
It should be no secret that Carol would create an awesome birthday celebration! I love the secret agent and laser beam backdrop that sets the tone for an exciting array of desserts that any agent would like to snitch. From PARTYlicious via Spaceships and Laser Beams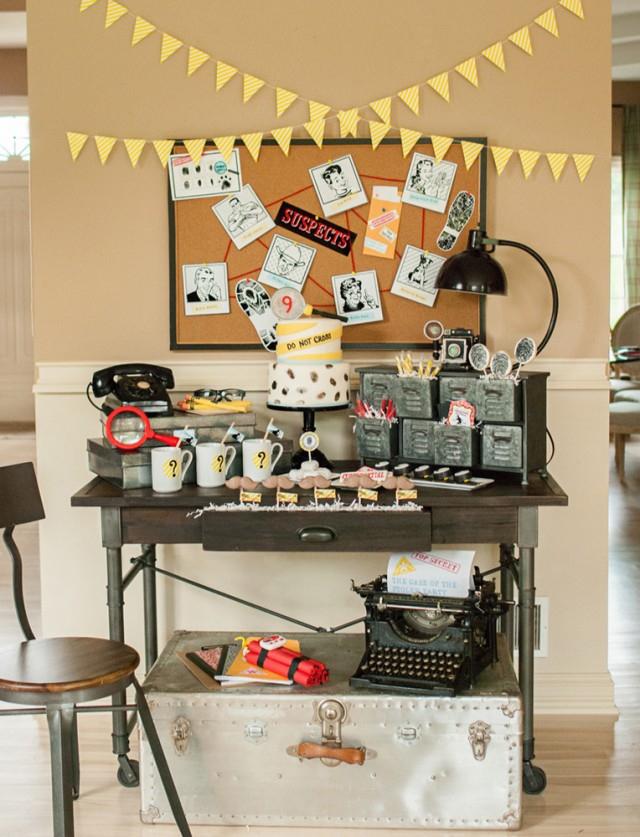 Add high style mystery with this vintage detective theme. See lots of fun suggestions for decorations and party props as well as wonderful treats and activities. From Anders Ruff
Paint Party Ideas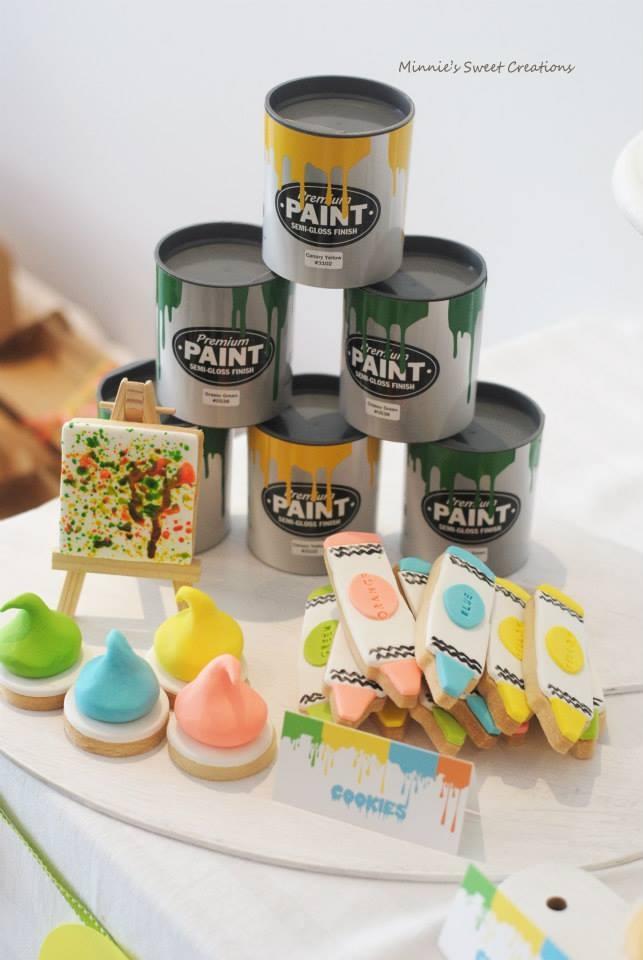 Fluorescent colors are a great guy thing and I love the idea of encouraging the arts. The dessert table is a nice combo of desserts and art supplies. Note the giant crayon-shaped cookies. From Minnie Sweets Creations via The Little Big Company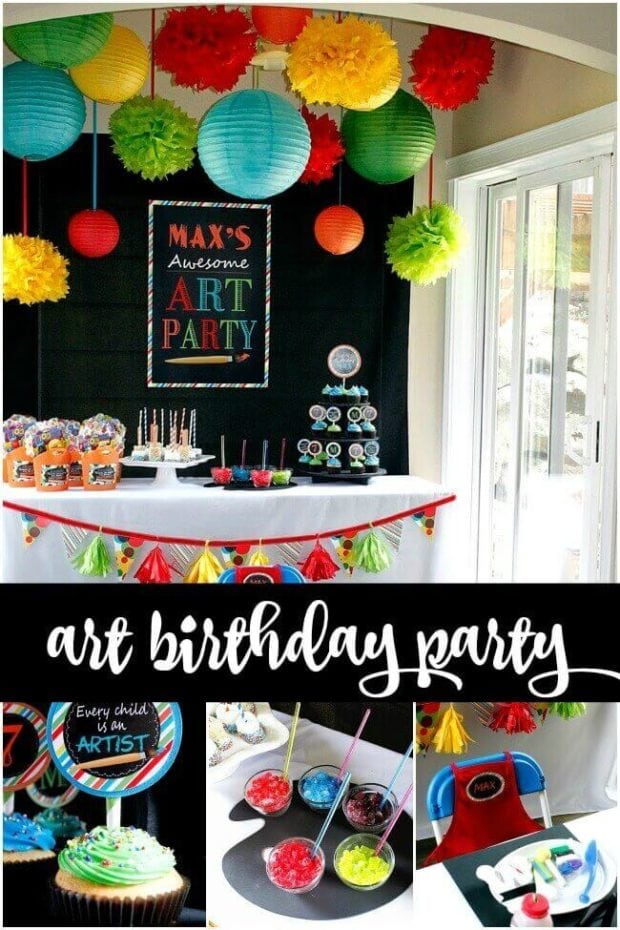 Colorful? Check. Creative? Check. Kid approved? Check! I think this is a birthday party theme that we don't see often enough. Kids love to create and moms have fun releasing their inner Picasso, too! From A Lovely Design via Spaceships and Laser Beams
Superhero Party Ideas
An interesting table backdrop, bright colors and wonderful desserts make this superhero party a treat any way you look at it. From Lil Miss Macaron via Spaceships and Laser Beams
Superheroes are a popular and often seen party idea. What I especially enjoyed about Heather's version is the inclusion of non-violent party activities. From Diapered Daze and Knights via Spaceships and Laser Beams
Super boys and superheroes go together as naturally as cake and ice cream! A very appealing dessert buffet with a colorful backdrop set the scene for lots of superhero training. From The Pumpkin Carriage via Spaceships and Laser Beams
Plus check out these 21 Captain America Party Ideas!
Pizza Party Ideas
What boy doesn't love pizza? The stylish details of this birthday celebration would work for ANY age "it's that well-put together" and it"s fun, too. From Anders Ruff via Spaceships and Laser Beams
Sports Party Ideas
Golf Birthday Party
Since golf is a popular sport, I'm surprised we don't see more of this party theme. Danielle did a wonderful job with all aspects from decorating to activities. From Chickabug and Living Out Loud via Spaceships and Laser Beams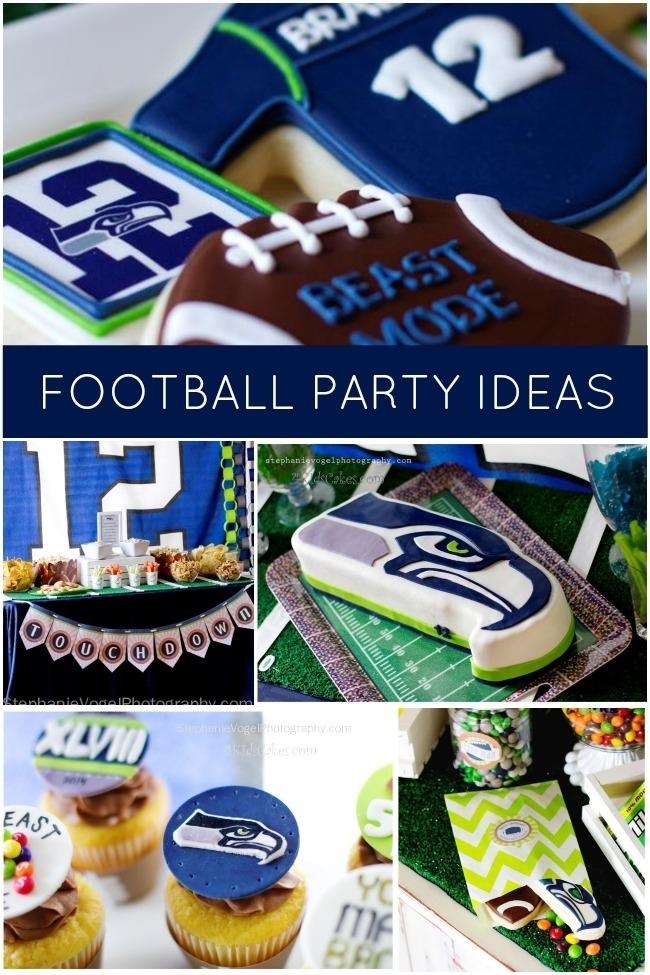 Football Party
Christina knows how to bake a cake and throw a party! See lots of ideas in this very masculine celebration. From 4 Kids Cakes via Spaceships and Laser Beams
SOCCER PARTY
Love that centerpiece "cake". Isn't it perfect for birthday brothers who love soccer? There is more color in this event than most soccer parties and it looks good. The dessert table features mini goals that capture treats like candy tubes embellished with whistles and soccer shoes. Great guy stuff! From Festevjar via Kara's Party Ideas
Motocross Party
Black and white always lends itself to graphic appeal. The biker silhouette decal, an arrow garland and giant confetti really add punch! Be sure to notice the awesome helmet shaped cake pops. From The Cake Pop Queen via Spaceships and Laser Beams
Bowling Party Ideas
Red, black and white polka-dots and stripes dress up a birthday buffet right at the bowling alley. The paper plate bowling ball backdrop is terrific! From Polka Dot Pinwheel Parties via Catch My Party
I love retro anything and Jen does it right. Find cool ideas on everything for this theme from invitations with a surprise to stellar decorations to highly desired take-home favors. From Banner Events via Spaceships and Laser Beams
Hockey Party Ideas
This celebration is full of all sorts of authentic details. I don't know which idea is my favorite: the clever concession stand, the super game ideas or the décor. From Beth Kruse Custom Creations via Spaceships and Laser Beams

Skateboard Party Ideas
Nicole created this celebration for her own turning-ten guy and she used awesome ideas to pull it off! From Pretty and Print via Spaceships and Laser Beams
Basketball Party Ideas
Mom took the party right to the playing court. The guys loved having the fun, food and game all in the same area. From It's All About Ty and Ashlee via Spaceships and Laser Beams

Olympic Party Ideas
I know, I know it is not Olympic season right now but you could translate these great party ideas into your own Olympic Games. The boys would love it! From Dolled Up Design via Spaceships and Laser Beams
Mad Science Party Ideas
Green germ jelly (Jello) Petri dishes look authentic and the edible blackboard cake and cookies are terrific. Any mad scientist wannabes would be glad scientists at the end of this party. From Sweet P Cakes and Cookies via Kara's Party Ideas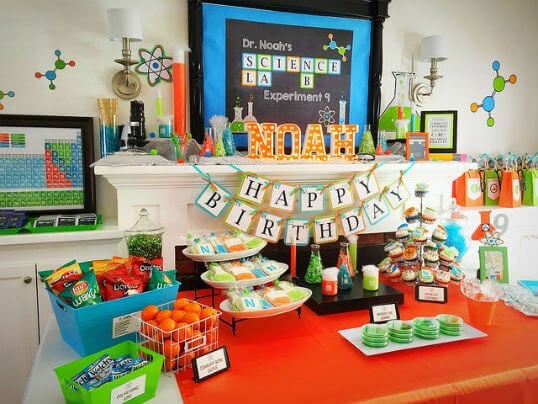 Would your birthday boy enjoy an interactive celebration? Set up a few science experiments along with a themed dessert table for a party that won't soon be forgotten! From Jen Herrema via The Party Wagon
Is your son the curious type? Oh, come on—what boy isn't curious?! Cool experiments, clever desserts, and wonderful décor make this party a winner. Kids love the hands-on fun with this party theme. From Banner Events via Spaceships and Laser Beams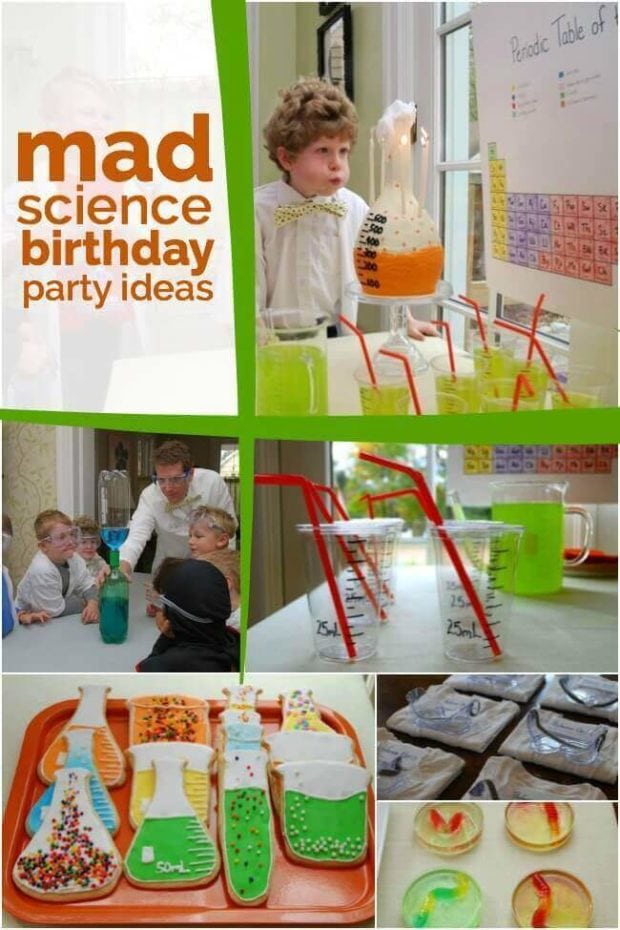 Experiment with cool food ideas, outfit party guests in lab coats and get ready for fun with this birthday party theme. A partying mom illustrates great DIY ideas to make it all happen. From The Princess and The Frog via Spaceships and Laser Beams
Dinosaur Party Ideas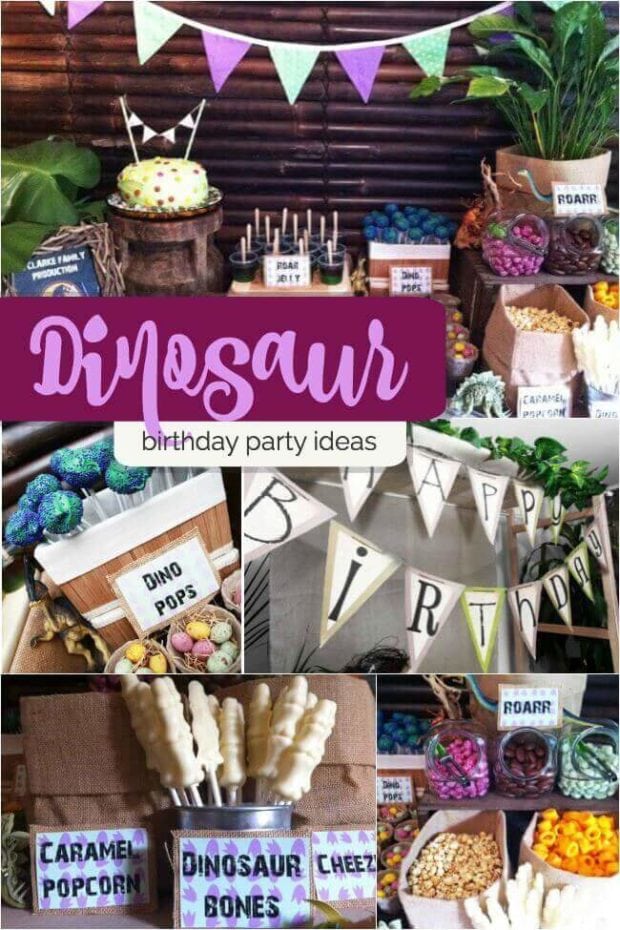 With monsters that can no longer "get you" the dinosaur theme just doesn't go extinct! This rendition has great party food and witty décor with dinos roaming the dessert table. From Sensationally Sweet Events via Spaceships and Laser Beams
Wild Fun Dinosaur Birthday Party – An outdoor venue as perfect as this one adds party excitement! Dinosaurs from pocket-size to over-size populated this fun, busy kid event.
You won't have to search hard to find terrific themed ideas at this party. The awesome decorations, activities and favors would excited any birthday boy. From Anders Ruff via Spaceships and Laser Beams
Hot Air Balloon Party Ideas
Birthday, baptism, or baby shower? This theme is versatile enough for any of those ideas. With maps, rosettes, a globe, and an enticing sweets table, this outdoor vintage version is quite lovely. From Sweets Indeed via Spaceships and Laser Beams
Fall Party Ideas
Rustic plaid transcends the seasons. Even though this was a fall event, the theme colors and masculine props could easily decorate a Christmas or winter party too. From Fizzy Party via Spaceships and Laser Beams
Did you know a stylized chalkboard is just the backdrop for a birthday party? This event for twins proves it! A golden tree-trunk cake stand, whimsical animals, and paper stars make it magical. Wearing paper animal ears and painting paper teepees kept young guests busy. From Gloria Wong Designs via 100 Layer Cakelet
You can't help falling in love with this charming event and the little guys who are being celebrated! Masculine plaid, rustic wood and clever embellishments give you lots of party décor inspiration. From SOUTHERN CHARM RENTALS VIA SPACESHIPS AND LASER BEAMS
Woodland Party Ideas
Look at this charmer and say, "ahhh"! The chosen party ware perfectly partners with muted forest hues for a delightful event that must have sparked party guests' imaginations in the most satisfying of ways. From Andelle Schenach Photography via Spaceships and Laser Beams
Car Party Ideas
This car party not only thrills the boys, moms like it too! Yolanda used all sorts of interesting details to construct a table racing to birthday happiness. From Kiss Me Kate via Spaceships and Laser Beams
Vintage Truck Party Ideas
Garage-inspired décor and a guy-pleasing menu take this party over the top. Who knew tires and tool boxes could look so handsome? Especially clever is the way Virginia created the oil can props. Nice party! From Amadore de Parties via Spaceships and Laser Beams
Motorcycle Birthday Party Ideas
What better theme for a two-year-old whose family loves to ride? Little bikers swagger with the big kids in 'staches, bandanas and temporary tattoos. From Sugar and Sparkle via Spaceships and Laser Beams
HAPPY HAPPENINGS EVENTS and DESIGN via CATCH MY PARTY :: Vintage Airplanes Themed Birthday Party – A delightful dessert table filled with appealing treats and a wonderful, light-filled venue really make this first birthday party take off!
From A Party Studio via Spaceships and Laser Beams: Helicopter Flying High Party This helicopter party is a fun take on the flying machine parties that thrill little guys. Turquoise and red really pop against the white clouds at this breakfast time party.
Pirate Party Ideas
The clever dessert table inside a pirate ship captured my attention immediately. It's stunning. Chests full of costumes, jewels and gold make this whole banquet a treasure. From Lottie and Me via Spaceships and Laser Beams
The clean lines and just-right pirate paraphernalia of this celebration will capture imaginations and provide the perfect backdrop for capturing a treasured memory. From Peace of Cake via Spaceships and Laser Beams
Yo-ho! Little guys like to pretend and you'll see how to spark their imaginations with adventure at this cute set-up. From Valerie Pullam via Spaceships and Laser Beams
Magic Party Ideas
Abracadabra! Tantalize birthday boys and guests alike with tricks and taste treats like the rabbit-in-the-hat cake, magic potion beverages and sugar cookie cards you'll see at this winning party. From Little Wish Parties via Spaceships and Laser Beams
Rock Star Party Ideas

Even if your son doesn't play a musical instrument he will like to pretend he can. See lots of fun ideas and especially be sure to notice the Diva Tent Lounge — I want one! From Sensationally Sweet Events via Spaceships and Laser Beams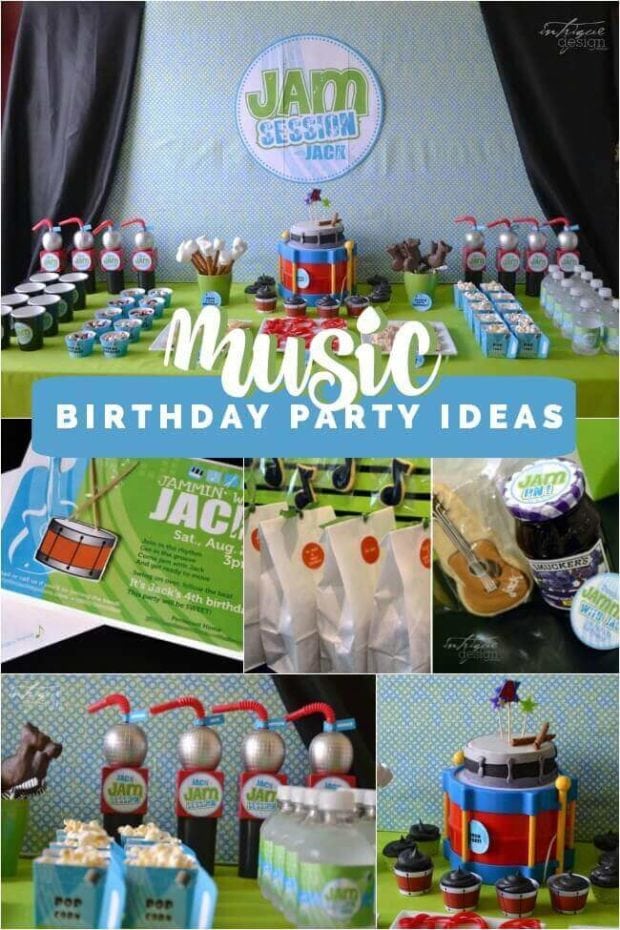 Jammin' works for guests of any age. This party included themed treats (like eighth note brownie pops), personalized microphone cups and DIY musical instrument favors. Wanna make music? From Brave Creative Design via Spaceships and Laser Beams
More Party Ideas We Love: