23 Star Wars Birthday Party Ideas You Will Love
Table of Contents
You don't have to search in a galaxy far, far away to find awesome Star Wars birthday party ideas
We've rounded up 23 out-of-this world Star Wars party ideas you will love! Get suggestions for decorations, birthday cakes, party favors, dessert tables, party games and menu items. Get inspired by these creative ideas and the party planning force will be strong with you.
---
See Also
---
From Hello My Sweet
Light sabers and Star Wars are pretty much inseparable, making this printable Star Wars light saber treat cone a must-have at your Star Wars party.
Simply print out the template and assemble prior to filling with your guest of honor's favorite party snack such as popcorn, candy or pretzels.
From Keren Precel Events
Create your own Star Wars party favor bags by attaching Star Wars character faces to black gift bags. Fill them up with Star Wars Stickers, Legos, books and treats.
From Partyummy via Spaceships and Laser Beams
If you want to really wow party guests, bake up your own Death Star cake, complete with LED lighting.
This multi-step process starts with a sphere-shaped Rice Krispies cake base covered in layers of ganache and fondant.
From Kiss With Style
Create drama at your Star Wars party with a good vs. evil dessert table.
Adding themed decorations and treats inspired by both the light and dark forces can create this conflict between good and evil.
Incorporating shades of red vs. blue and dark vs. light, as well as adding hints of evil characters such as Darth Vader and good characters like Yoda can further reinforce the contrast.
From Julie Anne Events
Strike it big with an Empire Strikes Back Star Wars Bowling party that pairs a bowling theme with cool Star Wars details. Check out the budget-friendly details for DIY decorations and embellished store bought treats.
From Mae Armstrong Designs
Awesome Star Wars party activity ideas make for an out-of-this world experience.
Add a Jedi Training Academy to your list with activities like "Inflate Your Light Saber" station, "Destroy the Death Star" bean bag toss, "Fight in the Jedi Bubble Wars", and "Free Han Solo" from the Jell-O game.
7. R2-D2 Cake
From Alex Nguyen Portraits
Layers and layers of cake are baked and stacked to create this unbelievable R2-D2 cake, covered in ganache, buttercream and then fondant.
Rice Krispy treat legs and more fondant details make this cake entirely edible. What a cool cake for a Star Wars party!
From Spaceships and Laser Beams
Making Storm Trooper cupcakes is easier than you think! Using a food grade black marker, add Storm Trooper facial features to a marshmallow!
Add the Storm Trooper marshmallow as a topper to a white-frosted cupcake.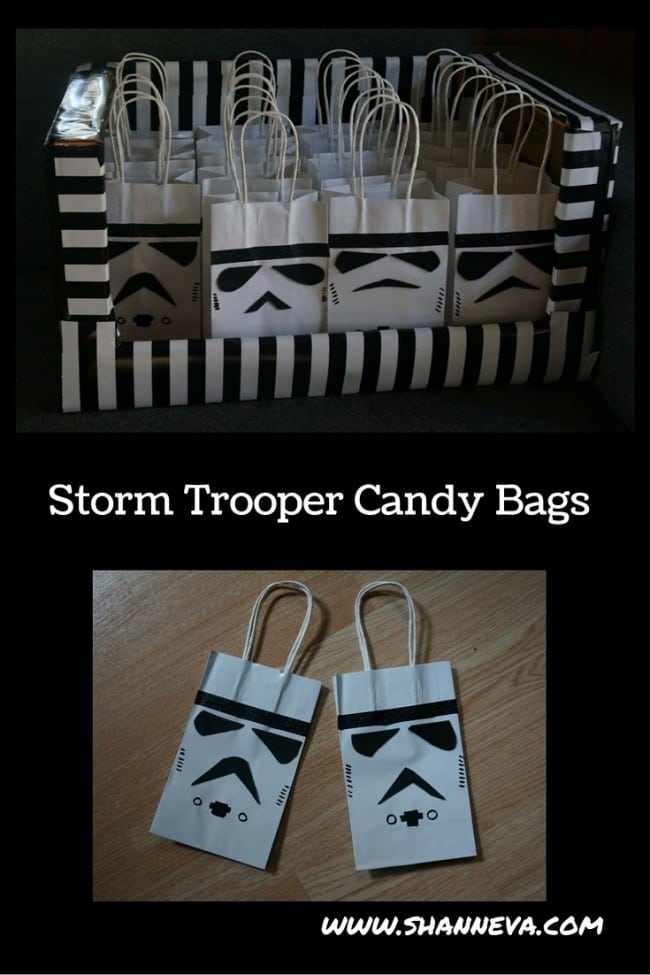 From Shann Eva's Blog
Why send home boring party favor bags when you can DIY your own Star Wars inspired bags inexpensively?
All you need to get started is: white gift bags, sticky backed black craft foam and a permanent black ink marker.
10. Star Wars Macarons
From Semi Sweet
Macarons by themselves are pretty impressive, but these Star Wars Macarons are definitely out of this world.
Try your hand at decorating R2-D2, Death Star and Chewbacca inspired macarons using a basic macaron recipe and royal icing.
11. DIY Light Sabers
From Here Comes the Sun
Light sabers are a must at any Star Wars party. The good news is you can DIY your own using dollar store pool noodles, duct tape and electrical tape!
12. Star Wars Decorative Letters
13. Star Wars Sugar Cookies
From Spaceships and Laser Beams
Whip up a batch of Star Wars sugar cookies to represent key characters from the movie.
All you need is a basic sugar cookie recipe and spring-loaded stamp style cookie cutters. To frost or not frost, that is your choice.
14. Cardboard Landspeeder
From Pottery Barn Kids
Save your cardboard and DIY some cardboard landspeeders for your next Star Wars party. Guests can snack on party treats while they watch their favorite episode from the comforts of their very own hovercraft.
From Am I a Funny Girl?
DIY your own Death Star piñata for a fun Star Wars party game!
It's a relatively easy process covering an inflated beach ball with several layers of paper mache and adding details with paint.
From Disney Family
Princess Leia's buns are iconic. In about 30 minutes, you can create your own Princess Leia headband for aspiring Jedi princesses using a brown headband, yarn, felt and a glue gun.
From Mom Endeavors
Whether you're a fan of the dark side of the force or the light, whipping up a batch of these Star Wars Rice Krispies Treats for your party may just awaken some enthusiasm at your party.
A basic Rice Krispies Treat recipe is used with a little green food coloring mixed in for Yoda and some cocoa powder and black food coloring used for Darth Vader.
Cookie cutters helped to create the shape.
From Catch My Party
Ordinary marshmallows just won't cut it for a Star Wars party. Create this Stormtrooper Marshmallows easily using a black food safe marker.
From Paintbrushes and Popsicles
Transform a batch of your favorite cupcakes into Princess Leia cupcakes!
In addition to baked cupcakes, all you need is some white, pink and black frosting and Oreo cookies for the buns.
From Two Sisters Crafting
You only need two ingredients to make these lightsaber pretzels—candy melts in lightsaber colors and pretzel rods.
A simple melting, dipping and drying process later and party guests will have just as much fun playing with their food as eating it.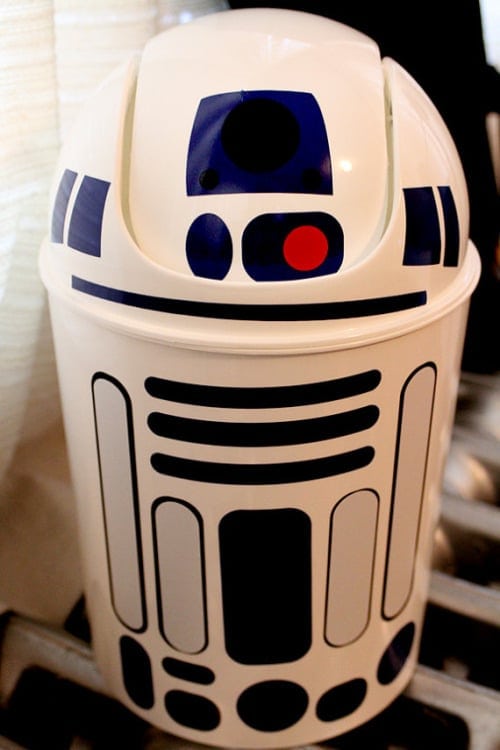 21. R2-D2 Garbage Can
From Leah In Love
Whether you want a cool garbage can for guests to throw party trash into or need a cool inexpensive prop for a Star Wars dessert table, this R2-D2 garbage can serves both functions.
Check out your local dollar store for an appropriately shaped garbage can and get to work recreating R2's details from vinyl!
22. R2-D2 Popcorn Bags
From HelloSociety
Now your Star Wars party guests can nibble their popcorn from stylish R2-D2 inspired popcorn bags.
Simply print out an R2-D2 printable, cut to size and attach to a white paper lunch bag.
23. Star Wars Dessert Table
From Mon Tresor
If you're in the dark on how to create a Star Wars dessert table, it's time for some enlightenment.
Check out this simple dessert table made using a Star Wars backdrop, complete with the party guest's name created using a Star Wars font.
Star Wars themed toys and labels can add a pop to your table with some candy, light saber cupcakes and a simple Darth Vader toy topped cake included.
plan a Star Wars birthday party with these party supplies:
(Amazon Affiliate Links)
Star Wars Lightsaber Cupcake Picks
Star Wars Birthday Banner
Star Wars 3D Pinata
Star Wars Tablecover
Treat Stand
Star Wars Party Favor Pack
Yoda Candy Holder
Star Wars Square Dinner Plates
Star Wars Lunch Napkins
Star Wars Party Centerpiece
Star Wars Party Goody Bags
R2D2 Light Set
Star Wars Stickers
R2-D2 & C-3PO Cardboard Standup
more Star Wars birthday party ideas: