21 Hawaiian Luau Party Ideas
Table of Contents
Don't even think about hosting a Hawaiian luau party until you've had a chance to check out these 21 festive Hawaiian luau party ideas! Thinking about including a tiki bar? We've got a DIY tutorial for you. Want ideas for a luau party dessert table? You'll love the tiki cake idea, as well as the chocolate seashells, and surfboard cookies. Are you trying to think of a fun party game? How about coconut bowling? Don't worry, we've even got the party favors ideas covered! You can check out the adorable DIY leis and grass skirt favor station idea we've included. You'll be bringing the Aloha spirit and flavor of the islands to your luau in no time!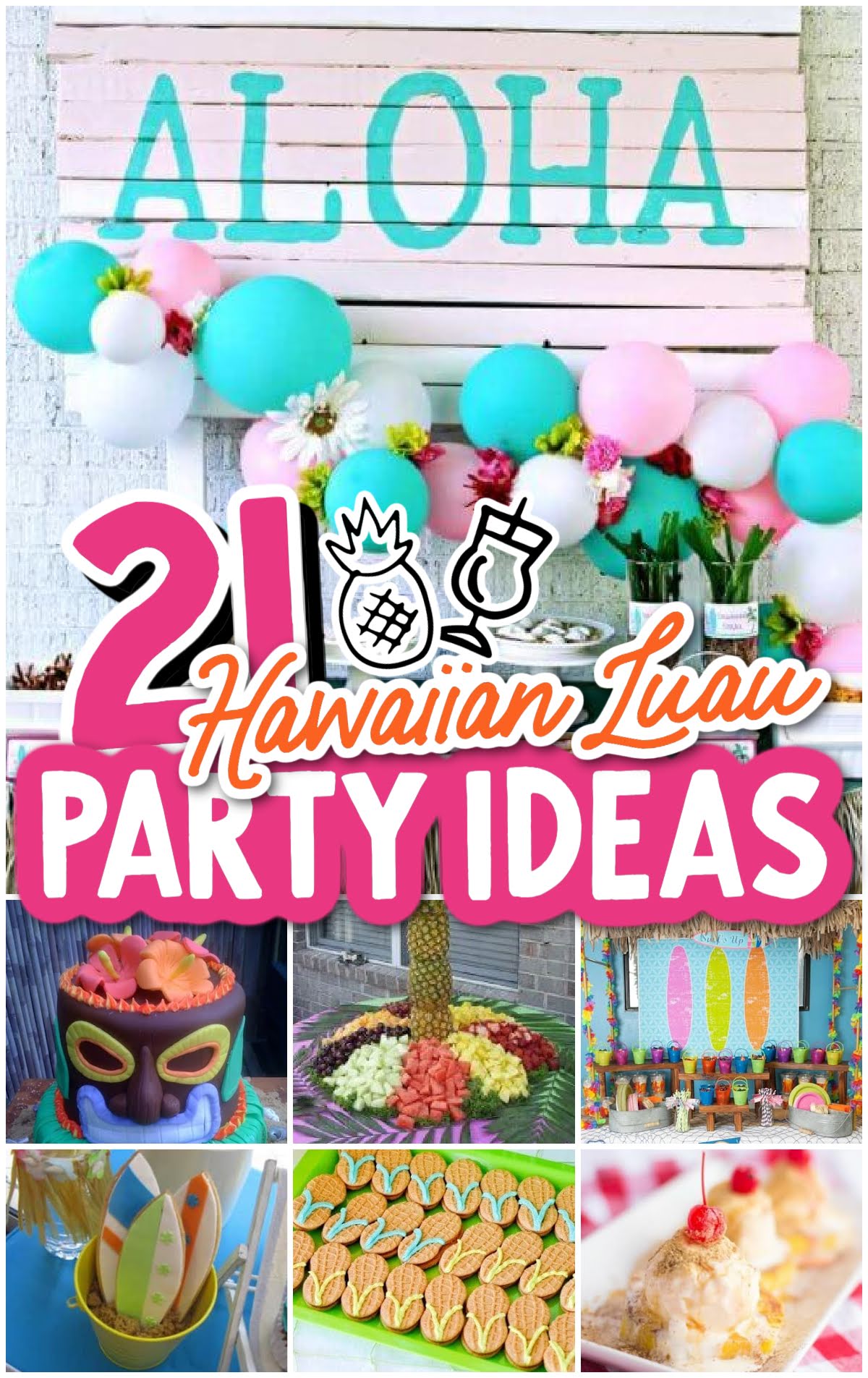 Planning your event poolside? Make sure you check out these pool party ideas. Or make it a Disney theme with these Moana party ideas!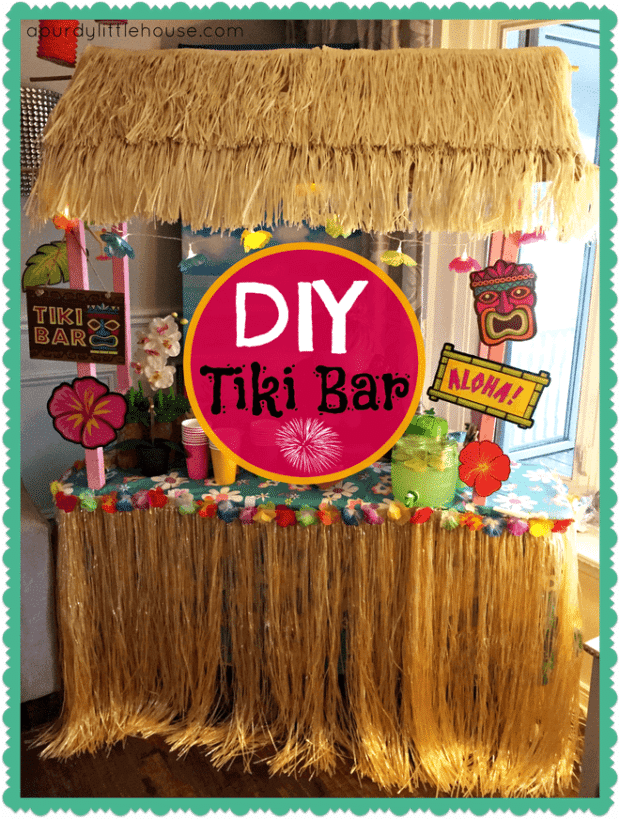 1. DIY Tiki Bar
Throwing Hawaiian luau calls for a tiki bar. If you aren't afraid of a little DIY, this tutorial will get you a festive tiki bar for a fraction of the store-bought price tag. Not only does a tiki bar act as a great scene-setting decoration, but it is also functional as a beverage bar or refreshment station too. This tiki bar was made from scrap wood, child-sized grass skirts, recycled cardboard, bamboo sticks, and duct tape!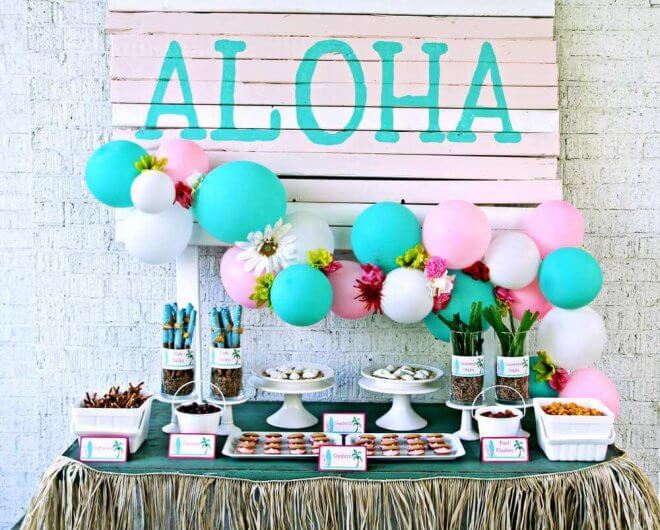 From a tropical floral balloon garland to a sea of island-inspired treats, this Luau party dessert table will have you dreaming of sandy beaches and the sounds of crashing ocean waves. Check out the chocolate-covered pretzel rod "fish sticks", featuring cute goldfish crackers and edible bead "bubbles". How clever are the Nilla Wafer oyster cookies with candy pearls? Some candy favorites include green licorice "seaweed", chocolate seashells, and malt ball "coconuts".
Fondant detailing makes this tiki cake festive and perfect for your Hawaiian luau party dessert table. Display it on a bed of brown sugar sand for that perfect tropical beach vibe. Check out the fondant Plumeria flowers and fondant grass skirt! Party guests are sure to take notice of this awesome cake!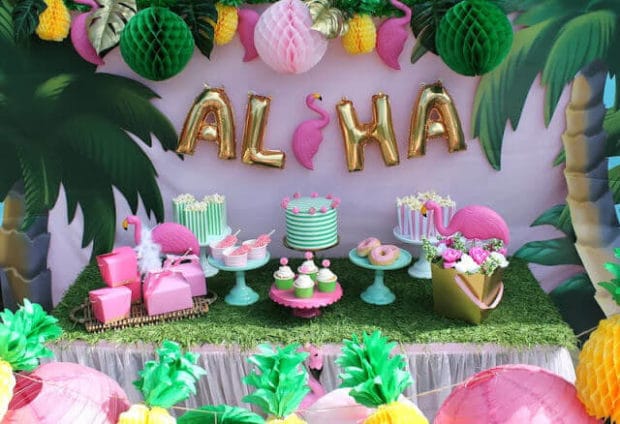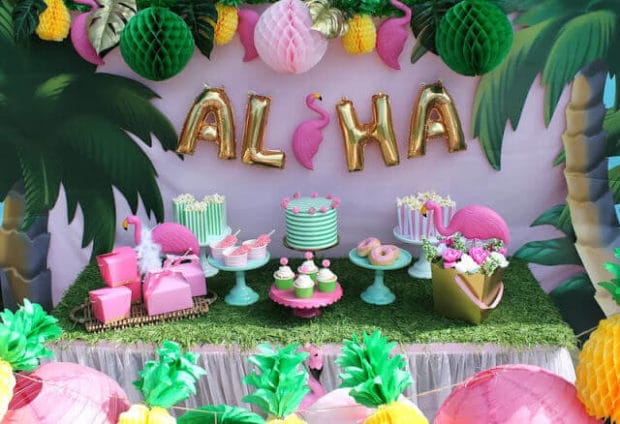 4. Flamingo Luau Party Cake Table
This adorable "let's flamingo luau party" combines two popular party trends—flamingoes and luaus. You'll love seeing the tropical-inspired dessert table which boasts the cutest plastic flamingos, tissue paper pineapples, and balls in preppy shades of pink, green, and yellow. Striped bags and boxes of popcorn, donuts, cupcakes, and ice cream bars in cups were the primary donuts featured.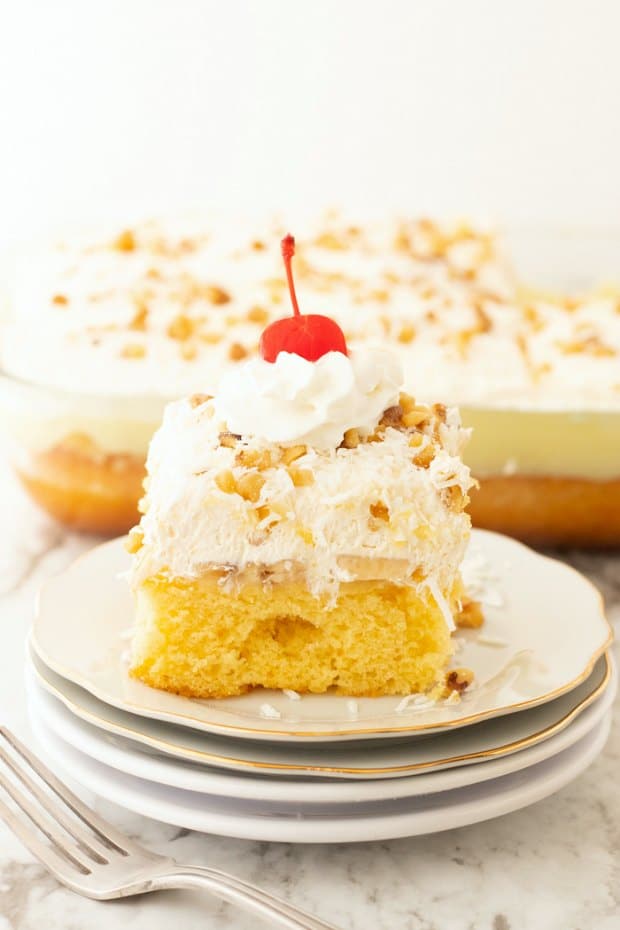 This Hawaiian cake starts off with a basic yellow cake mix, then you add two layers to the top. A delicious pineapple layer that soaks into the cake itself and finally, a whipped cream frosting layer.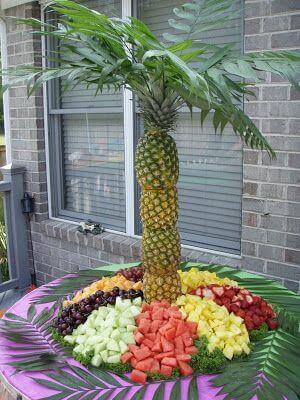 Add that "wow" factor to your next Hawaiian luau-themed party with this creative combination of fruit display and centerpiece idea. This tutorial walks you through the process of creating the palm tree fruit display from palm fronds and pineapples that are stacked on top of each other! The key is using PVC pipe and a PVC table cap to keep the pineapples upright! Check out the materials list and instructions to make your own tropical fruit display.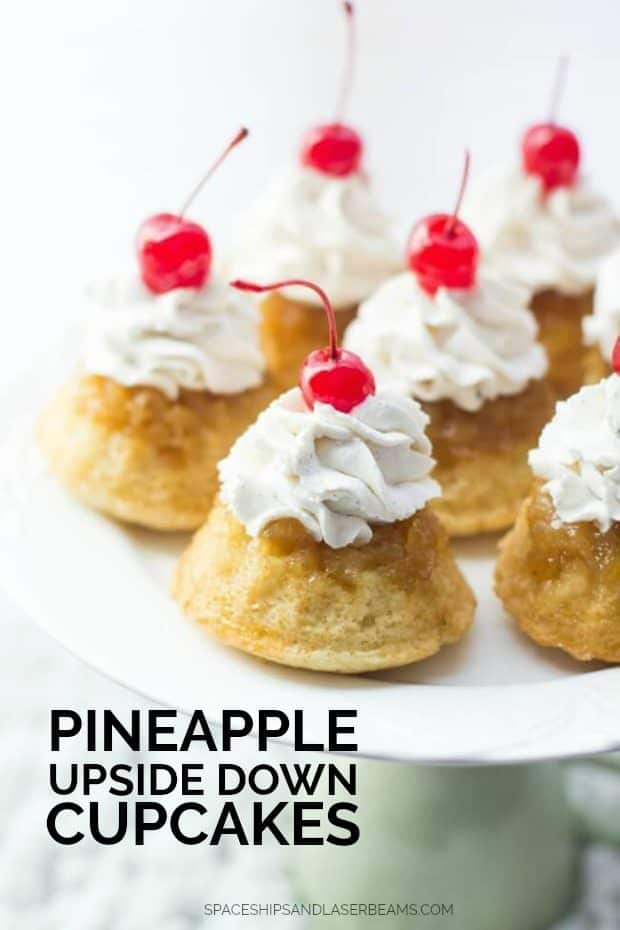 Bring a taste of the tropics to your Hawaiian Luau! These mini pineapple upside-down cakes have a way of bringing smiles to your party guest's faces. Using a muffin tin, you can easily create individual-sized cake servings for family and friends. See the recipe for a list of ingredients and complete baking instructions.

8. DIY Flower Lights
Chances are good that you already have all the supplies on hand to create these tropical DIY flower lights. They will make such an amazing addition to your luau party decorations and bring in that island atmosphere. Grab a strand or two of Christmas twinkle lights and a colorful variety of regular and mini-sized baking cups. You'll follow some simple instructions for bending and cutting and layering the baking cups to create beautiful flower decorations.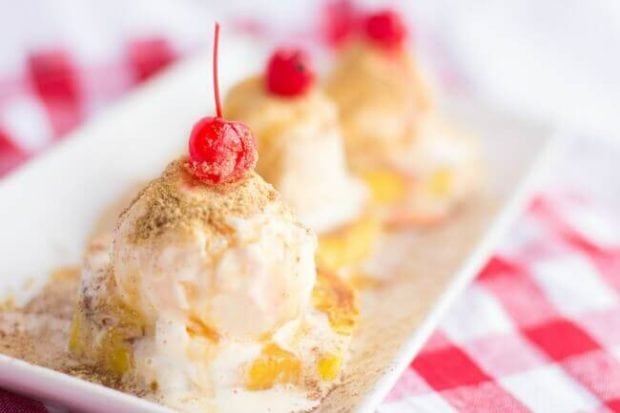 What's a Hawaiian luau without pineapple? Definitely not a party! Make a fun impression at your next luau with this DIY pineapple sundae.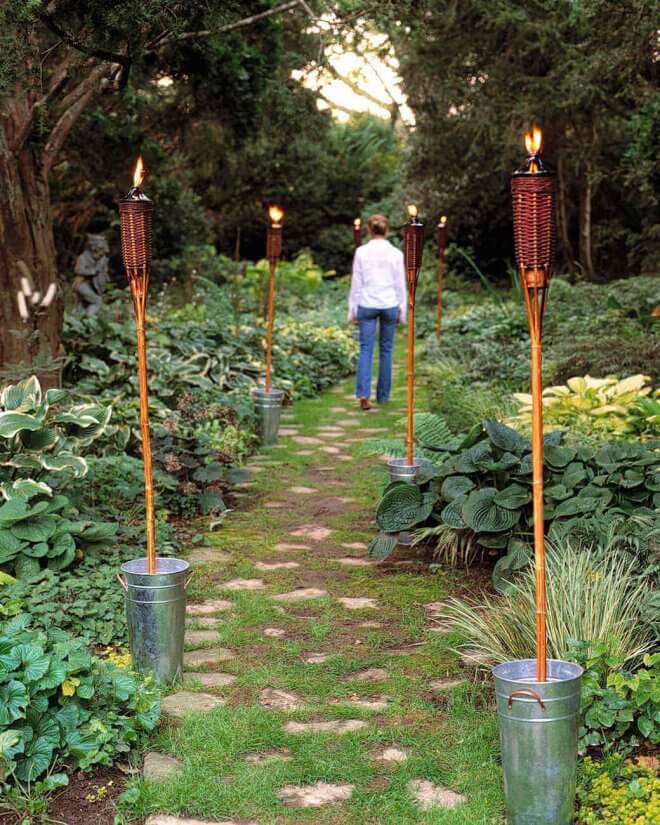 10. Tiki Torch Lighting
Whether you line your driveway or walkway with tiki torches or surround your patio, they make a festive, inexpensive addition and bring that island feel to your party. This tutorial shows you how to anchor tiki torches in flower buckets to avoid making holes in your yard. The anchors also provide a way for you to display tiki torches when you want to feature them on paved ground. What a great decoration for a Hawaiian luau party!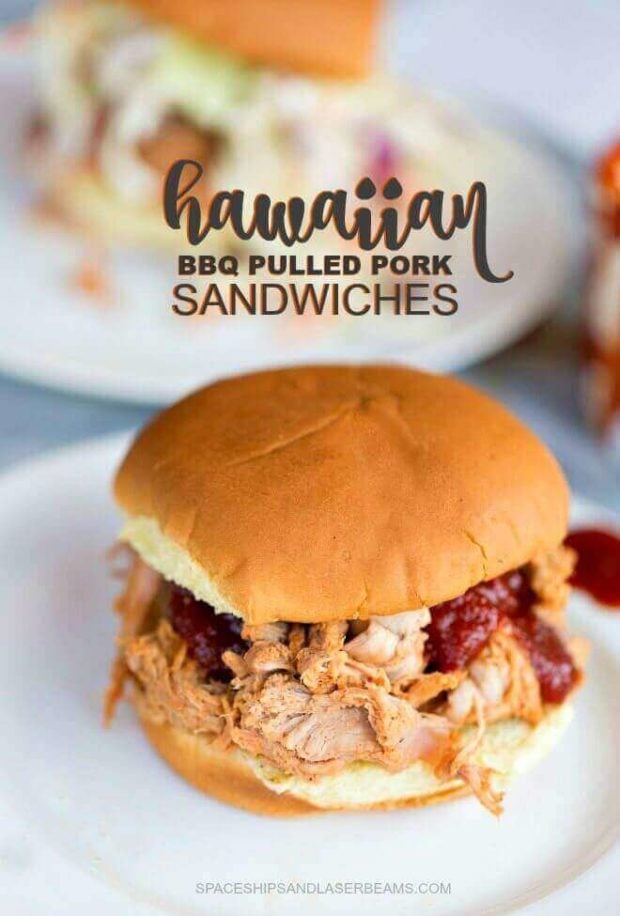 You may not be able to do a full-fledged pig roast for your Hawaiian luau, but you can serve up these Hawaiian BBQ pulled pork sandwiches. They are the next best thing! Follow the recipe and bring the tastes of the islands to your Hawaiian celebration.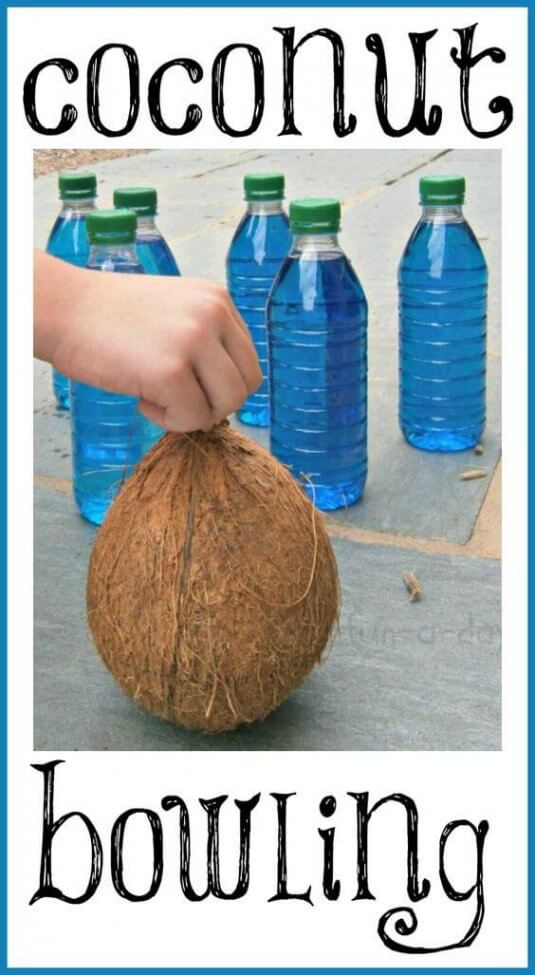 This kid-friendly coconut bowling game will be a hit at your Hawaiian luau! Add it to your party game and activity list! Fill six plastic water bottles with blue food-colored "ocean" water to create your bowling pins. Purchase a coconut or two at your local grocery store to act as your bowling ball(s). Get ready to have some "coconutty" fun.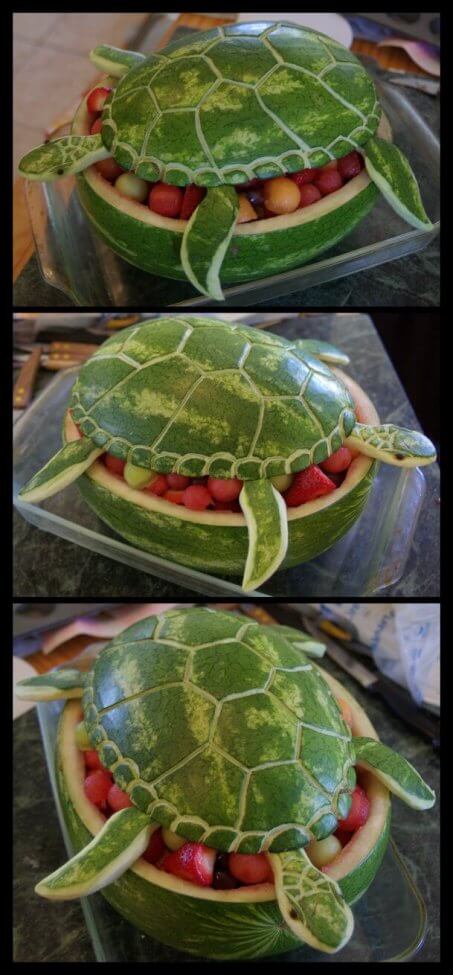 Get creative with watermelon and turn it into an impressive sea turtle bowl filled with delicious fruit salad. Use a melon baller to create balls of cantaloupe, honeydew, and watermelon. Add strawberries or any other fruit of your choice. This watermelon sea turtle functions as a beautiful décor centerpiece and as a great fruit salad display!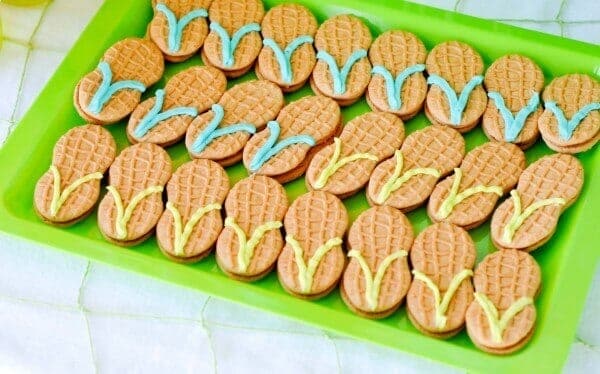 Is there anything better than wearing sandals or flip-flops in the sand while in Hawaii? Remind luau party guests of their own fun in the sun by DIYing these Nutter Butter sandal (flip-flop) cookies. You'll just need Nutter Butter cookies, icing, and an edible pearl. These are simple to make, but look so cute on a dessert table.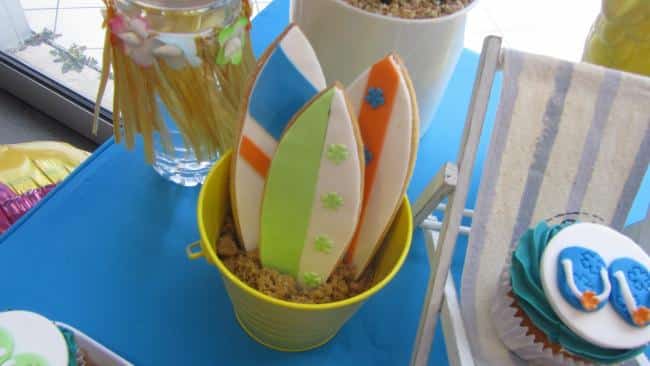 Guests may not be able to hang ten while the luau is going on, but they'll be itching to catch a wave post-party after snacking on these adorable surfboard sugar cookies. Created with an edible fin to help with displaying the cookies upright, they look amazing displayed in a pail of edible brown sugar sand.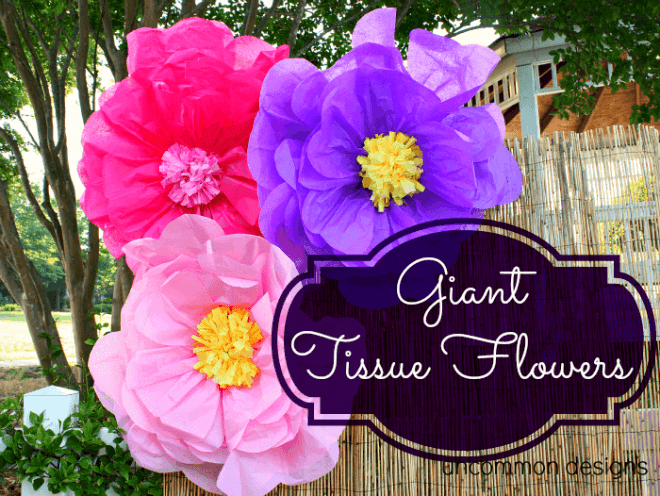 Get ready to be amazed by what you can make with some floral wire, tape, and tissue paper! These giant tissue paper flowers are a perfect addition to your Hawaiian luau party decorations. You'll love how budget-friendly they are, as well as how simple they are to make! Plus, you can reuse them after your party is over.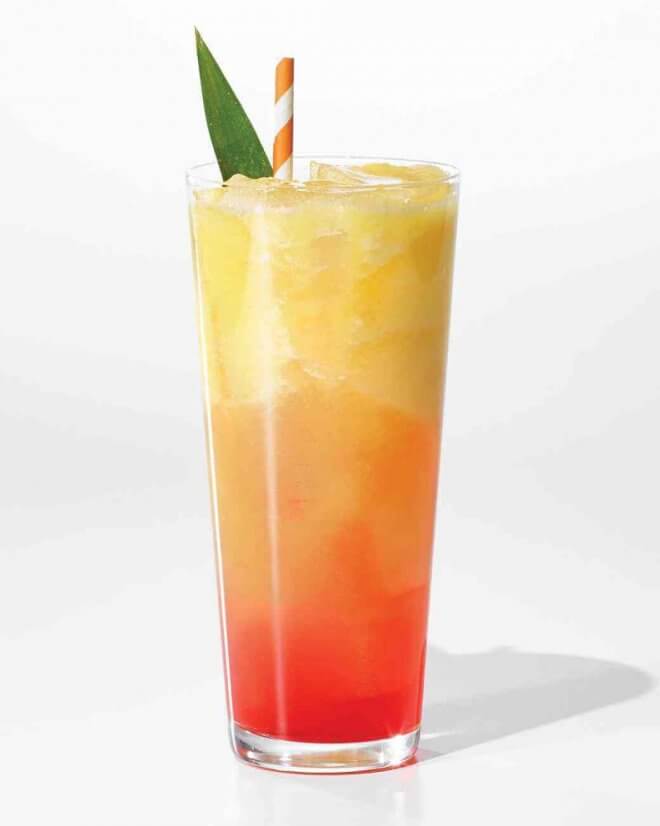 Trying to decide on a signature beverage to serve at your Hawaiian luau? This pineapple guava mocktail is a great non-alcoholic choice. Party guests will love sipping on this beautiful ombre mocktail that features layered fresh pineapple, guava, juice, and grenadine syrup. Add a striped paper straw for an added touch of charm.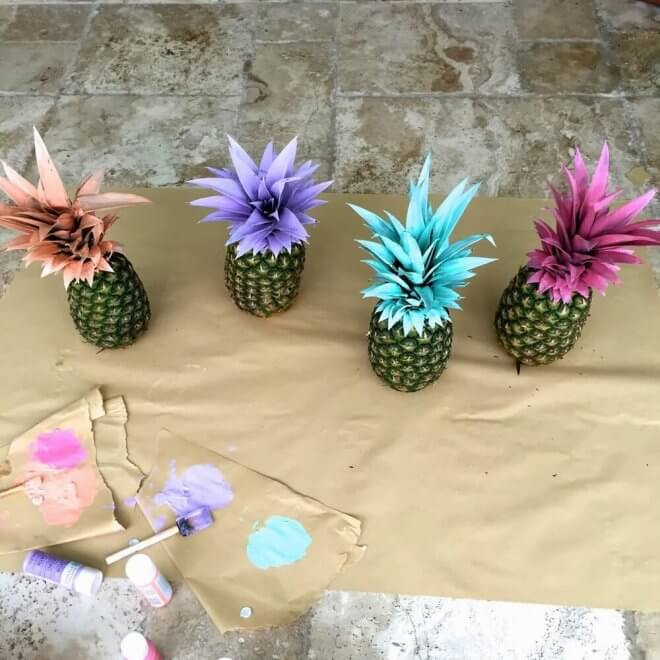 18. Painted Pineapple Centerpieces
Add some pizzazz to pineapples by painting them, turning them into a fabulous luau party decoration that can still be consumed! You'll need pineapples, acrylic paints, foam brushes, a paintbrush set, and a tarp or Kraft paper. Line these painted beauties up as a table centerpiece, or display a few as colorful tropical props on your tiki bar or Hawaiian-inspired dessert table.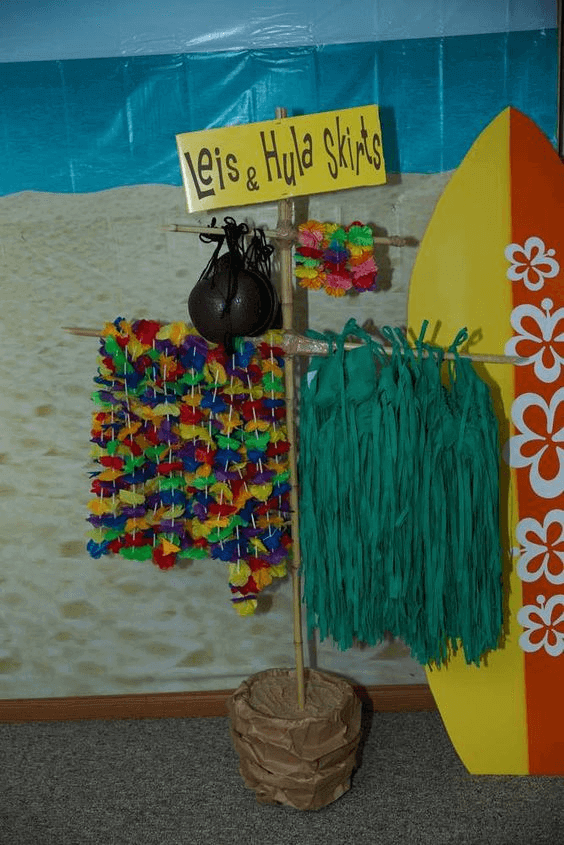 To bring in that luau spirit to your Hawaiian party, set up a help-yourself display featuring leis and hula skirts for party guests. Guests can dress up in Hawaiian garb, adding to the festive atmosphere, and keep that Aloha spirit with them post-party. What a fun party favor idea!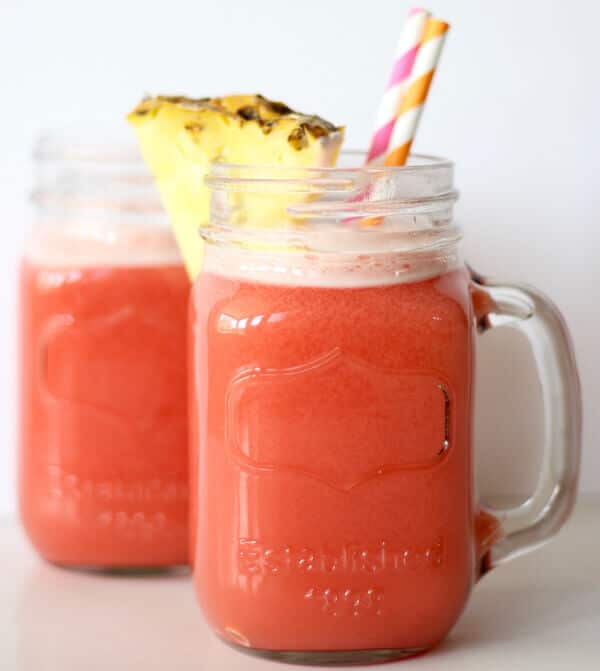 20. Aloha Party Punch
This Aloha Party Punch is perfect for a tropical party of any kind, but especially a Hawaiian luau. You'll love that it only requires 4 ingredients to get a refreshing dose of the islands. The next time you're at the store, pick up: Pineapple juice, Hawaiian Fruit Punch, Ginger ale, and Orange Sherbet ice cream. Follow the simple instructions for a perfect party drink!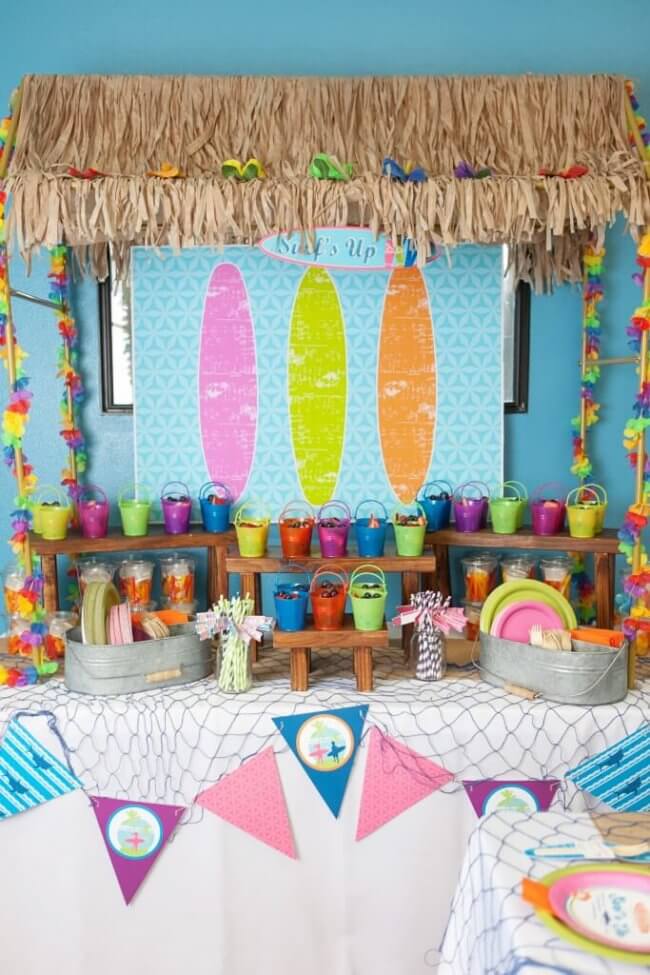 21. Sand Pail Fruit Display
Get creative with your fruit display! Use mini sand pails as individual serving dishes for fruit. Blueberries, strawberries, and grapes make a nice blend, but kiwi, pineapple, and bananas would be a great addition too! Don't you just love the tiki hut refreshment station too?
More beautifully themed birthday party ideas: