21 Ultimate Pool Party Ideas
Table of Contents
Fill your mind with plenty of summer-worthy pool party ideas by checking out this roundup. You'll find all the party supplies you'll need, from ideas for pool party invitations to clever party food and party favors, plus a plethora of DIY decorations and pool party games. Guests will be excited to jump right in on a great summer event.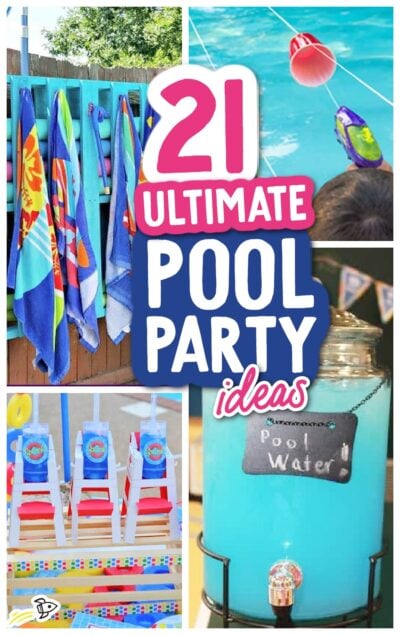 ---
See Also:
---

1. Beach Ball Pool
You're sure to capture the pool party invitee's attention with these genius beach ball pool party invitations. Get guests excited for your pool party bash by including all of the party details, printed on a beach ball. Delivering the balls fully inflated is a fun idea, or send the beach balls with instructions for guests to blow up the ball to reveal the party plan.

2. Glow Stick Pool Decorations
If you're hosting a pool party that will extend into the evening hours, why not include this unexpected nighttime surprise as part of your décor plans? Simply add glow sticks to the bottom of the pool to add a cool party vibe. Kids will love the atmosphere created. Plus, how fun to dive after the glow sticks.

This summer, invite sharks to your pool party. A shark-themed pool party is a fun twist on an ordinary pool party. Instead of featuring a ferocious shark, this party features a grinning shark throughout the party decorations. There are plenty of "JAWsome" details to sink your teeth into, including a dessert table you might just figuratively die over. Gummy sharks, shark fin topped cupcakes, shark-decorated cookies, and a myriad of other yummy treats will keep party guests' tummies full and hearts happy.

A summer pool party calls for summer-themed desserts. This retro pool party bash has loads of great pool party dessert ideas. How fun is the ice cream bar cake pops, ice cream cone, ice cream sundae-inspired cupcakes, and cookies decorated to look like sunglasses, popsicles, and flip-flops? Plus, the outdoor pool-shaped cake with little fondant swimmers is a creative cake idea too!

5. Sun Protection Station
If there is one thing that can ruin the fun of a pool party, it is a sunburn! You can help keep party guests sunburn free by setting up a sun protection station at your next outdoor pool party. Help guests lather on the sunscreen and provide a simple protection station that includes a bucket or basket of sunscreen and lotion. Guests will appreciate the extra protection.

6. Swimming Pool Party Cake
Buttercream and fondant pair for one super cute swimming pool party cake. Check out the darling snorkel gear and flippers the swimmer on the cake is wearing. This is sure to steal the show on the dessert table at your pool party!

A great way to tie a party theme together is by incorporating a party logo. The repetition of using it on the invitation again on the decorations, and finally on the take-home favors definitely helps to achieve a cohesive look and feel. We love these "Let's Make a Splash" pool party favor bags. They feature the adorable party logo used throughout the event which is already a win. The idea of using a fabric bag is also a fabulous idea since the party guests are around water, and a fabric bag is definitely more durable as a storage place for party keepsakes.

8. Pool Party Decoration Ideas
Don't forget to dress up the pool area for your party. There are so many ways to do this inexpensively. Balloons can be used to create interest both above the pool and around the pool deck. Think balloon garlands, arches, and sculptures. Use different-shaped balloons to create a variety of décor pieces!

9. Pool Party Popsicle (Icypole) Refreshment Voucher
Popsicles ("Icypoles") are a great pool party refreshment, especially when the sun is shining. Popsicles can be a logistical nightmare to keep from melting and it can be hard to keep track of which party guests have reached their Popsicle quota when an open cooler stocked with popsicles is on display. We love this refreshment voucher idea. Each guest receives a refreshment voucher redeemable for one Popsicle, this allows the popsicles to remain stored in a freezer until desired, and also allows for some accountability.

10. Pool Party Squirt Gun Races
This boredom-busting activity idea is great for a summer pool party. The great news is you probably have the items needed for these pool party squirt gun races at your home: sturdy string, scissors, plastic cups, duct tape, and squirt guns. Then, get ready to make a splash because this game is fun!

Popsicles and pool parties go together like peanut butter and jelly. You can create this jumbo Popsicle garland for your next pool party. Not only is this decoration idea affordable and quick to make, but the result is also adorable. Would you believe the popsicles are created from cut-up pool noodles affixed to Popsicle sticks? So cute, right?

Who knew Styrofoam balls could be turned into something so adorable? DIY your own beach ball garland to use as decoration at your pool party. You can create these using Styrofoam balls, paint, and a little string. How cute would these be hanging from your dessert table or strung around your pool deck and party area?

13. Pool Noodle Party Decorations
You know those foam pool noodles you see at dollar stores all spring and summer long? They aren't just for the pool. Get creative and use them to create decorations, perfect for your pool party. You can cut them up and string them to make really cool pool noodle garlands for next to nothing!

14. Pool Party Sand Pail Favor
Send home the coolest pool party-inspired favor with party guests. Purchase inexpensive sand pails and load them up with things like sunglasses, flip flops, a beach ball, or treats. You can add a custom label or thank you tag to the sand pails to express appreciation for your guest's attendance at the party.

Start off your summer pool party planning by picking an adorable party invitation. This beach ball invitation is colorful and fun and will instantly get your guests excited about the fun to come into the pool. All of the party details can be adapted to meet your party goals and plans!

16. Pool Party Towel Station
It's inevitable that someone attending your pool party will forget to bring their own towel. Plan ahead for this scenario so that all guests can continue to have fun at your event by creating a towel station. Use a large tub or ice chest to store spare towels. Create a sign letting the forgetful guests know these loaner towels are just for them. They are sure to feel relieved and well-taken care of.

17. Flip Flop Cookies
When it comes to having fun in the sun, flip-flops are usually the footwear of choice, especially at a pool party. Why not bring the fun of flip-flops to your refreshment table? Check out these adorable flip-flop cookies created using vanilla Vienna sandwich cookies and frosting. Display them on a bed of brown sugar "sand".

18. Pool Party Beverage Idea
While a pool party is bound to have plenty of water for splashing, make sure there is also plenty of "pool water" for drinking. This creative beverage idea takes your favorite blue-tinted drink and pairs it with a clever label to tie in with the pool party theme! Having plenty of drinks on hand to keep guests hydrated is very important.

Get ready for summer and all the pool parties you'd like to throw by getting your pool gear organized. This DIY pallet pool storage is the perfect way to display and store all of your gear during pool party season while also keeping it close enough to actually use without a lot of hunting and hassle. Assembly is easy, and the cost is totally budget-friendly. Check out the tutorial for steps to create one for your own backyard.

20. Lifeguard Chair Party Favors
Lifeguards and pools go hand-in-hand, so why not add some lifeguard stands to your pool party decorations and then send them home with the kids at the end of the party? These lifeguard chairs are a great way to serve up a treat, such as some pushup pops filled with blue Jell-O "water". Guests will love taking one home as a party favor after they've made a splash in your pool.

21. Pool Party-Inspired Treat Ideas
Get creative with your pool party treats by labeling popular candy with clever names. Gumballs can be labeled "beach balls". Licorice ropes look like "pool noodles". You'll find great inspiration for a dessert table with this colorful pool party.
Check out more great pool party ideas perfect for the summer: