21 Fun June Birthday Party Ideas for Boys (and Girls too!)
Table of Contents
Ahh, June. It's not too hot and definitely no longer cold (at least in most parts of the world). It's a great month for planning a boy's birthday party because you have the option of planning a celebration indoors or out, so we've put together this list of 21 fun June birthday party ideas for boys and girls of all ages.
What would your birthday honoree choose? A circus or carnival party? How about an art party, zoo party or safari themed birthday? Is it hot enough for an outdoor pool party? Or doing things outside?
There are so many fun ideas for a June birthday party right here at your fingertips!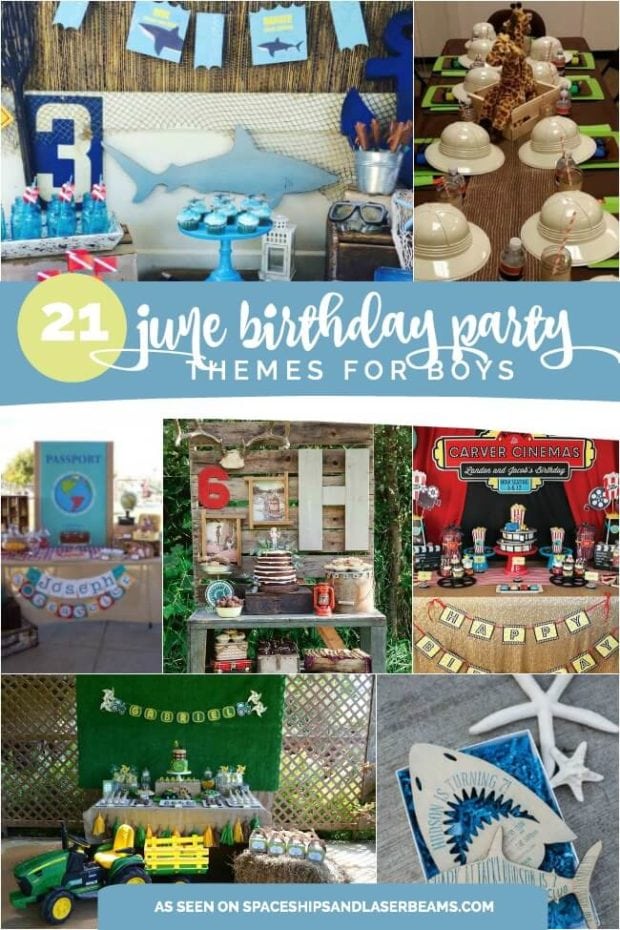 ---
See Also
---
1. Circus Party
From GreyGrey Designs, as seen on Spaceships and Laser Beams
Step right up to this amazing joint circus birthday party perfectly built for two brothers. With a petting zoo, face painting and a show-stopping dessert table full of delicious sweets and treats, like funnel cakes and corn dogs. Guests can board the train or go for a gallup on a pony and take photos in the ticket booth photo ops. At the end of the party, guests were sent home with goldfish-in-a-bag soap favors.
2. Boy's World Traveler First Birthday
From Maria Healey, as seen on Spaceships and Laser Beams
Grab your suitcase and head out for an adventure built for grandeur in this world traveler first birthday. Guests recieved their passport themed invitations that set the stage for this fun milestone party. A vintage style suitcase complete with travel "stickers" was the highlight of the dessert table. Wood crates, suitcases, and even world globes completed the set-up to transport guests on a fun adventure.
3. Lights, Camera Birthday Party
From Banner Events, as seen on Hostess With the Mostess
Lights, camera, action! Grab your popcorn, candy and hit the red carpet for this stunning hollywood movie themed birthday party. "Carver Cinemas" welcomed guests down the runway and across the personalized "walk of fame" stars to enjoy hollywood at home. Traditional movie garb including hot dogs, nachos, candy, popcorn and even drinks were served at the concession stand. The dessert table glittered with gold and highled the movie themed cake, cupcakes, and cookies. The party even included a trip to an actual theater to enjoy a movie at the end.
4. A Boy's Tractor Birthday Party
From Partylicious, as seen on Spaceships and Laser Beams
When you love tractors and being on the farm, a tractor birthday party is a must. Decked out in John Deere green and yellow, this party is full of amazing details. Using faux grass, burlap and even real hay bales for decor, you know this party is one of a kind. Desserts were overflowing on the dessert table and were even piled onto toy tractor beds. Plus, a real ride-on working toy tractor set front and center to tie everything together.
5. Airplane Birthday Party
From Sandy A La Mode, as seen on Spaceships and Laser Beams
I love parties that are simple, but make a statement and this airplane birthday party does just that. Using colors of red, white, and sky blue, this party transports you to another level. Paper airplanes soar across the sky as the background highlighing the dessert table that is ready to feed hungry little pilots. Cookies and cupcakes sit atop suitcases while the two-tiered cake stands tall, topped with a vintage airplane.
6. Safari Birthday Party
From Summer Totten, as seen on We Heart Parties
Are you ready for a safari? This safari birthday takes you on an adventure without leaving your home. Safari hats, binoculars and giraffes awaits you on your journey. Jungle prints paired with brown and greens highlighted the main table as well as the dessert table. Burlap was wrapped around jars for drinking, stuffed giraffes sat in wood crates, and green foliage flanked the cupcakes that were topped with custom toppers.
7. Movie Night Party
From Krafts by Kaleigh, as seen on Kara's Party Ideas
Bright colors and sweet treats were the highlight of this movie night birthday party. No detail was overlooked when creating this dessert table combined with a concession stand. Popcorn, candy and cupcakes sat centerstage along side perfectly crafted cookies, custom wrapped drinks, and popcorn favor bags.
8. Zoo Birthday Party
From Impromptu Parties via Remodelaholic
Everyone loves the zoo and you'll love this zoo birthday party too. Burlap lined tables, fun zoo animals, and wood boxes decorated the table. Silverware was wrapped with twine and even butterflies! Such a fun party for animal loves.
From Milk Allergy Mom
Summer birthday's call for water! There is no better way to cool off and have fun then getting wet and wild at a water themed birthday party. With a shaving cream pool, water slides, blowing bubbles, finger painting, water balloon fights, and even water balloon pinatas! Snowcones, popsicles and cupcakes, the fun never ends!
10. Outdoor Adventure Birthday Party (Huck Finn inspired)
From Jenny Cookies, as seen on Project Junior
Boys love to get out and explore and this outdoor adventure birthday party celebrates the kid in all of us. Take an adventure they will never forget with this beautifully crafted rustic dessert table. Vintage photos, wood letters and antlers decorate the wood backdrop. While lanterns, scales, wood boxes and crates, and trays housed desserts and treats for guests to enjoy. Teepees were set up across the grounds. Beautiful wildflowers were placed in glass jars. A baked potato bar awaited guests after the nature hike and shooting slingshots. Plus, a "bait shop" full of treats was a favorite stop for kids.
11. Bowling Birthday Party
From Anders Ruff Custom Designs, as seen on Spaceships and Laser Beams
Grab your bowling shoes and hit the lanes with chic themed bowling party that will transport you back to the 60's era, but in modern day. The aqua, red, and black color scheme was used throughout the party from the tablecovers to the backdrop and custom logos. Oversized balloons in red and black, flanked the dessert table on both sides and bowling themed goodies awaited guests after the last ball was rolled down the lane.
12. Outdoor Art Party
From Tori Johnson, as seen on Blank Clothing
Kids love to create and use their imagination and this outdoor art party allows them to do just that. Bright colors, lots of paint, and aprons for each guest, kids can get messy and create a masterpiece to bring home at the end.
13. Boy's Nautical Birthday Party
From Little Big Company, as seen on Spaceships and Laser Beams
When your son adores the sand and the sea, combine the love for both with this nautical themed birthday party. This "grown up" theme party mimics a relaxing day at the beach. With a simple set up of ladders and wood planks to create the dessert table and using the sea as the backdrop, the food and desserts were the star. Beautifully crafted cake topped with a ship in a bottle and matching cake pops, cupcakes, and cookies, this party is not to be missed.
14. Picnic Themed First Birthday Party
From Charming Touch Parties, as seen on Spaceships and Laser Beams
When it's summer time, picnics and BBQ are a must. So, it's no surprise this picnic themed birthday party was a hit. Using red and white checked and gingham patterns mixed with burlaps, it created the perfect summer theme. With sweet dessert pies, sour candy, and delicious cupcakes, plus fresh flowers and picnic baskets, this party screamed American summer time.
15. Game Night Party Cake
From Jewell'd Cakes, as seen on Be Craftsy
Who doesn't love a family game night? Throw a game night birthday party to share the fun with everyone. This game night themed cake would be perfect! It incorporates family favorite games with great details.
16. Shark Pool Party Invitations
From Jenny Cookies
If your planning a shark themed birthday party this summer, these shark attach party invitations are perfect. A full body shark was printed with location and date while the shark head held the rest of the party details. Both set inside a box filled with blue crinkle paper.
17. Monopoly Party
From Jamee Bryant, as seen on We Heart Parties
When your favorite game is Monopoly, you plan a party based on elements of this fun family game. An oversized game board was used top the table with giant game die and metal dog game piece. Red, yellows, and blue stand out against the large propery pieces and chance cards as the backdrop. Treats were decorated to mimic game pieces like the rice crispie squares and money wrapped candy. It's like playing a lifesize version of the game.
18. Carnival Birthday
From Partylicious
This carnival birthday party is full of amazing details that make this party a sight to see. Giant balloon characters are brought to life while balloon monkeys hang from hoops in the background. The red and white diamond backdrop allowed the 3 tiered cake to shine bright. Treats like candy apples, peanuts, candy, cupcakes and popcorn filled the table and gave guests something to enjoy after they finished playing the can toss game and duck matching game.
19. Shark Pool Party Dessert Table
From Jenny Cookies
Summer is the perfect time to throw a pool party, just beware of sharks! But, don't worry, the only sharks at this party are the ones filled with air. A weathered table sat beneath a wood shark cutout picture. Bouys, nets, and coral were used as decor, and a shark fin topped cake sat front and center. Water guns, ride on sharks and lots of water kept kids busy and each guest was given a personalized beach towel instead of a goodie bag.
20. Shark Party
From Pocketfull of Parties, as seen on Catch My Party
Caution, sharks have been spotted at this shark themed birthday party. To create a perfect shark infested waters theme, various shades of blue were used. Netting, starfish and shells were used to tie in the "underwater" feel. Sugar cookies, cupcakes, donuts, marshmallows and jello jars were served to curb hungry appetites.
21. Swim Birthday Party
The quintessential summer party theme is of course a swim party. With brilliantly bright reds, yellows, and blues, this party will quickly become a favorite. Custom printables were crafted with every detail in mind. From whales and fish, to custom plates and cards, guests were never short on fun. Submarine sandwiches, pool noodle candy and buckets full of snacks were served atop of yellow and white striped beach towel. Beach balls, whales, and submarines were used throughout and fish candy inside little sacks were used as favors.
Planning a pool party? Check out these party supplies put together by the Spaceships and Laser Beams crew.
(Amazon Affiliate Links)
Metal Bucket
Ice Cream Cone Chocolate Candy Mold
Ice Cream Cups
Summer Flip Flop Cookie Cutter
Rectangular Polyester Tablecloth White
NEON 80's style PARTY SUNGLASSES with dark lens
Flip Flop Necklaces
Beach Ball Photo Balloon Holder
Frozen Treat Suckers
BALLOON LANTERNS SOLID COLORS
Splashin' Pool Party Empty Favor Boxes
Transparent Mini Plastic Spoons
Ice Cream Van with Cups and Spoons
Summer Flip Flop Cupcake Picks
Summer Fun Sunglasses Cupcake Picks
Splashin' Pool Party Small Lollipop Kit
Multi Charming Pinstripe Colorful Straws
Porcelain Round Cake Stand
Splashin' Pool Party Paper Cups
Be sure to check out more summer party ideas here: