Table of Contents
If you have sky-high hopes for your birthday girl or boy then this airplane-themed party might be right up your runway. Austin's Mom Sandy, of Sandy A La Mode, created a darling fourth birthday celebration in cheery shades of red, white, and sky blue. The sweet invitations, birthday cake, decoration ideas, and dessert table are certain to inspire you!
---
See Also:
A great party begins with a great invitation. We are certain that the winning grin on the cute birthday girl or boy would convince anyone with conflicting plans to come to this party.
You might think a grey table covering would look somber, but not the way it was done at this party. Decorative paper circles in dots and stripes and a variety of colors, look like they're waiting for a party. Additional paper airplanes reinforce the theme, while stacks of mini blue suitcases give a nod to travel even as they serve as cute serving platforms.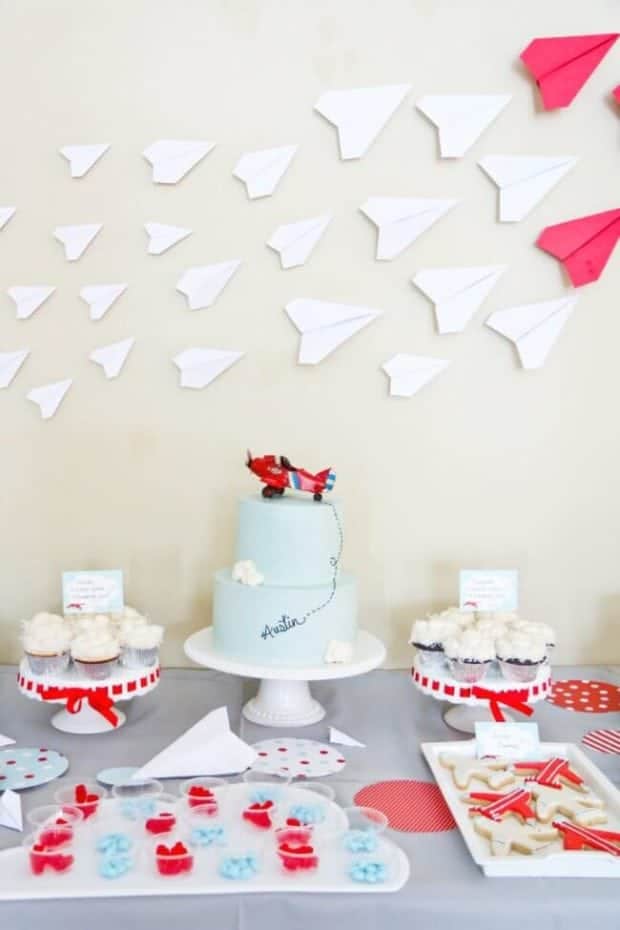 Sometimes the simplest execution of an idea is absolutely the best way to go. A case in point is this eye-catching fleet of paper airplanes soaring above the dessert table. Isn't it terrific? Sandy used the leading four red planes as a representation of Austin turning four.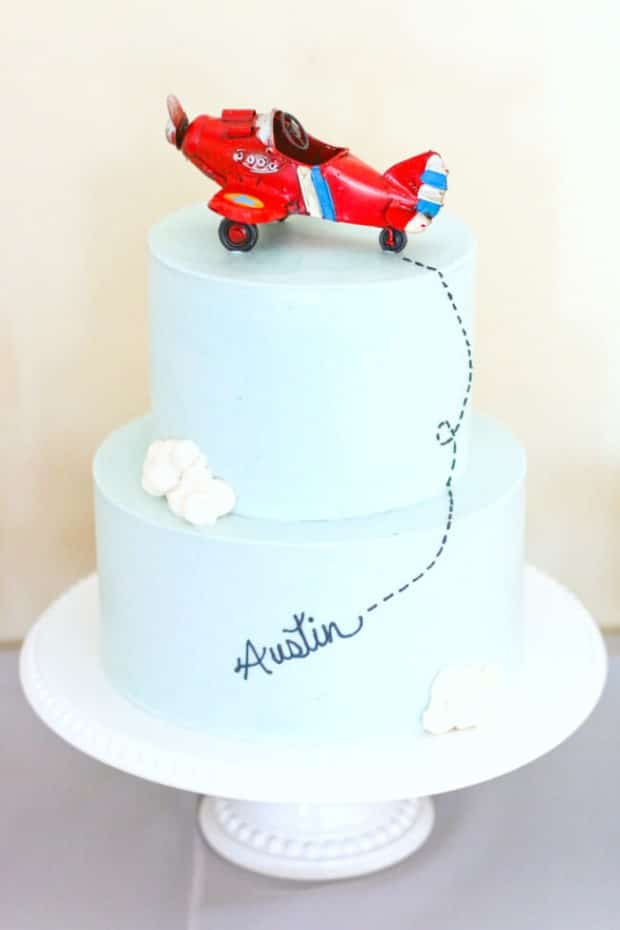 Now let's talk about that cake by Plum Cakery, it is delightful! The double tiers are appropriately frosted in sky blue and the supposed flying pattern up the side of the cake is a masterful touch. Frosting clouds and a vintage plane add just the right finish.
Airplane-shaped sugar cookies, cloud macarons, and cloud-topped cupcakes (also by Plum Cakery) fit the theme so well.
Candies in theme-perfect shades of red and blue are arranged on a cloud-shaped placemat —nice!
Additional treats included pretzels, Jell-O squares, and Biscoff cookies.
Sweetly shaped drink bottles with straws to match the theme always kick up the party a notch. Sandy kept the kids busy with a version of a classic game, Pin the ___, in this case, Pin the Propeller (on the plane). Kids were also happy to take their whacks at an airplane-shaped piñata.
Baggage claim favor bags filled with a pair of airplanes, one to eat and one to fly, plus additional candy and pretzels, went home with contented guests. Kudos to Sandy for fashioning a delightful event!
More fun and amazing party ideas: