Moana Birthday Party Ideas
Table of Contents
What better way to celebrate a special birthday than with a Moana birthday party? A girl chosen by the ocean itself for an important mission makes such a great role model for any birthday girl or boy. And the aesthetics of a tropical island party make for just plain fun. In this roundup, you'll find Moana party ideas for invitations, party supplies, birthday cakes, sugar cookies, cupcake toppers, party food, decorations, party games — and more! Planning to hold your party poolside? You'll want to check out our pool party ideas as well!
For fun party food options, try our delicious Hawaiian BBQ pulled pork sandwiches and Hawaiian wedding cake for dessert.
Moana birthday party ideas: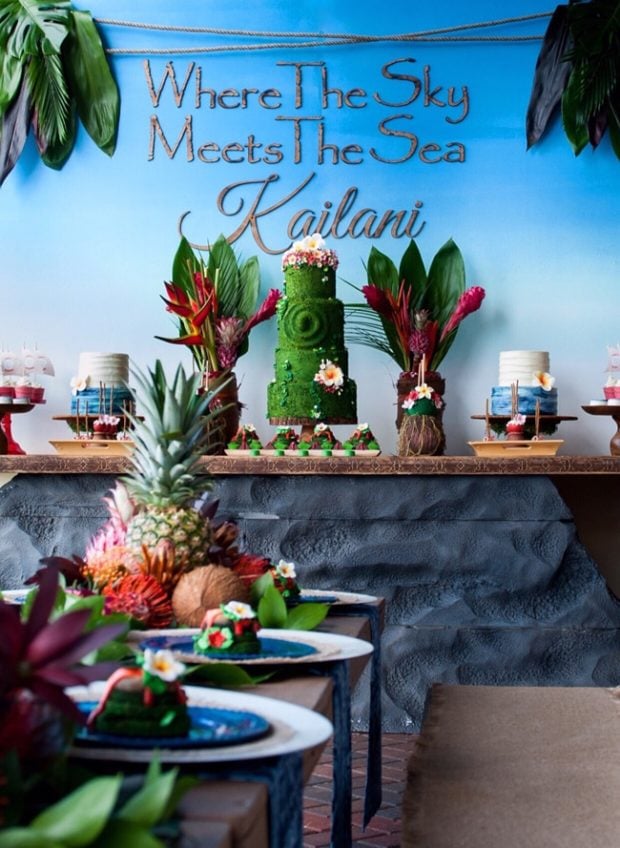 This Moana-themed party leaves no Polynesian detail unturned. With the theme of "Where the Sky Meets the Sea", this posh party includes traditional hula attire for the guests, temporary tribal tattoos, live hula lessons, and a Hawaiian fire dance performance! Your little ones will find themselves submersed in a real-life paradise, waves of wonderful memories, and finding their place where the sky meets the sea!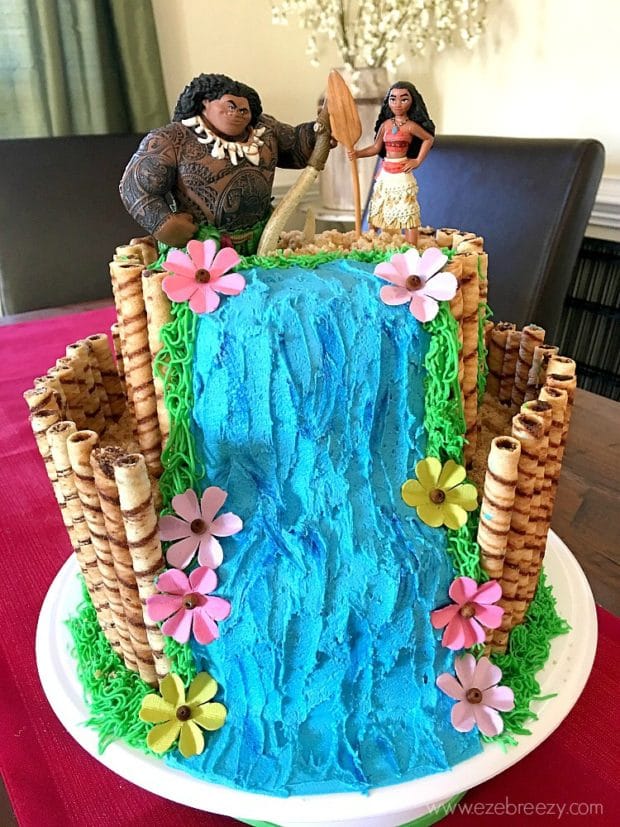 This amazing Moana cake is actually simple to put together and a design anyone can tackle, no matter how much cake decorating experience you have. The frosting doesn't have to be perfect, and Pirouline cookies will become your best friend. You will definitely WOW your guests with this one! Expect lots of flower leis, squeals, and giggles!
The number one word to keep in mind for your Moana party is simple: TROPICAL. Here's a quick and easy way to make a tropical backdrop that sets the Moana scene perfectly. Use it as a photo backdrop, the main table decor, or just a gorgeous way to add a little palm leaf filler! Can't you just feel the breezes flowing?
This Moana-themed birthday party looks like there's no expense spared… but most of the items came from the dollar store. The main star of this paradise was the wonderful Hawaiian-themed food – complete with Hei Hei (chicken tenders), Pua (Pulled Pork on Hawaiian Rolls), Driftwood (Pretzel Sticks), Fruit of Tefiti, and Tekah Lava Rocks (rock candy). Paper mache letters and numbers were adorned with tropical flowers purchased from the dollar store – as were the coconut cups, leis, grass skirts, and Moana tattoos. The gorgeous hibiscus flower centerpieces also came from the dollar store – proving that Moana's paradise truly can be created on a dime! Now that's magical.
It has to be topical. It has to be other-worldly. It HAS to be a Moana birthday party. Moana sings "How Far I'll Go" (as you've no doubt heard rehearsed 100s of times). You'll find out just how far you'll go when you make this amazing tropical party… complete with a beach scene and their own Moana boat! Get ready to sail away on a grand adventure!
6. Tropical Balloon Garland
This budget-friendly version uses a few beachy things you probably already own, a tropical balloon garland made with paper hibiscus and tropical leaves, and a DIY Moana sail. Add pineapples, seashells, coconuts, and PRESTO! You're on the island of Motonui!
These Moana-themed treats make every special guest their own "way finder" on the tropical Polynesian seas! The crystal blue yummy ocean is made of blue Jell-O and comes complete with its own edible boat! The "sandy shore" of Nilla wafers will have your guests feeling like they're in paradise. This special treat will have everyone saying "Mahalo" (thank you) to the host! Enjoy your ocean adventure!
Even Te-Fiti, the island goddess, will have trouble competing with the posh beauty of this Moana-themed birthday party. From the chic decor to the colorful multi-sized balloon banner, every part is a tropical treat for the eyes! Your little ones will be in paradise!
Every Moana fan knows the gorgeous ancient gem known as the heart of Te Feti must be restored to the tropical mother island. This Moana-themed treat gives the guests a chance to have their own magical heart of Te Feti in these beautiful tropical cupcakes. This simple recipe is easy to decorate and will thrill the Moana fans as they each become the hero of the day!
This Moana-themed birthday party is pure paradise with three beautiful tropical cakes, important ancient symbols, and gorgeous fruit and flowers. The children will love getting to paint their very own Kakamoras, made by sanding and painting coconuts. Each guest gets to take home a pineapple cup, beautiful leis, and flower hair clips. Cross the ocean with us and join this grand Polynesian birthday adventure!
This super tropical, super cute party walks you step-by-step across the sands of paradise. From free printables to colorful, amazing tropical ideas, you will be inspired to follow Moana on her amazing journey to save her people and fulfill her own destiny. Make waves and sail away with us to the perfect Polynesian islands!
This totally fabulous Moana birthday party is full of surprises – complete with tropical leaves, shells, edible Moana canoes, and even some Kakamora coconuts. Lots of raffias, hibiscus, and beautiful leis adorn this magical paradise. And what would paradise be without delicious grilled pineapple chicken kabobs? You'll find lots of details and helpful shortcuts for giving the most magical, beautiful party even the island goddess Te Fiti would love! The line where the sky meets the sea will be calling you for sure!
More Party Ideas You'll Love: