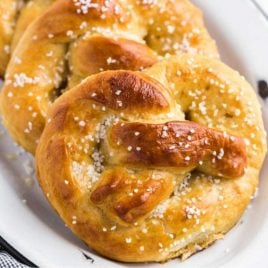 American
You can't mention American food without the dish that truly defines this type of cuisine, Apple Pie. The rich, buttery, flakey crust tops spiced, softened apples for the best dessert ever invented. Challenge your pie skills with these adorable Apple Pie Cookies. The same fantastic taste in bite-size treats.
Philly Cheesesteak Sliders take the famous and yummy sandwich and create a mini version. Our Soft Pretzels are a staple at a baseball game, and now you can make your own salty, soft treat, ideal for dipping.
Today:
Get My No Fail, Easy Cookbook Series for 60% OFF
Sandwiches
This tuna melt recipe will take your tuna sandwich up a notch by adding mozzarella cheese and grilling it until warm and melted.
20 mins
Poke Cakes
Better than sex cake is one of my favorite desserts. It's chocolate cake with sweetened condensed milk, caramel sauce, Cool Whip and crushed Heath bars.
40 mins