37 Best Airplane Party Ideas
Table of Contents
Airplanes can represent high hopes for the future, adventure, fun, and excitement so it's no wonder that airplane-themed events are a popular choice for a birthday party. This round-up includes the best parties that are full of colorful decoration suggestions, birthday cakes, dessert tables, and party favors that are sure to please. We are ready for take-off so please find your seat and fly the friendly skies in search of your next perfect party idea!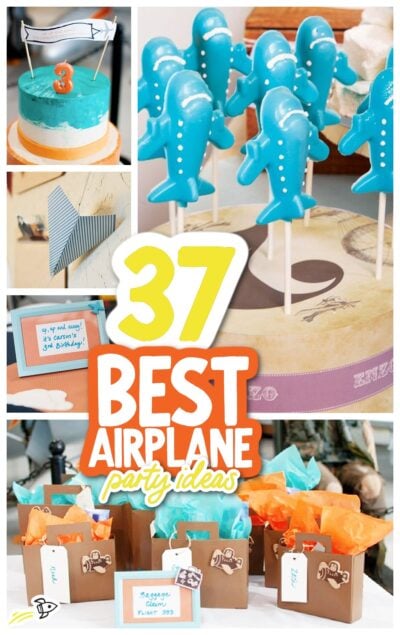 ---
See Also:
---
This rendition of our own collection is done in blues, cream, and white. See how to make an easy DIY cloud backdrop and how to wrap pretzels in map pockets.

The burlap table cover, vintage suitcases, and bomber jackets tie in the vintage setting of this adorable airplane-themed birthday party. With sky blue, red, and white fluffy clouds serving as accents, the details are what stand out. The serving cart with perfectly wrapped "in flight" goodies served the guest along with immaculately style desserts perfectly summed up the "time flies" theme.
Ever seen a plane exhaust with red and white polka dots? Bright red and baby blue look wonderful in the stripes and dots at this little boy's first birthday party. The little airplane favors are especially cute, too.

This vintage airplane party takes you around the world in style. From the amazingly crafted stacked suitcase cake to the "in flight" prepare meals, the details of this birthday are not to be missed. Guests are kept busy at all the stops with a balloon artist, bubble show, and even glamour shots.
The industrial vibe going on here is a very attractive innovation. Plane schematics make a wonderful backdrop, especially with the inviting chevron arrow that says "Fly With Me".
Tan, red, and sky blue look so handsome together. Vintage airplanes, maps, and hot air balloons are used with great effect for this first birthday event.
Quietly stylish, this celebration featured vintage planes, hot air balloons, and birds! The menu suggestions will make you wish you were there.
Wow! The dessert "table" looks like a candy store. There are lots of details to take in. The blue and orange colors really pop against fresh white.
9. Vintage Airplane 1st Birthday Party
What an adorable cake! Clouds, stripes, and stars in red, white, and blue look like a party waiting to happen.
Sky blue, light browns, and sunshine yellow make a winning combination for a boy's plane-themed party. The dessert table is especially sweet with containers full of treats and sweets and mini suitcases setting nearby.
There are lots of ideas to see here, including a super-cute cake, candies in the shape of suitcases and pilot hats, and compass favors.
12. Vintage Airplane Dessert Table
Stars and stripes complement this vintage plane theme in red and tan. Cookies, caramel corn, candies, cake pops, and Jell-O pots surround a delightful cake.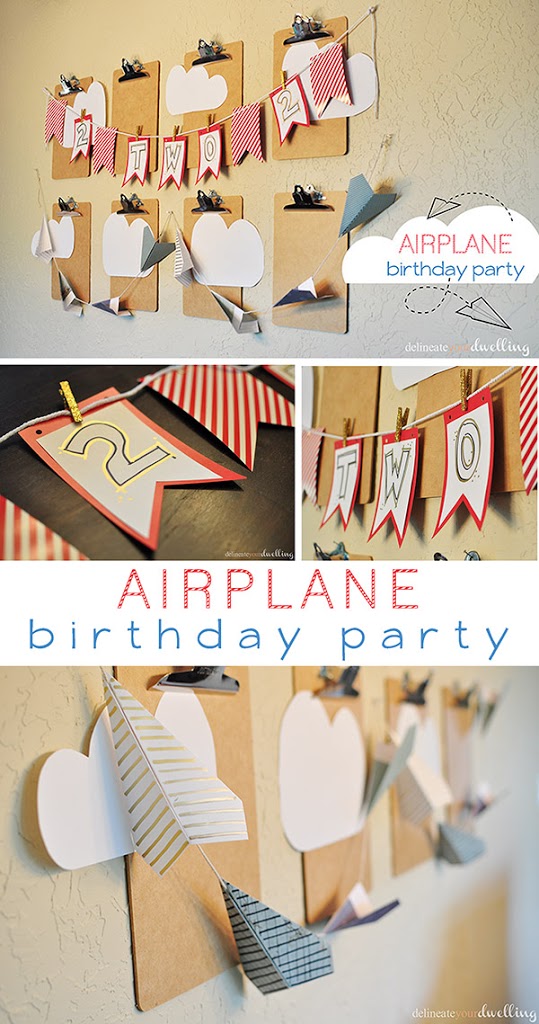 Sometimes a birthday party is a small affair, just for immediate family. You don't want to go all out but you do want to celebrate the day.
Red, navy, and grey are kid-friendly colors and the combo looks super on the birthday cake, adorable cake pops, and cupcakes.
Cereal boxes are morphed into (cute) luggage favor bags plus the invitations are spot-on!
16. Plane Birthday Ideas
The guest table runway is a sweet, themed idea and the entryway already captures attention: look up at the clouds, look down at the runway. This party primarily uses turquoise and red.
We especially like the paper plane banner behind the serving table at this celebration. The use of paper airplanes throughout the party is so much fun. Mini planes top each cupcake and even one in the process of flying tops the cake.
Shades of aqua and hits of orange brighten this celebration. Cloud cookies and cloud-topped cupcakes join an airplane cake on the dessert table.
The most unique idea here is the vintage plane bookshelf used as the dessert table focal point – it looks super with the sky and cloud backdrop. It's a darling concept that could be easily replicated.
The take-home favor "luggage" is actually made from a brown paper bag – what a great idea!
Shades of blue and orange, with accents of white, look awesome at this outdoor venue where guest seating is covered with cloud-like white awnings. You must see the edible airplane art, too – marvelous!
The display cabinet not only looks like it's ready for birthday cheer, but the cake tower, personalized cookies, and adorable cupcakes promise that guests will be wowed!
There are many delightful ideas here. Favorites include the aviator-style party hats, sticker-covered luggage favors, and the DIY airplane cookies.
24. Airplane-Themed Birthday Party For Twins
Red, white, and navy blue are such a lovely color palate for this theme and the clouds made from coffee filters look amazing.
Sky blue, navy blue, and red look great when combined with the stripes and balloons at this celebration.
The book page backdrop is an interesting feature, particularly with the use of vintage globes and scales as display vessels.
With lots of party décor filling the sky, this charmer offers a bountiful table to delight guests.
When a party venue is an aviation museum, decorations are kept to a minimum. Focus on the food and dessert table and offered fabulous fare in khaki, black, grey, and steel blue colors.
29. Flying High Birthday Party
Aqua, orange and white look fresh against vintage-style maps alluding to the airplane travel theme. The domed cake is especially noteworthy as are the plane and cloud-shaped cookies.
30. Plane-Themed Party & Dessert Table
Twin cloud topiaries in map-covered pots are a favorite new idea here. The cloud backdrop and cake/cupcake tower are wonderful, too.
Here's another cute blue and orange celebration. Don't the double balloons look terrific with this theme? The close-up shot of the cake helps you see how darling it is.
32. Flying High Plane-Themed Birthday Party
Almost every detail of this first birthday celebration was handcrafted and it is fantastic. You'll enjoy looking at this fun, bright event.
33. 2nd Birthday Airplane Party
With a yellow bi-plane flying overhead, the red and blue dessert table looks most welcoming.
High ceilings mean the birthday boy or girl and guests can fly glider planes inside as well as play a fun cargo hold game. Parents watch it all from the Frequent Flyer Lounge.
What two-year-old wouldn't enjoy the colorful fun in these decorations? Although adding the parachutes might seem like a natural choice with the airplane theme, it is a rarely seen spin on the party theme.
Sky blue and grass green create a fresh ambiance at this celebration where the balloon photo check-in station is adorable and the "passport" photo booth is full of fun props.
37. Disney Planes-Themed Birthday Party
Get some fabulous ideas for a great Disney Planes-themed party at this celebration inspired by Disney's Planes 2 movie.
Check out these great ideas for more cool-themed party ideas that are fun: