Table of Contents
Need an idea for a painting party invitation? No problem. Want some inspiration for a paint-themed birthday party dessert table? We've got it covered. Need help getting the creative juices flowing for birthday cake, cupcake, and dessert ideas? Check. What about painting party favors? Yes, we've got those too. Don't fret, we've even rounded up our favorite paint party games, including an especially cool and colorful squirt gun painting activity. Your guests are going to love painting the town with you!
---
See Also: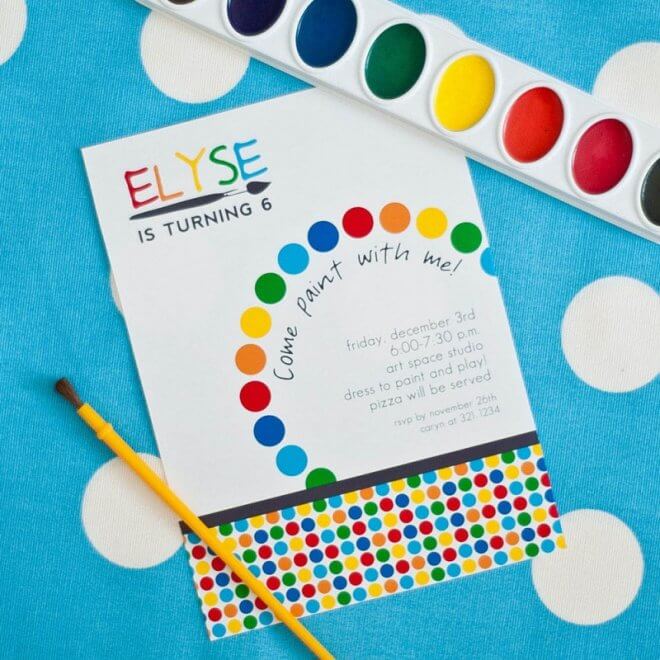 Invite party guests to come paint with the birthday boy or girl by sending out colorful party invitations. You can really get the creative juices flowing ahead of time by gifting each guest their own watercolor set and paintbrush set with their invitation. That way guests will be ready to paint the town with you come party day!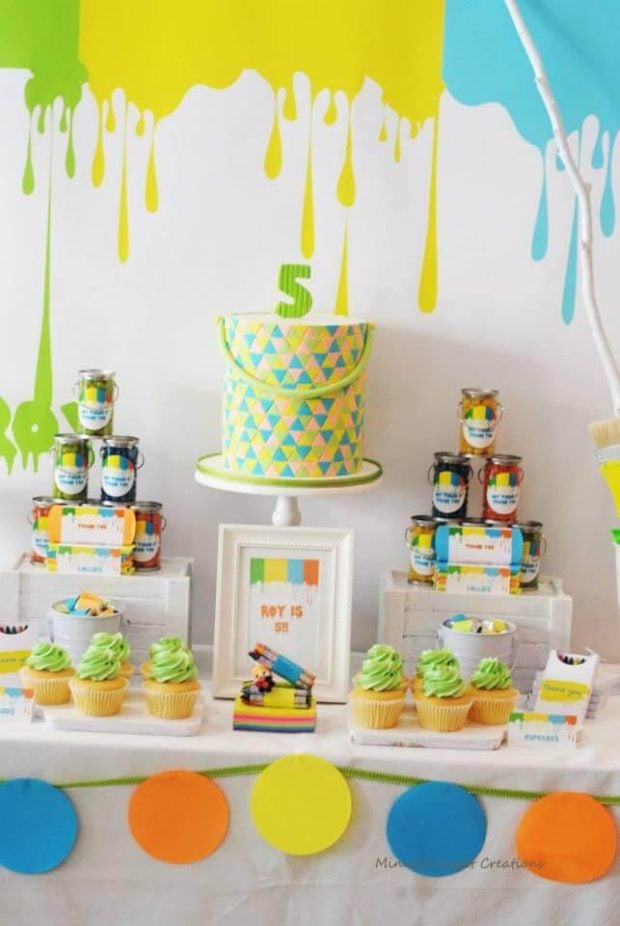 2. Neon Art, Paint Themed Birthday Party Dessert Table
If you're planning a paint party and looking for ideas for a paint-inspired dessert table, this one is loaded with creativity. The backdrop is fantastic, with dripping paint in bright colors! Paint pails filled with treats are a fun touch. The cake itself is crafted to look like a paint pail with a fun geometric triangle pattern on the front made out of fondant. Mini easels with edible cookie canvases are pure genius. Cookies with blobs of frosting ("paint") are perfect. Even the bunting hanging from the front of the table looks like images from color-matching swatches or the color wheel.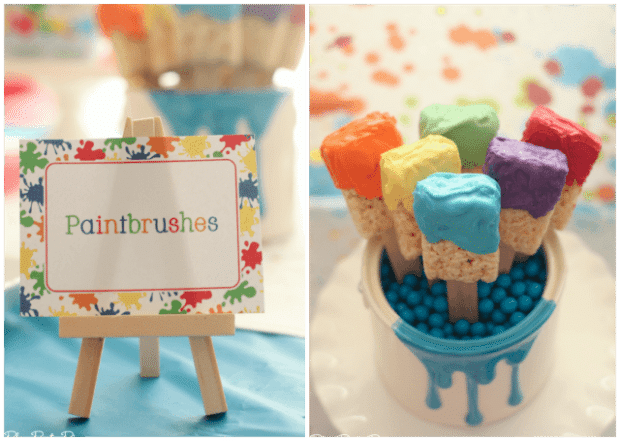 3. Paint Brush Rice Krispy Treats
Edible paint brushes dripping in colorful chocolate couldn't be more perfect for a paint party dessert! These paintbrushes are made by dipping Rice Krispy Treats in colored candy melts. Kraft sticks make an easy and inexpensive handle for paintbrushes. They look adorable displayed in a paint can be filled with colored chocolate balls.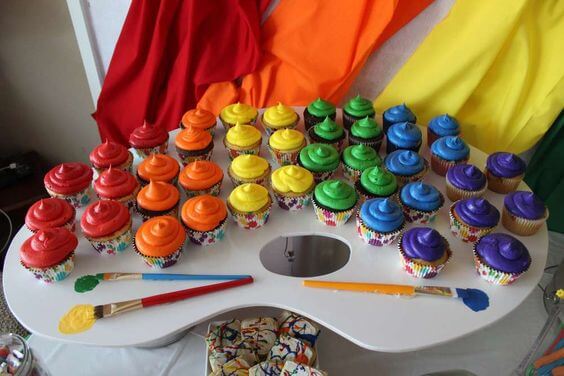 4. Rainbow Paint Palette Cupcakes
Serve up cupcakes in all the colors of the rainbow for your child's paint birthday party. This cupcake display shows some real creativity. Not only are the cupcakes frosted in standard ROY G. BIV colors, but they also look particularly cute displayed on an art palette, complete with paintbrushes and frosting "paint".
Put together an inviting creation station for paint party guests. Be sure to include colorful place settings with appropriate painting tools. How about adding mini easels with personalized name cards to mark each artist's creative space? We love the bottles of "creative juice" set at each spot to help encourage creativity.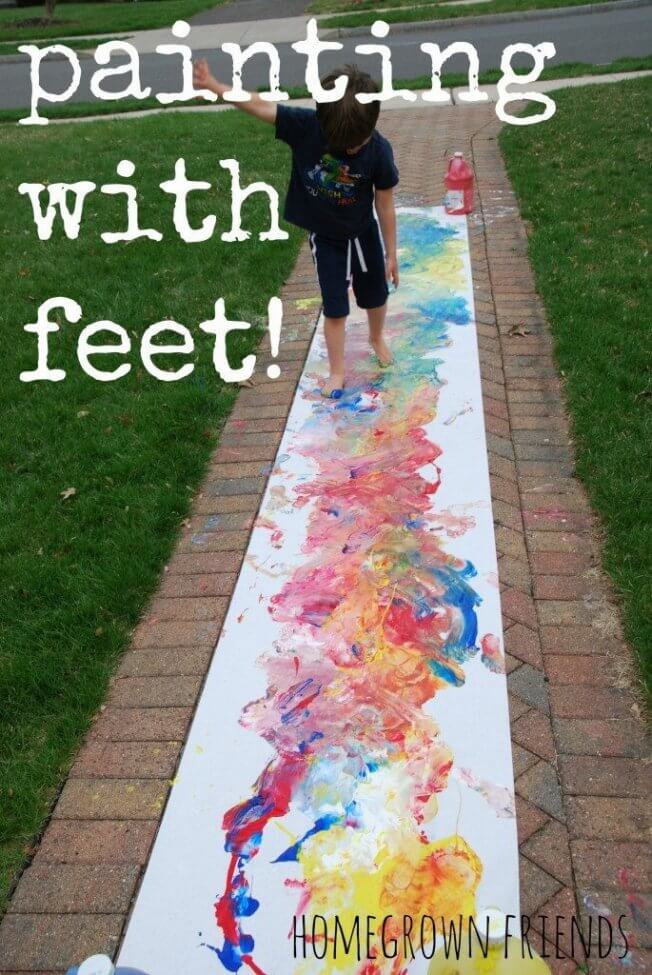 6. Painting With Feet
Painting with feet might sound a bit strange, but it's actually a popular art activity with kids. You'll need butcher paper, tempera paints, paperweight, and paper towels for cleanup.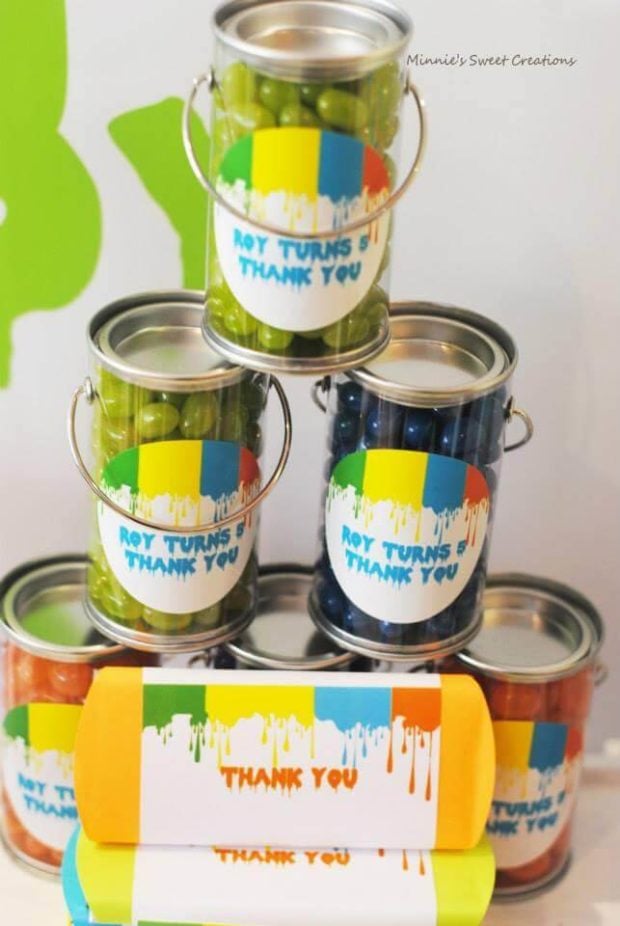 7. Paint Can Party Favors
A paint party lends itself to some creative party favors. These paint cans aren't filled with paint, but rather sweet treats, like colorful jelly beans. The personalized labels are a nice added touch. Notice the paint splashes incorporated into the graphic designs.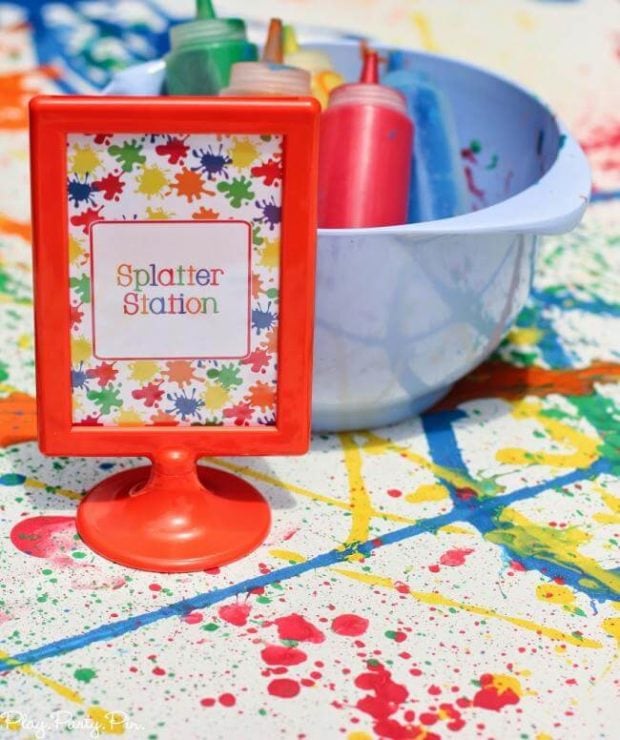 8. Splatter Station
Include a splatter station at your paint party where guests can learn about colors and create their own masterpieces to take home. You provide the canvas and the paint to splatter, guests provide the imagination and creativity. A great way to store the paint is via squirt bottles.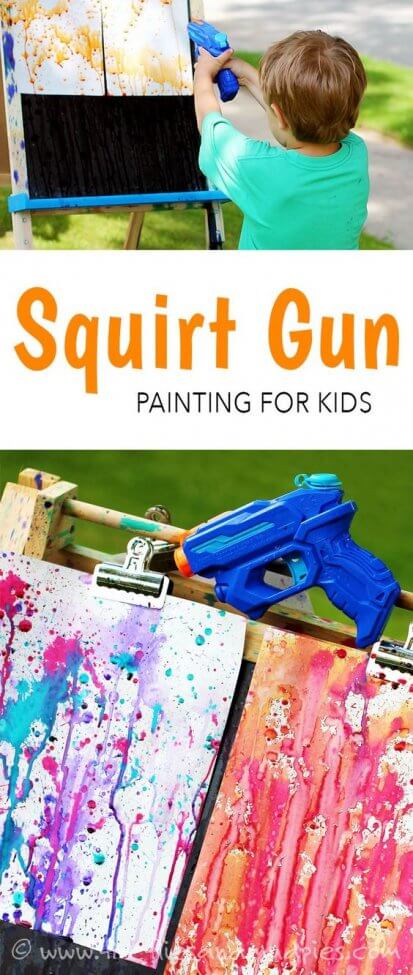 Get ready for kids at your art party to go crazy over this colorful squirt gun painting activity. If squirt guns weren't already fun enough, adding liquid watercolors to them just ups the cool factor even more. Setting up a squirt gun painting station is easier than you think. If you have access to an art easel, cover it in watercolor paper. If not, tack watercolor paper to a fence with a push pin. Let the kids fill up their super soaker squirt guns with liquid watercolors and get crazy painting their masterpieces!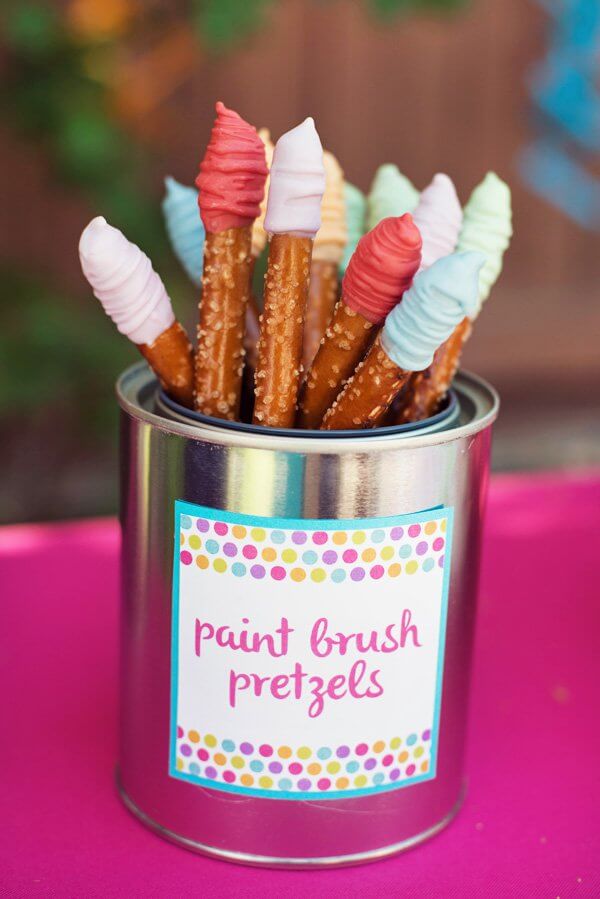 10. Paint Brush Pretzels
If no-bake birthday party desserts are your speed, these paintbrush pretzels are an easy-to-make choice. You'll need melting chocolate in a variety of colors and pretzel rods. To achieve the coated paintbrush look, simply melt the candy melts according to the directions. Dip the pretzel rod in the candy melts, coating just the tip (where the brush portion would be if the pretzel really was a paintbrush) and swirling the melted chocolate before placing it to harden on wax paper.
11. Paint Art With Hot Wheels
Kids will love this super cool paint party activity using toy cars. You'll need plenty of "roadway" for these cars to travel with wheels covered in paint. Paper plates can be filled with different paint colors, and budding artists can race their cars through various colors making cool tire track paint art on sheets of cardstock, construction paper, or butcher paper.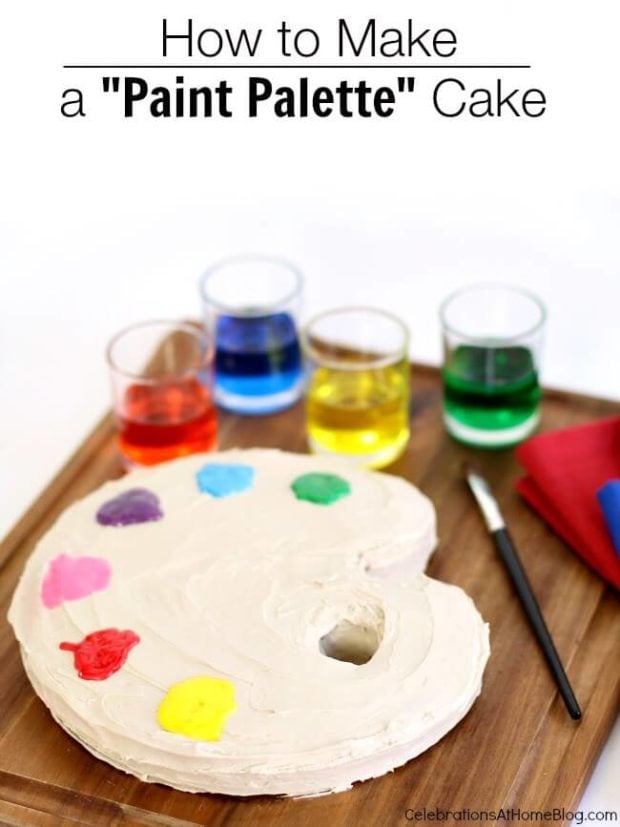 The cake is always at the top when it comes to birthday party desserts. It's fun to coordinate the look of the birthday cake with the theme of the party. This paint palette cake is beyond perfect for a paint party. Following the easy steps in this tutorial, you'll have a cake that looks just like an artist's paint palette!
13. Paintbrush & Paint Splat Cake Pops
A professional baker or some real artistic talent in the kitchen is definitely needed to create these fabulous paintbrush and paint splat cake pops. What a fun addition to a paint party dessert table. Melted chocolate in primary colors makes for pretty realistic-looking paint splats and paint drips!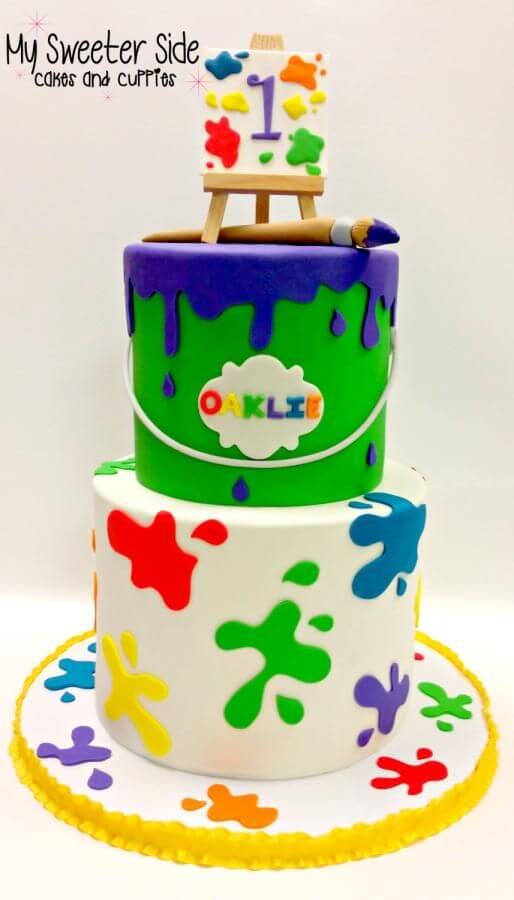 14. Paint Party Birthday Cake
Paint the perfect picture for your child's paint party dessert table with an artsy cake. This three-tiered beauty is comprised of layers of cake covered in buttercream with paint-inspired accents created from fondant. Just look at the awesome fondant paint splatters, paintbrush, paint can detailing, and personalization. The wooden mini art easel is a store-bought addition.
15. DIY Paintbrush Garland
A paint-themed party is definitely made more authentic when party decorations include actual painting tools and materials. This DIY paintbrush garland is made out of real paintbrushes. Then color was added to the brushes, which are strung on twine to make a great theme coordinating garland and perfect party decoration. Don't you just love how the paint matches the brushes?
The tutorial for baking up these artist palette cookie favors is simple to follow. Just bake up some round-shaped sugar cookies, punching a hole with the big round end of your icing tip while the cookie is still warm to create the look of a palette. Add some frosting in the shape of a palette before adding the look of paint dollops using colorful M&M candies. Simply package the cookies in cellophane bags, and add a favor tag with baker's twine. What a delicious party favor.
17. Paint Party Favors
If your paint party guests will actually be painting at your party, why not put together paint party favors that can actually be used at the party to paint? We love the individual paint packets featured at this party. The packets included an art apron, blank canvas, painter's palette, and paintbrushes. Guests use their packet of items to paint at the party and then take them home for future art projects, making it a great paint party favor.
18. Art Party Painting Shirt
This paint-splattered shirt is perfect for little artists attending an art party, or even just the guest of honor. Any additional paint drips that may happen while participating in art activities at the party will just add to the style of the shirt. Kids can wear it as their art smock during the party and keep it as a party favor.
Thank guests for making your birthday party a masterpiece. Package up sets of watercolor paints. Attach a personalized favor tag and Voila! Guests will love being able to paint their own masterpieces at home, long after the paint party is over.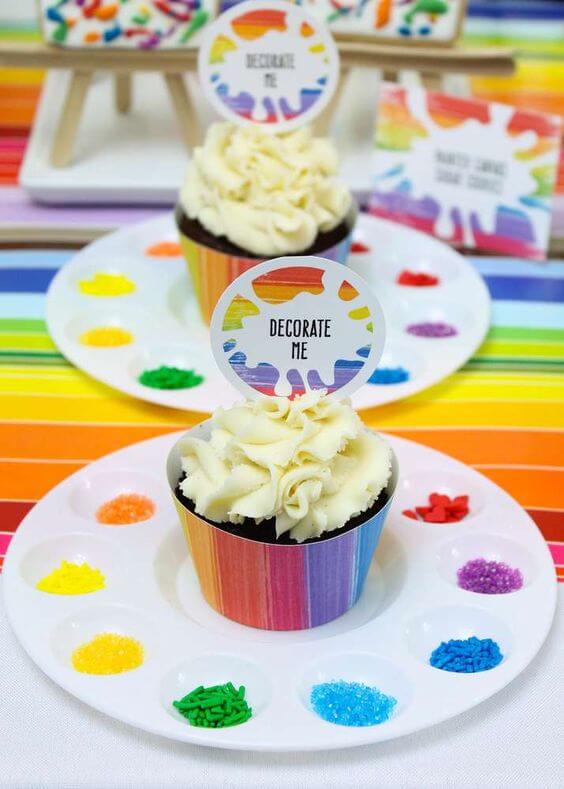 20. Paint Palette Cupcake Decorating
This cupcake decorating idea is absolutely genius for a paint birthday party. Use paint palettes to display a variety of colorful cupcake decorating supplies. Provide a plain frosted cupcake, and invite guests to be the artists and decorate their own cupcakes. Every color of the color wheel can be represented on the paint palettes by featuring a variety of sprinkles, sanding sugars, jimmies, etc.…

21. Tape Painting Party Activity
Want a fun paint party activity that results in a fantastic keepsake? Try tape painting with your paint party's birthday guests. Tape off names or initials for this art project, and let artists mix paint colors to create a work of art.
More great arts and crafts parties: