17 Awesome Batman vs. Superman Party Ideas
Table of Contents
No matter which superhero your kid loves, these Batman vs. Superman party ideas will have you planning an awesome party with both caped crusaders. With ideas for Batman vs. Superman cookies and cakes and superhero-inspired capes and games, your children won't be able to wait to see how you pair the two for your party!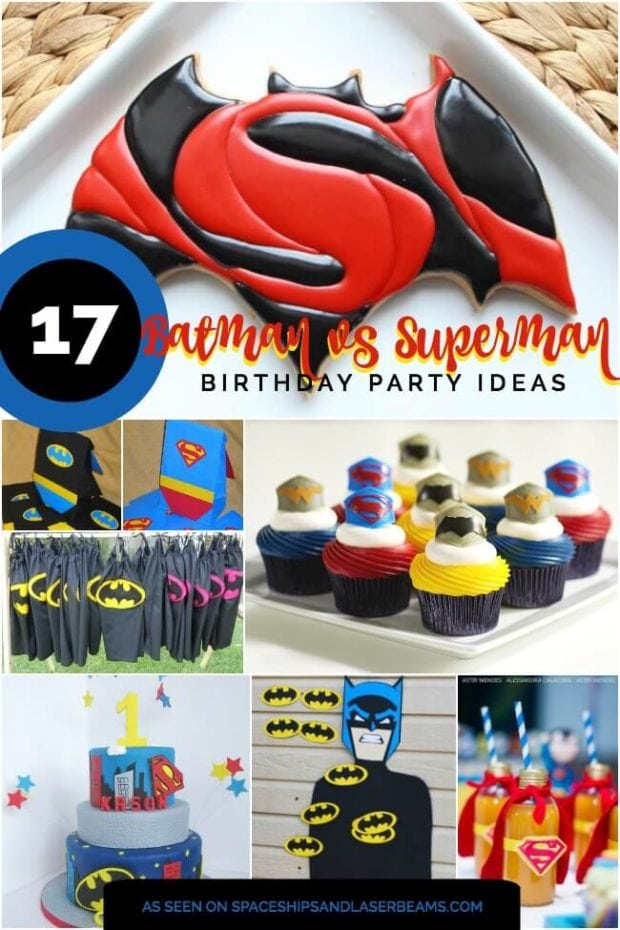 ---
See Also:
---
All you need for this Superhero Tic Tic Toe is a printer and some paper — that's it! It's definitely a great party idea if you're trying to stick to a budget, but is pretty fun no matter what!
A DIY Batman vs. Superman Checkers Set would be fun for kids to make and play with, so it makes a great craft.
3. Batman vs. Superman Cookies
Wow. Aren't these cookies just insanely gorgeous? Seriously, too good to eat. Don't be intimidated, and give these a try!
4. Batman vs. Superman Cupcakes
This is such a great idea! Simply ice cupcakes with a lovely sweet swirl of buttercream in various bright colors, then decorate with Dawn of Justice cupcake rings (which kids can wear after eating the cupcakes).
5. Pin The Bat Symbol On Batman Game
This Pin the Bat Symbol on Batman Game is a hilarious take on the traditional pin the tail on the donkey game, and it's genius. Kids will love it, and it will bring hours (OK, minutes, at least) of fun!
This Batman vs. Superman Cake is absolutely stunning — don't you just love the cape draped over the top tier? Either try this challenging cake yourself or take the idea to your local bakery. Either way, you'll end up with a real stunner of a cake!
7. Batman Superman Cake
Wow. Just wow. This Batman Superman Cake is just too gorgeous, and no kid would be unhappy with this one. It'll definitely leave your guests suitably impressed!
This is an absolutely unique Batman Party Favor idea. You don't even need Batman stickers to put on the flashlights — it's all DIY, print out the logo, cut out the shape, and stick it to the face of the flashlight.
9. Superman Drinks
These Superman Drinks are just too darn cute. They're also easy to DIY and make way ahead, and you could even use the capes on water instead of juice if you're trying to keep things a little less sugary.
10. Batman Drink Cup
This is a clever, budget-friendly way to get Batman onto your drinks table too. All you need is yellow cups and some black cards, and you're ready to go!
11. Batman Capes
These Batman Capes are a great way to get kids into the superhero spirit, and they can double up as your favors (unless you have space to keep 20+ tiny superhero capes!).
12. Superman Favor Bags
These Superman Favor Bags have a great simple, colorful design. You could try to make these yourself (you could make them way ahead of time) or you could just find a place to buy them. Gorgeous!
13. Batman Favor Bags
For the Batman side of the party, these Batman Favor Bags are just great. The color and clarity of the design just make them pop!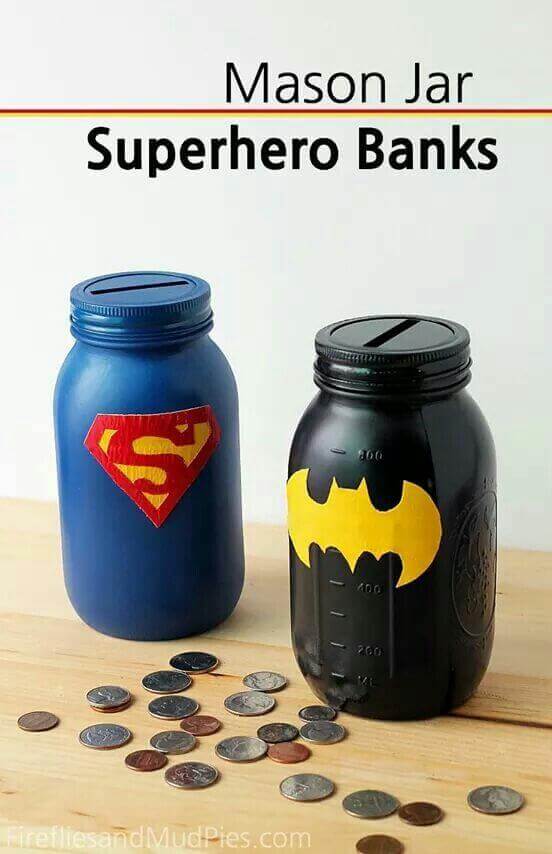 This is another DIY favor idea. These Mason Jar Banks are simple to put together, and they'll give kids a fun way to store and save their coins.
Making a Cardboard Tube Batman could be a nice craft for kids to make at your Batman vs. Superman party, but it would also make an awesome DIY decoration.
16. Batman vs Superman Drinks
Kids will feel so grown up with these Batman vs. Superman drinks, and they're a really fun and creative way to up the ante with your theme. Parents will love them too, so why not make a grownup version for them?
17. Batman vs Superman Candy Strawberries
These Batman vs. Superman Candy Strawberries will be the "cherry" on top of your party!
Be sure to check out more super cool themed ideas here: