Game On! A Super Mario Party
Table of Contents
Game on! This Super Mario birthday party planned and photographed by mom and stylist Chantelle Doll, of Dolled Up Design, is full of the most clever and creative DIY ideas. Organized for her son, Camden, whose Mario kick was going strong as he prepared to turn five, this party was the perfect theme. From an incredible mushroom birthday cake to cloud-shaped meringue cookies and an entire basement transformed for kid-sized Mario Kart races, this party really packed a punch.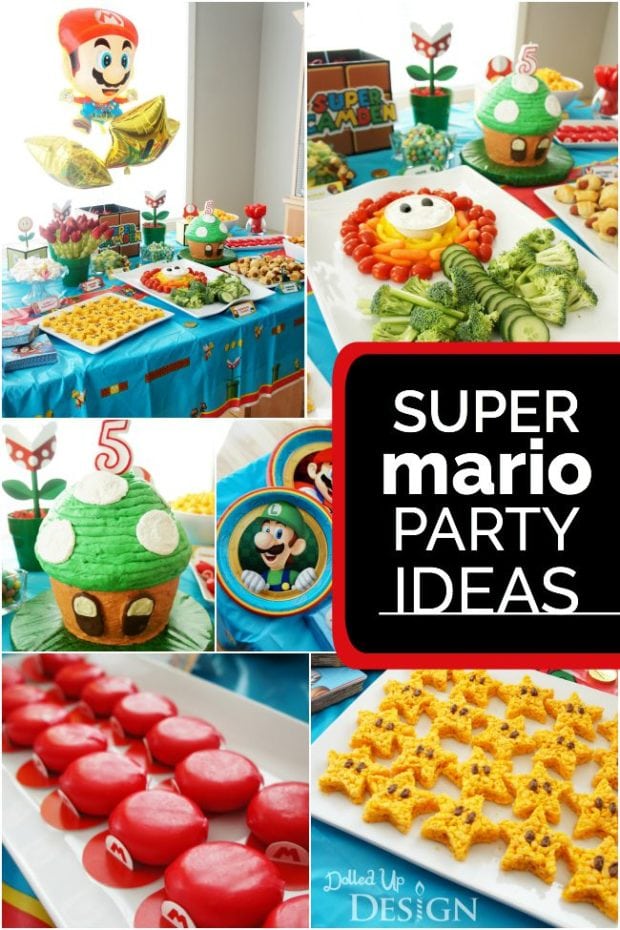 ---
See Also:
---
We bet guests couldn't wait to race on over to party with Camden after receiving such cool Mario invitations. We love that Chantelle had him dress up in his Mario costume and included his photo on the invitation — such a fun personal touch. There's nothing like an impending home-based celebration to give you that energy boost needed to complete home renovation projects.
Chantelle must have summoned her own power-up boost because prior to party day she created an entire Mario-inspired world out of her unfinished basement. There was a painted roadway on the floor, which made a perfect track for Mario Kart races using red and green Plasma Cars dressed up with adorable Mario and Luigi monogram logos.
On the walls, Chantelle added blue paint and created the coolest Mario-inspired mural. She added butcher paper shrubs and Mario characters, including foam core clouds. Our favorite DIY elements in the room were the Mario bricks hung on the wall. Also crafted from foam core, Chantelle personalized them by adding "Camden is 5" to the fronts.
Little did guests know, but Chantelle had made these as a fun activity and surprise for the party. Underneath each box was a hole covered with tissue paper that guests got to break so surprise loot bag items could fall out. Loot bag items included K'nex Mario figure mystery bags, Mario-themed fruit snacks, chocolate coins, bubble gum tape, finger lasers, a card game, and Mario candy. Chantelle also used her creativity to craft each guest a mushroom bag out of a paper bag and red and white polka-dotted paper. Genius!
The refreshment table was also excellent. Chantelle covered her table with a pre-printed tablecloth and tableware. Using foam core, Chantelle made piranha plant centerpieces from printable images and inserted them into Ikea flower pots. Mario balloons flew overhead as a simple backdrop. Chantelle also created mystery bricks from foam core and added mini-character figures around the tabletop.
With a party start time after lunch, Chantelle focused her menu on light snacks. She served pizza pinwheels, pigs in a blanket, and several creatively prepared items like a firepower flower veggie and dip platter and piranha plant-inspired fruit skewers. Our personal favorite food item? The Babybel cheese that Chantelle transformed into Mario hats. Brilliant!
Sweet treats inspired by the video game included cloud-shaped meringue cookies and star-shaped rice Krispy treats. A couple of candy options were also included with creative Mario labels. Chocolate Cadbury Mini Eggs became "Yoshi Eggs" and gummy bananas were on hand with a Donkey Kong label–a nod to Nintendo favorites.
The true highlight of the refreshment table was the awesome mushroom-shaped birthday cake made using a big cupcake cake pan. Chantelle flattened marshmallows with her rolling pin to make those white polka dots.
Power-up Hawaiian Punch bottles were dressed in Mario, Luigi, and Princess Peach labels alongside mustache and crown-embellished straws. This is a stellar party! Chantelle's life-sized reproductions of the video game elements are fabulous. This party is the kind of stuff that happy kid memories are made of.
Get more party inspiration from these ideas: