21 Top Thomas the Train Party Ideas
Table of Contents
These 21 top Thomas the Train party ideas will have you on track for a perfect celebration for your train-loving little boy! This wide variety of ideas includes fun DIYs like making your own train track, fruit trains and a train car snack display. Or, how about putting together a whole Thomas the Train dessert table? Toot sweet.
---
See Also
---
1. Thomas the Train Cookies
From Cookie Connection
These wildly fun Thomas the Train decorated cookies were made for a little boy's second birthday party! Iced with royal icing, they are decorated to resemble Thomas the Train, railroad crossing signs, train ride tickets, and more. I love the personalized touches with the birthday boy's name and age. These tasty treats would look amazing presented on a dessert table or given to guests as party favors.
2. DIY Train Track
From The Butlers
Complete your Thomas the Train party and add a fun activity for the kids by creating a train track right in your driveway. This brilliant blogger laid down strips of black duct tape in a ladder pattern to make their very own railroad. Add some railroad crossings for guests, ride-on train toys for kids, and some fun obstacles along the way. Any birthday kid would go crazy for this DIY train track.
3. Train Track Banner
From The Cards we Drew
All aboard! This train track banner will hang perfectly over your dessert table or party space. Crafted in matching party colors, this banner was printed out with a train car on each paper with each letter of the birthday child's name inside. Hung with ribbon and displayed perfectly in honor of the special day.
4. DIY Fruit Trains
From My Mommy Style, as seen on How Does She
Make healthy snacks adorable and exciting for your party guests with this fresh fruit train snack and craft. They are so much fun to make and surprisingly don't take that much effort to make! Set out fresh fruits including bananas, strawberries, blueberries, and pineapple buffet style for the kids to come up with their own fruit train creations. If you are nervous about using toothpicks you could also use popsicle sticks.

5. Thomas the Train Dessert Table
From Zelicious via Kara's Party Ideas
The bright colors and details make this train stand out. Train tracks are laid out across the table where a train holds all the dessert choices like jello, macaroons, popcorn, and more delicious treats. Simple blue buckets are transformed into train cars when red paper wheels are attached to the sides along with a lable for the food it is hauling. A blue plate is placed onto top to display the dessert choices for the guests.
6. Toss the Coal in the Hole Game
From Kimberly S., as seen on Catch My Party
Party guests will have all kinds of fun playing this creative "Toss the Coal in the Hole" party game. It is easy to recreate for your Thomas the Train party with a recycled cardboard box, brown paper, Styrofoam balls, and a little bit of paint. Let the kids take turns tossing the lumps of coal, aiming for the hole cut out of the centre of the box. Adjust the size of the whole for different age groups.
7. Birthday Crossing Sign
From Debbie M., as seen on Catch My Party
Birthday crossing on track three! Add a personalized and crafty touch to your Thomas the Train themed party by making a train crossing sign to decorate the dessert table or photo booth. Most of the pieces can be printed on cardstock or made using poster board, and the final result looks so cute in the background of the party.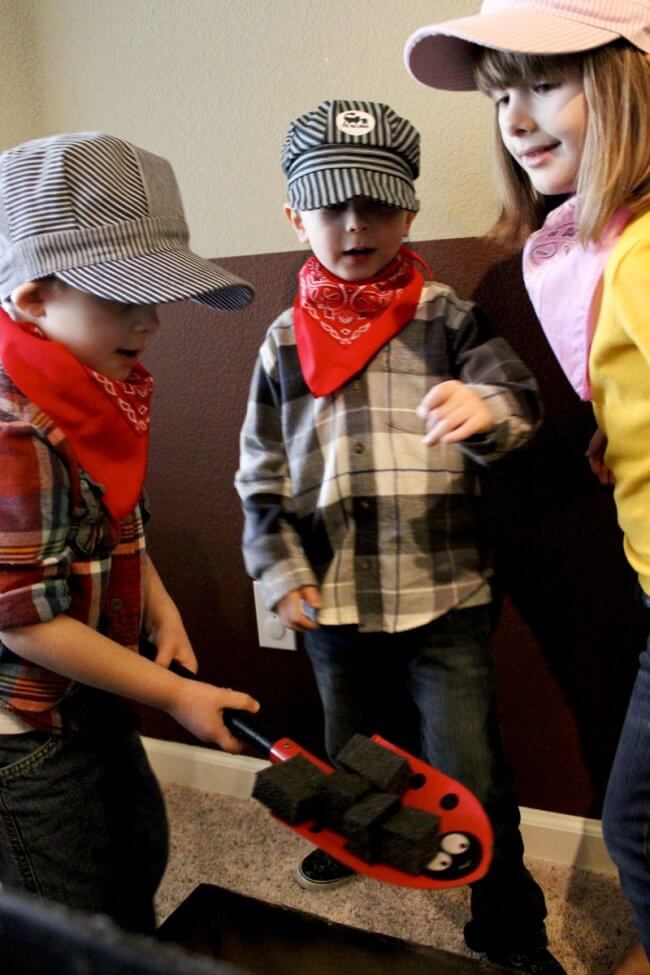 8. Train Coal Shovel Game
From Life Inspired
Put your train engineers to work with this fun coal shovelling party activity. This blogger brought their creative vision to life with a crazy cardboard train cut out complete with LED candles that light up to look like flames in a coal compartment! The coal is made from cut blocks of black foam. Let the children take turns shovelling coal into the train. It is a favorite for the kids!

9. In TRAINing Obstacle Course
From Celebrate Every Day with Me
Looking for an activity for your train party? Plan an obstacle course full of great activities and lots of fun. Coal (bean bag) toss, "hauling" freight, shifting gears train race, boulder pit dig, Clarabel's crossing maze, badge quest, and lots more activities included in this fun In TRAINing Obstacle course everyone will love.
10. DIY Thomas the Train Storage Crate
From AC Moore
Fizzling Fireboxes! After Thomas is done helping his friends on Sodor, let him help you and your little conductors and engineers with some space-saving storage. This DIY Thomas the Train Storage Crate is perfect for a gift table at a party, and can be used after for toy storage in the play room. It is a creative project that is pretty easy to put together and can be used for years to come.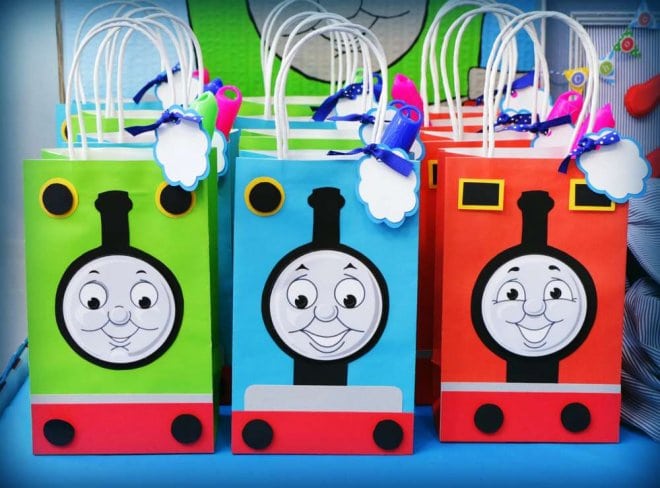 11. Thomas the Train Favor Bag
From Phomma., as seen on Catch My Party
Spruce up some plain colored paper bags from the dollar store by transforming them into your child's favorite Thomas the Train characters including Thomas, Percy, and James. Print the characters' faces and attach to the bag along with a bow of ribbon and a thank you tag. After decorating the bags fill them up with your child's favorite treats. Toy trains, bubble wands, wrapped candies, and decorated cookies all make great fillers.
12. Train Car Snack Display
Planning a snack table at your Thomas the Train themed party? If you answered yes, you have to check out this brilliant and adorable train car snack display! A Thomas the Train toy leads the way, pulling a train of snacks cars behind him. Each car is a plastic container decorated with printed train wheels and filled with tasty snacks. This blogger made a coal car for chocolates, a log car for pretzels, and an animal car for animal cookies.
13. Train Ball Toss
From Crafty Party
Ready, aim, fire! Have your guests step right up to this station to try their hand at tossing foam balls into the different colored train cars. Each train car is made from a recycled cardboard box covered with plain wrapping paper, with a different shaped cut-out in the top. After the birthday celebration, it is also a fun way to practice color recognition and shape recognition with your little ones!

14. Thomas the Train Cake
From CupKat via Cake Central
This two tiered Thomas the Train cake is perfect for train lovers. Made with tunnels and tracks, trees and clouds and even includes a hill for the train to climb all made from fondant. Thomas the Train characters complete the details for a great centerpiece for your party.
15. DIY Cardboard Thomas the Train
From Heather Bird Photography
This DIY Cardboard Thomas the Train is such a fun project to make for a Thomas the Train themed party and it is basically free. It takes some time to cut all of the pieces, but your kids can help with painting and assembling. Fill it with plastic ball pit balls or even balloons for a fun and colorful decoration. Your little Thomas the Train fan will love it!
16. Railroad Crossing Fruit Kabobs
From Diary of a Preppy Mom
Add some healthy sweet treats to your party menu with these adorable railroad fruit kabobs. This genius blogger stacked a green grape, piece of pineapple, and strawberry on a skewer then topped each one with a railroad crossing side for an excellent train-themed treat. You can display them upright by sticking the skewers into a foam block. Wrap with a fun scrapbook paper that matches your color scheme.
17. DIY Thomas the Train Photo Prop
From Chrissy, as seen on The Little Umbrella
Photo booths and photo props have to be my favorite way to make memories at a birthday party. You can get pictures of all your guests to remember the special day. This DIY Thomas the Train photo prop is perfect! Draw Thomas the train or trace using a projector, then cut out the face for a spot to have party guests pose. How adorable of these pictures? I need to find a reason to recreate this.
18. Thomas the Train Dessert Table
From Re L., as seen on Catch My Party
This dessert table is stocked with delicious treats and the most adorable printable graphics. The cake is front and centre, with three delicious layers of cake and a fondant Thomas the Train nested right on top. Tubes of M&Ms, customized chocolate bars, and chocolate dipper marshmallow pops are among the other treats perfectly perched on the table top. The simple backdrop ties this whole dessert table together.
19. Train Birthday Party Dessert Table
From Wants and Wishes, as seen on Spaceships and Laser Beams
This modern train themed third birthday party is right on track. One of the most amazingly unique ideas for this dessert table is a "build your own train" station. Party guests can top their railroad track sugar cookie with mini train cakes, then fill them up with an assortment of candies! Other sweet treats scattered around the dessert table include train themed cupcakes, black and white lollipops, and fun party favors.
20. Train Whistle Party Favor
From Taffie Wishes, as seen on Spaceships and Laser Beams
Thanking guests with a thoughtful gift is always a great party practice. This blogger colored plain favor boxes with cute thank you labels and a strip of polka dot ribbon, then nestled a wooden train whistle and red and white peppermints inside. The kids at the party will have so much fun tooting a happy birthday message to the birthday boy!
21. Train Shaped Sandwiches
From KellyAllison Photography, as seen on HWTM
Peanut butter and jelly, ham and cheese, or Nutella and banana – sandwiches make the perfect lunch-time snack for party guests. Use a train shaped cookie cutter to turn your average sandwiches into train themed treats that no kid would be able to resist. These sandwiches look great on the food table at a party, and would also be an awesome way to get picky eaters to finish school lunches!
Looking for party supplies for your boy's train birthday party? These party sources put together by the Spaceships and Laser Beams crew will get your party right on track.
(Amazon Affiliate Links)
Decorate-Your-Own Train
Train Conductor Hats
Train Engine Metal Cookie Cutter
Train Shape Cookies
Railroad Crossing Standee Train Party Prop
Invitation – Choo Choo
Train Tumblers
Train Engine Lolly Chocolate Candy Mold
Train Railroad Crossing Sign Cupcake Picks
All About Details Blue Trains Cupcake Wrappers
Cupcake Express Train Baking Cups
Transportation Puzzle Cakes
Railroad Tracks Train Table Runner
Paper Straw, Navy Blue/White Stripes
Mini Popcorn Boxes
Green Paper Party Favor Bags
Green Dots Party Kit
18 Count Assorted Cutlery Set
Be sure to check out more boy's train birthday party ideas here:
Vintage Train Boy's Birthday Party
Vintage Train Birthday Dessert Table