15 Train-Themed Birthday Parties
Table of Contents
This round-up of train birthday party ideas will amaze you with the diversity this theme affords! The first steam train was invented in 1804, but did you know that a basic form of the railway goes all the way back to 600 B.C.? We guess man's love affair with cross-country travel has been long-term. The train theme is one of the most enduringly popular birthday party ideas.
---
See Also:
---
Light blue and white, with a few touches of red, dress this party in gingham and polka dots. The cake and cookies are especially sweet!
Wanna see CUTE? This is it! Check out my ideas for creating a party that looks wonderful and costs way less than you could imagine.
Belle styled this celebration for her own son's birthday, it's fabulous! There's a painted canvas ticket window backdrop, a train whose box cars hold the desserts plus notice the piece, and four flavor train birthday cake.
Soft blues and greys are used in this stylish party and decorate all well-coordinated elements on this table. We love how the tabletop display and the backdrop are tied together.
This train party is entirely unique and we love it! It's a contemporary rendering in bright colors with black accents.
6. Vintage Train Party
Weathered clock faces, vintage fans, and vintage-style luggage add a lot of charm to this gathering. Buckets, muslin bags, and metal serving trays are a little out of the ordinary for this theme–looks good!
7. Retro Train Dessert Table
Rosette fans and a pennant banner in neutral colors look very handsome against golden tones in the brick background. The dessert collection is awesome!
Want lots of inspiration? Study Jen's creative details and you'll come away with a lot of ideas.
Here is a refreshing blue and yellow version of this popular boy theme. There's another cute cake here, too.
Shades of green, plus white and tan, are combined for a lovely effect. The party hats are especially sweet.
Our favorite components that start here include the train track backdrop made from a sheet and duct tape, plus the train track table runner.
Here's another celebration that arrests your attention with happy brightness. All the details were covered at this party; a small touch that adds a lot is the cup and table service display on the guest table.
Royal blue and light green give this train party for a two-year-old a fresh edge.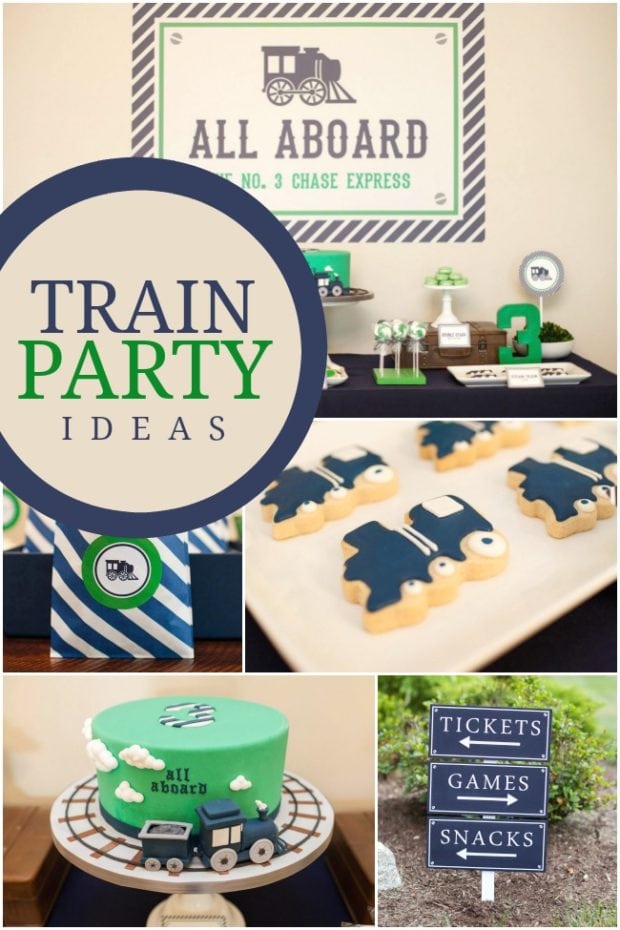 Sweet and simple with green and blue modern elements describe this amazing party that is full of great details.
Although there are lots of great ideas at this party, my favorite is the backdrop behind the food table display.
BONUS:
Here's a DIY tutorial for making cute and easy, train-shaped, candy party favors.
Climb aboard for more great themed birthday party ideas: