25 Train Themed Birthday Parties
Table of Contents
This round up of train birthday party ideas will amaze you with the diversity this theme affords!
The first steam train was invented in 1804, but did you know that a basic form of the railway goes all the way back to 600 B.C.?
I guess man's love affair with cross country travel has been long term; maybe little boys are hard wired to enjoy trains! The train theme is one of the most enduringly popular boy birthday party ideas.
---
See Also
The Spaceships and Laser Beams vintage train party printables are featured in this awesome boy bash on a budget.
This outdoor train themed birthday party looks like a great time!
Take a peek at these Thomas the Train birthday party ideas!
---
1. Train Robbery Birthday Party
From Million Dollar Smile Celebrations via Spaceships and Laser Beams
Even if we didn't get invited to the original party, this celebration is a joy to look at! The cupcakes are fabulous and especially worth noting. You'll discover tons of inspiration for hosting a stylish and fun train themed gathering.
2. Train Birthday Party
From Prop Shop Boutique via The Little Big Company
Light blue and white, with a few touches of red, dress this party in gingham and polka dots. The cake and cookies are especially sweet!
3. 2nd Train Themed Birthday Dessert Table
From Style My Table via Amy Atlas
A child's wooden train set chugs across this dessert table; the backdrop and cake coordinate perfectly!
4. 4th Birthday Train Party
From Dolce Drive via A to Z Celebrations
Royal blue and Kelly green, with black accents, really make this party combo pop!
5. Vintage Train Party on a Budget
From Spaceships and Laser Beams
Wanna see CUTE? This is it! Check out my ideas for creating a party that looks wonderful and costs way less than you could imagine.
6. Vintage Train Birthday
From Style by Belle
Belle styled this celebration for her own son's birthday, it's fabulous! There's a painted canvas ticket window backdrop, a train whose box cars hold the desserts plus notice the piece, four flavor train birthday cake.
7. All Aboard a 1st Birthday Train
From Tabletop Treats via Spaceships and Laser Beams
Soft blues and greys are used in this stylish party and decorate all well-coordinated elements on this table. I love how the tabletop display and the backdrop are tied together.
8. NYC Subway Train Birthday Party
From Amelia Collections via Kara's Party Ideas
This train party is entirely unique and I love it! It's a contemporary rendering in brights with black accents.
9. Party Central Birthday
From Wants and Wishes via Spaceships and Laser Beams
All of these stripes look so railroad appropriate! One of the unique features on this dessert table is the build-your-own trainto eat!
10. Vintage Train Party
From Kelly Allison Photography via Hostess With the Mostess
Weathered clock faces, vintage fans and vintage style luggage add a lot of charm to this gathering. Buckets, muslin bags and metal serving trays are a little out of the ordinary for this theme–looks good!
11. Retro Train Dessert Table
From Little Birdie Events via Amy Atlas
Rosette fans and a pennant banner in neutral colors look very handsome against golden tones in the brick background. The dessert collection is awesome!
12. Vintage Train Birthday Dessert Table
From Mulberry Paperie via Spaceships and Laser Beams
Here's a cheery party that the stylist only had 45 minutes to set up and it's darling!
13. Birthday Train Party
From Banner Events via Kara's Party Ideas
Want lots of inspiration? Study Jen's creative details and you'll come away with a lot of ideas.
14. Chugging Train Birthday Party
From Styled by Belle
Here is a refreshing blue and yellow version of this popular boy theme. There's another cute cake here, too.
15. Train Inspired Birthday
From Julie via Amy Atlas
Shades of green, plus white and tan, are combined for a lovely effect. The party hats are especially sweet.
16. Boy Bash on a Budget
From A Piece of the Pikes via Spaceships and Laser Beams
This party is absolutely darling and it was truly done on a budget. Check out her idea of using the toy train table.
17. Blue and Green Train Party
From Autumn Lynn's Chocolate Sins via Hostess With the Mostess
Pinwheels and polka dots, plus tassel poms and balloons, make this fun even to look at!
18. Train Themed Birthday
From Kori Clark via Celebrations at Home
My favorite components that star here include the train track backdrop made from a sheet and duct tape, plus the train track table runner.
19. 3rd Birthday Train Theme
From Louise Sanders via Hostess With the Mostess
Boy handsome in tan and blue, this attractive party will give you some cool food ideas too.
20. Budget Vintage Train Birthday Party
From Stunning Party via Spaceships and Laser Beams
I love how high-end this low budget celebration looks!
21. Train Party
From Flaired Affairs via Pretty My Party
Here's another celebration that arrests your attention with happy brightness. All the details were covered in this party; a small touch that adds a lot is the cup and table service display on the guest table.
22. Train Birthday Celebration
From K Kustomables via Pretty My Party
Royal blue and light green give this train party for a two-year old a fresh edge.
23. Thomas the Train 2nd Birthday
From Project Nursery
If you're going for simple as this mom did, check out her ideas and be sure to notice the terrific train cake.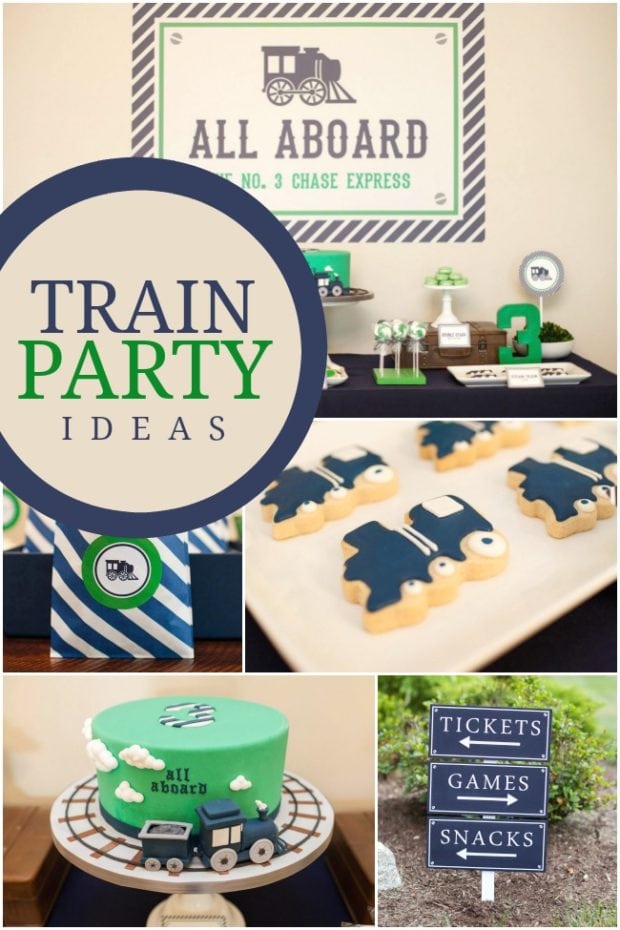 24. Train Birhday Party Ideas
From Paige Simple via Spaceships and Laser Beams
Sweet and simple with green and blue modern elements describe this amazing party that is full of great details.
25. Vintage Train 4th Birthday
From Nu and Nug's Adventures via Spaceships and Laser Beams
Although there are lots of great ideas at this party, my favorite is the backdrop behind the food table display.
BONUS:
Candy Train Party Favors
From Lulu the Baker
Here's a DIY tutorial for making cute and easy, train shaped, candy favors.
Check out these train themed birthday party supplies sourced by the Spaceships and Laser Beams team:
(Amazon Affiliate Links)
Train Cookie Cutter
Melissa & Doug Train Engineer Role Play Costume Set
Big Book Of Trains
Train Candles/Holder Set
Thomas the Tank Mini Bubbles
Thomas the Tank Drink Bottle
Climb aboard for more great train themed boys' birthday party ideas.
A Boy's Train Themed Birthday Party