19 John Deere Tractor Party Ideas
Table of Contents
We've collected 19 of our favorite John Deere tractor birthday party ideas just for you. Included in this round-up is a pin-the-tires-on-the-tractor party game, adorable party supplies, DIY John Deere burlap favor bags, and the cutest footprint tractor craft. Don't miss the John Deere cake and cookies. Boys and tractors go together like pie and ice cream, so head to the farm for your little one's next birthday celebration.
See Also:
1. John Deere Bean Bag Toss Game
It's hard to find a game or activity to play at parties that can appeal to both kids and adults but, this bean bag toss game can do just that. Decked out in the traditional John Deere green and yellow, this cornhole bean bag toss game is perfect to keep kids, and adults, busy and having fun.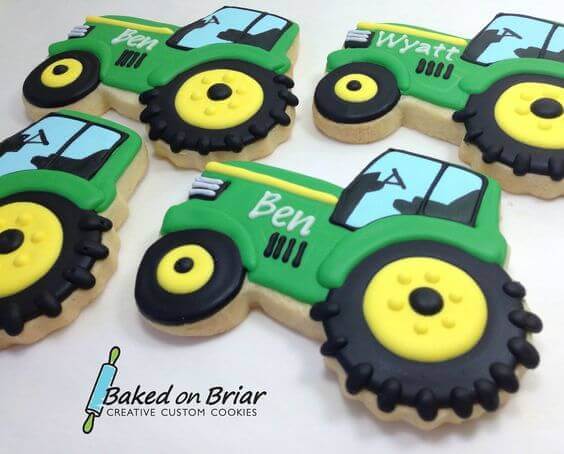 2. Tractor Cookies
If you're planning a tractor-themed birthday party, you must have amazing tractor cookies. These custom, personalized cookies are made with precise details mimicking the beloved John Deere tractor and are complete with the birthday girl or boy's name etched in icing. Head to your local baker or grab your cookie cutters and get baking.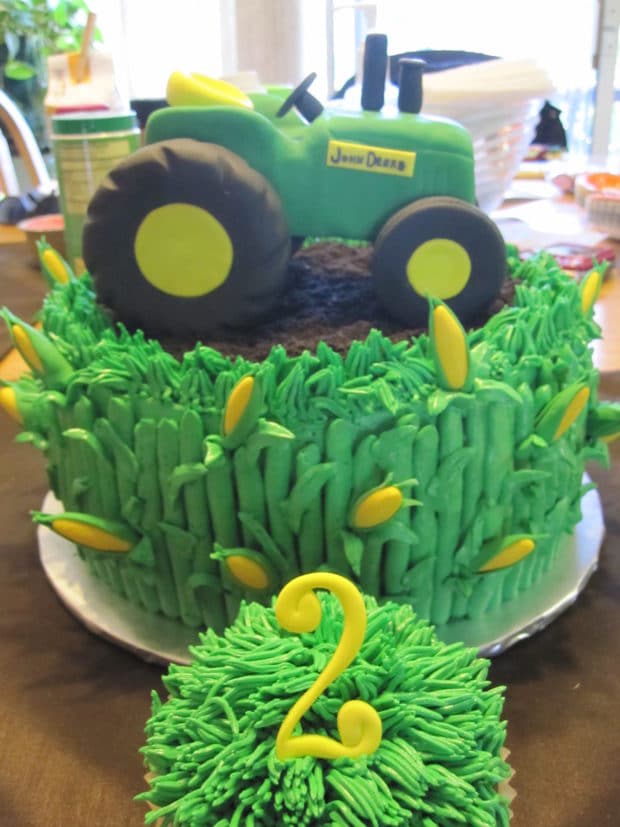 3. John Deere Birthday Cake
Transform a simple round cake into a show-stopping centerpiece with icing decorations, around the sides, made to look like a field of cornstalks with tiny corn cobs peeking through. Green grass and even a cookie crumble "dirt" pile sit underneath the handcrafted John Deere tractor made from fondant. Make it your own by adding a favorite John Deere tractor or toy to the top instead.
If your son loves tractors, this boy's tractor party is not to be missed. Filled with John Deere greens and yellows with faux grass and bales of hay, the details are endless. Guests are treated to a variety of desserts like cheesecakes, cookies, Rice Krispie treats, and of course a beautiful cake. Plus, a kid-sized tractor sits front and center.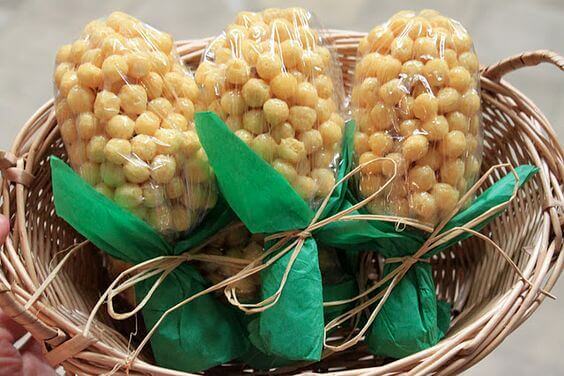 5. Cereal Corn Stalk Treats
How cute are these cereal corn stalk treats?! Made using cereal that resembles "corn" and wrap in clear baggies or even cellophane. Create a handle at the bottom and wrap it with green tissue paper and raffia ribbon. It makes a great favor, decoration, or even a treat for kids to enjoy.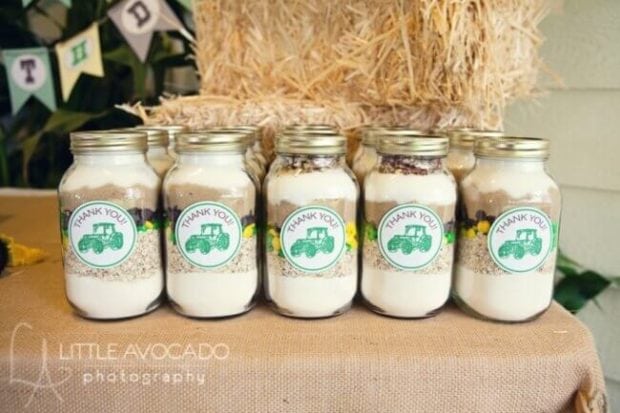 6. Tractor Party Cookie Mix Favors
Thease party cookie mix favors appeal to not only the kids, but parents will love them too. Grab some large mason jars and fill them with all the ingredients to create your favorite cookies. Attach a thank you label and don't forget the baking directions! It'll give the guests something fun and tasty to remember long after the party has ended.
Isn't this DIY Cardboard Tractor Photo Prop perfect for a John Deere tractor party? Kids will love taking photos in the tractor plus, it is a fun activity that will leave you and your guests with lots of amazing images to look back on.
8. Rice Krispy Treat Hay Bales
Use Rice Krispie treats to make perfect bales of "hay". Especially for your tractor or farm-themed birthday party. Kids, and parents, love them and they are so simple to make. Just make your treats as usual but, add some green and yellow icing to tie in your party theme, or leave it as is.
9. Pin The Tires On The Tractor Game
Keep kids busy having fun with a pin the tire on the tractor game. This is a simple DIY activity that will keep kids entertained for hours without costing you much time, effort or cash. Simply grab a poster board, markers, tape, and scissors to create this fun tractor-themed game.
10. John Deere Party Table
The details on this John Deere Tractor Party Table are simply amazing. Grass placemats set atop burlap table covers and buckets filled with farm animals. John Deere toy tractors were used as centerpieces along with rustic lanterns, metal buckets, and beautiful bouquets of sunflowers. Donuts are placed and ready for little hands to grab and water bottles were wrapped with custom labels to match the party.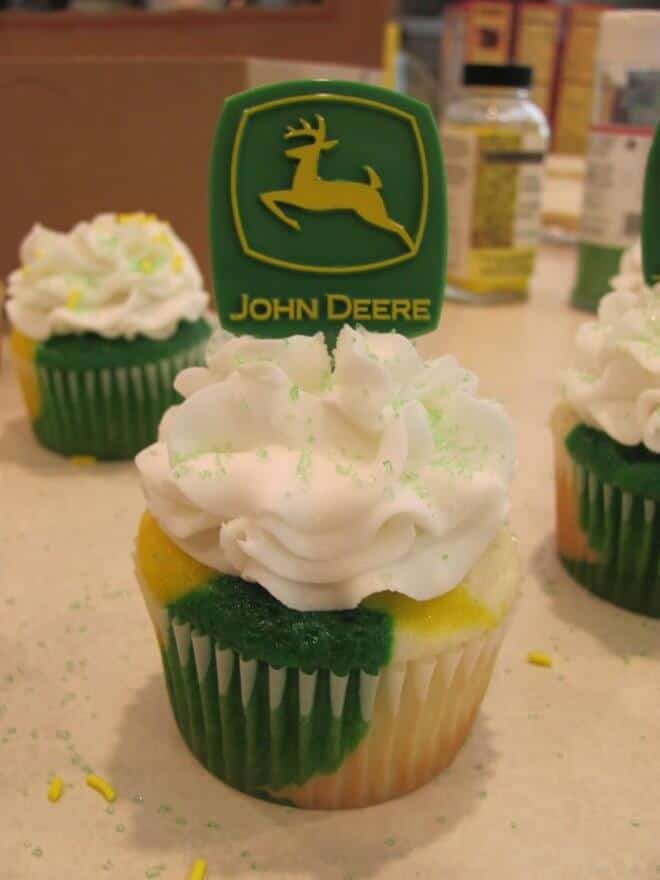 When you're planning a John Deere party, your party food has to match. Just add green and yellow food coloring to your favorite cupcake recipe and get baking to create these fun and delicious John Deere Cupcakes. Plus, don't forget your John Deere cupcake topper!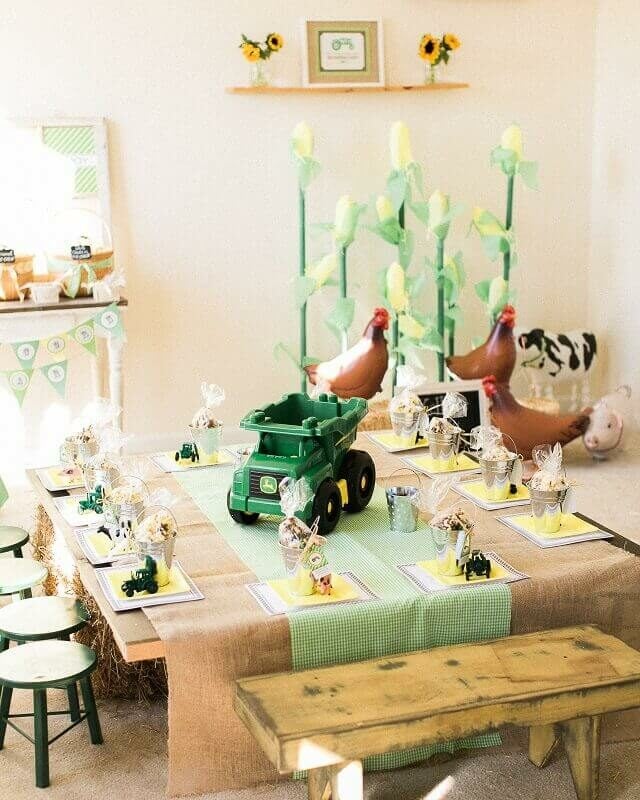 There are TONS of John Deere tractor party ideas at this John Deere Tractor Party. The table decor is filled with burlaps, plaids, and lots of farm animals. Mini tractors and buckets are placed at each place setting and a toy tractor is a centerpiece. Corn stalks, chickens, cows, and pigs are used as decor while wood stools and benches are set around the table for little guests.
13. John Deere Tractor Table Settings
If you still haven't found the John Deere table settings you're after, then take a look at this table setting full of great ideas. John Deere's green and yellow bandanas are tied to chairs and placed across tables. Mini flower pots filled with "grass" and tractor signs on sticks for centerpieces. This is a simple idea that makes a huge impact.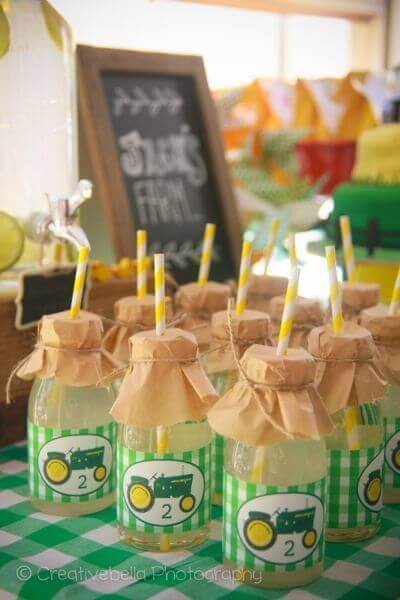 14. Tractor Party Lemonade Bottles
These Tractor Party Lemonade Bottles are perfect for your little one's tractor party, especially when it's warm outside. Wrap bottles with a custom tractor theme label, fill with lemonade and top with a cover, and secure with twine. Poke a hole for the striped straw to keep your guest's thirst quenched throughout the party.
15. Tractor Pinata
A pinata is a great activity and game for any party. But, this tractor pinata is perfect for your next John Deere birthday. Kids will love trying to break it open and grab all the candy as it falls out. Plus, it makes a great decor piece, that is before they start taking a swing at it.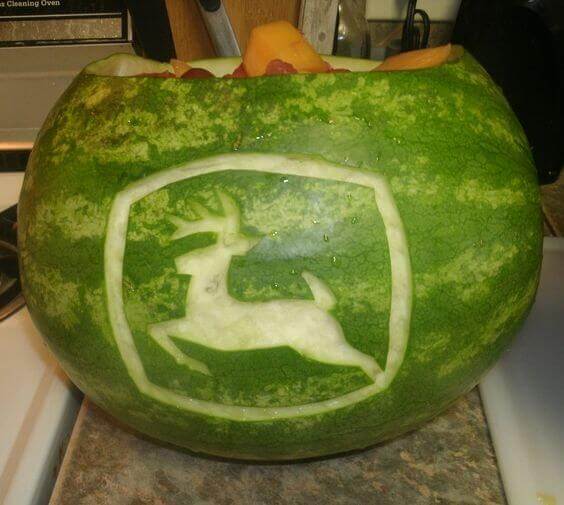 16. John Deere Carved Watermelon
Grab a watermelon and start carving! This John Deere carved watermelon only looks challenging. Just carve out your watermelon into a bowl and fill it with delicious fruits and melons. Grab a stencil and carve out the front with the John Deere logo. It shouldn't be too difficult if you're handy with crafting tools.
Set the stage, or farm, for your tractor party with this John Deere Tractor Party Invitation. Created with green and yellow stripes and brown accents, this invitation is printable so you can print at home or at your local print shop. Plus, did you see the amazing vintage tractor at the top?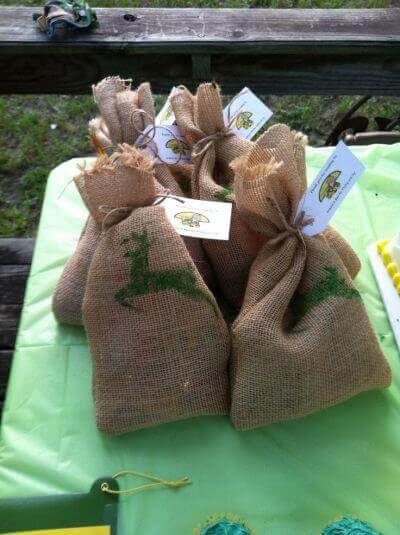 18. DIY Burlap John Deere Favor Bags
These burlap favor bags fit perfectly into the tractor theme and give off a great country feel. They are easy to make using burlap sacks and green marker and stencil or a deer stamp. Fill with cookies, candy, or little treats and wrap with twine and a thank you tag to create the perfect party favor.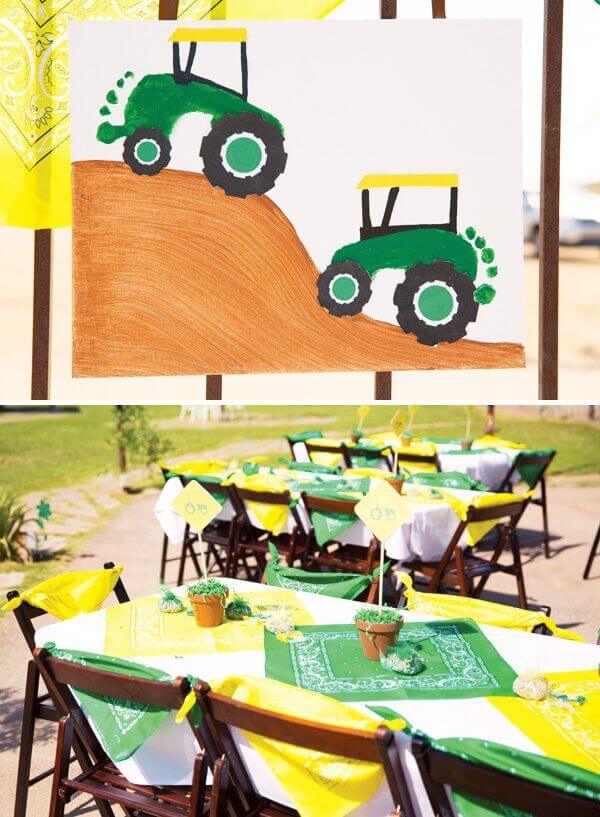 19. Footprint Tractor Craft
If you're looking for a fun craft or an activity for your John Deere Party, then this footprint tractor craft might just be perfect. It's simple enough to do with younger kids, but still fun for all ages. Plus, all you need is some paint, blank paper, and tiny feet. And maybe help from some moms.
Get super inspired with these awesome party ideas for kids: