19 SpongeBob SquarePants Birthday Party Ideas
Table of Contents
These SpongeBob SquarePants birthday party ideas will make your house more happening than Bikini Bottom
Everyone knows who lives in a pineapple under the sea. But could you throw a party themed after this SquarePants character? Sure!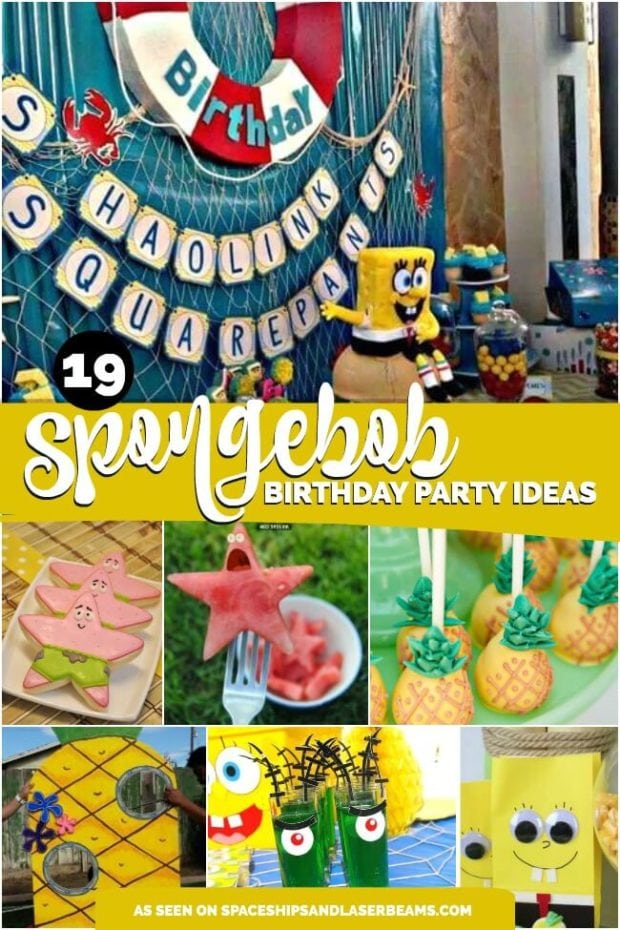 ---
Party supplies and decorating ideas are abudant in this post. Serve up Patrick Star watermelon or Plankton Jell-O cups. DIY your own Plankton piñata or SpongeBob party bags.
And don't forget to make your own pin the tie on SpongeBob game. There is so much inspiration to be found in the deep blue sea.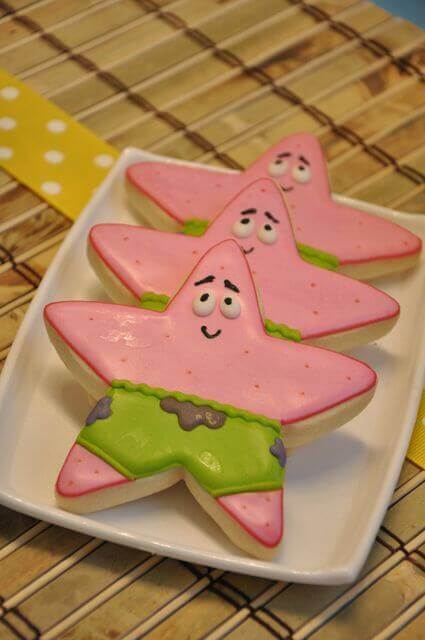 1. Patrick Star Cookies
From Heidi K., as seen on Catch My Party
Our first SpongeBob SquarePants party idea is a bit of a challenge, but only if you DIY it. If you're not in the mood to get out your piping bag, why not take the design to your local bakery?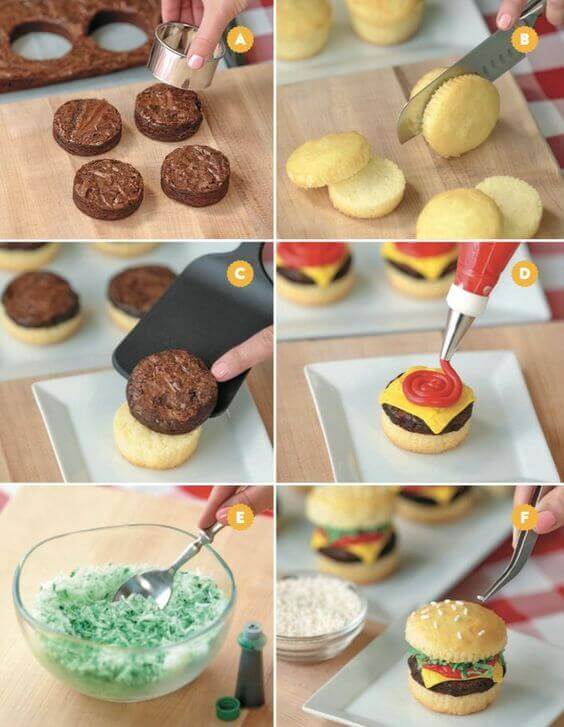 2. DIY Cupcake Hamburgers (Krabby Patties)
From Nerdy Nummies, as seen on Yahoo
These are technically Cupcake Hamburgers, but you definitely won't have any crabby kids with these Krabby Patties on the table.
3. DIY Tissue Pineapples
From Frog Prince Paperie
These DIY Tissue Pineapples are a fun, easy way to bring the SpongeBob theme to life, and they're really simple to make.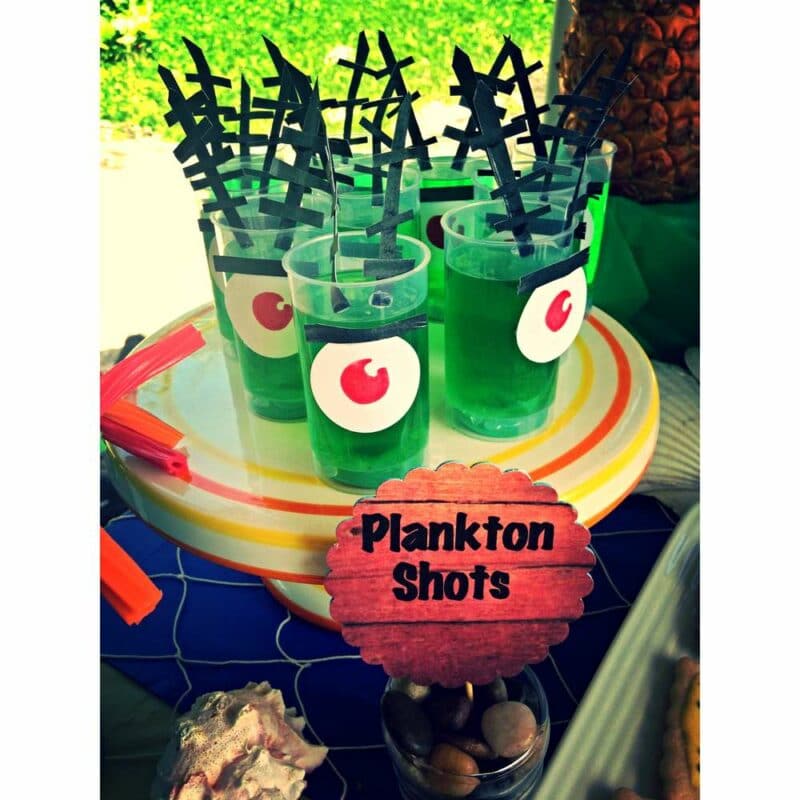 From Aiden's SpongeBob Party; as seen on Catch my Party
Aren't these Plankton Jell-O Cups a fantastic idea? This grumpy little green character is a fun addition to your birthday spread, and the Jell-O cups are great to make ahead.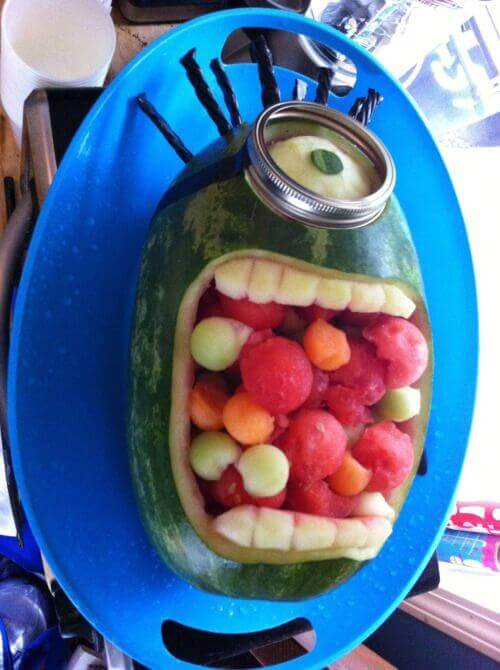 5. DIY Plankton Watermelon Fruit Bowl
From SpongeBob
This DIY Plankton Watermelon Fruit Bowl is an awesome way to bring something a little bit healthier to the party.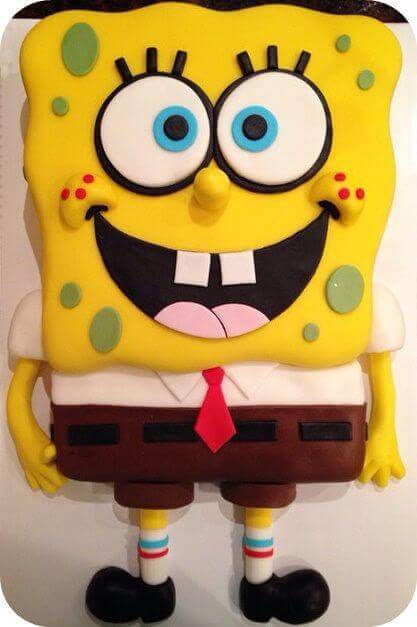 6. SpongeBob Cake
From Cake for Thought
If you have a little bit of extra time on your hands, then this intricate SpongeBob Cake is a great challenge. If not, it's time to hit the bakery, photo in hand!
7. Pineapple Shaped Pizza
From Meowchie's Hideout
This is a delicious DIY, and a tasty way to bring your SpongeBob theme into the food. It should be pretty easy to put together, and looks really impressive. Decorate with ham and pineapple if you dare.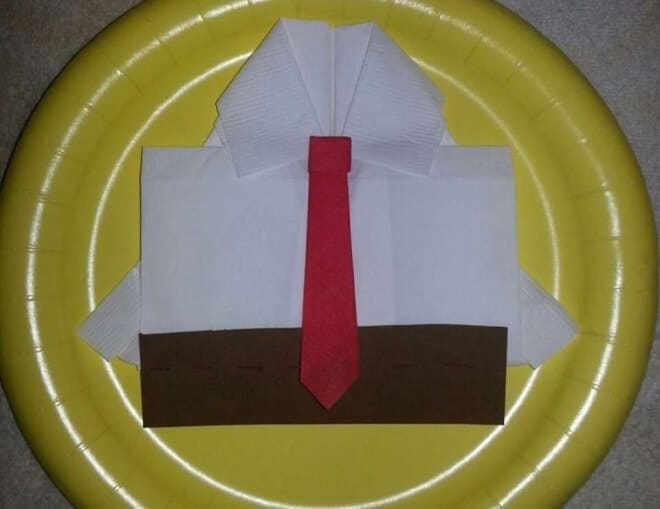 8. DIY SpongeBob SquarePants Napkin
From Zolee's Boutique, as seen on Catch My Party
This is a super cute way to add a little bit of SpongeBob flare to your table settings, and it's a great DIY to do ahead of time.
9. Patrick Star Watermelon
From 9Gag
These Patrick Star Watermelon pieces are another great way to sneak some fruit into the party without anyone noticing.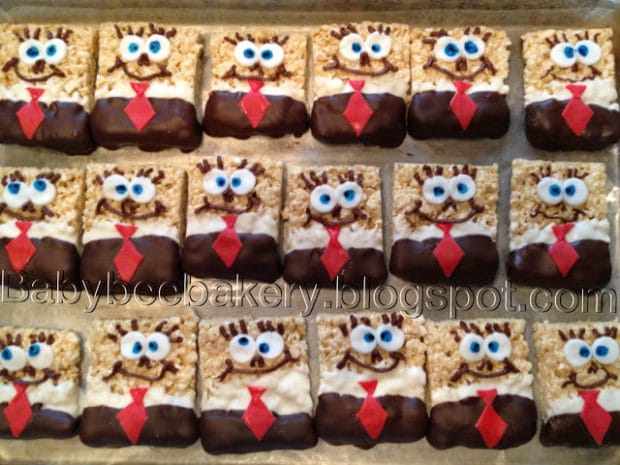 10. SpongeBob Rice Krispy Treats
From Aggies Do It Better
These SpongeBob Rice Krispy Treats are pretty darn cute, and are a cinch to put together.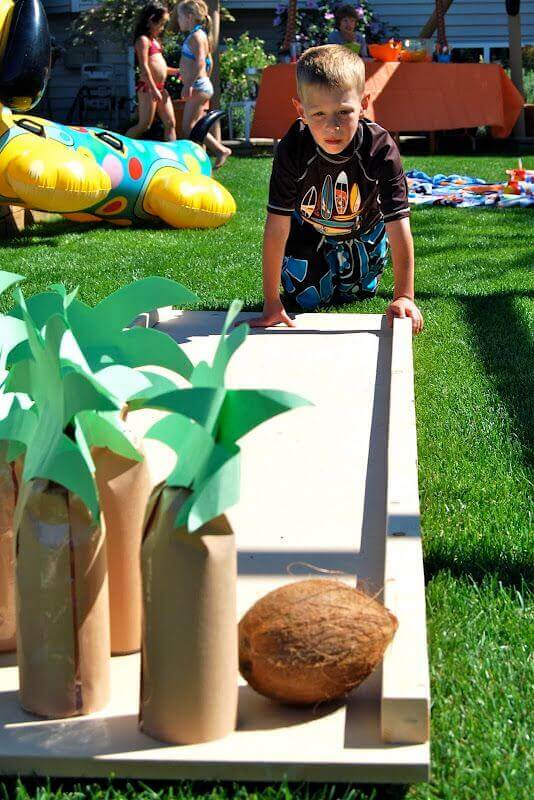 11. Coconut Bowling Game
From Words From Home
If you haven't decided on your entertainment yet, why not give this Coconut Bowling Game a try? It's an easy DIY that will keep kids well entertained, and it would work well for all kinds of different themes.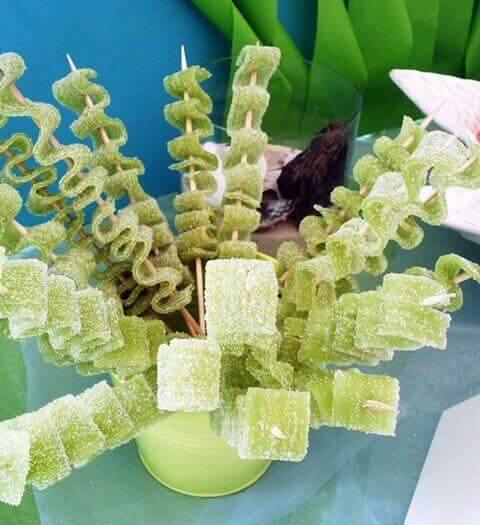 12. Green Seaweed Sugar Ribbons
From Boksomdaais
These Green Seaweed Sugar Ribbons wouldn't look at all out of place in Bikini Bottom, but they'd look even better on your SpongeBob Party snack table.
13. Giant Plankton Piñata
From Krazzy Kids
I love having pinatas at birthday parties — they're really easy to DIY, whatever your theme. Don't you just love how mad this Giant Plankton Pinata looks?
14. Pineapple Cake Pops
From Leo & Bella, as seen on HWTM
These Pineapple Cake Pops look great, bringing a fun pop of bright lemon yellow to the snack table.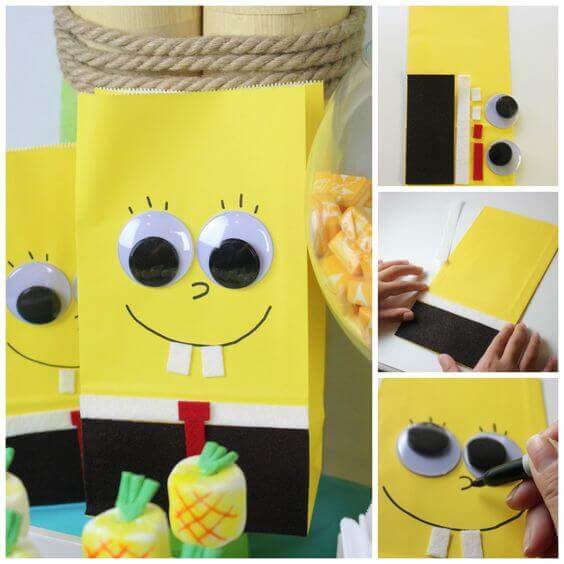 15. DIY SpongeBob Party Bags
From Jenn Fukikawa, as seen on Fandango
I love how simple these DIY SpongeBob Party Bags would be to make ahead, making your life a little easier the day of the party. Aren't those big googly eyes adorable?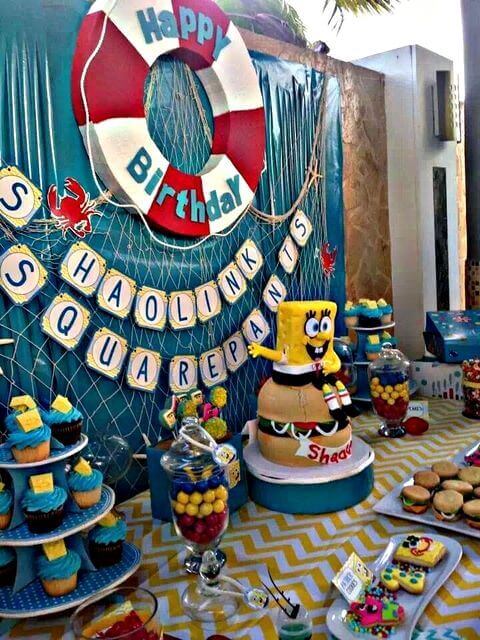 16. SpongeBob Birthday Party
From Little Sunshine PR, as seen on Catch My Party
There are so many fantastic SpongeBob SquarePants birthday party ideas here, I don't quite know where to start. I think that the banner might be my favorite idea, but there's some stiff competition.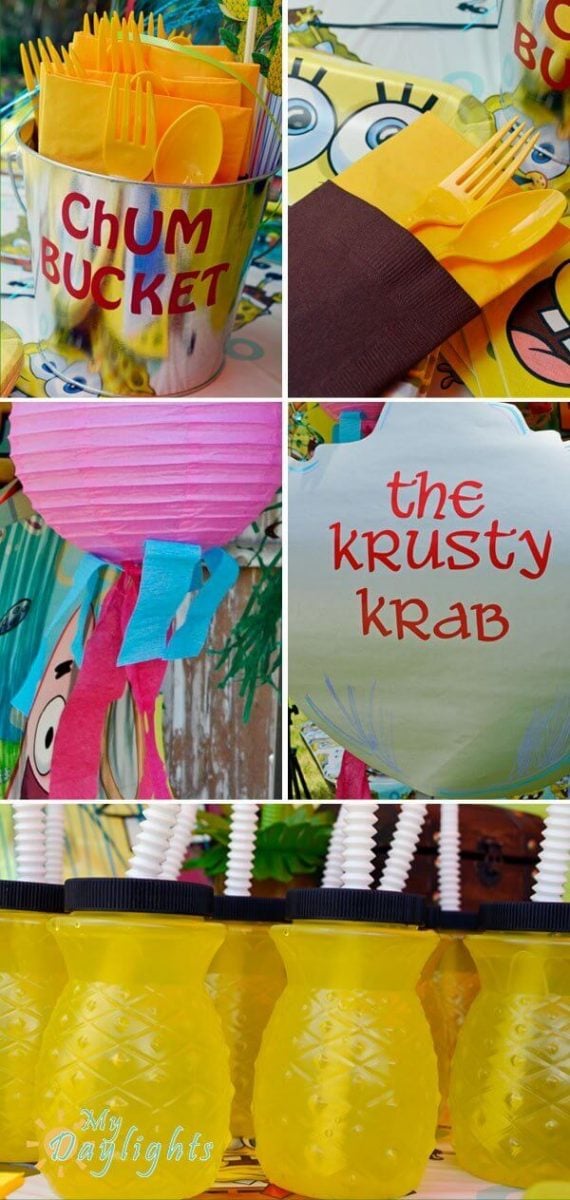 17. Chum Bucket Utensil Holder
From My Daylights
This is a great way to carry over your theme, but it's also a clever way to keep your utensils tidy and organized. Win-win!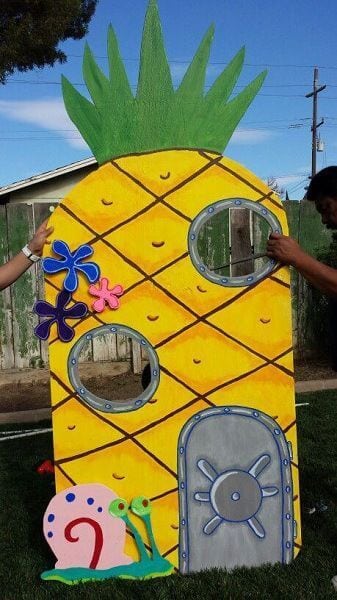 18. Bikini Bottom Photo Booth
From Meowchie's Hideout
I think that this might be the most original SpongeBob party idea on the list. It's a bit of a challenge, but would be a great DIY party activity if you had the time.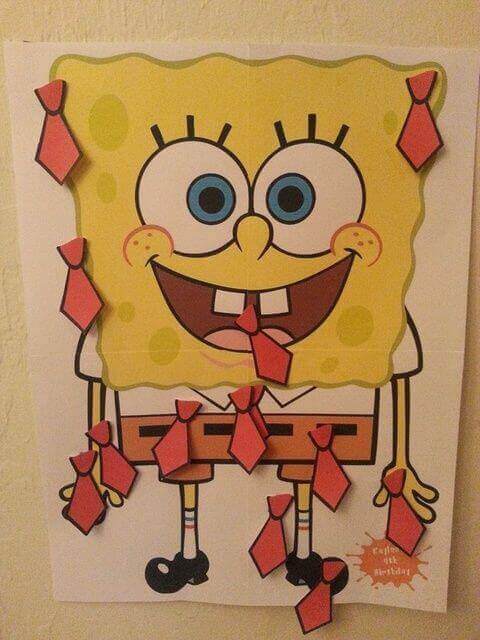 19. Pin the Tie on SpongeBob
From Zolee's Boutique, as seen on Catch My Party
Seeing as there are no donkeys in Bikini Bottom, why not pin the tie on SpongeBob instead? This is a great game, and will keep kids entertained for ages.
Check out more sea inspired party inspiration here: