23 Enchanting Under The Sea Party Ideas
Table of Contents
Ocean life and sea creatures are fascinating and make an amazing birthday party theme. Don't miss DIY paper lantern fish and jellyfish decorations. Try your hand at making sea creature candy pops, jellyfish Oreo balls, or octopus cupcakes. Entertain party guests with a homemade fishing pond game. It really is better, down where it's wetter, under the sea!
---
See Also:
---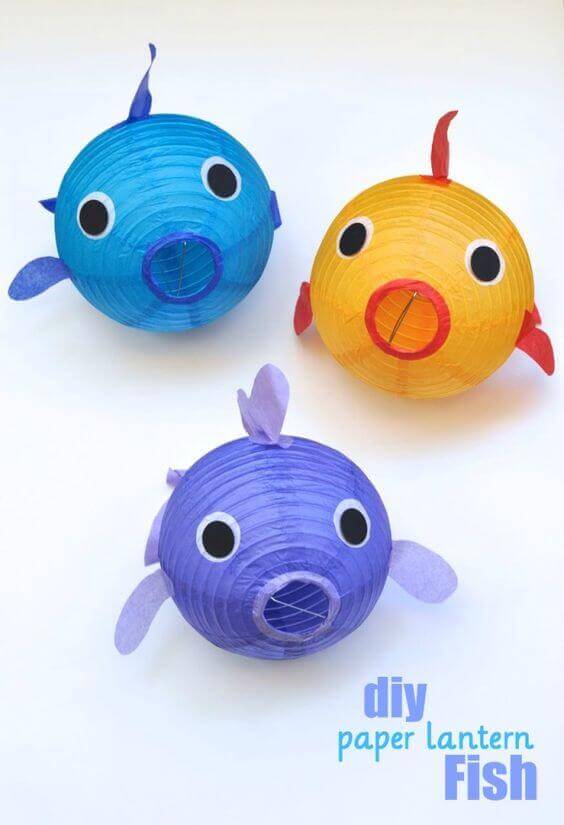 1. DIY Paper Lantern Fish
Add these adorable DIY paper lantern fish to any ocean-inspired under-the-sea-themed party. You'll just need round paper lanterns, assorted tissue paper, cardstock, string, and some basic craft tools like scissors, tape, and glue. You'll have your own cute school of fish in no time.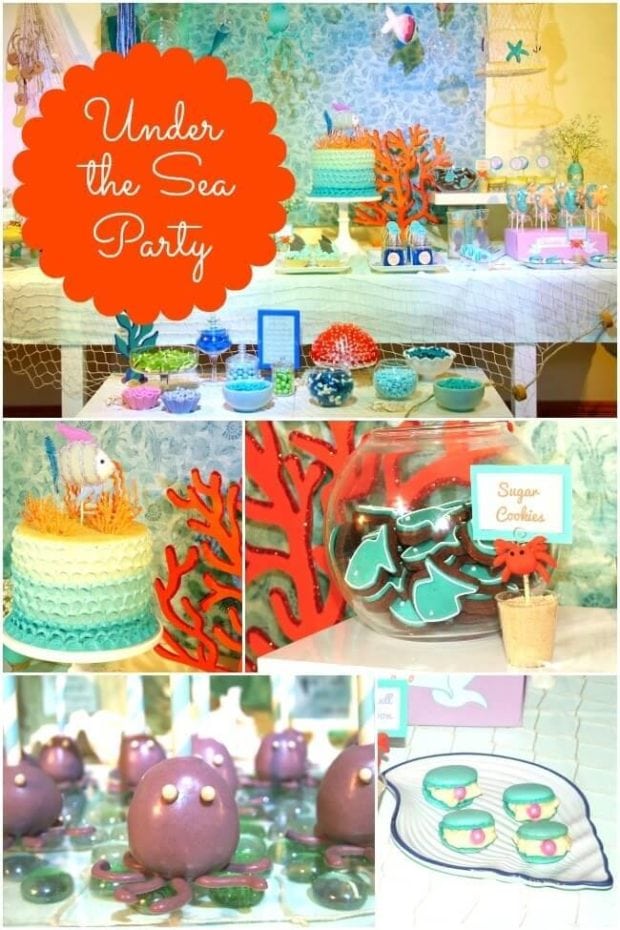 Whether you're looking for DIY decoration ideas for planning your own under-the-sea party or ocean-inspired dessert ideas, this party is overflowing with inspiration. You'll find everything from shark fin cupcakes to seahorse lollipops and sea creature décor suspended from the ceiling.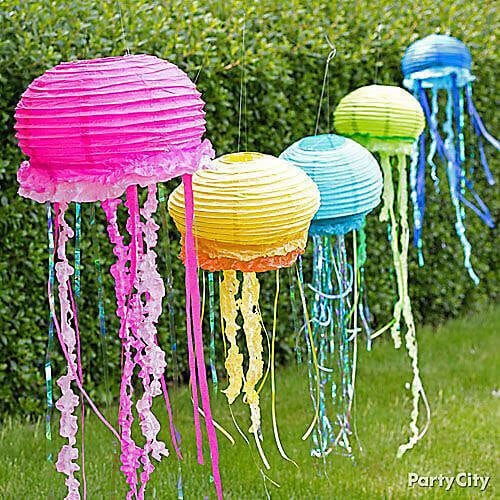 3. Jelly Fish Hanging Lanterns
Did you know you can transform hanging party lanterns into awesome hanging jellyfish? You won't believe how easy it is to use a combination of curling ribbon, iridescent ribbon, streamers, and strips of plastic tablecloths to recreate this look. A little pinching and pulling off the strips of plastic tablecloth result in a ruffled tentacle look.
4. Sand Dollar Cookies
Serve up a batch of sand dollar cookies on a bed of brown sugar "sand". Lightly press a small star-shaped cookie cutter into the center of freshly baked round sugar cookies and freehand some details with a knife.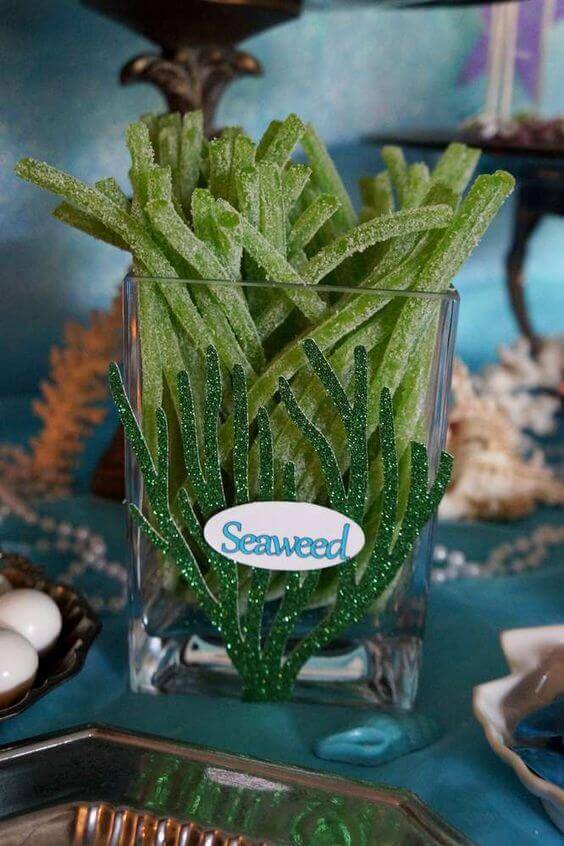 5. Edible Seaweed
Kids may not enjoy eating real seaweed at an under-the-sea party, but these green sugared Sour Punch Straws make a fun alternative. Display them in a clear glass vase with a creative sea-inspired tag to create a clever connection.
6. Sea Turtle Cupcakes
Creating these sea turtle cupcakes doesn't require a whole lot of time or talent. Frost a batch of your favorite cupcakes and use gumdrops, peach rings, spearmint slices, and mini chocolate chips to create the turtle.
Kids will go crazy over these fish marshmallow pops. If marshmallows weren't yummy enough already, coating them in an under-the-sea-inspired layer of blue candy melts and dipping the bottom edge in brown sugar "sand" will definitely kick things up a notch. To make things even more fun, adding a little goldfish cracker while the candy coating is still wet makes the pops even cuter.
8. Little Fishy Cupcakes
Up to your eyeballs in under-the-sea party prep? These little fishy cupcakes are easy enough for kids to help prep. In addition to cupcakes, frosting, and food coloring, you just need some colored chocolate candies (M&Ms are great) and candy eyes.
9. Under The Sea Fishing Pond Game
A classic party game, DIYing your own under-the-sea fishing pond game is easy. Cover a trifold board with blue wrapping paper and add sea-inspired paper-pieced cutouts to create the feel of the ocean. Add string and a paper clip or clothespin to the end of a dowel rod for kid-friendly fishing.
10. Octopus Lollipops
Suckers, chenille stems, fabric scraps or tissue paper, and googly eyes are all you need to craft up these adorable octopus lollipops. Insert them into a wrapped box or foam square for an easy under-the-sea-themed treat.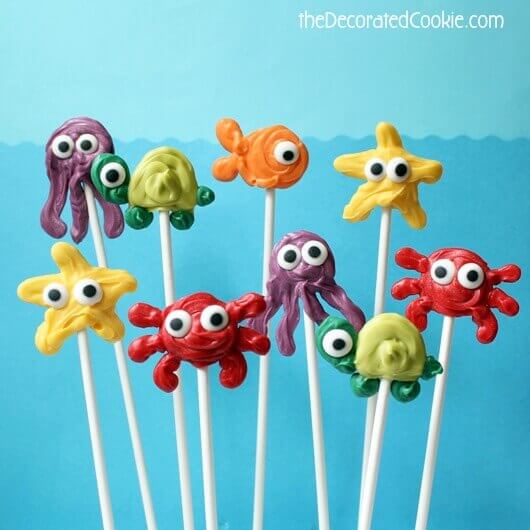 11. Sea Creature Candy Pops
All you'll need to create this sea creature candy pop is a variety of candy melts, disposable decorating bags, parchment or wax paper, sucker sticks, and candy eyes. Some simple tips later and you'll have a whole slew of under-the-sea candy pops ready to party.
12. Shark Attack Snack Mix
Attaching a printable "shark attack snack mix" label to a clear snack bag makes snack time more exciting. Fill the bag with an assortment of gummy sharks and fish.
Colored rice and laminated sea life printables make this under the sea search and find game come to life. This is a fun twist to a traditional "I Spy" game.
14. Under The Sea Party Favor Buckets
Thank your party guests for "swimming by" with these under the sea party favor buckets. You can fill them with anything sea or ocean-inspired—swim towel and goggles or fish-themed toys and treats.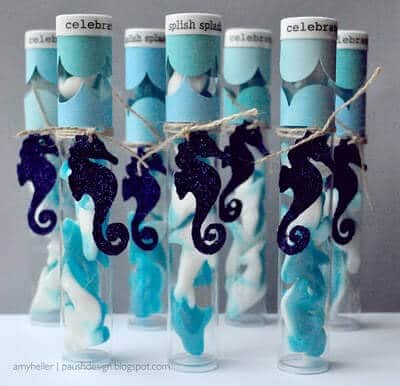 Put together adorable Splish splash party tubes using basic candy tubes. You can embellish them with under-the-sea-inspired embellishments like cutouts, stickers, and ribbons and fill them with gummy fish.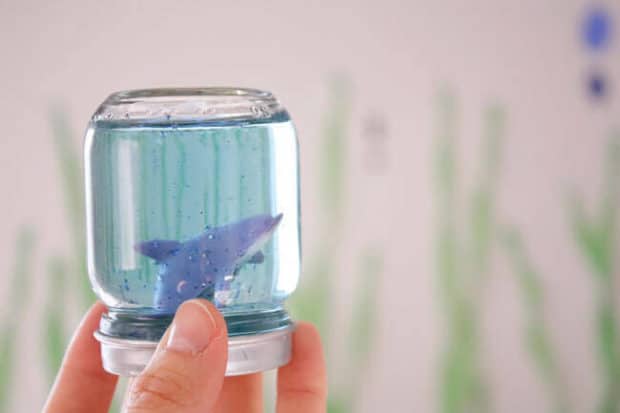 16. Under The Sea Snow Globe Aquariums
Need a quick and frugal under-the-sea party craft and favor idea? These DIY under-the-sea snow globe aquariums upcycle baby food jars and use a few easy-to-find materials—glitter, spray paint, glycerin, food coloring, and small toy sea animals.
Who knew that an ordinary watermelon could be carved into a ferocious under-the-sea party predator? This tutorial for carving your own shark watermelon fruit bowl will walk you through all of the steps.
18. Tropical Fish Jelly Cups
You'll definitely make a splash at your child's under-the-sea party with these awesome tropical fish jelly cups. They are so easy, you probably have most of the ingredients at home—pudding, Jell-O, and gummy candy fish.
Because frosting and graham crackers are oh so good, you'll definitely want to prep a bunch of these cute under-the-sea graham crackers for your party. Plus, it doesn't get any easier than whipping up a batch of blue-tinted buttercream (or buying some), adding some brown sugar sand, and plopping on some goldfish crackers and candy sea life.
Octopus cupcakes are perfect for an under-the-sea party. Whether you make or buy your cupcakes, creating that cute little edible octopus topper may just be easier than you think! Would you believe the little guy is just a marshmallow dipped in candy melts with candy eyes added?
Foam balls, spray paint, tissue paper, and fishing line are the main materials you'll need to create this incredible under-the-sea photo booth backdrop. We think it would look pretty magical for a dessert table backdrop too!
Be prepared to have your mind blown when you discover how easy it is to take that standard Oreo ball recipe you've come to know and love and change the shape. A simple jellyfish cookie cutter paired with the same basic recipe results in these adorable party-worthy treats!
Budget-friendly doesn't mean boring when it comes to decorating an under-the-sea birthday party. Using inexpensive things like crepe paper, butcher paper, cardstock, and plastic tablecloths can still result in an amazing DIY party.
Check out more fun and inspired party ideas here: