A Kickin' Cowboy Birthday Party
Table of Contents
This incredible cowboy birthday party by Katherine Shorter of Creating Awesomenessity, proves that you're never too old for a themed party. Planned for her father's 65th birthday, the ideas are perfect for anyone at any age. From DIY saloon doors to a covered wagon dessert table complete with an impressive birthday cake, to fun games and party favors, we are confident you'll be happy as you gallop with us through the party pictures. This is one cowboy birthday party you won't want to miss!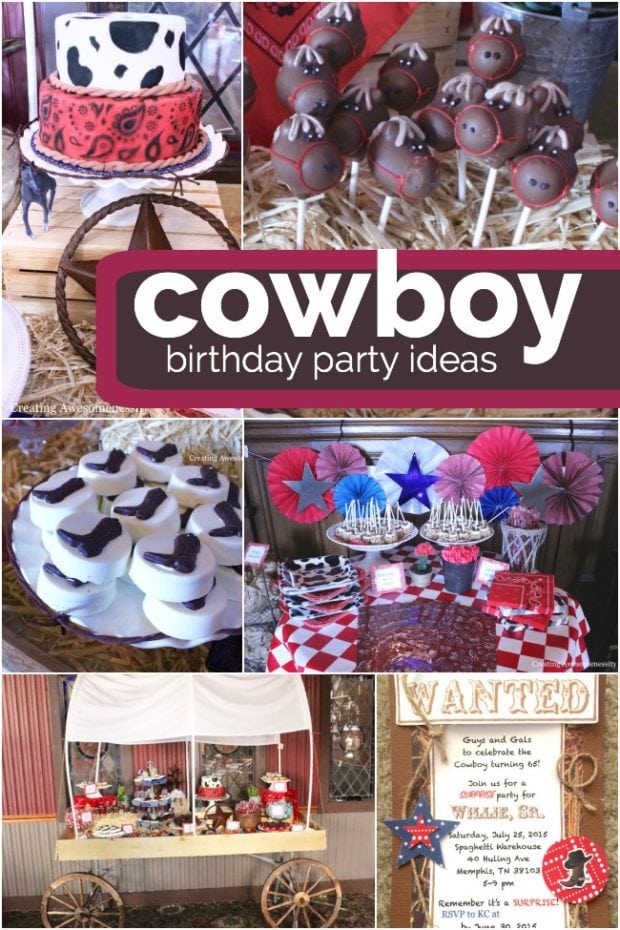 ---
See Also:
---
The inspiration for this cowboy-themed birthday party came from the love Katherine's father has for western-themed movies and television shows. An avid John Wayne fan, he has a near-perfect recall of every show and is often found watching and quoting his favorites. Katherine played up his love for cowboys by sending out creative "Wanted" style invitations. We love how jute was used to give that lasso feel and bring in texture.
The event was held at a local restaurant, which provided the perfect backdrop for the party theme.
The existing vintage decorations, old-fashioned lamps, and wood detailing made it easy for Katherine to transform the space into a pseudo-saloon. Guests entered through cool saloon doors Katherine made herself.
A welcome area set the mood with a bandana bunting, a printable woodplank- inspired "happy birthday" sign, and a fun "65" made from a rope for the backdrop.
A collection of cowboy-themed decorations filled the surrounding desk and shelves and provided a great focal point for the party space. Simple Mason jar arrangements also paired nicely with bandana-covered bales of hay.
Dining tables were covered in checked tablecloths and topped with rustic decorations. Especially appropriate were DIY succulent planter boxes that served as centerpieces for the tabletop.
While guests were arriving and waiting for the "main event", they were treated to a small snack bar decked out in paper rosettes and adorable cow print and bandana-inspired plates and napkins. Snacks included sugar straws, S'mores on a stick, peanuts, and mixed candy. Nothing like a little sugar to gear up for a night of celebrating!
Playing "Cowboy Bingo" proved to be a great time filler while waiting for all of the guests to arrive. Katherine added a fun twist, requiring guests to shout "Heeee-haaaw" in addition to "Bingo!" Hilarity ensued. To further reinforce the theme, a cowboy fashion show was included in the festivities and featured everyone who dressed up for the occasion.
The hit of the party was the handmade covered wagon dessert display—such a creative take on a dessert table and so fitting of a cowboy theme!
Katherine's styling was amazing with food served on a bed of hay and bandanas used as tray liners.
Bandana-inspired food labels were printed with clever names like "moo donuts" and "cow pies".
Another fun addition was the "slow poke" chocolate-covered Oreos (Morsels Party) with molded chocolate cowboy hats and boot toppers.
Cupcakes were embellished with cow and paisley print detailing or cactus and boot cutouts.
Horse cake pops (Sparkling Sweets Boutique) and incredibly decorated cowboy cookies were some of our favorite dessert options.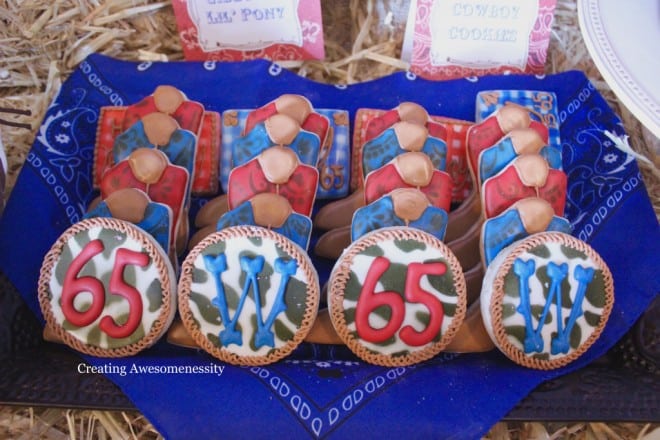 And what is a birthday party without a cake? A two-tiered cake with cow print and paisley decorated layers was highlighted with fondant rope detailing. What a great cake for tying in the theme!
TNT favor boxes filled with sweets were displayed in "dynamite" crates. "Hope y'all had a blast" was a clever way of thanking guests for celebrating!
What a way to lasso up a lot of birthday fun!
Be sure to check out more birthday party ideas here:
Plus, you don't want to miss this A Music Party