A Wildly Fun Dinosaur Party
Table of Contents
From "dinomite" decorations to a super cool dinosaur birthday cake, this wildly fun dinosaur-themed party by Andriana has loads of inspiration. The perfect outdoor venue, themed games, and take-home favor bags add to the excitement. What's also amazing? Andriana and her team did everything from decorations to food to photography.
---
See Also:
---
From the moment they arrived, guests were welcomed with wood signs foreshadowing the fun to come: "Dinosaur World", "Let's Roar" and "Wild Dino Party" were posted right at the entrance.
A tent was set up for little dinosaur hunters. Pennant flags with dinosaur graphics were strung overhead from trees.
Little prehistoric vignettes were set up all over the grounds and included inflatable dinosaurs, driftwood, succulents, natural foliage, and toy dinosaurs.
Camouflage netting hung overhead. The outdoor setting at a school in Athens was perfect.
Earthy tones paired with bright hues of orange and green made the dining area party-ready. Burlap and green runners topped tables accented with orange and green plates and cups, jute-tied napkin rolls, and lunch boxes with adorable dinosaur footprint cutouts. We loved the choice of raw wood stumps for seating—so inviting.
Centerpieces consisted of dinosaur-themed terrariums and various potted plants. We love the natural look. There was also a separate serving table with long strands of raffia and ivy garland along the table's edge.
Did you spy the cake? Wow! Two tiers, decorated with fondant dinosaurs, and even a volcano, made this cake something extra special. Plus, who doesn't love chocolate?
For games, guests searched for dinosaur eggs, participated in a dinosaur dig, and even "fed" the dinosaurs as part of the bean bag toss game.
The fun obstacle course, a balance beam to walk on, and a dinosaur knock-down game were part of the exciting event activities.
A nature-inspired favor table was set up to display kraft-colored favor bags. Even the green hang tags sported tiny dino pictures. Natural overhanging foliage paired nicely with a green backdrop to provide a great setting. There was a lot going on in that small area. The table was decked out with prehistoric props—pieces of driftwood, dinosaur toys, an oversized dinosaur, a terrarium full of plants, and a dinosaur toy, plus 3-D letters positioned to spell "roar". Favor bags were neatly perched atop wooden crates. Guests also received dinosaurs and jars with chocolate dinosaur eggs to take home.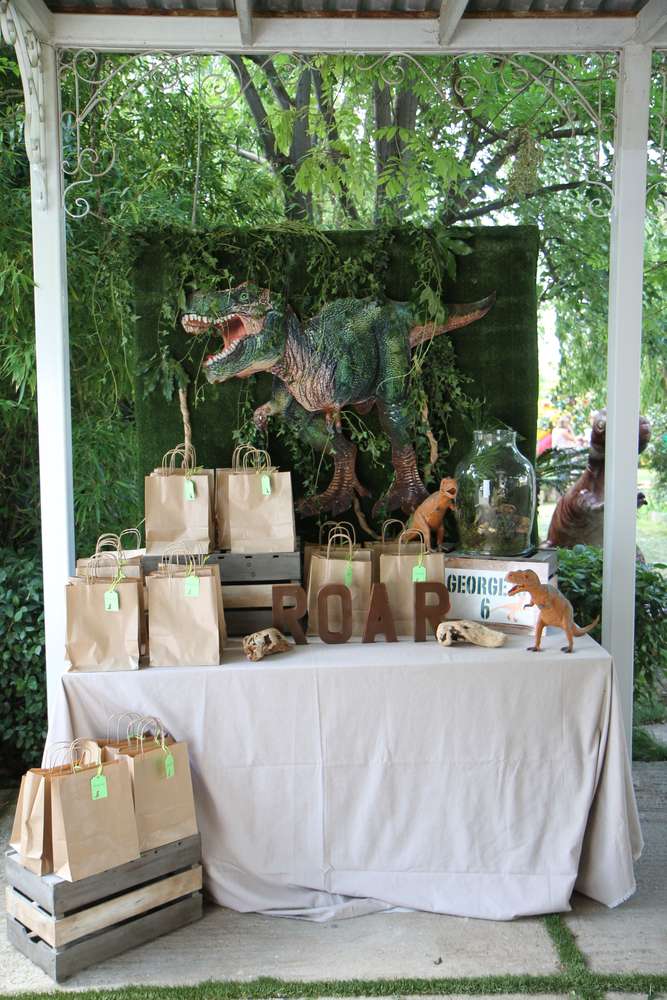 With such attention to providing the perfect setting for everything dinosaur, birthday girl or boys and small-fry guests would find this sort of birthday party quite the thrill!
Be sure to check out more party ideas here: