A Bug Bash Birthday Dessert Table
Table of Contents
We bugged out a bit (literally) when designing this bug bash birthday dessert table! It's hard not going crazy over a party theme when the graphic design work inspiring your styling is so awesome. We have our in-house Spaceships and Laser Beams crew member Andrew to thank for that. We're excited for you to inspect the delicate intricacies of our bug bash! Focus on the fine bug-inspired details executed throughout the desserts and styling captured by Mike.
---
See Also:
---
If you've ever visited an entomologist's office, you may have seen perfectly curated collections of beautiful insect specimens mounted in display cases. That was the look we were going for with our dessert table backdrop. Using rustic items you might find in a potter's shed to serve some of our desserts, all of our sweets were inspired by insects. One of our personal favorites was the insect "nests" crafted from flakey pie crust by our very own Catherine of Goodness Bakeshop. Adding bug-themed labels with creepy bug-themed names increased the coolness factor for party guests. Would you eat an insect's nest?
Next up were flower pot-inspired "dirt" cupcakes dressed up in printable cupcake wrappers and topped with incredible bug fondant toppers by Edible Details. These seemed like an amusing nature-inspired cupcake choice, and we loved including them on our dessert table.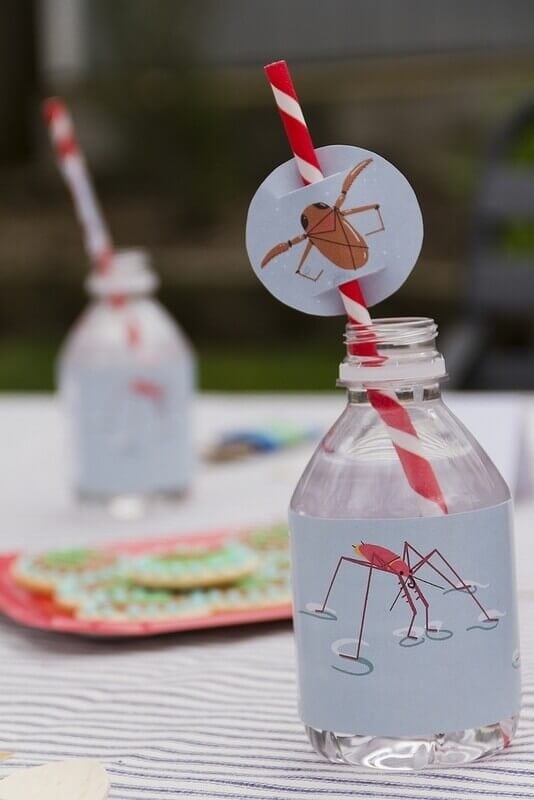 Our next dessert table choice was fun to create! Would you believe we used raisins, mulberries, and dried mangoes to make the "bees" topping the vanilla mousse cups? It's amazing what you can create when you put your mind to it! Printable labels were added to the fronts of the mousse to tie together the graphic design elements.
Another original dessert table treat was "died fruit" cookies. Displayed on cork board similar to mounted specimens, our edible bugs were pinned to their cookies after being prepped for their sweet "death".
Honeycomb is such a beautiful part of nature. One of the desserts inspired by DIY was these chocolate replicas, made by melting chocolate wafers, adding a little bit of oil, and pouring over bubble wrap prior to refrigerating. Isn't the result spectacular? We named them "insect hive pieces" and included them in kraft favor bags with cute bug-themed thank you. "We want to say thank you before you leaf" tags were pinned on with natural-colored clothespins. Thanks for flying by and checking out the creepy cool details of this fun bug bash birthday dessert table!
Be sure to check out more birthday ideas here:
Plus, you don't want to miss this A Music Party