A Chutes and Ladders Inspired 2nd Birthday Party
Table of Contents
A Chutes and Ladders inspired 2nd birthday party sounds like a really fun party theme—especially when the birthday boy loves nothing more than climbing and sliding.
Tiffany, of Pedicures to Puddles, used this unique party idea for her son, Cohen. Not only do I love the clever invitations and dessert station with a brilliant birthday cake, but the location of this party couldn't be more perfect for the theme.
---
See also:
---
To launch this amazingly unique party theme, Tiffany started by creating the invitations with help from Pen & Paper Flowers.
I get all kinds of excited about an impressive party invitation, and this one is just adorable.
I love how some of the party information was creatively "sliding" down the slide. And have you ever seen a more adorable interactive element added to an invitation? The RSVP spinner was pure genius!
In her search for a perfect place to host the Chutes and Ladders themed event, Tiffany stumbled across the perfect spot—a park with all sorts of "chutes" and "ladders" which kids could climb and slide on.
A staple at Tiffany's parties, oversized photo op cutouts—made to look like game pieces—were displayed around the park. Don't they make awesome photo props?
If the "chutes" and "slides" at the park didn't get guests excited enough, the dessert table surely did. Taking elements from the party invitation, a colorful backdrop was made for the amazing desserts.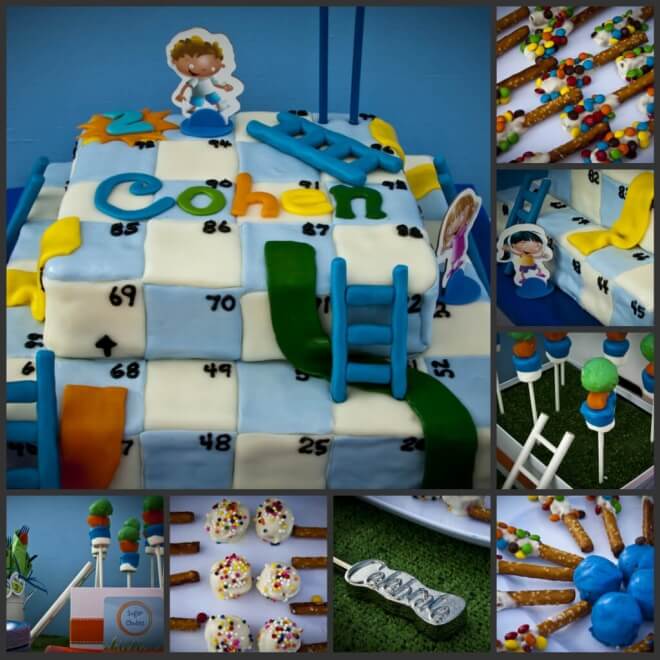 Did you see the cake?! Cakes by Auntie M designed an incredible cake reminiscent of the Chutes and Ladders game board.
This brings playing with your food to a whole new level. There were sugar "chutes" and chocolate covered pretzels, among other sweets.
To keep guests energized, boxed lunches were prepped ahead, which the kids loved! A snack buffet was set up so guests could make their own snack mix as well. Colorful pails were filled with all sorts of things like popcorn, pretzels, and cereal.
Before heading home, guests were invited to sign a special book for the party VIP's library. What a fun tradition! Cohen can look back on the sentiments left by family and friends for years to come.
For favors, guests received personalized bubbles and a Chutes and Ladders game. What great take-homes.
And what a thrilling party theme for one very lucky little boy.
Still looking for 2nd birthday party ideas? Here are some great themes: