A Mario Kart Birthday Party
Table of Contents
Guests were transformed into the world of Mario Kart with this Mario Kart Birthday Party. When Cassius asked for a Mario Kart-themed birthday party (see the greatest Mario party ideas here), his parents, who are also the owners of Playmaker U and MudPie Parties, agreed. They wanted to make sure of three things: first, party guests had to be active; second, there had to be imaginative play; third, the design had to include lots of colors. Mario lovers will be thrilled with the incredible details mom Melissa Peterson shares, showcasing how all of the party games, party supplies, decorations, birthday cake, and party food came together to create one memorable Mario Kart birthday extravaganza!
---
See Also:
---
Kudos to Jesse Kushneryk for photographing all of the action-packed details. One of Melissa's primary goals was to transport the partygoers into the game world of Mario Kart. How do you accomplish such a feat? Melissa dreamed of adding kid-sized cars, a photo booth, and hats for dressing up. She chose a color scheme of yellow and red paired with the checkerboard pattern, reminiscent of gameplay.
Melissa turned to graphic designer Anders Ruff Custom Designs for her printable design needs. They customized their vintage race car collection, updating the colorway to match her requirements. (See it used here in another great party.) Party printables are a fab way to pack a punch at a party and tie colors and a theme together and look great when combined with branded Mario Kart party supplies.
To decorate, Melissa used 36″ round balloons to frame the room perimeter. More balloons added festive color to the entrance and refreshment tables. Balloons are a great and inexpensive party decoration, especially useful when you are transforming a large space.
Throughout the training area, Melissa placed kid-sized Mario Kart images she made by mounting printed designs on plastic boards. Guests were greeted at the entrance table with a large chalkboard poster detailing fun facts about Cassius. This table also doubled as a trophy/favor station.
Adorable Mario Kart-themed gift bags were on display for the duration of the party. While waiting for other guests, early arrivals were encouraged to pop by the "Pit Stop". Kids could choose from an assortment of Mario character hats (Luigi, Mario, Princess Peach, or Yoshi) to dress the part. In addition, little racers could decorate a Melissa and Doug race car kit or play in the 30 ft. obstacle course bouncy castle.
Melissa put a great deal of thought into the party menu. She narrowed choices to food that was easily manipulated, likely to be eaten, and coordinated with the theme.
We love the healthy, clever options she served:
Star-shaped sunflower butter and jelly sandwiches in red and white striped popcorn-style boxes
Turkey sandwiches on a stick
Vegetable crudité in individual cups, with and without dips
Fresh raspberry and blueberry-filled Mario Kart push-up pops
At the darling beverage station, guests could choose milk, water, or fresh squeezed strawberry lemonade. Vintage-style milk bottles were dressed for the party with twine and character-label embellishments. Water bottles had custom printable refuel race car wraps. In addition, mason jars with colorful paper straws and star lids could be used for a "fill 'er up".
The dining table looked like a full-on speedway. A roadway was created from a black table runner and white duct tape strips. A large car was mounted to a checkered, print-covered, Styrofoam block. This made an attractive centerpiece. Each place setting included "wheel" inspired plates, napkins with darling party logos, wooden cutlery, and decked-out beverage bottles.
Our favorite part of the set-up was the dessert table. We love seeing the unique ways stylists display their treats; Melissa did not disappoint. Using the colorful vintage race car birthday banner as a backdrop, the table was set to impress. Many darling Mario Kart details can be seen atop a checked fabric table runner. The crowning glory of the table was the amazing cake by Over the Top Cakes. The fondant Mario looks like he is ready to drive right off the cake. All of the fondant details are striking.
Cupcakes and cookies feature some of Cassius' favorite characters. The dessert table was rounded off with cake pops that are the spitting image of characters from the Mario Kart game. We love the DIY display cake pop stand made from Styrofoam wrapped in brick paper. Michelle also served ice cream in mason jars.
To achieve the active element goal, an incredible race car driver training academy was created. Even as an adult, this sounds fun. Race cars and bikes were built ahead of time that the kids could use in their training. Although time-consuming, Melissa said this was the highlight of the party for her. They created 14 cars and bikes from duct tape, paper mache, spray paint, cardboard, and various Mario Kart logos and numbers on label paper. Talk about DIY champs!
Three separate training stations focused on agility, defensive driving, and a Grand Prix race. As training concluded, each child was presented with an official Mario Kart racer's license.
Because Melissa is all about the details, she prepped each license ahead of time in Photoshop with pictures she obtained from their parents. Imaginative play, another of Melissa's party requirements, was achieved when guests mingled with costumed characters, Mario, Princess Peach, and Yoshi. Melissa created a wonderful photo backdrop where racers could pose for pictures with their favorites. This party had it all — colorful décor, fabulous game-inspired eats and treats, fun games and activities, and amazing favors. We bet little racers were not too eager to race out of there!
More themed birthday party ideas:
For more inspiration, check out these Mario party ideas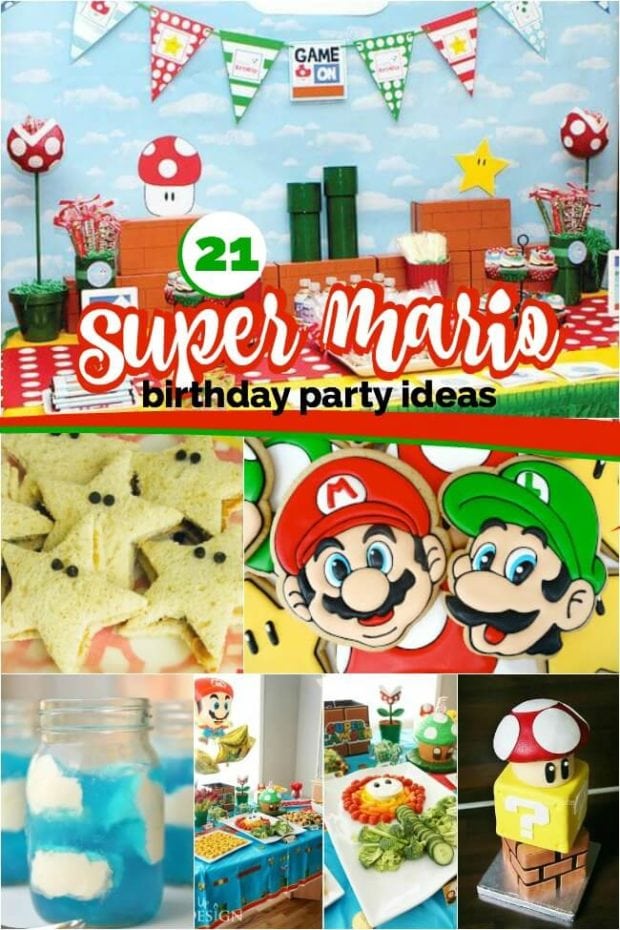 Want to take your Mario Kart party theme to the next level? Make sure to draw inspiration from these 39 incredible boy's race car birthday party ideas!