A Colorful Boy's Under the Sea Bash
Table of Contents
Does anything get more exciting than a colorful boy's under the sea bash? For three-year-old Jackson, a water and sea lover, it does not!
Kate, of CupKates Event Design, capitalized on her son's obsession and threw him a celebration he will not soon forget. An unbelievable dessert table also doubled as a favor bar. There were darling cupcakes, cookies and an under the sea inspired party favors galore.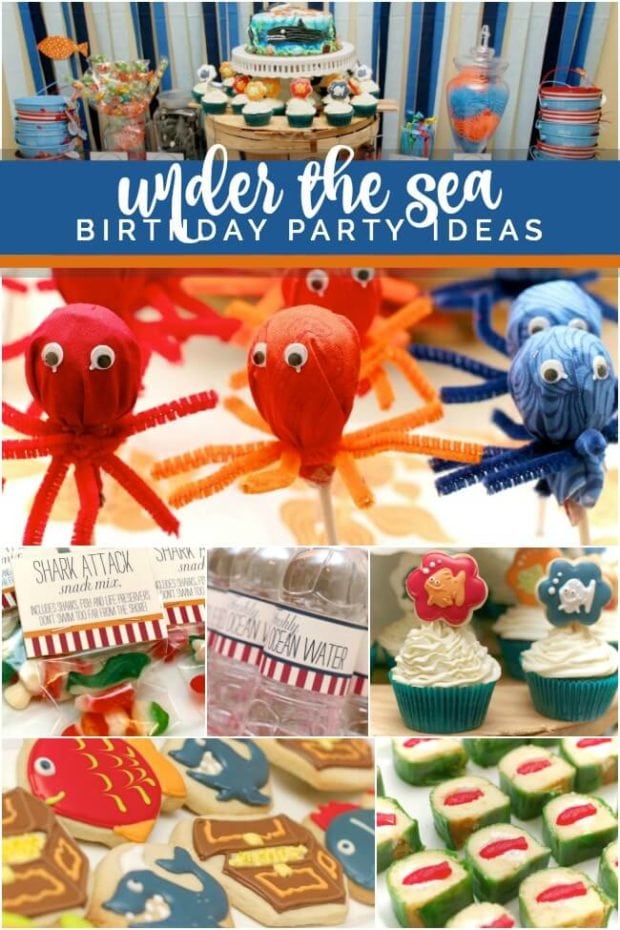 ---
See Also:
---
With so many young guests attending the party, a full dessert table seemed unnecessary (hello, sugar!), so Kate had the genius idea to create a combination dessert and favor table.
Using various shades of blue crepe paper, she created a simple sea-inspired backdrop, complete with sweet little hanging paper fish and a table loaded with "catches" youthful guests would appreciate.
As a nod to their home state of Maryland and the blue crab, Kate cleverly used a crab basket as a stand for the darling centerpiece cake and cupcakes stand.
Did you notice the cupcake toppers? Cookies! The Cookie Jar created those adorable works of art!
The dessert table is chock full of cute ideas from "shark attack" snack mix to clever "octopops" to a kid-friendly dessert sushi and gummy fish kabobs.
Plus, if one cookie on top of your cupcake wasn't quite enough, an entire tray of coordinating cookies was there for the taking.
Super cute favor pails were embellished with little tags that read: "I hope you had a WHALE of a time."
Guests used those pails to take home their chosen prizes.
Check out all of the fun choices—sea urchin "koosh" balls, sea mammals, puffer fish balloons and more.
Rumor has it that the main menu was also sea inspired, and guests dined at a colorful fish-inspired table, with DIY jellyfish floating overhead.
Be sure to check Kate's blog for all of the interesting details. I'm sure Jackson and his guests were "o-fish-ally" impressed with this amazing under the sea bash!
Thinking of planning an under the sea birthday bash? We think you'll love these party supplies:
(Amazon Affiliate Links)
Shark Cupcake Picks
Shark Splash Cupcake Pick
Shark Splash Happy Birthday Banner
Candy Blue Sharks
Shark Cookie Cutter
Shark Party Decoration Kit
Party Destination Sharks Sports Bottle
Splashin' Pool Party Lifeguard Chair Tabletop Decorations
Royal Blue Polka Dot Table Cover
Party Candy Cups Kiwi Green
Fish & Chip Party Stand
Water Beads
Ocean & Beach Backdrop Party Accessory
Be sure to check out more boys' under the sea bash ideas here: