A Boy's Star Wars Birthday Party
Table of Contents
When the force is strong with your Star Wars-obsessed son, planning a boy's Star Wars birthday party to celebrate him turning five is a no-brainer.
Mom and party pro Stacey Stewart, of Sweet Pea Parties, admittedly loved reliving a favorite movie from her own childhood and put together an out-of-this world party full of budget-friendly, DIY details.
From pool noodle lightsabers to homemade felt costumes for little "Lukes" and "Leias" and even a Land Speeder and Millennium Falcon made from cardboard boxes, this party was full of creativity.
The decorations, party favors, activities and food were all Star Wars inspired and made for one fabulous celebration.
---
See also:
---
Galactic invites went out to guests, designed by Stacey. I love the cartoon version of the Star Wars characters represented, perfect for a five-year-old's party!
Guests were invited to join with the alliance for a celebration in honor of Greyson's 5th birthday. Anyone choosing to join the "rebellion" was requested to RSVP to Jedi Master Stacey. So fun!
It's apparent that Stacey summoned a little bit of the force herself. The number of homemade projects she tackled for this party is impressive.
The DIY details started with the front porch where handcrafted tissue paper garland added a festive touch and 3-D cardboard cutouts of R2D2 and C-3PO set the stage for fun.
Once inside, little guests got to select pool noodle light sabers (so creative and inexpensive) and were given Luke or Leia robes made from felt.
Stacy made Leia buns for all of the girls with a headband, craft foam and yarn. Dressing in character is so much fun and really kicks up a child's party several notches!
A Star Wars inspired menu surely amped up excitement over refreshments. An amazing area was set up with a backdrop of Star Wars portraits and Death Star vases with the futuristic flower arrangements, plus a Darth Vader mask.
Kids were kept hydrated with "Yodapple Jedi Juice" and "Jawa Wawa" served in Star Wars themed reusable milk bottles.
I love the resourcefulness of using a chalkboard label for easy personalization. I'm sure this helped guests keep track of their own drinks.
Paper straws were accented with "G" flags. Parents were invited to the dark side with "Vaderitas" (ginger beer margaritas) served in mason jars.
Inside, guests could feast on finger foods such as "Jar Jar Links (mini corn dogs), "Fin Solo Sticks" (fish sticks), "Chicken Nug-AT-AT Sliders", "Boba Fruit" and several other cleverly named refreshments.
Napkins were rolled in printable light saber wraps.
Eco-friendly bamboo forks were hand-stamped with blue stars and a silver chevron pattern.
Kids' tables were accented with mini Death Star vases made by Stacey using a silicon ice mold and concrete. Simple details make a big impact –awesome.
Coolest of all, the dessert table was a real show stopper. Stacey added a custom look by using a Star Wars font to create her son's name. It looks impressive hung against a galaxy inspired backdrop.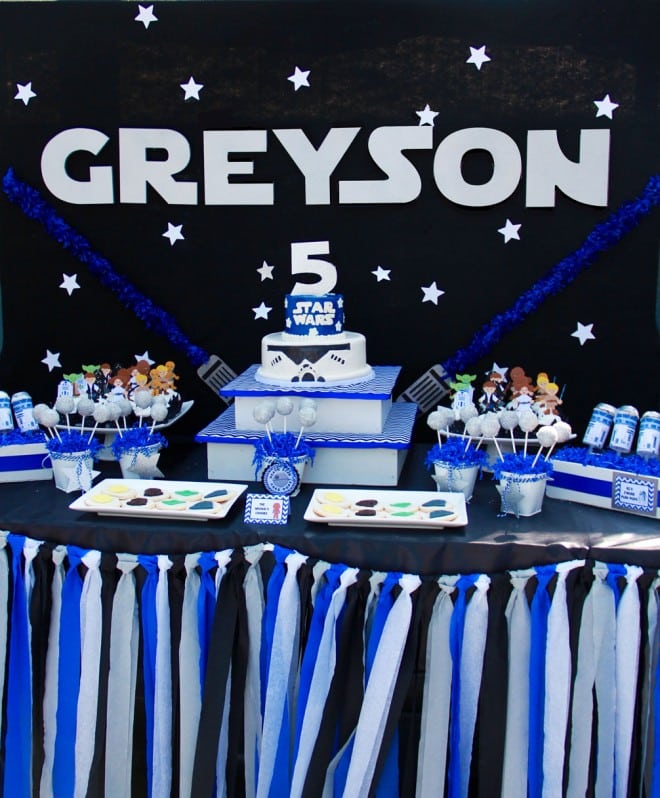 Tissue paper light sabers added to the cool look of the backdrop. A table skirt made from crepe streamers hung from the front of the table. I love how it coordinates with the party colors—a simple addition that packs a punch.
If the dessert table decorations weren't exciting enough, the dessert table offerings took things to a whole other level.
There were R2D2 s'more push-pops, Death Star cake pops, Wookie Cookies made to look like C-3PO, Chewbacca, Yoda and Darth Vader and even star-wrapped cupcakes decorated with character inspired toppers.
And how amazing is the salted caramel chocolate cake by Platine Bakery?
I love that the bottom tier was made to look like a Stormtrooper, while the 2nd tier reflected the Star Wars theme and the topper reminded everyone how old Greyson was turning!
The party games and activities at this celebration were amazing.
Little guests could use the creative force to design their own R2D2-inspired droids, color in "Star Wars" coloring book pages or decorate their own "rebel spaceship" made from a cardboard box.
For those who like more action, Stacey had a "Destroy the Death Star" corn hole game and a bouncy house.
Kids could also take off in Luke's land speeder or Han's Millennium Falcon, both made from cardboard boxes. And a highlight for sure, was having a Jedi from Papillons Entertainment stop by to teach the kids how to use the force.
Their training came in handy when it was time to break open the Death Star piñata Stacey made.
Before leaving the party, guests had their photos taken, which were printed and mailed with thank you notes. Favors were set below a Yoda quote and included a light saber bubble wand and "Chewy Treat" (Cocoa Krispy treats).
What a great party!
Plan a Star Wars birthday party with these party supplies:
(Amazon Affiliate Links)
Star Wars Light Sabre Cupcake Picks
Star Wars Birthday Banner
Star Wars 3D Pinata
Star Wars Molded Party Rings
Star Wars Plastic Tablecover
Treat Stand-Star Wars
Star Wars Party Favor Pack
Star Wars Yoda Candy Holder
Star Wars Party Plates
Star Wars Square Dessert Plates
Star Wars Party Napkins
Star Wars Centerpiece
Star Wars Party Goody Bags
Star Wars R2D2 Light Set
Lego Star Wars Party Table Centerpiece
Star Wars Stickers
Star Wars Plastic Table Cover
R2-D2 & C-3PO Life Size Cardboard Standup
Star Wars Deluxe Figure Cake Toppers
LEGO Star Wars Cone Hats Party Accessory
Be sure to check out more boy's Star Wars birthday party ideas here.