Let's Get Buggy—A Bug Themed 3rd Birthday Party
Table of Contents
Does your child love bugs? The guest of honor at this bug-themed 3rd birthday, planned by Kamille Martin and Michelle Betts of BettsMade, sure does. Crawl…or fly…with us into the wonderful world of bugs as we explore the creative details of this party that will literally make you bug-eyed. Photographer Katie Norrid captured the creative food, birthday cake, party decorations, and clever party activities and favors.
---
See Also:
Creative bug-themed invitations were sent to guests with the cutest wording: "Calling all insects, big or small…Buzz, hop, flutter, or crawl…to celebrate Gray turning 3!" Aren't the invitations a great way to announce the "bugtastic" time to come?
Held at The Crossing, Kamille and Michelle added simple touches of party décor throughout the venue.
Clusters of orange and green balloons were paired with handmade, Styrofoam bug centerpieces to reinforce the theme.
Kamille and Michelle put together 6 bug-centric stations to keep party guests buzzing with excitement. They included:
1. Bug boxes
2. Digging for bugs
3. Photo booth
4. Bug spray (silly string)
5. Ladybug bean bag toss
6. Bug tattoos
Kids would love being able to dig for plastic bugs to put in their bug boxes!
And, how cute is that ladybug bean bag toss? Such a fun theme-coordinating idea!
The guest of honor's favorite activity was the "bug spray" station. Who wouldn't love going crazy spraying silly string? After bugging out over the cool activity stations, kids worked up an appetite. BettsMade styled an adorable refreshment station, signified by a printable banner spelling out "Gray's Bug Grub".
I love the tables that appeared to come straight from a bug's world. The tables were covered in brown tablecloths and faux spider webs. A large #3 was covered in moss and accented with a giant bug—a great way to tie the 3rd birthday and bug theme together.
The refreshment station was surrounded by plants and trees, really bringing in an outdoor vibe.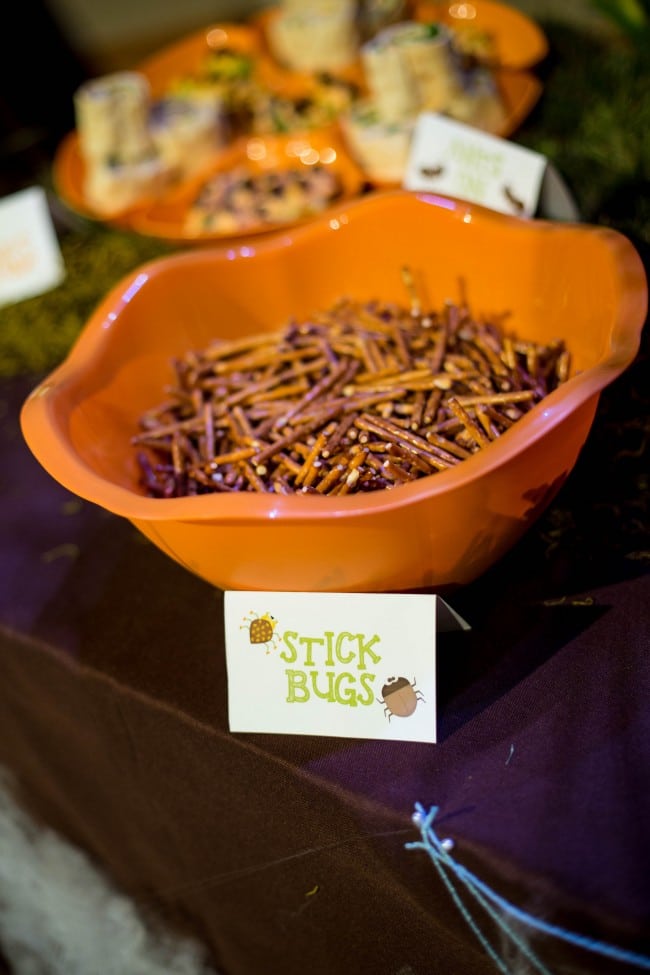 Moss and grass were used as natural table runners and provided a great spot to nestle food selections.
Caterer Kinsey McCutchen helped fill the table with kid-friendly items like pretzels and rolled tortilla sandwiches, made with inspired names like "stick bugs" and "snails".
Cheetos became "butterfly cocoons", while Fruit Roll-Ups were "flycatchers".
Grapes and strawberries were nicknamed "caterpillars" and "ladybugs".
A gooey concoction of chocolate pudding, Oreos, and gummy worms was labeled "worm dirt".
Michelle's bug cake was a perfect centerpiece. What a brilliant idea to use round chocolate candies and frosting to make edible bugs. That's just the kind of touch kids love!
A beverage station was also decked out in spiderwebs and brown table coverings. Bright orange and lime green pennant flags added birthday flair.
Fly water and beetle juice were the beverages of the day.
In lieu of gifts, school supplies were donated to give to children in need. What a thoughtful gesture. After a busy time of bugging out and celebrating, guests fluttered home with colorful bug boxes they received at the activity stations. What a fun take-home favor that will provide hours of bug exploration and collecting.
This little one's more cute-than-creepy bug-themed 3rd birthday party was loaded with so many creative ideas, perfect for your bug-loving little kids!
Be sure to check out more bug birthday ideas here:
Plus, you don't want to miss this A Music Party