A Vintage Hot Air Balloon Party
Table of Contents
Get swept up, up, and away with a vintage hot air balloon party!
This Fly Away with Me party theme is perfect for a baby shower, baptism or birthday party to honor any little man.
Go ahead, get carried away with vintage hot air balloon and travel props and decorations, a romantic color palette and a one-of-a-kind, old fashioned dessert table.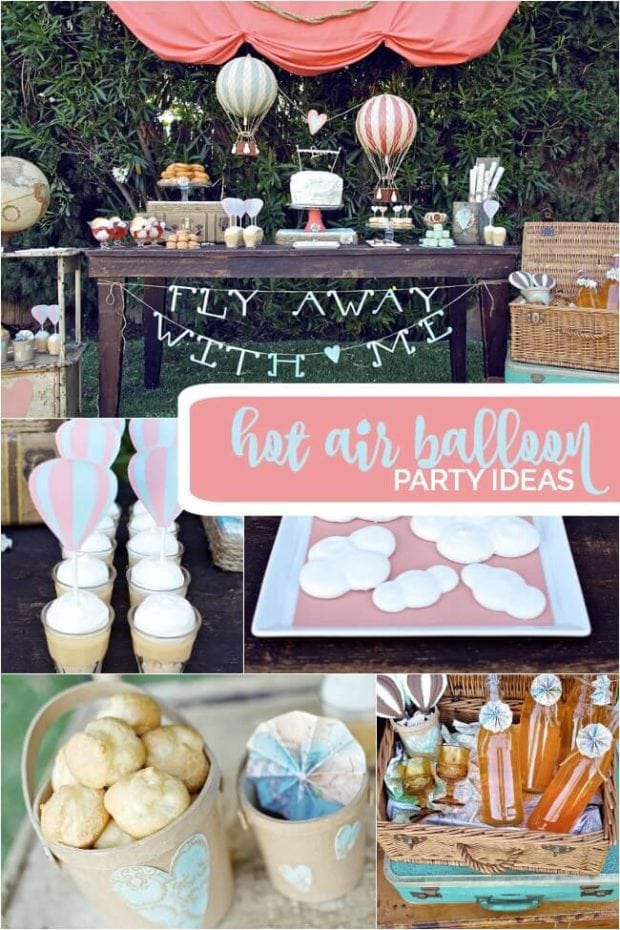 ---
See also:
---
Created by the talented Sweets Indeed, these lovely images from The Pixel Studio are your ticket to escape into dessert table heaven.
There's no better setting for a hot air balloon party than in the backyard, under the open sky. Taking advantage of the natural greenery is an easy way to create a memorable backdrop for a dessert station.
I love the way the coral fabric is draped over the shrubs! The suspended miniature hot air balloons add to the grandeur and give life to the party theme.
Soft mint green and coral is neutral enough for a little boy's birthday party and yet delicate enough for a baby shower or baptism.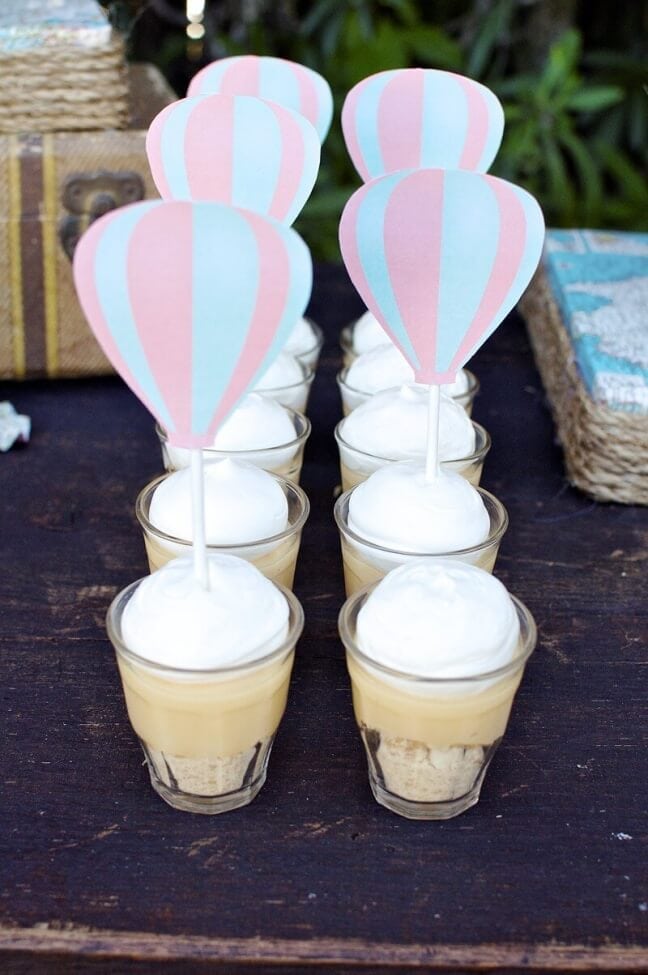 Vintage suitcases, baskets, and items decked out in maps used as wrapping paper hold lovely desserts.
Peach parfait, banana pudding shots, vanilla bean whoopie pies, crème puffs, strawberry cookies, white meringue clouds and delicate macarons (Vanilla Bake Shop) are beautifully displayed on a distressed wooden table.
Delectable donuts and chocolate lollipops round out the desserts.
And then there's the cake! The simple white, homemade devil's food cake and buttercream frosting creation is the focal point of the dessert station.
The DIY cake stand is wrapped in the same coral fabric that is draped above the table, which adds a pop of color. Ah, love is in the air—literally! The word is written in script and suspended above the cake as a charming cake topper.
Found Vintage Rentals supplied added interest decorations like the vintage suitcases and antique globe. So many details, like mini rosettes, paper buntings and dessert toppers add something special, too.
Paper cutouts of hearts and hot air balloons are easy DIY projects, and simple ways to add personal touches.
What a magnificent setting and an uplifting party for any little boy or mom-to-be!
Be sure to check out more boys' hot air balloon party ideas here.