Hot Air Balloon Baby Shower Party Theme
Table of Contents
Go up, up, and away with a hot air balloon baby shower theme. We've seen plenty of hot air balloon parties pop up in recent months but Carol, from Partylicious, offers a refreshing take on this popular baby shower theme. Dainty desserts, a light, and lovely decoration scheme, and a whimsical hot air balloon cake create a fun atmosphere to get carried away with.
---
See Also:
---
After a busy party, the mom-to-be will enjoy reading comments and best wishes guests add to the sign-in book.
Carol chose one that even baby will one day appreciate—a darling storybook with a hot air balloon theme.
The dessert table is the focal point of this hot air balloon-themed party. The backdrop creates a feeling of floating in the clouds, thanks to a long, sheer blue curtain that mimics a bright blue sky.
Clusters of white balloon clouds hold up a banner that can read "baby boy", "baby girl"—or for a first birthday party it could say "happy birthday".
Just like billowy clouds, the dessert station's white tablecloth is delicate and textured, making it a perfect display choice.
A refreshing green, blue and white color scheme is carried throughout. Dashes of yellow and peach add energy.
Crisp, white plates add elegance and display decadent brownies, mini peach and cream parfaits, mini cheesecakes, and sugar-dusted alfajores (a wonderful cookie sort of confection).
Detailed cake stands display polka-dotted cups of chocolate mousse (love those striped wooden spoons) and vanilla cupcakes in blue and white striped wraps with sweet blue flags.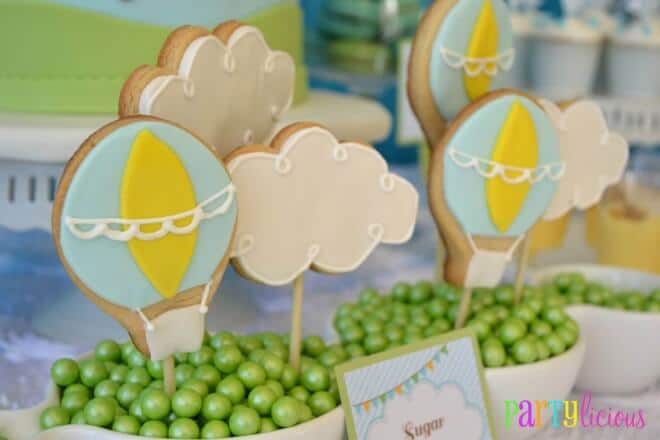 Sugar cookie clouds and hot air balloons are suspended on sticks propped up by small bowls of green-as-grass pearl candies.
Glass jars filled with gumballs and chocolate kisses, as well as plates of airy meringues and French macarons, surround the show-stopping two-tier baby shower cake created by Jovadiel Cake Designs.
Fondant hot air balloons and delicate white clouds add adorable detail.
Water bottles reinforce the theme with custom labels featuring hot air balloons and white and blue straws decorated with cute cloud cutouts.
Carol created large hot air balloons to elevate the room's decor—a great photo opportunity for babies or a special birthday child. They're decorated with rosettes, ribbons, and clusters of white balloons. I love how Carol added the smaller balloons at the basket base to further the illusion of flight.
A fluffy white rug grounds the gift opening area. A rocker with a thoughtfully placed monogrammed pillow makes a comfy spot for mom-to-be.
Even the guest seating is bright and airy. Tables are covered in blue and white striped, silky tablecloths. Miniature hot air balloon centerpieces are a fun way to add fresh flowers to the space and reinforce the party theme. Any mom-to-be would be on cloud nine with this whimsical hot air balloon party!
More hot air balloon party ideas:
Plus, don't miss 19 Hot Air Balloon Party Ideas: