21 Captain America Party Ideas
Table of Contents
You'll have so much fun planning a party with these 21 Captain America party ideas. Little boys (and girls) love Captain America, making it a great birthday party theme. There are details on making your own fondant cupcake shields or putting together a pin-the-star on the shield game. There are ideas for Captain America-inspired party favors and costumes, plus a Captain America cake tutorial. You'll be saving the world as far as your child is concerned, one fabulous party idea at a time.
---
See Also:
---
1. Captain America Shield Fondant Tutorial
Learn how to make these amazing Captain America cupcakes to serve your guests for a dessert presentation that is larger than life. The fondant shields are surprisingly easy to make. Once dry, use some silver shimmer dust mixed with water to give the shields a silvery metallic sheen.
2. Captain America Shield Pinata
Save yourself some cash and make this DIY Captain America piñata for your next celebration. The shield's body is easily made with some craft board from your local craft store or some spare cardboard from around your house. Fringed crepe paper and a cut-out paper star complete the shield and create a wonderfully fun party game. Stuff the center with as much candy as you can fit and let the kids start swinging away.
This incredibly and super decadent Captain America-themed M&M's chocolate chip cookie cake will have all the superhero-loving members of your family smiling and going back for more. You will really wow your guests with this one. What is not to love about a giant delicious chocolate chip cookie with frosting? Use a paper star stencil to fill in the outline with blue and red M&M's to have the perfect, on-theme dessert.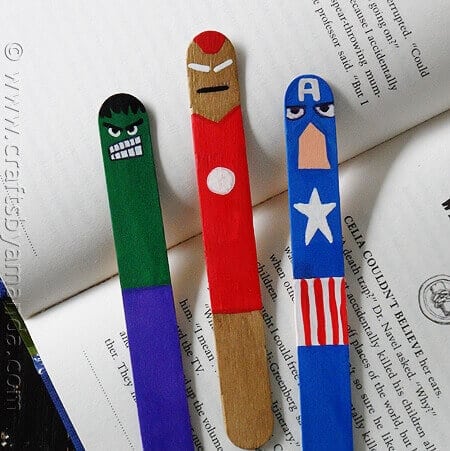 We all know how important reading is, and that The Avengers are all the rage with kids right now. Encourage your children to practice their reading with these fantastic superhero bookmarks. The Avengers have a lot of superheroes to choose from and these bookmarks include The Hulk, Captain America, and Iron Man. Get creative and make more of The Avengers superheroes to go with them.
5. DIY Captain America Shield
Kids love playing make-believe, and every little Captain America needs its shield to help save the world. Follow this super easy tutorial to create your own shield using a Frisbee, a cardboard circle, or the lid of a tin. Quickly cut out all of the pieces you need with a Silhouette or use the design as a printable stencil to paint the shield. Make a simple handle with a strip of cardboard and some tape, then your kids are ready to play!
Whip up a regular batch of Rice Krispie treats then transform them into edible versions of Captain America's famous shield. These treats really are easy to make and they are no-bake, making them perfect for summer parties. All you have to do is cut the treats into circles instead of squares, then recreate the shield's design using different colors of chocolate/candy coating. These are always a huge hit with the kids.
This stunning drink would be good enough for Captain America himself. The delicious red, white, and blue mocktail is layered with Cherry Sprite, Pina Colada Mix, and Blueberry Kool-Aid. Celebrate your Captain America party with this easy-to-make mixed drink perfect for kids, and if the adults want to spice it up a notch you know what to do!
We love recipes with a superhero theme, and these Captain America cakes are just perfect. They are always a huge hit for Avengers parties or Memorial Day celebrations. Sweet strawberries and blueberries are piled high on top of vanilla pound cake sandwiched with fresh whipped cream. The sweet little cakes are incredibly easy to make and so much fun to eat.
9. Captain America Jell-O Cups
Looking for superhero-themed food ideas for your snack table? These Captain America Jell-O Cups have to be one of the best Captain-themed snacks around. Layers of strawberry, blue raspberry, and coconut Jell-O create irresistible red, white, and blue layers. A fondant star is the perfect top and makes the cups look just like Captain America's shield. Jell-O cups are great for parties so kids can just grab their individual serving and go.
10. Captain America Cupcakes
Every birthday party needs cupcakes. Bake up some red velvet cupcakes and decorate them to look just like Captain America's shield. These simple cupcakes have classic red, blue, and white colors with an icing star right on top. Plus, these cupcakes are so easy to make that even those who aren't so great in the kitchen can make them in a pinch.
Send your party guests home with this easy-to-make, but equally awesome Captain America Favor Bags. Plain red and blue favor bags from the dollar store are decorated with free printable Captain America shields found in the post. Fill the bags with your child's favorite candies and party trinkets to say thank you to their friends for coming to the party.
Store-bought superhero costumes can get incredibly pricey and uncomfortable. Follow these easy instructions to create your very own Captain America costume for a fraction of the price. This brilliant blogger used a blue t-shirt, strips of duct tape, a few foam sheets, and a plastic Frisbee to DIY this adorable and comfy costume. This suit would be perfect to make for the birthday boy or girl of honor.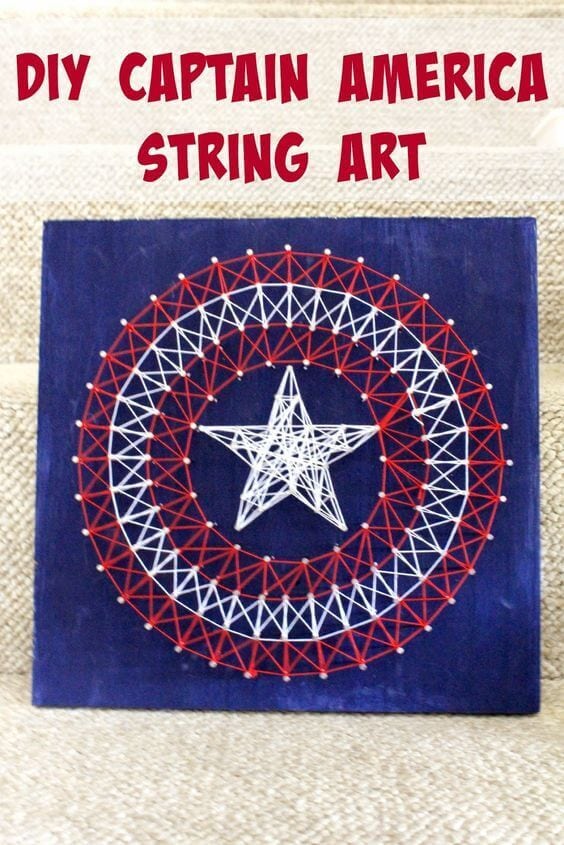 13. DIY Captain America String Art
Captain America String Art is the perfect do-it-yourself project for the Avengers fans in your life. All you need is a square wood board, colored thread, blue paint, and a bunch of small nails to recreate it. If you are making the string art with your child, let them help you hammer all of the nails on traced circular lines, then start adding the string every which way. It's easy, fun, and only takes about an hour to complete.
14. Captain America Fruit Shield
It can be difficult to think of fun and creative ways to serve healthy snacks at birthday parties. For an Avengers-themed party, this Captain America snack tray is just the ticket. It is made with fresh-cut strawberries, blueberries, raspberries, and white jack cheese. It's almost too beautiful to eat!
15. Pin The Star On The Shield
Pin the start to the middle of Captain America's shield! This game is a fun superhero-themed twist on the classic party game. Make the shield on poster-sized paper, then have the party guests try their hand at pinning the star to the middle. This game is super easy to set up and clean up after, but it is so much fun to play.
Photo backdrops are so much fun to have set up at parties. Let your guests, young and old, take silly selfies and make memories in front of this amazing backdrop that combines balloons and streamers. Create the balloon swag by swinging red, white, and blue balloons together with wax twine. Hang them up using command hooks along the top of a streamer curtain. It is the ultimate Captain America-themed background for birthday party photos.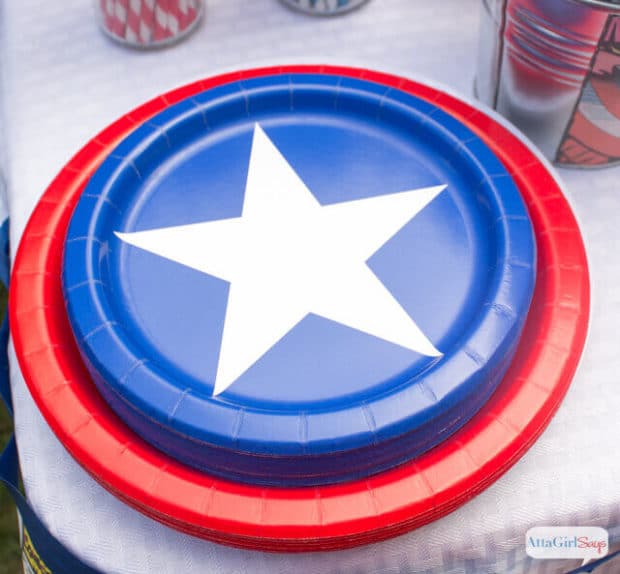 Mimic Captain America's shield by picking up some inexpensive paper plates from the party store. Cut out white vinyl stickers with a Silhouette machine or scissors and add them to blue dessert plates and stack them on top of larger red dinner plates. It is a super simple decoration that will add a little something special to your food table.
Throw on the Captain America movie and hand out these Captain America printable bingo cards for a fun and interactive game to play while you watch! Each player gets a unique bingo card and a handful of blue and red M&Ms to use as markers. As you see items listed on your card on the screen during the movie, mark off the spaces until you have a completed line. Make sure you hand out some extra M&Ms for snacking!
19. Captain America Gumball Favors
These gumball party favors are easy to make and inexpensive too. Send your party guests home with a tube of red, white, and blue gumballs tied with a red ribbon and a customized Captain America thank you tag. The colorful favors look cute as a decoration on the dessert table and are the easiest treats to throw together. Your party guests are sure to love them.
20. DIY Captain America Photo Booth
Follow this incredibly fun tutorial to make your very own inexpensive photo booth props for a superhero or Captain America-themed party. All you need to make Captain America's shield and mask is some colored scrapbook paper, craft glue, bamboo wood skewers, and your crafty hands. Your family and friends will have so much fun playing with these props and you will get some absolutely priceless photos to remember the party.
Itching to make your own Captain America cake for your next superhero-themed party? Check out this great tutorial that is super easy to follow and will save the day! It even details how to make the awesome details like stars and names from fondant and explains what tools are needed to make this cake the star of the party.
Check out more great super fun party ideas: