A Laboratory Science Birthday Party
Table of Contents
Curious and inquisitive by nature, my son Landon wanted a laboratory science-themed birthday party for his 8th birthday complete with experiments and laboratory equipment. Being a science lover myself, and also the owner of Banner Events, I knew I wanted to put a fun spin on this exciting party theme!
I hope you love how we experimented with party decorations, a dessert tabletop of delicious concoctions, and plenty of crazy fun activities to make this one party my son and his science party guests won't soon forget. Read on to form your own conclusions about the success of our birthday experiment and enjoy the photographs captured by Karina Rigtrup of A Fresh Take Photography.
---
See also:
---
To entice friends to come to celebrate my son's 8th birthday explosion, we sent out custom invitations inviting guests to grab their lab coats and join us at a science party.
Designed by Jessica Wilcox of Modern Moments Designs, the invitations were such a great way to introduce the science party theme. I loved the test tube on the front so much that we chose to deliver each invitation with a coordinating test tube filled with jelly beans. We packaged them up in black boxes that we filled with paper shreds and added a custom address wrap also designed by Modern Moments Designs.
Upon arriving, guests were granted "all area access" with special "level 8" clearance into Carver Labs. Not only were they given their lab badge, but they were properly outfitted in science laboratory attire for the birthday experimenting to come. Personalized science shirts helped us easily identify each "mad" scientist. Lab coats and safety goggles completed the look.
It wasn't long before excited scientists discovered the birthday lab area of our party. Each scientist was treated to a tray full of science tools. (Tip: the trays were purchased at the local dollar store.) Gable boxes were customized with more amazing printables, and served as the take-home favor box for all of the science tools the kids would be using during the party experiments.
Each child boy received a customized lab book to store all of the secret formulas, scientific evidence, experiment notes and results, and conclusion. Plus, for experiments with color, a set of Crayola crayons was provided. Other tools included tweezers, magnifying glasses, a plastic jar for storing their slime, gummy earthworms to dissect, lab rat suckers to taste test, and even a cool mad scientist pen.
Fun science experiments were conducted at Carver Labs. The guests made slime (a simple formula of water, Borax, white glue, and food coloring), which was one of their favorite activities.
They also experimented with explosive "elephant toothpaste"—a safe, but potentially messy activity. (Thankfully, each guest had their own tray to use for each experiment.) Food coloring was used in another lab experiment where color mixing was involved.
No science party would be complete without an experiment involving vinegar and baking soda. The boys were amazed that combining the two in a plastic bottle could produce carbon dioxide and blow up a balloon. They were even more surprised to feel the endothermic reaction take place and see how heavy the balloon was.
Experimenting works up quite the appetite. Thankfully, I hypothesized such a result and planned ahead to help curb the hunger! I wanted the dessert "table" and dining area to look like a science professor's office. I hung a framed poster of Albert Einstein on the wall to set the mood. Using my husband's office desk, I served up various dessert concoctions inspired by science. An oversized "Carver Labs" poster tied in the laboratory theme.
To carry this theme to the desserts, we had a professional design us an unbelievable cake. Elements from the printables were incorporated into the fondant designs as well as cool laboratory essentials like beakers and flasks. I love how Christina made my son's age and name into a new birthday element to use on the cake. In addition, cupcakes were served, topped with incredibly crafted fondant toppers and the cake was a party staple. Additionally, there were white chocolate-covered pretzel thermometers and milk chocolate frogs.
"Toxic" caramel apples added an exciting option.
I'm pretty positive that every science party needs "The Periodic Table of Donuts". Green Mountain Mini Baked sent an awesome assortment of baked mini donuts to coordinate with our party colors.
Deliciously cool science-themed cookies were another popular pick, as were chocolate-covered Oreos.
I loved pulling out clipboards to use as serving trays, as well as using various metal storage shelves and containers. To add some contrast, plain white dishes were used to give that sterile and basic laboratory feel. I mixed in test tubes, flasks, and beakers full of various Jelly Belly Jelly Beans for a flavor explosion. Kids put together their own mix of flavors for added fun.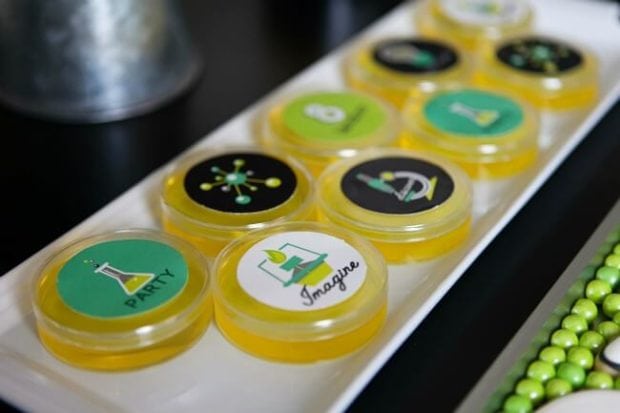 Petri dishes full of Jell-O "agar" was surprisingly a much sought-after item too.
At the laboratory-inspired dining tables, laboratory centerpiece picks were arranged and paired with bubbling flasks of scientific solutions.
Custom labels were added to plates layered on metal chargers (really, pizza pans from the dollar store).
White manila envelopes were labeled with "toxic" and "biohazard" and provided a place for napkins and cutlery.
Flasks were filled with blue juice and dry ice for excitement. Water bottles were dressed up in H20 labels. Paper straws were styled with printable science party flags. Favor boxes were filled with "exploding popcorn". The results and conclusion? This birthday experiment was a success and throwing a science birthday party was a ton of fun!
Be sure to check out more science birthday party ideas here: