Party Central
13 Parties for Boys
By
| Last Updated:
No matter the age of the boy you're celebrating, you're sure to find party theme ideas here that will knock his socks off! This time we're featuring birthday parties (and baby showers) with firetrucks, race cars, ninjas, cowboys, bowling, LEGO, trains, boats, bugs, safari, owls, Chutes and Ladders, pinwheels, a vintage farm, and Indiana Jones. I'm really impressed by the great dessert table options and decorations and I think you will be, too. Ready to peek? Go!
---
See Also
---
MY FAVORITE RECENTLY DISCOVERED BOY PARTIES FROM THE NEIGHBORHOOD
1. THE PARTY WALL :: Boy's Ninja Themed Birthday Party – Bold colors and an extensive, beautifully presented menu captured my attention right away—even the napkins were folded into ninja stars! I was also impressed by the themed activities that were educational as well as engaging. An awesome, unique party!
2. PETITE SOCIAL via CELEBRATIONS AT HOME :: Safari Themed Birthday Party – The collection of animal prints on everything from dessert table to favor bags to guest tables looks awesome. Also notice the interesting textures in décor choices—burlap, paper, metal, wood.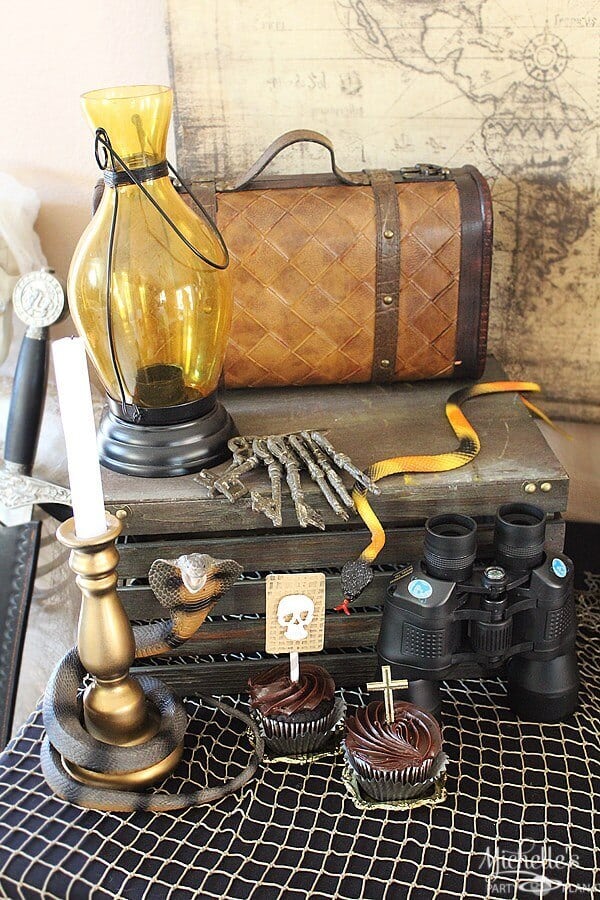 3. MICHELLE'S PARTY PLAN-IT :: Indiana Jones Themed Party – This celebration wasn't for a boy's birthday but it certainly could be. With such a cool theme, I just had to include it this time. It's a great combo of adventure-scary-vintage and boys would love it.
4. BLOOM DESIGNS :: Strikes and 'Staches Birthday Party – Hey, man, what a cool idea for a guy's bowling themed birthday celebration! Jenny makes it stylish fun with a dessert table filled with round treats and milk bottles masquerading as bowling pins. Including fake mustaches for added manliness? Awesome!
5. PRETTY POSH EVENTS via HOSTESS WITH THE MOSTESS :: Boy's Racecar Themed Birthday – Cars, bright colors, car-shaped lunch boxes, racing helmet party hats, car-embellished treats—yup—boys will like this one.
6. SUGAR COATED CANDY BUFFETS via LITTLE BIG COMPANY :: Firetruck Party – No need to sound the alarm over a party as cute as this! That mile-high cake and red tower of donuts are especially noteworthy. Can't forget about impressive cupcakes and cookies, either. Lots of nice details here.
7. ONE LOVELY DAY via STYLE ME PRETTY :: Modern LEGO Birthday – Whoever said the LEGO theme always has to be in bright colors? Love this uncommon take on the popular LEGO theme.
MY FAVORITE RECENT BOY PARTIES FROM OUR BLOG
8. PEDICURES TO PUDDLES :: Chutes and Ladders Birthday Party Theme – Using this popular game as a take-off for an outdoor party theme was a masterful idea! The invitations are perfect, the dessert table is adorable, and even small-fry would love the photo ops.
9. SPACESHIPS and LASER BEAMS :: Boy's Bug Bash Birthday Party – Knowing curious little boys love birthday cake and bugs made putting this dessert table together so much fun! I'm very proud of how the printables and desserts partner to create an awesome, creepy-cool party.
10. CAKETRESS :: Vintage Farm Themed Birthday – These gorgeous desserts, vintage props and classic decorations will inspire you to go all farm-fresh for your little one's party.
11. CAKE, INK. :: Choo-Choo Train Birthday Party Theme – Climb aboard for sweet, simple, and fabulous party ideas for your little caboose. I love it when a dessert table looks this fresh!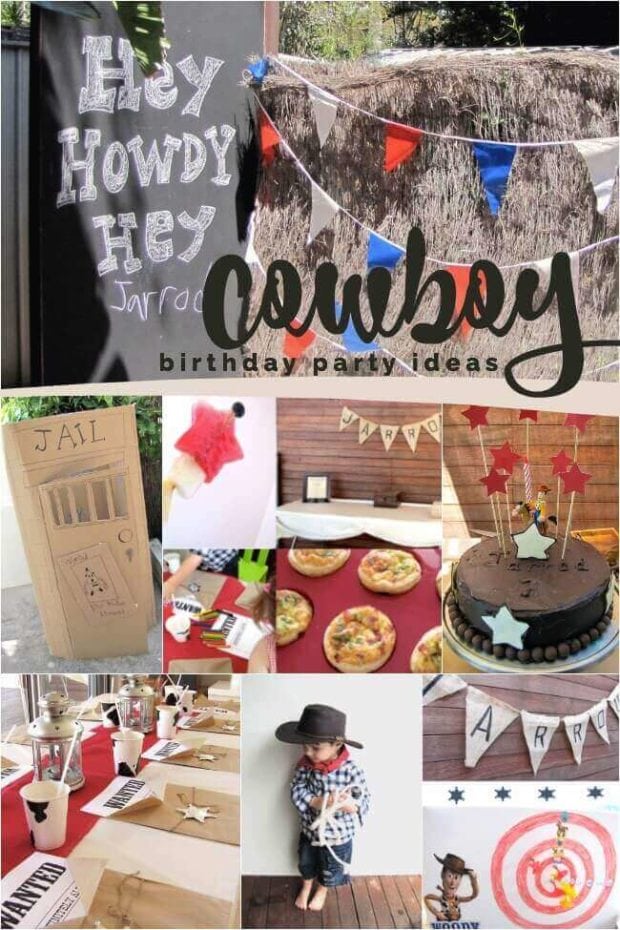 12. MINI MOCHA :: Wild West Cowboy Birthday Party Theme – Imaginative play is a certainty at such a cute party with great DIY props. Check out the details and get inspired.
13. SHARNEL DOLLAR :: Preppy Pinwheels – Isn't every child fascinated with colorful pinwheels? This time blue and green look appropriately boyish. Sometimes classic ideas and a few well-chosen desserts make the best party partners.
BONUS :: BABY SHOWERS
+ 1 – JESI HAACK DESIGN :: Owl Themed Baby Shower – What hostess wouldn't feel wise after making such delightful choices for a charming baby shower? The outdoor setting and vintage props bring the theme to life and the dessert buffet definitely grabs your attention.
+ 2 – FOR THE LOVE :: Nautical Themed Baby Shower – Classic red, white and blue look snappy on a nautical themed dessert table, especially paired with great props like you'll see at this shower. Who knew buttons and quilt pieces would make perfect décor?
MY FAVORITE RECENT PINS
Don't miss these great boy birthday party ideas we love…