Party Central
13 Boy Parties We Love
By
| Last Updated:
Just because it's almost Christmas doesn't mean there aren't any new boy birthday party ideas! In addition to frogs, this week you will find crocodiles, snails and puppy dog tales.  And that's not all—childhood favorites Winnie the Pooh, Jake and the Neverland Pirates, and Cat in the Hat are joined by a little man themed party, lumberjacks, a woodland camping theme, bubbles, sharks and an airplane. This list of birthday party themes contains all sorts of delightful decorations, dessert tables and birthday cakes just waiting to inspire you!
---
See Also
---
MY FAVORITE RECENT BOY PARTIES FROM THE NEIGHBORHOOD
1. TEMPO DI FESTA via KARA'S PARTY IDEAS :: Retro Little Man Birthday Party – I haven't seen a good mustache party in a while and this one caught my attention for sure. They had me at the bowler hats for guests. Cheerful yellow and aqua décor and desserts look great. The cake…takes the cake!
2. GREYGREY DESIGNS :: Paw Patrol Birthday Party Theme – If your little fellow is a Paw Patrol fan, he'll love this party. You'll love it because of the adorable bone shaped sippy cups, bone garland, and the white chocolate and peanut butter dog bone truffles.
3. HOSTESS WITH THE MOSTESS :: Winnie the Pooh Baby Shower – Aw, who doesn't love Pooh bear? This sweet-as-hunny baby shower references the popular A.A. Milne characters and story line that we're all familiar with, but with a fresh attitude. Red, yellow and tan are eye openers full of good cheer! Jenn fills this party set-up with many, many fun details.
4. THE ICED BISCUIT via THE LITTLE BIG COMPANY :: Turbo Themed Birthday Party – Want something original? How about using a snail as a party theme? Turbo starts your party engine but The Iced Biscuit keeps it running with modern good looks and uniquely handsome treats.
5. THETRUHAPPINESS via KARA'S PARTY IDEAS :: Whimsical Airplane First Birthday Party – The fabulous backdrop would have any little one entranced! Notice how the birthday cake repeats many of the same elements.
6. THAT CUTE LITTLE CAKE via MIMI'S DOLLHOUSE :: Boy's Crocodile Themed Birthday – Always smile when you see a crocodile party as cute as this! Shades of green and tan look their rustic best at the dessert table. The crocodile string art and tissue tassel garlands are awesome additions.
7. BARBARA PERES FESTA EM PAPEL via CATCH MY PARTY :: Jake and the Neverland Pirates Themed Party – A birthday boy and his guests wouldn't have to dig too deep to find treasured treats on this dessert table! Banners, garlands and balloons cap the party with colorful décor.
8. RUTH H. via PROJECT NURSERY :: Little Lumberjack Themed Birthday – Although little lumberjacks would like it anytime, red and black buffalo plaid seems especially appropriate for this time of year. Good food for healthy appetites, sprigs of forest greenery and facial hair for all the guests make this one fun.
MY FAVORITE RECENT BOY PARTIES FROM OUR BLOG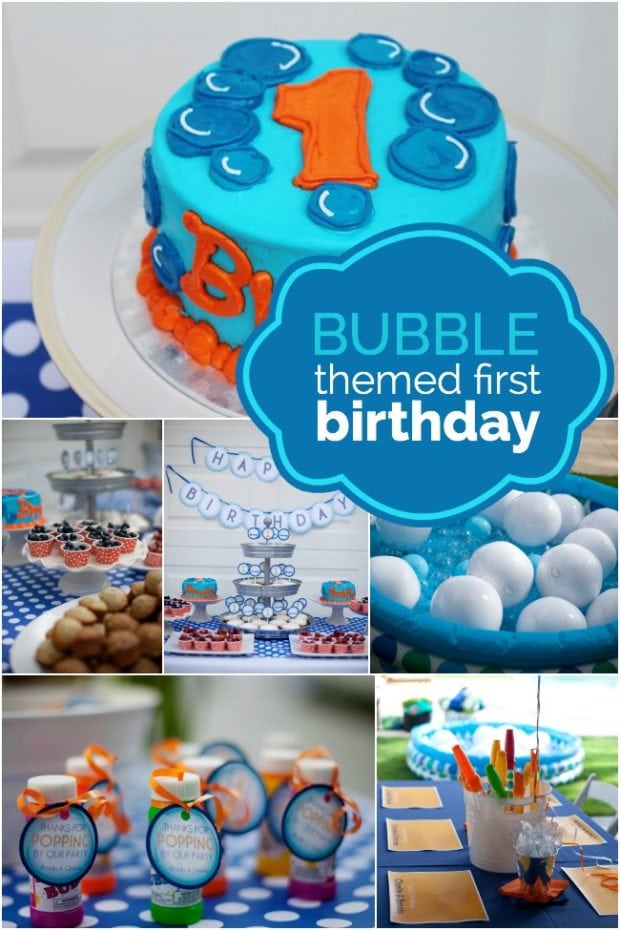 9. CROWNING DETAILS via SPACESHIPS AND LASER BEAMS :: Bubble Themed First Birthday Party — You know you're in for a good time when bubbles are invited to a party! This outdoor celebration is filled with cheery aqua blue and orange and lots of great outdoor activities.
10. PARTYLICIOUS via SPACESHIPS AND LASER BEAMS :: Woodland Themed Camping Birthday – A camping party doesn't have to be all rough and tumble to be perfect for a little guy. Carol's version has the tents, winsome woodland characters and even a faux fire that would please a birthday boy and his mom.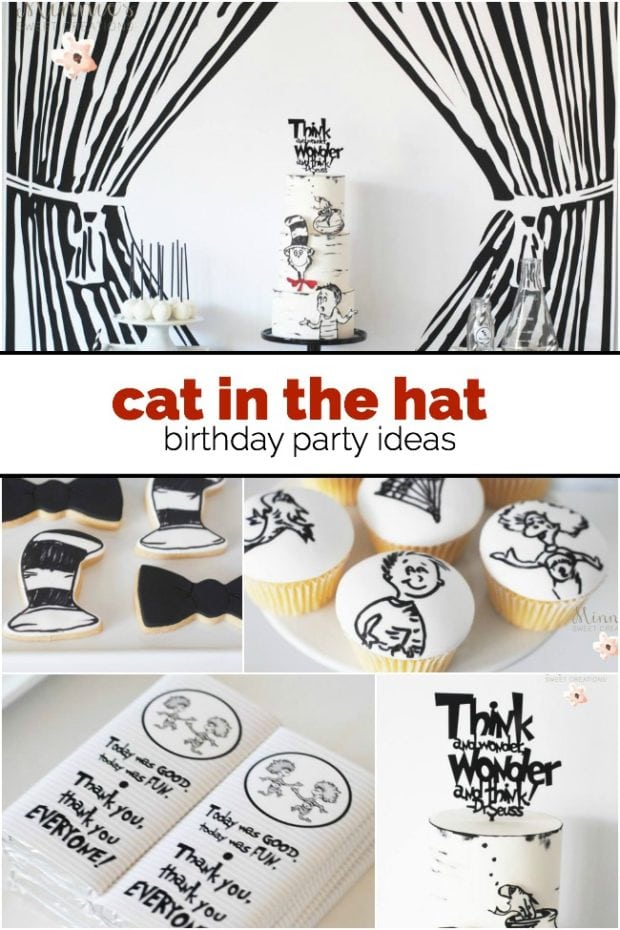 11. MINNIE'S SWEET CREATIONS via SPACESHIPS AND LASER BEAMS :: Cat in the Hat Themed Party – Contemporary black and white pull back the curtain on a way cool party table! An impressive triple-layered cake, detailed cupcakes and themed cookies really please!
12. CROWNING DETAILS via SPACESHIPS AND LASER BEAMS :: Shark Themed Party – An off-site location didn't keep Julie from putting a stylish party together in jig time. The pair of darling cakes would keep twins happy and guests anticipating lots of good eating! The guest table settings are some of my favorite details.
13. THREE LITTLE MONKEYS STUDIO via SPACESHIPS AND LASER BEAMS :: Boy's Reptiles and Amphibians Party – Creepy-crawlies might not be your favorite theme idea but boys love it. Gretchen gave this party a scholarly vibe with a faux pull-down chart, a vintage wood desk and handsome printables.
MY FAVORITE RECENT PINS
Take a look at these Amazing Boy Party Themes!