Party Central
13 Birthday Party Ideas for Boys
By
| Last Updated:
What's the big deal about a birthday party theme? It pulls together decorations, dessert tables, favors and invitations. Choosing a theme will make your entire party planning process easier and more successful. That's why we keep offering suggestions for you to choose from. This week (in no particular order) the spotlight is on robots and rocking horses, firemen and Nerf guns, soccer and science, motocross and modern puppies, whales, indoor camping, tractors and a focus on art. Have fun exploring!
---
See Also
---
MY FAVORITE RECENTLY DISCOVERED BOY PARTIES FROM THE NEIGHBORHOOD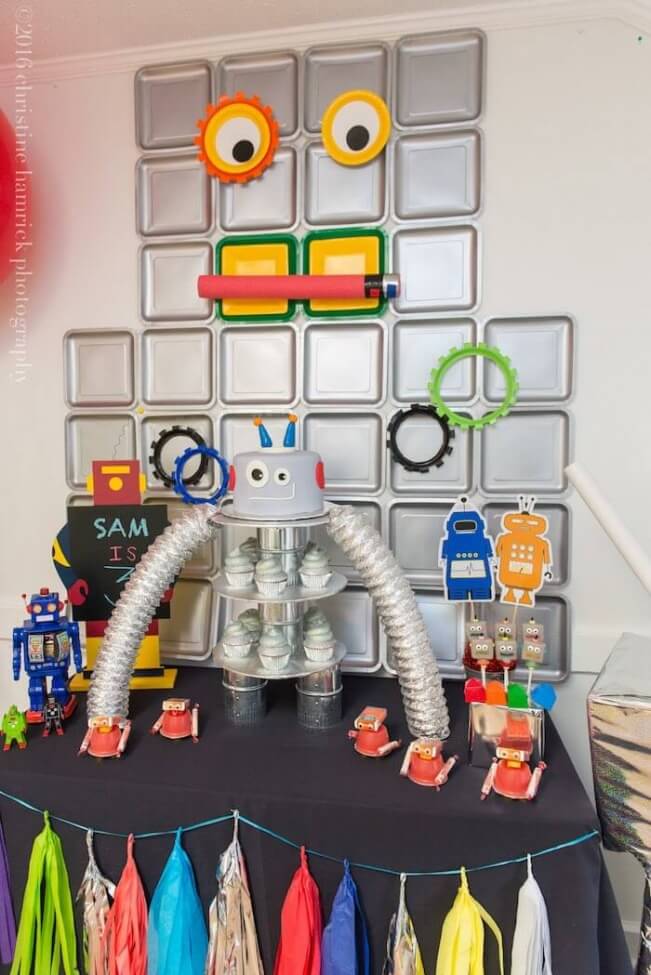 1. TEACUPS AND TRUCKS via KARA'S PARTY IDEAS :: BOY'S ROBOT THEMED BIRTHDAY PARTY—The robot theme is one of my personal favorites for a little guy and this rendition is darling. The oversized robot backdrop made from paper plates is a terrific beginning. A birthday cake with dryer vent arms is sure to make you grin, plus there are so-cute robot applesauce cups, cake pops and great themed activities. The colorful guest table is loads of fun!
2. WHITE DOOR EVENTS via THE PRETTY BLOG :: ROCKING HORSE BABY SHOWER –For sure, go look at this party. This one is swoon worthy! Gorgeous flowers and a fabulous venue make you wish you were there. The lovely presentation of desserts is especially appealing. I think this would also be special for a first birthday celebration.
3. SWEET EVENT STYLING BY THANH via LITTLE WISH PARTIES :: FIREMAN THEMED 2ND BIRTHDAY PARTY—No alarm necessary but this party is hot stuff! Flaming cupcakes, fireman hat cake pops, and themed candies make this table sizzle with excitement.
4. ANDERS RUFF :: BOY'S NERF THEMED 8TH BIRTHDAY PARTY – Is there a boy who doesn't like Nerf guns? A favorite interest always makes a terrific party theme. And moms, be encouraged: this celebration was hosted at an off-site venue, with only 30 minutes to set things up—and it looks super!
5. KASI via CATCH MY PARTY :: WOODLAND THEMED BABY SHOWER – This is my kind of camping: indoors, with lots of greenery and no bugs! There are lovely floral arrangements, mossy table runners, and plenty of themed foods. The many details like tiny woodland figures, overhead lights entwined with vines, and pine cone place card holders add to this lovely boho event.
6. GLORIA WONG DESIGNS via 100 LAYER CAKELET :: MODERN CAMP THEMED FIRST BIRTHDAY PARTY – Did you know a stylized chalkboard is just the backdrop for a birthday party? This event for twins proves it!  A golden tree-trunk cake stand, whimsical animals, and paper stars make it magical. Wearing paper animal ears and painting paper teepees kept young guests busy.
7. FESTEVJAR via KARA'S PARTY IDEAS :: BOY'S SOCCER THEMED BIRTHDAY PARTY—Love that centerpiece "cake". Isn't it perfect for birthday brothers who love soccer? There is more color in this event than most soccer parties and it looks good. The dessert table features mini goals that capture treats like candy tubes embellished with whistles and soccer shoes. Great guy stuff!
MY FAVORITE RECENT BOY PARTIES FROM OUR BLOG
8. BANNER EVENTS via SPACESHIPS AND LASER BEAMS :: BOY'S LABORATORY-SCIENCE THEMED BIRTHDAY PARTY—Is your son the curious type? Oh, come on—what boy isn't curious?! Cool experiments, clever desserts, and wonderful décor make this party a winner. Kids love the hands-on fun with this party theme.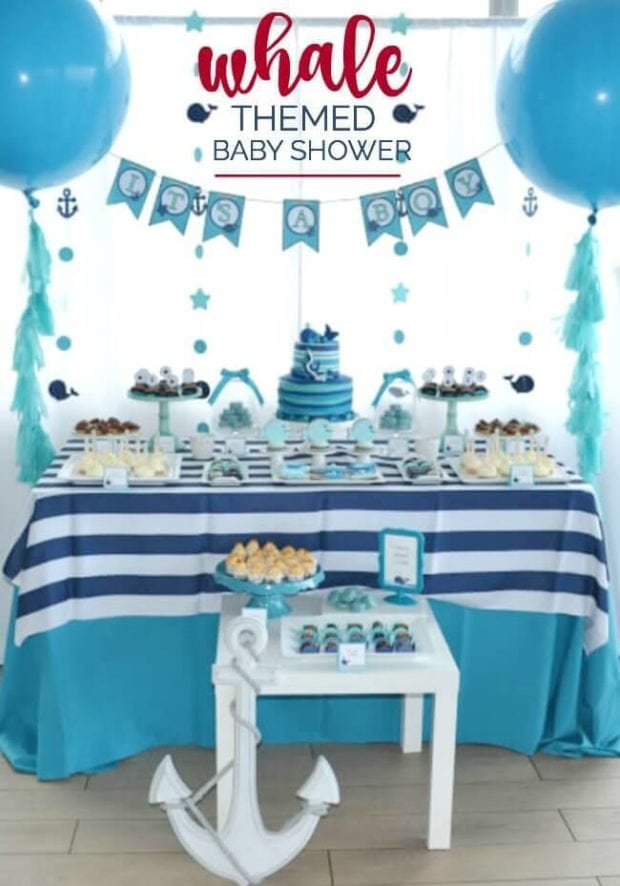 9. PARTYLICIOUS EVENTS via SPACESHIPS AND LASER BEAMS :: WHALE THEMED BABY SHOWER—Lovely shades of water blue look refreshing at this adorable gathering to celebrate baby's arrival. This was styled to definitely have a boyish slant, but moms would be delighted with the sweet details.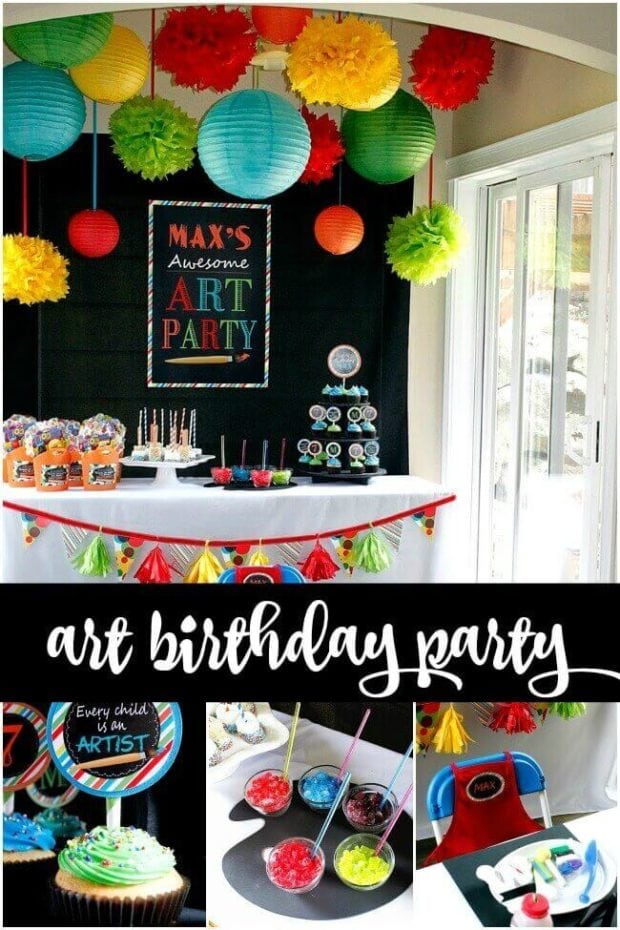 10. A LOVELY DESIGN via SPACESHIPS AND LASER BEAMS :: ART THEMED BIRTHDAY PARTY—Colorful? Check. Creative? Check. Kid approved? Check!  I think this is a birthday party theme that we don't see often enough. Kids love to create and moms have fun releasing their inner Picasso, too!
11. THE CAKE POP QUEEN via SPACESHIPS AND LASER BEAMS :: BOY'S MOTOCROSS THEMED BIRTHDAY—Black and white always lends itself to graphic appeal.  The biker silhouette decal, an arrow garland and giant confetti really add punch! Be sure to notice the awesome helmet shaped cake pops.
12. CREATIVE DESIGNS BY TONI via SPACESHIPS AND LASER BEAMS :: MODERN PUPPY THEMED BIRTHDAY PARTY—What boy doesn't love a puppy dog and a puppy-themed celebration? This version is dog-gone cute with winsome puppers on the cake, cupcakes and cookies. Stripes and polka dots add to the fun décor.
13. WHERE THE GREEN GRASS GROWS via SPACESHIPS AND LASER BEAMS :: BOY'S TRACTOR THEMED BIRTHDAY CELEBRATION—Fresh-faced kids and a farm-fresh party just go together! This event was done up in sunshine yellow and grass green and it was filled with perfect theme ideas.
MY FAVORITE RECENT PINS