Party Central
10 Boys' Birthday Party Ideas
By
| Last Updated:
Are you stumped on how to get started on your boy's birthday party? You won't be after looking at these truly awesome celebrations!  Not only will you see really cool decorations, there are some great party invitations, wonderful dessert tables and take-home favor ideas.
Themes this time include: Little Pumpkin, Vintage Newspaper Boy, Tribal 1st, Vintage Train, Rustic Camping, Lumberjack, Retro Bowling, Vintage Racecar, Dinosaurs, Superhero, Spiderman, Green Sheep (storybook), and a seasonal black and orange party.
As always, these parties are in no particular order but it would just be too confusing to call them all #1.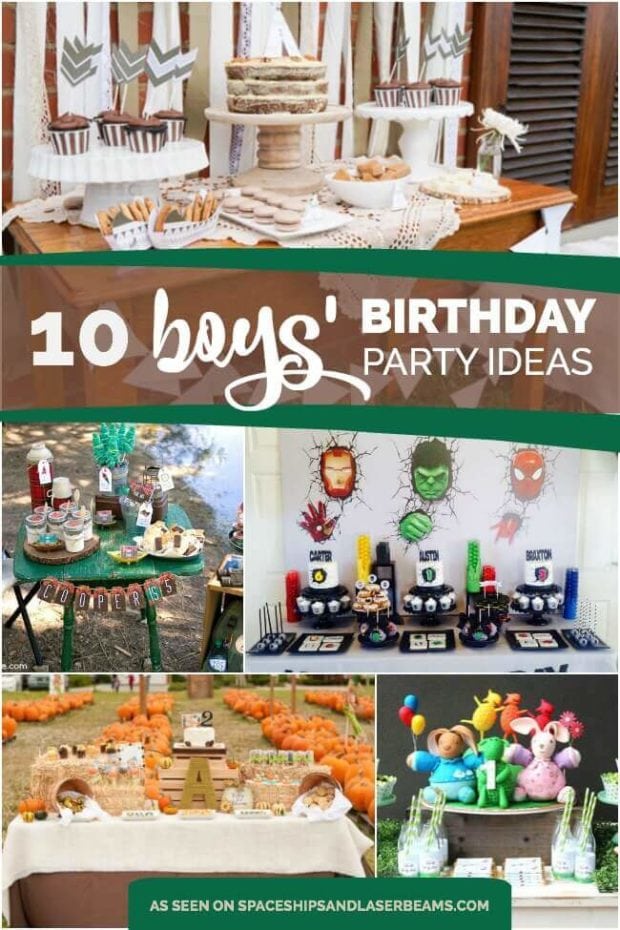 ---
See Also
---
MY FAVORITE RECENTLY DISCOVERED BOY PARTIES FROM THE NEIGHBORHOOD
1. THE PEAR EVENTS via BLOOM DESIGNS :: Our Little Pumpkin Birthday Party – A birthday celebration at a pumpkin patch? Delightful! With the built-in activities like choosing (and painting) your own pumpkin and a picnic lunch served in individual apple baskets, this party is adorable.
2. SUNSHINE PARTIES via PRETTY MY PARTY :: Boy's Tribal 1st Birthday Party – Rustic and natural, this first birthday celebration has a lot going for it. The colorful Crostini Bar, ringed with herbs and flowers, is gorgeous. And the dessert table is totally appealing. Two thumbs up!
3. BUT FIRST, PARTY! via KARA'S PARTY IDEAS :: Boy's Train Themed Birthday – This darling celebration began with the cutest Timbuctwo invitation. Banners and bunting crafted from the pages of The Train to Timbuctoo, Tootleand The Little Red Caboose furthered the theme. Vintage style abounds throughout—precious!
4. BLUSH !NK via HOSTESS WITH THE MOSTESS :: Vintage Newspaper Boy Birthday Party – Newsprint never looked so good! Find it on the invitation, streamers, table runner and banner, cupcake stand and more. Retro-styled food furthers the theme. Check this one out and you'll want to chronicle your son's first birthday with a vintage newspaper themed celebration.
5. PAPER AND CAKE via CELEBRATIONS AT HOME :: Boy's Rustic Camping Party –Head out to a favorite camping spot or set up in your own backyard—part of the beauty of this theme is it works both ways. S'mores cookies, mud cups and skewered green candy "pine trees" are some of the specialties at this handsome version.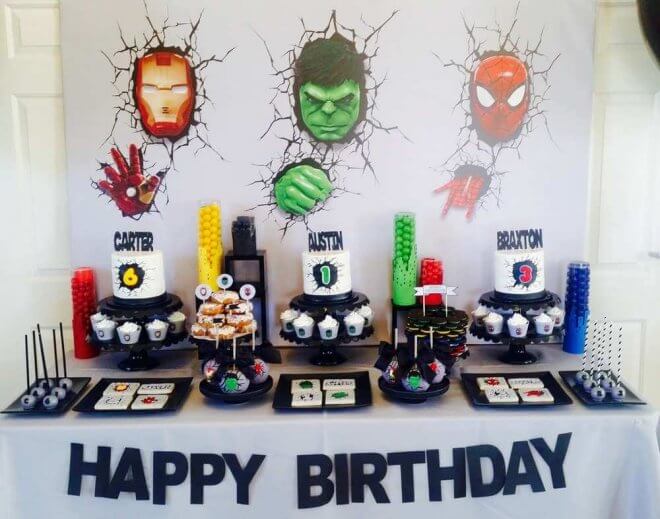 6. ASHLEIGH NICOLE EVENTS via CATCH MY PARTY :: Boys' Superhero Birthday Party – This is a great party set-up for a trio of brothers. I LOVE how the black and white makes the primary superhero colors POW-BAM-POP! The ice cream bar, favor-filled newsstand, and dessert table are fabulous additions to a super party but there are so many details to notice. Go look!
7. HAM AND PEA via AMY ATLAS :: Green Sheep Storybook Dessert Table – Favorite storybooks make a great theme, especially for little ones. The whimsical touches and bright colors are just right for this first boy/girl twin birthday party. I love the cake and the cookies!
8. THE PARTY WALL :: Black and Orange Dessert Table  – Whether your son has an October birthday or you're working on a Halloween party, you're sure to scare up some great ideas here. What's even more amazing is it was put together for under $50.
MY FAVORITE RECENT BOY PARTIES FROM OUR BLOG
9. BANNER EVENTS via SPACESHIPS AND LASER BEAMS :: Vintage Racecar Cub Scout Derby – You don't have to be a cub scout to appreciate this party—the stylish ideas would work for a birthday, too. Jen illustrates how to pull off the celebration for a crowd using simple props and decorations to create an impressive display.
10. JENNIFER PERKINS via SPACESHIPS AND LASER BEAMS :: Lumberjack (and Jill) Birthday Party – Natural décor (scavenged from the great outdoors!) and a few spot-on props make this party a visual delight. The favor table is especially appealing.  The themed breakfast menu ideas are mouth-watering and the party activities would be great for kidlets. Very creative!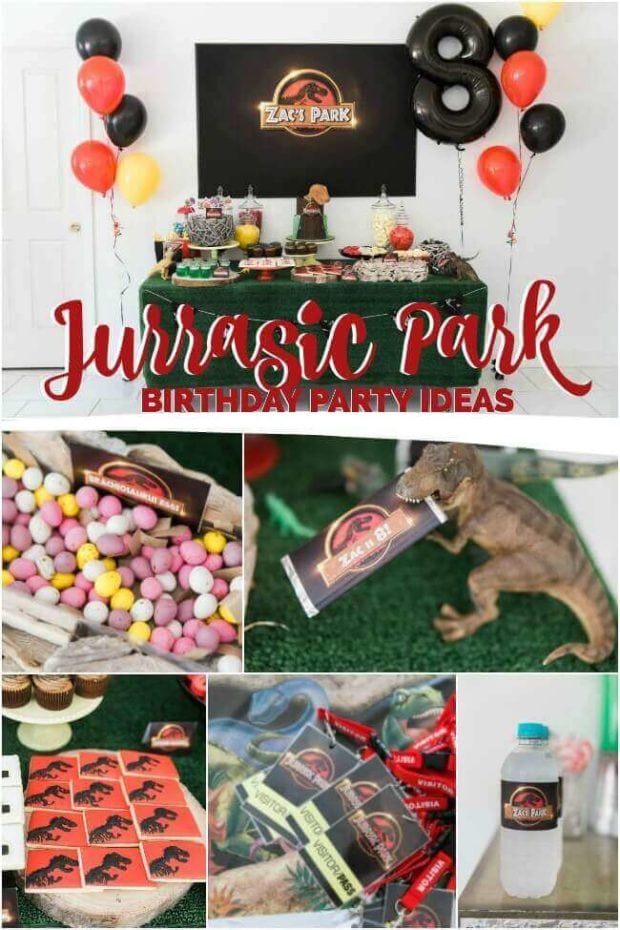 11. ZIG ZAG EVENTS via SPACESHIPS AND LASER BEAMS :: Boy's Jurassic Park Inspired Dinosaur Birthday Party – Great décor sets the mood for a celebration. If your little guy is into dinosaurs, he'll love this set-up. With all the opportunities for creative dino scenarios, you'll have fun, too.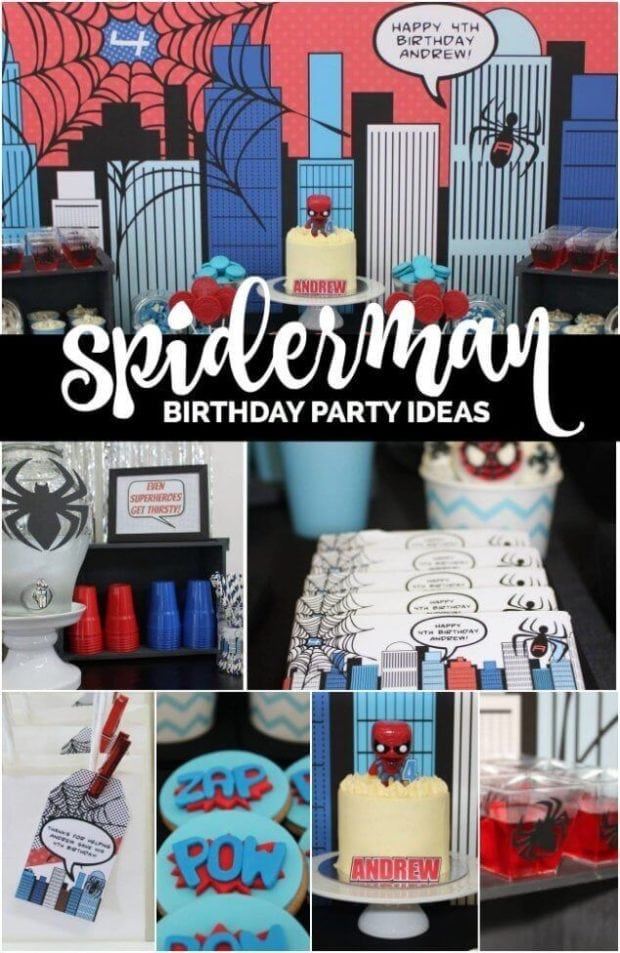 12. ISABEL'S CONFETTI via SPACESHIPS AND LASER BEAMS :: Spiderman Themed Birthday – After one look at the dessert table, you know kids would love to stick around at this party! Classic Spiderman thrills little guys and this party pulls out all the stops.
13. BANNER EVENTS via SPACESHIPS AND LASER BEAMS :: Boy's Retro Bowling Themed Birthday Party – I love retro anything and Jen does it right. Find cool ideas on everything for this theme from invitations with a surprise to stellar decorations to highly desired take-home favors.
MY FAVORITE RECENT PINS
EASY ORIGAMI PUPPY DOG :: Aww, this would be a sweet little project for a rainy day. It just takes one piece of paper and surely you have that?
GRASSHOPPER CRAFT :: Umm, I'm not sure what the directions say here but the visual is enough to enable you to make clothes pins and chenille stems into grasshoppers. Haven't you always wanted to do that with your kids?
LEAF FOXES :: Faux/real leaves make faux/real fox faces. Cute!