Party Central
10 Awesome Birthday Party Ideas for Boys
By
| Last Updated:
Is it almost party time at your house? Get ready to celebrate good times by checking out these fabulous boy birthday parties. Make the ideas your own! You'll see terrific decorations for these fun themes: vintage circus, construction, tractor, dinosaur, bookworm, Dr. Seuss, pirates, beach and a colorful celebration. There are also some great Thanksgiving ideas that combine style, education and fun!
---
See Also
---
MY FAVORITE RECENT BOY BIRTHDAY PARTIES FROM THE NEIGHBORHOOD
1. TOMKAT STUDIO and ZOE'S KITCHEN :: Vintage Circus Birthday Party – Step right up and see a stylish Big Top Circus that isn't over the top, but oh-so-perfect. Add light, bright colors and a few iconic circus props and you'll be ready to celebrate.
2. MARIA FORMIGA via KARA'S PARTY IDEAS :: Boy's Construction Themed Birthday Party – Want to make boy-happy memories? Here are some party ideas to build on. Using a plywood dessert table backdrop and bright yellow refuse bins for a table base are just the start of a great party job site.
3. THE PARTY STUDIO via HOSTESS WITH THE MOSTESS :: Dr. Seuss Themed First Birthday Party – Stripes, dots and a kaleidoscopic color scheme bring this popular theme to life. The darling treats must have enticed every guest!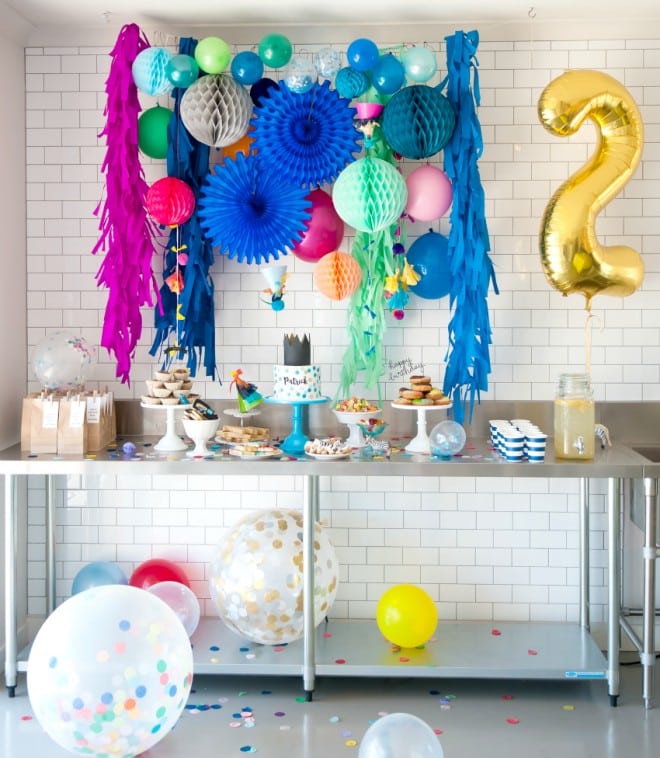 4. CAKE INK via OH IT'S PERFECT :: Boy's Colorful Second Birthday Party – Love this set-up! It's, boyish, casual, and fun looking. The styling totally invites you to relax and celebrate.
5. PARTYLICIOUS :: Tractor Themed 5th Birthday Party – Suppose your little guy is a future farmer? Boys go for this farm tractor theme—I even know some grown "boys" who would love it. Carol's set-up is perfectly pulled together in green, yellow and brown. Pinwheels, tassel bunting and sweet desserts bring on the party.
6. DETAILED DÉCOR via CATCH MY PARTY :: Boy's Dinosaur Themed Third Birthday Party – Dinosaurs, dino eggs in a nest, dino bones, dino excavation, dino crafts—it's all here in one great, kid-friendly adventure.
7. PASSION COOKS via KARA'S PARTY IDEAS :: Boy's Bookworm Themed First Birthday Party – This party would be a bookworm's haven as it is complete with a cozy spot for reading, treats to nibble, and even a colorful, overhead book "banner". Especially notice the darling glasses-wearing "bookworm" made of flowers.
MY FAVORITE RECENT BOY PARTIES FROM OUR BLOG
8. BANNER EVENTS via SPACESHIPS AND LASER BEAMS :: Kids' Thanksgiving Ideas – Want your little Pilgrims to be on their best behavior for the feast? Jen has some super suggestions that look great and kids will think they're awesome!
9. POCKET FULL OF PARTIES via SPACESHIPS AND LASER BEAMS :: Boy's Pirate Themed Birthday Party – Polly had lots to squawk about at this celebration! Vintage props set the scene with just the right amount of authenticity to excite the birthday boy and his guests. The wide variety of themed desserts certainly served as part of the desired pirate's booty.
10. CROWNING DETAILS via SPACESHIPS AND LASER BEAMS :: Boy's Beach Themed Birthday Party X 2 – Twins are double the fun and so was this party! Vibrant decorations, twin smash cakes and a cool beach-themed dessert table made for an incredible day of sunshine. Building sand castles, a trio of kiddie pools and a popular giant waterslide kept little guests happily busy.
MY FAVORITE RECENT PINS
CANDY CORN TURKEY CRAFT :: Get this craft ready beforehand and keep the kids busy while you linger over the Thanksgiving feast.
SOCK SNOWMAN :: Here's a sweet craft idea—and you probably already have everything you'll need to make one.
DIY WINDOW STICKERS :: Simple and perfect for any season.