You still have time to host a fabulous summer party! I bet these theme ideas will help you make it one of your best celebrations yet: secret agent, feathers and arrows, star gazing, baby bee, Peanuts, fire fighter, country fair, vintage fishing, surfing, safari, beach bash, nautical and farm fresh. There are also a couple of uniquely beautiful baby showers to enjoy.
Whether you're searching for invitations, decorations or party favors, you'll find inspiration right here!
---
See Also
---
MY FAVORITE RECENTLY DISCOVERED BOY PARTIES FROM THE NEIGHBORHOOD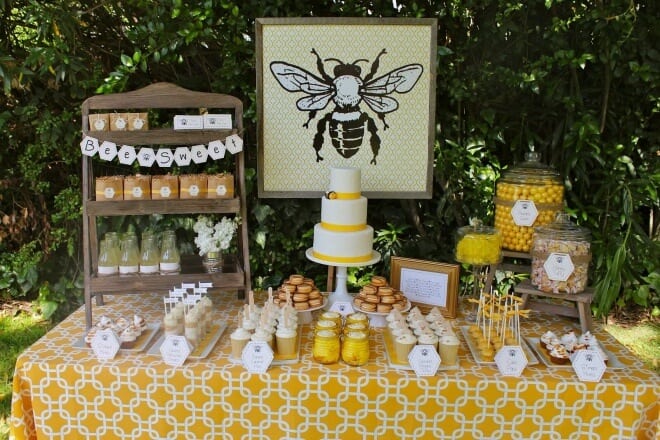 1. Baby's Bee Themed First Birthday
From Bloom Designs
Dare I say it? Yeah…guests would be buzzing about the sweet ideas at this party! With beehive s'mores, honey popcorn, and honey treat bags, the dessert table is filled with impressive themed desserts. Gold, burlap and white are cheerfully little boy appropriate and darling sayings such as "bee kind" and "bee adventurous" are wonderful ways to express best wishes for the birthday boy. Bee sure to notice the adorable party favor, too.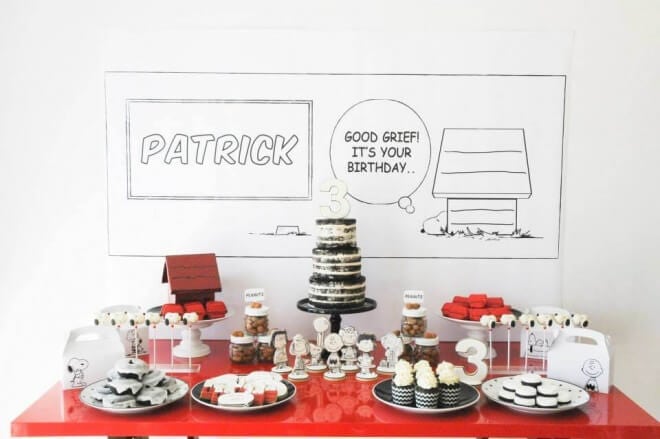 2. Peanuts-Inspired 3rd Birthday Party
From Frosted by Nicci via The Little Big Company
Good grief, this celebration is cute! Reminiscent of old-school comics, the black, white and red dessert table is a charmer. Especially notice the winsome Snoopy cakepops and fun cookies. And I love the take-home favor boxes, too.
3. Vintage Country Fair 1st Birthday
From Mindy Alyse via Pizzazzerie
Aqua, red and a wonderful collection of patterns make this party a visual treat but the fair-themed menu and sweet DIY activities make this celebration a blue-ribbon affair.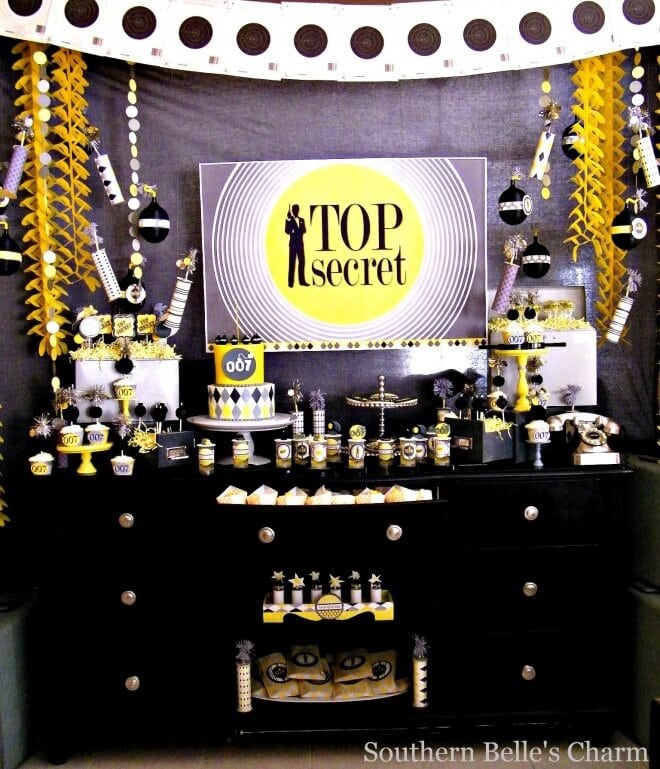 4. Boy's Secret Agent Spy Party
From Southern Belle's Charm via Frog Prince Paperie
Spy kids training to catch a thief sounds like the kind of party fun boys would love. A sweets table like this stylish black and yellow affair with "bombs" and "dynamite" would add to the excitement, as would the thrilling themed game events.
5. Boy's Feathers and Arrows 3rd Birthday Party
From One Stone Events
You must go look at the details of this party! It's a boy-friendly, fairy-tale mash-up with elements from Peter Pan, Robin Hood, Little Red Riding Hood and The Three Little Pigs. Highlights include cool backyard tents and blankets for an outdoor movie, a 3 Little Pigs–in-a-Blanket Bar, and a stylish dessert table for great once-upon-a-time fun.
6. Star Gazing Party
From Confetti Sunshine via Frog Prince Paperie
Star gazing in summer is a perfect way to celebrate a warm weather birthday. Add star charts and constellation flashlights and don't forget stellar treats!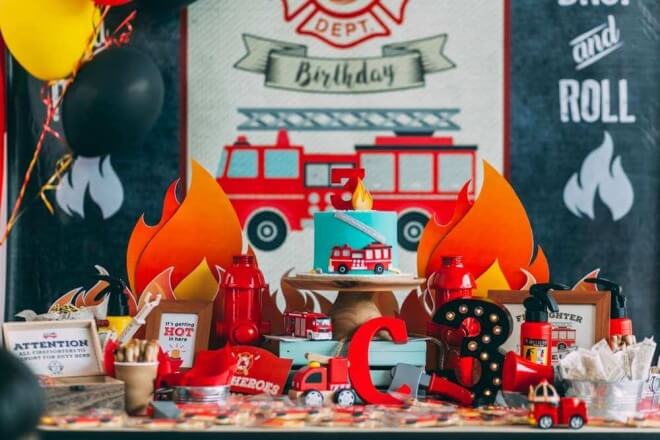 7. Boy's Fire Fighter Themed Birthday
From Happy & Co. by PC Studios via Catch my Party
Combine cardboard, burlap, unfinished wood and newsprint and what do you get? In this case, a really handsome boy's birthday party! In addition to the decorative items, the extensive menu and on-site venue made this party special.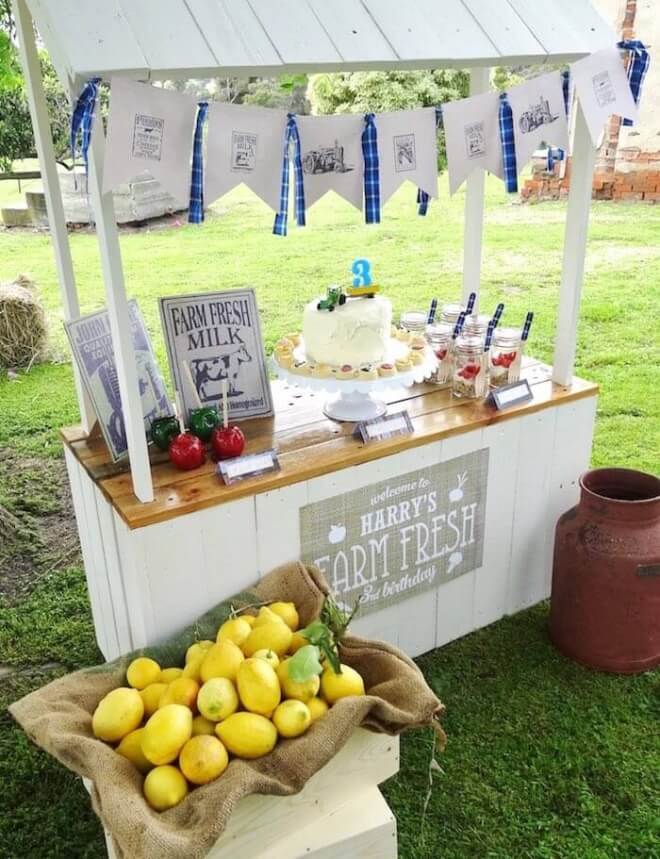 8. Boy's Farm Fresh Birthday Party
From The Persimmon Pair via Kara's Party Ideas
Earth tones and blue plaid look fresh as a summer morning sky and they're also an awesome choice for a little guy's third birthday party. Love the graphics used on printables, bunting and treat bags. Also notice the clever petting zoo.
MY FAVORITE RECENT BOY PARTIES FROM OUR BLOG
9. Boy's Surfing Themed Party
From My Paper Crush via Spaceships and Laser Beams
You say you don't have any surf boards to use as décor? No problem, as you'll see when you check out how this mom circumvented that little detail. Shark fin cupcakes, summer bright colors and an awesome themed menu show how to host a beach-themed blast even when there's no beach.
10. Nautical Themed First Birthday
From Sugarbird via Spaceships and Laser Beams
With a dessert table full of party inspiration in blue, red and yellow, these nautical themed decorations and sea-inspired treats are sure to please. Notice how the right choice of simple details can take a party from "nice" to "wow!"
11. Boy's Vintage Fishing Birthday Party
From Crossing the Bugger-Dixon Line via Spaceships and Laser Beams
This is an incredibly cute party and it was done on a budget as skinny as a fishing line! My favorite detail (aside from our party printables!) has to be the clever over-sized "fishing bobbers" hanging over the guest table but there are lots of sweet ideas you'll want to catch.
12. Boy's 3rd Birthday Safari Themed Party
From Sweet Tables by Chelle via Spaceships and Laser Beams
This impressive "Safari Sweet Shop" is full of just the right choices for décor and desserts. Follow Chelle's lead and include a "Safari Shop" filled with party favors…the kids will go ape!
13. Boy's Beach Bash First Birthday Party
From Send in the Clowns via Spaceships and Laser Beams
This beach bash was a tented affair just steps from the water but the décor choices for a beach themed event could work far from the shore. Blue and white beach balls, balloons and burlap combine for a stylish arrangement. The souvenir shop dessert table is fabulous. Especially notice the sand castle cake.
EXTRA FUN :: BABY SHOWERS
Flawless Baby Shower
From Magnolia Rouge via Spaceships and Laser Beams
From the beautifully detailed invitations to the non-traditional color palette to the exquisite cake and coordinating cookies, this baby shower is uniquely delightful.
Camp-Out Baby Shower
From Jesi Hack Design via Spaceships and Laser Beams
Does mom-to-be love camping? Chances are she'd love a rustic chic baby shower like this one. Décor and gorgeous desserts manage to look beautiful and theme perfect! Treat guests to a wild romp in the woods in your own back yard with these ideas.
MY FAVORITE RECENT PINS
50+ PIPE CLEANER ANIMALS :: When is a pipe cleaner not a pipe cleaner? When it's a dog, a dinosaur, a lion or a bunch of other really cool critters. Fun!
GIANT PAPER SNOWFLAKES :: Forget the heat and have fun cutting out paper snowflakes.
MAGIC MUD :: This goo is actually made from a potato—fascinating—and you can still eat the potato!
DON'T MISS THESE GREAT BOY BIRTHDAY PARTY IDEAS WE LOVE.