We're into July already—yikes! Make summer memories by hosting your best party yet, whether it's a birthday celebration or a fun get-together. Check out these super themes, decorations, invitations and dessert tables to get started.
---
See Also
---
Whether you're in the mood for something classic or off-beat, you'll find suggestions here to help you plan. Take off with ideas from these themes: patriotic red white and blue, Wild West cowboy, steampunk under the sea, social networks, woodland animal books, nautical, confetti and balloons, Hollywood movies, pirates, music, camping, kites, and little birds.
Feeling inspired? Time to party!
MY FAVORITE RECENTLY DISCOVERED BOY PARTIES FROM THE NEIGHBORHOOD
1. Patriotic First Birthday Party
From Lillypaul Designs via Pizzazzerie
If Americana is your cup of tea, you'll love this first birthday all done up in red, white and blue. I especially like the (baby) Jack for President campaign posters and his PAC donation center.
2. Wild West Cowboy Themed Birthday Party
From From The Heart Events via Kara's Party Ideas
What a party! Red and white gingham, sunflower arrangements in cow print Mason jars, bandana prints and several amazing "destination" stations (like the Cowboy Saloon) make this party special.
3. Steampunk 11 Thousand Leagues Under the Sea
From Paper and Cake via Hostess with the Mostess
Never heard of this theme before, huh? It's a so-cool tween variation on the popular shark/underwater party idea. Look for "rusty" pipes, gear-topped treats and bronzed marine animals. Unique!
4. Social Networks Themed Birthday Party
From Erika R via Catch my Party
Here's another innovative tween theme. Colorful and filled with iconic symbols that tweens will recognize, this party theme gets a thumbs up!
5. Woodland Animal Book Themed Birthday Party
From Bugaboo City
Brother and little sis shared this adorable celebration, which would be great for any young book lover. The dessert table is charming with items such as the tree-topped cupcakes and an amusing little hedgehog cheese tray. Games like Woodland Animal Bingo and Musical Toadstools look like fun. I especially love the sweet invitation.
6. Boy's Nautical Themed Party
From Madeline C via Catch my Party
What a great dessert table set-up! Love how the round table covering, fabric sail and anchor-shaped balloon transform the serving area—colorful, effective, and not too difficult.
7. Confetti-Tassel-Balloon First Birthday Party for Twins
From Sugar Coated Candy & Dessert Buffet via The Little Big Company
The swirling, twirling effect of all the happy-bright colorful decorations would make anyone smile! Especially note the spectacular balloon rainbow, chalkboard backdrop and wonderful desserts.
MY FAVORITE RECENT BOY PARTIES FROM OUR BLOG
8. Hollywood Movie Themed Birthday Party
From Creative Designs by Toni via Spaceships and Laser Beams
Want the guest of honor to feel like a star? This is your theme! The Walk of Fame partners with glitz, movie paraphernalia and an array of desserts that best any you'd ever find at a real movie theater. Give your birthday boy the VIP treatment with this theme and put the happy in birthday!
9. Kite Themed First Birthday Party
From Tracey Lau via Spaceships and Laser Beams
Is there anything fresher than sky blue and paper white? Grass green grounds this dessert table that is certain to please children and adults. Miniature kites, a picket fence and even cloud-shaped treats mark this party as precious.
10. Sweet Baptism Celebration for a Little Boy
From Maddy K Weddings and Events Atelier via Spaceships and Laser Beams
A smorgasbord of lovely treats is a fantastic way to please and impress guests and this event doesn't disappoint. Happy colors and sweet birdie embellishments make this party noteworthy.
11. Boy's Pirate Themed Birthday Party
From Julie via Spaceships and Laser Beams
A romanticized pirate's adventure always seems to excite a boy's imagination, which makes it a perfect idea for a birthday party. A wall-sized treasure map is sure to capture attention as little guys attempt to find where X marks the spot. A dessert table full of treats like this one just might be treasure enough!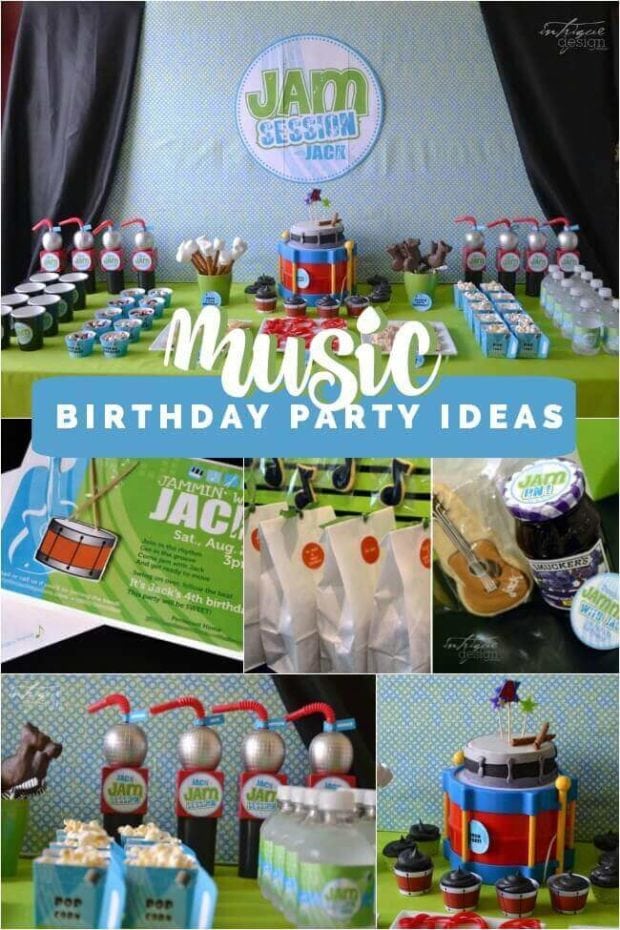 12. Boy's Music Themed Birthday
From Brave Creative Design via Spaceships and Laser Beams
Jammin' works for boys of any age. This four-year-old's party included themed treats (like eighth note brownie pops), personalized microphone cups and DIY musical instrument favors. Wanna make music?
13. Boy's Camping Themed 9th Birthday Party
From Homespun Hostess via Spaceships and Laser Beams
Do you have to go into the woods to host a camping party? Nope. This party proves how awesome a backyard event can be. A cookout, lots of treats and a pop-up tent make it happen.
MY FAVORITE RECENT PINS