Party Central
13 Birthday Themes for Boys
By
| Last Updated:
It's time for another collection of fabulous boy birthday parties and boy baby showers! You'll see dessert tables, birthday cakes, favor ideas and an amazing amount of decorations. This week we are featuring these awesome party themes: gone fishing, backyard safari, firefighters, construction, crocodiles and insects, springtime and April showers, hot air balloon, good knights, under the sea, barnyard, dinosaurs, and for the man in your life, check out the fun beer-b-que. There's something for everyone!
---
See Also
---
MY FAVORITE RECENTLY DISCOVERED BOY PARTIES FROM THE NEIGHBORHOOD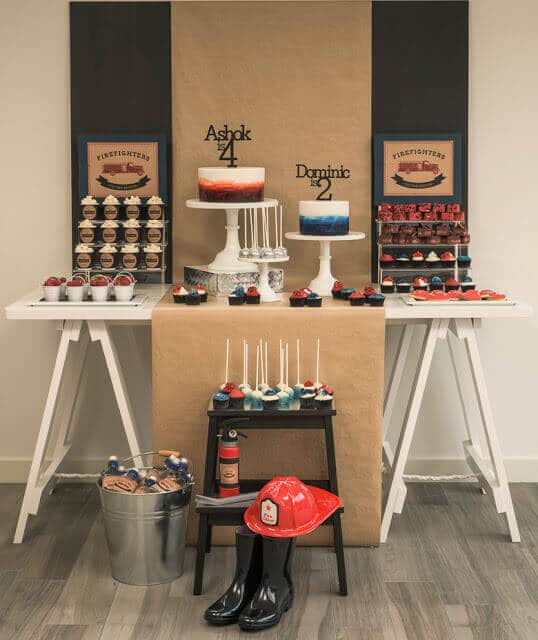 1. SOMETHING WONDERFUL HAPPENED via THE LITTLE BIG COMPANY :: Boy's Firefighters Themed Birthday Party – A little bit classic and a little bit industrial and a whole lotta hot! The children's seating area is especially appealing. Adults were welcomed with their own attractive deli-style, cheese sampling bar. Also notice the fun obstacle course idea.
2. LYNLEE'S :: Boy's Construction Themed Birthday Party – Construction cones, themed food, tool box favors—yup, it's all here. Lynlee also includes interesting touches like donuts wearing construction hats and an "under construction" name plate. If you have a little builder, go check out the fine fondant work and creative details at this celebration.
3. FANCY EVENTOS via KARA'S PARTY IDEAS :: Boy's Crocodiles and Insects Birthday Party – Little guys would be ready to get down and dirty at this celebration! I love the dessert table, rich with details and themed desserts. Cattail balloons and a crocodile piñata add to the colorful decorations.
4. URBAN COLLECTIVE via PIZZAZZERIE :: Springtime Baby Boy Shower – One of the most welcome sights of spring is rich, green grass. At this baby shower it is effectively paired with lovely, white flowers and rustic elements to create handsome décor.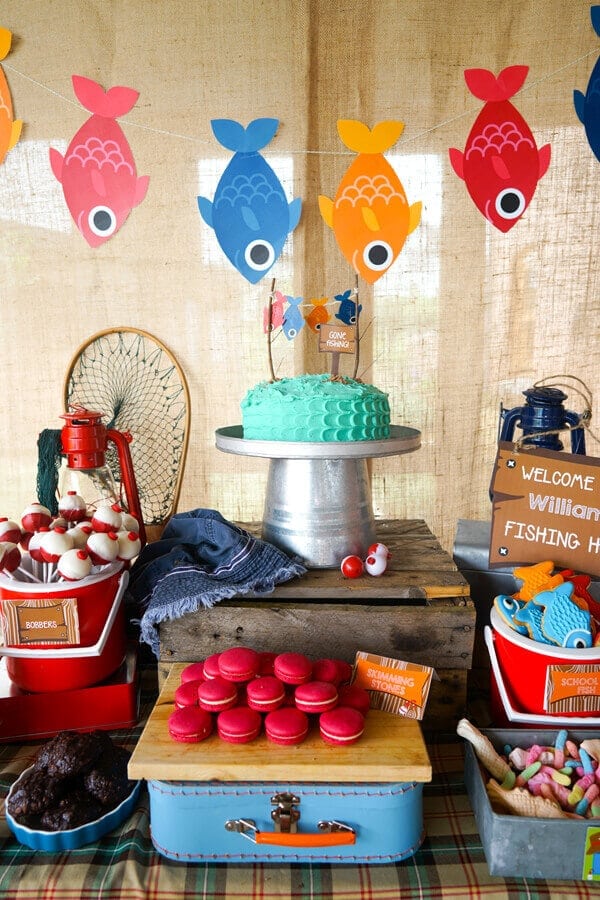 5. SUNSHINE PARTIES via PRETTY MY PARTY :: Boy's Gone Fishing Birthday Theme – Meet at the fishin' hole or at this dessert table? I know where I'd go! Bobber cake pops, skimming stone macarons, and colorful fish sugar cookies are just the start of all sorts of fun. Bet the kids LOVED the take-home favors, too!
6. ANDERS RUFF :: Big Boy's Beer-B-Que Birthday Party – Is your honey in the mood to party? Industrial meets retro, with a beer-tasting guessing game, mock beer JELL-O shots, and a crazy line-up of games. Of course there's inspiring décor!
7. FAVORS AND MEMORIES via CATCH MY PARTY :: Boy's Backyard Safari Themed Birthday – Look close at that dessert table: it's entirely made of pallets! This clever event includes animal prints, burlap, wood slab displays and a menagerie of plush animals. You'll want to see what was used for the guest tables, too.
8. JOLEE STUDIO via KARA'S PARTY IDEAS :: Under the Sea Birthday Party Theme – Bright blue, navy and green, plus rustic details attractively carry the under the sea theme at this five-year-old's party. I love the witty crab eyes on the sandwiches. I love the sunglass idea for helping kids getting right into the party.
MY FAVORITE RECENT BOY PARTIES FROM OUR BLOG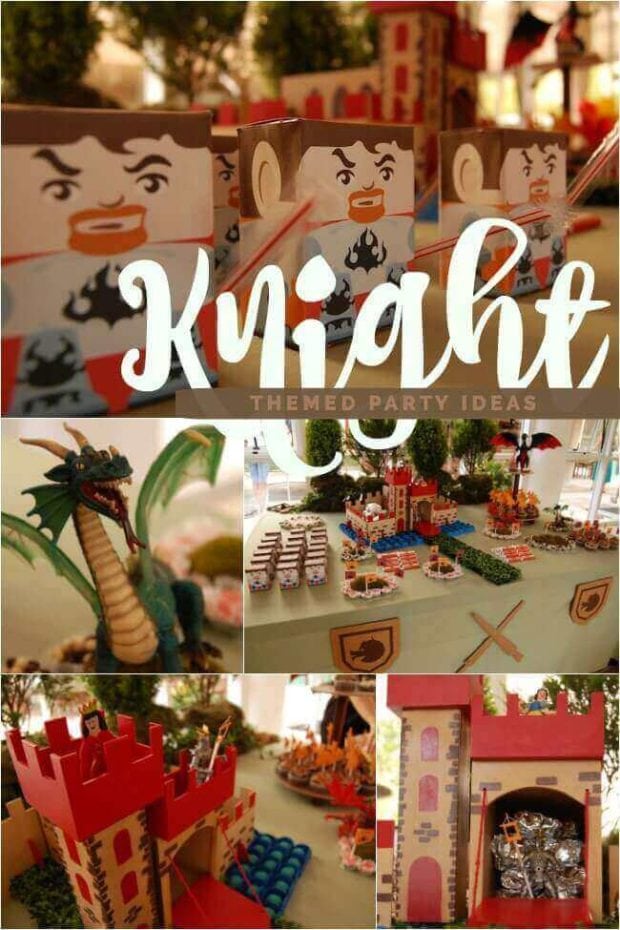 9. CARAMINHOLANDO FESTA :: Good Knight Birthday Party – Damsels in distress? Not over this party theme! The good guys take down the castle dragons when they're fueled with swords, swagger and lots of yummy desserts. This party has it all. Especially notice the clever juice boxes.
10. CROSSING THE BUGGER DIXON LINE :: April Showers Birthday Party – Who knew umbrellas, rainbows and rain boots would make such cute party décor?! Pint-sized puddle jumpers would have fun making rainbows and eating clouds. The personalized favors were a perfect choice for this theme.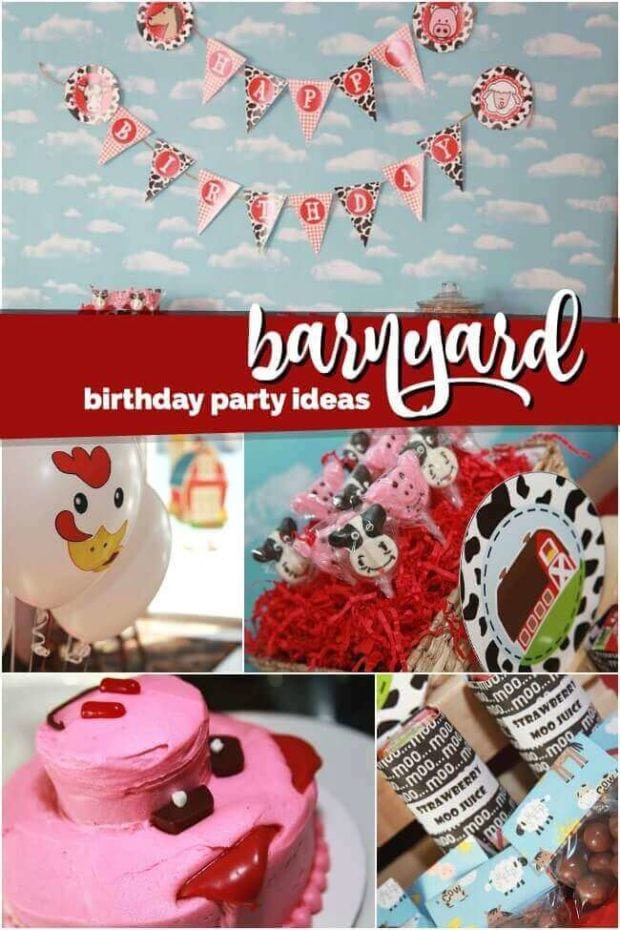 11. SHINDIG DIVA :: Boy's Barnyard Birthday Bash – Who wants to party in the barnyard? Sweet one-year-olds love animals and animal sounds. Party guests will also love a pig-shaped birthday cake, moo juice and mini felt, barn-shaped bag favors.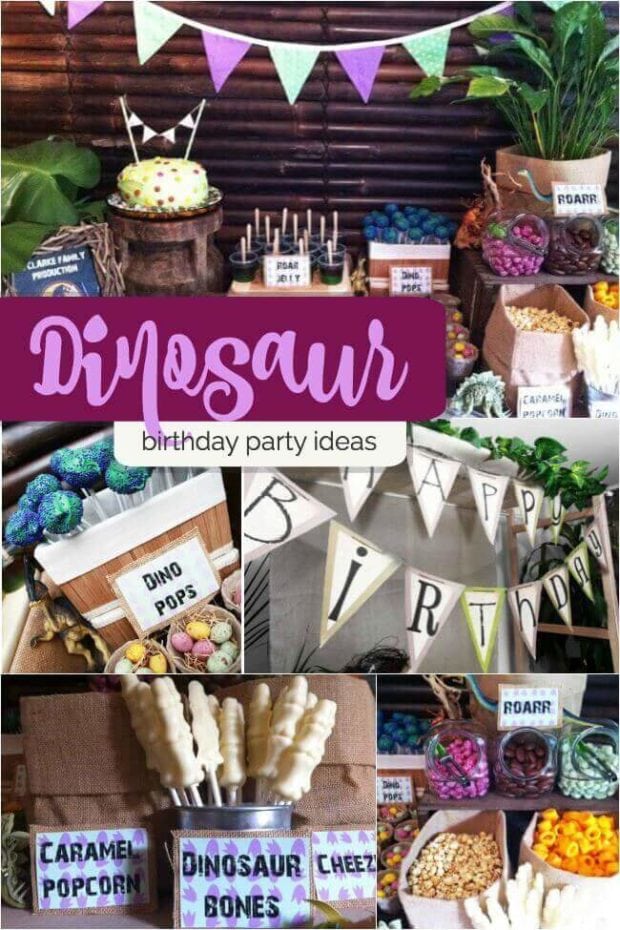 12. SENSATIONALLY SWEET EVENTS :: Boy's Dinosaur Themed Birthday Party –With monsters that can no longer "get you" the dinosaur theme just doesn't go extinct! This rendition has great party food and witty décor with dinos roaming the dessert table.
13. PARTYLICIOUS :: Hot Air Balloon Baby Shower – From the moment partygoers arrive at this sweet gathering, a fun guest book, dainty desserts and lovely decorations will capture their attention. Be sure to notice the special gift-opening area for mom-to-be and the photo op station for little ones.
MY FAVORITE RECENT PINS
Don't miss these other great boy birthday party ideas…