23 of the Best Cold Dip Recipes
Table of Contents
Do you love dips? We do! And we have a great roundup of 23 cold dip recipes for you to try out.
There's everything from crab dip to fry sauce, to guacamole, to key lime pie dip. Yep, we have a little of everything for you.
There are classics like a seven layer dip, and sweet dips like an easy cherry dip or a creamy caramel apple dip. So what are you waiting for? Let's get to dippin'.
---
See Also
---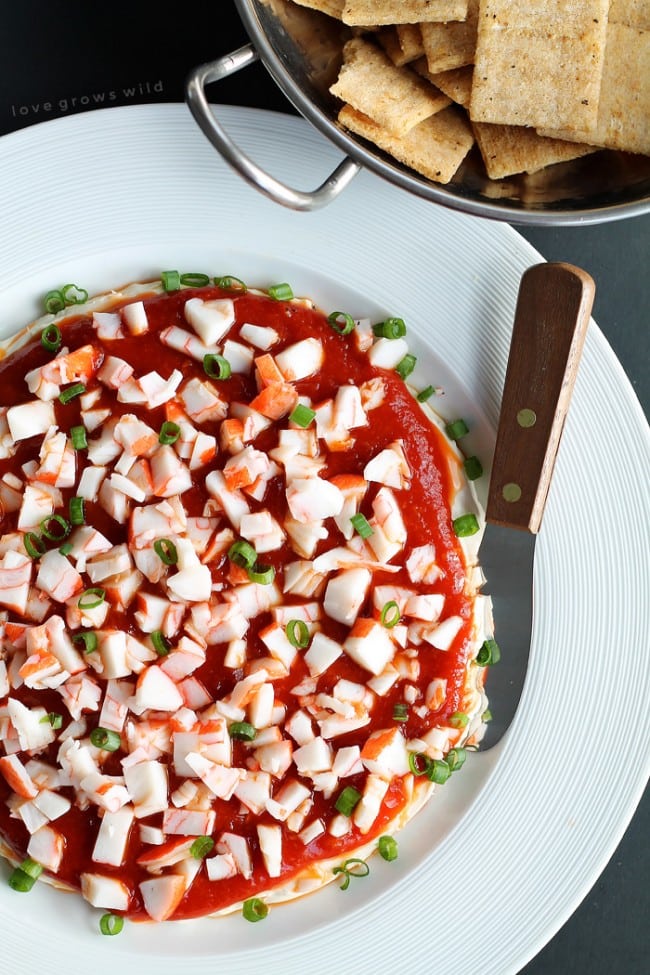 1. Crab Dip
From Love Grows Wild
Need the perfect party appetizer? This may be it!
Loaded with tender crab meat, a splash of bright cocktail sauce, and a creamy cheese layer with some kick, this cold and creamy crab dip looks fancy on any table.
It's great for dinner parties, holiday gatherings, and any other celebration. Plus this dip is easy to make in less than 5 minutes with only 5 ingredients.
2.

Key Lime Pie Dip
From Domestic Superhero
Achieve the taste of Key Lime Pie without all the fuss. This sweet Key Lime Pie Dip is the answer for any occasion.
No crust to make and only a handful of ingredients means this recipe is quick, easy and inexpensive. You can serve the dip with broken up graham crackers, fresh cut fruit, pretzels, or shortbread cookies.
Bring this treat to the next party you attend and it's guaranteed all the guests will be asking for the recipe.
3.

Snickers Almond Cheesecake Fruit Dip
From Spaceships and Laser Beams
Wow your guests with this super flavorful Snickers Almond Cheesecake Fruit Dip.
It's made with a sweet mixture of cream cheese, almond extract, whipped topping and chopped up bits of Snickers Almond Bar. The more Snickers the better.
It makes the perfect dip to pair with crisp apple slices or thick pretzels for a sweet and salty treat.
4.

Beer Dip
Call the gang over for a fun night of watching the game and eating your favorite savory snacks. This Beer Dip fits right in with all the game watching classics.
Salty with a little bit of kick, it is perfect for tailgate parties, game nights or just a fun night in with friends.
It's made with a tasty mixture of softened cream cheese, shredded cheddar cheese, a splash of beer and ranch flavoring. Oh, and it pairs well with beer!
5.

Fry Sauce
From Crafting in the Rain
It's time to start planning menus and décor for all your upcoming game parties.
Whether you like to host a big bash, go to someone else's house, or just stay home with your cozy bunch, you can use this homemade fry sauce.
It's hard to improve on the delicious taste of fries and onion rings, but this recipe for fry sauce is a must-make dip that may just wow you.
You can whip up your own batch in minutes.
6. Creamy Green Chile Dip
From Scattered Thoughts of a Crafty Mom
Does your family like Mexican or Tex-Mex food?
Cinco de Mayo is right around the corner and what better reason could there be to serve up your favorite Tex-Mex dishes. This year be sure to add this creamy green chile dip to the menu.
Creamy and delicious with just the right amount of kick from the green chiles, this dip is sure to be a huge hit with your family and friends.
7. Three Ingredient Twix Dip
From Just Us Four
This Three Ingredient Twix Dip may just be the star of your refreshment table.
It is so unbelievably easy to make and can easily be made ahead of time and stored in the fridge for later.
Just throw it together before your party or BBQ, set it out and watch it disappear. You may or may not catch some guests grabbing a spoon and dipping in, it's just that good.
8.

Muffuletta Dip
If you are new to the Muffuletta Dip phenomenon, you have to try this amazing recipe that is especially great served on a Italian dinner night.
Creamy Muffuletta Dip is filled with tangy olives, minced garlic, and smokey roasted red peppers all in a delectable cream cheese base.
And is not only fantastic as a dip, it can also be a delicious sandwich spread.
9. Mediterranean Layer Dip
From My Suburban Kitchen
This layered Mediterranean dip would totally be the dip bowl I stood next for the entire party.
A great party dip is versatile enough that you can serve it with crackers, chips, bread or even vegetables.
I love this dip with fresh cut up vegetables but I think it would a hit with just about anything you chose to serve it with. All the flavors pair so well together and it's great lighter option.
10. Easy Cherry Dip
From Nums the Word
Cherry lovers unite! This Easy Cherry Dip can be prepped in 5 minutes or less, making it the perfect appetizer for serving up at gatherings like bridal showers and birthday parties.
It's filled with delicious flavors including tangy crushed pineapple, sweet cherry pie filling, rich sweetened condensed milk, and fluffy cool whip whipped topping.
Serve with graham crackers for a tasty treat.
11. Cookie Dough Apple Dip
From Spaceships and Laser Beams
The perfect combination of tart, creamy and sweet – this cookie dough apple dip is one recipe that guests will ask you for time and time again.
It has a cream cheese base but is made super dippable and just the right amount of sweet to keep you dipping apples all night long.
This is a fun treat for a party or for entertaining guests.
It also makes a delicious treat if you're looking for something a bit healthier to indulge in late at night.
12. Blackberry Toasted Marshmallow Dip
From This Silly Girl's Kitchen
Create the perfect sweet and salty palate pleasing experience by pairing this Blackberry Toasted Marshmallow Dip with Triscuit crackers.
Fresh blackberries are mixed with cream cheese, toasted marshmallow fluff and served with Triscuit crackers for a sweet and salty bite. It's a unique and fun appetizer that guests are sure to love.
13. Whipped Basil Feta Dip
From Domestic Superhero
Two minutes is all the time you'll need to make up a batch of this Whipped Basil Feta Dip. I guarantee it won't last long.
This is a dip that is perfect for bringing to potlucks or parties, serving as an appetizer at a get together, or just eating at home when you are craving some delicious dip.
We have had it with lightly toasted baguette slices, pretzel chips, pretzel rods, and fresh cut-up veggie sticks!
14.

Gluten Free Hummus
From The Typical Mom
Hummus is one of my go to healthy snacks because it is totally delicious and so versatile. This easy-to-make Gluten Free Hummus recipe makes for a perfect healthy snack.
It's delicious in its traditional form or you can spice it up with the addition of some sun-dried tomatoes and jalapeno peppers.
Serve it up with your favorite crackers, pita chips or veggies.
15. Seven Layer Dip
From My Turn For Us
A classic chip dip for any occasion you can think of, the Seven Layer Dip is always a party favorite.
Seven savory layers are made with hearty ingredients including refried beans, avocados, sour cream, cheese, olives, onions and tomatoes.
Combine all of those flavor with a big scoop on a tortilla chip and you are in snack time heaven.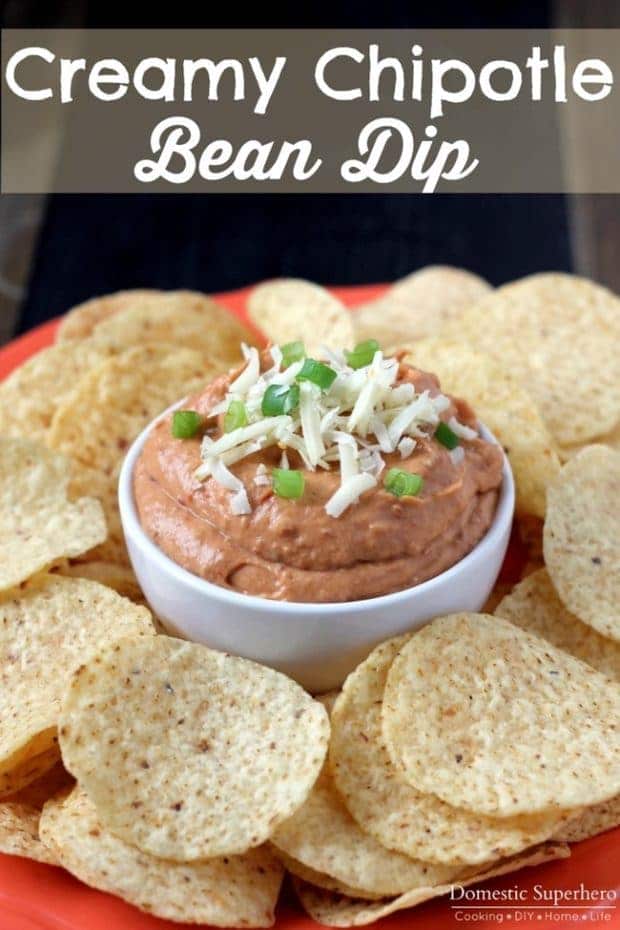 16. Creamy Chipotle Bean Dip
From Domestic Superhero
Need an easy-to-make recipe that is also a crowd pleaser? This Creamy Chipotle Bean Dip definitely foots the bill. It combines cream cheese, refried beans, chipotle chiles and a hint of pepper jack cheese.
It's super easy to make with minimal ingredients. Heat up or serve cold – both are great options!
If you do heat it in the oven, I would add a layer of pepperjack cheese to the top, because you really can't go wrong with more cheese.
17. Three Ingredient Peanut Butter Dip
From Scattered Thoughts of a Crafty Mom
Searching for a quick and easy dip to go with fruit or crackers that almost everyone will love? Look no further, this Three Ingredient Peanut Butter Dip is so yummy both kids and adults will polish it off in the blink of an eye.
Plus with 3 ingredients, you can put it together in just a few moments and makes a great appetizer or snack.
Three ingredients and a few minutes are all you need to whip up an easy dip.
.
18. Creamy Salsa Dip
From Persnickety Plates
It doesn't get any easier than a two ingredient dip recipe! Salsa and cream cheese are all you need to make this Creamy Salsa Dip.
Just throw the ingredients together, scoop the dip into a serving bowl, and add some tortilla chips for an instant appetizer.
Especially great for those days you want to want to bring something to a party but don't have much time.
19.

Cranberry Fruit Dip
From This Silly Girl's Kitchen
This Cranberry Fruit Dip has an amazing cheesecake-like flavor and is a definite crowd pleaser at parties.
Cream Cheese and Marshmallow cream are blended with cranberries for a fresh take on a delicious party favorite.
Not only is this dip great on a large variety of fruits but also on salty pretzels for that sweet/salty kick or graham crackers, yum.
20. French Onion Dip
From Naturally Loriel
This made-from-scratch French Onion Dip uses fresh, real ingredients that you probably already mostly have at home.
A few additional flavor packed spices and herbs like turmeric, celery seed and dried parsley give the dip that flavor punch.
Something about the crunch of the salty potato chip (you know I love me some crunchy foods) and that creamy, onion-ey flavor together keeps bringing guests back all night long!
21. Guacamole
From Love Grows Wild
If you've never made guacamole at home or never tried it before (gasp!), this recipe includes everything you need to know about the beauty of making a good guac.
Fresh ingredients and the perfect balance of flavors come together in this simple recipe that is great for snacking or as a side to your favorite Mexican dishes.
Grab a bag of tortilla chips and let's make some guacamole.
22. Corn Dip
From Homemade Hooplah
This Mexican Style Corn Dip makes for the perfect party snack and can be ready in just 15 minutes. Plus, it is a great way to use up leftover ingredients.
Sweet yellow corn, canned mexicorn, green onions, mayonnaise, and plenty of shredded cheese get combined and served with crunchy tortilla chips.
Makes for a perfect party snack.
23. Caramel Cheesecake Dip
From Crazy for Crust
What's better than cheesecake dip? Caramel Cheesecake Dip! Sweet and fluffy, this cheesecake dip is topped with a layer of caramel.
If you've ever made cheesecake dip before, you know it's super easy.
There is only one really important thing to remember: room temperature.
Simply mix it with an electric mixer and then layer the cream cheese dip in a bowl with some caramel sauce. Indulging is the only option.
Check out more great appetizer ideas perfect for your next party:
Cheesy Kale and Artichoke Dip
Sour Cream and Herb Dip