29 Casserole Recipes Your Family Will Love
Table of Contents
From bakes to breakfasts and dinners to desserts, we've put together some easy casserole recipes you will love. Whether it's chicken, seafood, turkey, beef noodle bakes, and even breakfast casseroles, there are some great casserole recipes to choose from.
Which do you look forward to trying out with your family? When days are busy and time is short, is there anything more comforting than pulling a quick and easy one-dish meal from the oven?
See Also:
This takes many of the ingredients for regular lasagna and changes it up a bit for a fun and different twist on a classic dish. You'll still have the familiar flavors of lasagna, but this recipe uses less sauce. Have your family try out this take on a familiar dish this week!
We love this cowboy tater tot casserole so much. It's cheesy, filling, and such an easy homemade meal. To freeze it, just store the casserole in a freezer-safe, airtight container.
This breakfast casserole recipe is definitely worth a try. Preparation is wonderfully easy and it takes just a short time to cook.
A perfect comfort food! This hamburger casserole is easy to make and delicious, too. This casserole is noodles combined with meat and a creamy sauce covered in cheese. What's not to love about this dish?
An essential Thanksgiving side dish, but green bean casserole should be enjoyed year-round. We love our sausage green bean potato casserole for the same reason.
This creamy and delicious tuna casserole is a weeknight essential. It's the perfect dish for a potluck or just for an easy and quick family dinner.
This casserole packs in a ton of flavor! All of the different ingredients in this dish contribute something, but there is definitely not too much going on. Be sure to give this a try soon.
Try this for your next Taco Tuesday! This chicken enchilada casserole combines a ton of great Tex-Mex flavors all in one dish.
Who doesn't love a vegetable casserole? This recipe takes that great side dish and turns it into a full meal for you to enjoy. Even though it's got plenty of cheese inside the dish, feel free to add more toppings on top before you eat!
If you love a good pasta recipe, this easy, cheesy baked spaghetti will be a sure winner for your family dinner. A twist on a classic, you only need spaghetti, spaghetti sauce, hot sauce, salt and pepper, shredded mozzarella cheese, fresh parsley, and Parmesan cheese to get started.
Vegetables are always better when covered in cheese right? This broccoli, cheese, and chicken casserole make sure that's covered. This a great way to make sure your family gets their servings of vegetables for the day in a delicious way!
This dish is an easy spin on already great food. The perfect side dish to serve to your family during the week.
This beef stew – in an instant pot- is a perfect meal for your family and also a perfect dish for a weeknight as well. If you or your family isn't a fan of beef, try chicken instead!
How could anyone not love a dish filled with bacon, chicken, and cheese? This pasta dish combines all three for a hearty weeknight meal. With a quick cook time and no time in the oven at all, this will be on your dinner table and ready to eat in no time.
This takes the traditional macaroni and cheese we all know and love and puts a unique twist on it.
This recipe includes simple ingredients and hardly any work for you at all. Both are great components for any busy weeknight dinner for your family. Toss everything in a casserole dish and forget about it for a while, making it easy for you to spend more time with your family and less time worrying about dinner.
Chicken Alfredo Bake is as simple as it is delicious. This recipe combines tender pasta, juicy chicken, creamy sauce, and plenty of cheese. The whole mix is baked in a casserole dish to create a one-pan meal that is perfect for busy weeknights.
The equivalent of stuffed peppers minus all the work of making them look nice and worrying about the filling coming out. None of the preparation, all of the delicious flavor! This casserole can be on your dinner table much faster than it would take to make stuffed peppers for your entire family on a weekday. Save time and make this!
This creamy and cheesy pasta casserole would be an extra special treat any night of the week for you and your family! With a little bit of preparation, this meal will be satisfying your family's appetites in no time. Make this a staple for your weeknight meals!
This sweet potato casserole recipe comes with nuts for some added texture and some bacon for a fun saltiness that will give your casserole an extra "umph". The cayenne added to the topping gives it a bit of a kick, too. The caramelized brown sugar bacon topping is sure to wow your guests or hosts at the dinner table.
This is chicken casserole is super simple! This meal can also be prepared and frozen ahead of time to make things even easier for you.
This delicious casserole can be eaten in so many different ways! Eat it by itself, over chips for a nacho dish, or as a chip dip. Who knew Doritos could be so versatile at dinnertime?
Everyone has heard of chicken alfredo, but smoked sausage alfredo is a different twist on a classic dish. Simply exchange the chicken for your favorite smoked sausage. This meal is a hearty comfort dish your family is sure to enjoy any weeknight.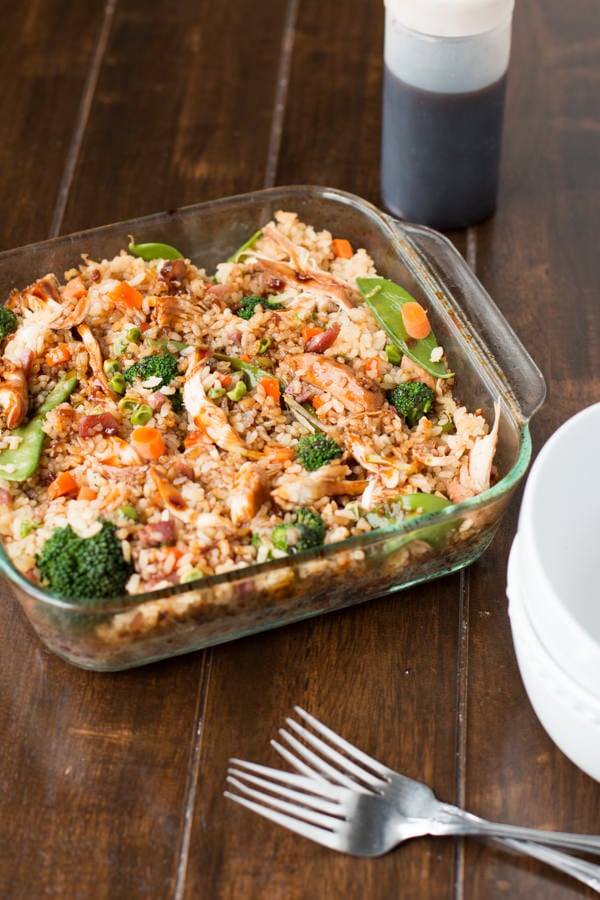 In the mood for Asian food? This casserole is an easy way to get that fix without leaving your house! This dish combines a ton of different veggies, so feel free to add and change it up to however your family would like it!
Seafood casseroles can get a bad reputation, but this one might change your mind. The seafood is perfectly combined in a creamy sauce mixed with pasta. This rich and delicious dish will make any weeknight feel like a weekend once you get to taste this.
Any dish filled with cheese and noodles is one your family is sure to love, and the chicken is an added bonus! This casserole also includes cheesy crackers on top for an added crunch. This is definitely worth a try this week.
While tacos aren't the hardest dish in the world to make, this casserole makes it even easier. This casserole includes all of the taco essentials without the mess of actual tacos too. With little preparation and a short cook time, your family can be enjoying this version of tacos in no time.
Another great Mexican food-themed casserole is this chicken enchilada dish. It can be easily frozen and prepared another time, making your life a little easier. This dish can also be adapted to fit whatever your family likes. Make it vegetarian, change the meat, add different vegetables, whatever you'd like!
By taking all of your family's favorite pizza toppings and including them in this dish, you're sure to give them something they'll love. This pizza casserole is a great way to get the same flavor of your favorite pizza into a little bit healthier version of an actual pizza. Maybe your family will even find it tastier than an actual pizza!
More recipes: