17 Super Cute Food Ideas For Super Bowl Sunday
Table of Contents
Are you thinking about Super Bowl Sunday yet? These super cute food ideas for Super Bowl Sunday could be used to wow guests at any football-themed party. Not only do they look amazing, but they also deliver great taste, too. There are sweet and savory offerings so we've got you covered from the food buffet to a dessert table. Here's a peek at what you'll find in this roundup: beer bread, mushroom tart, zucchini appetizers, Buffalo chicken cupcakes, a variety of dips including a red velvet cheese football, 7-layer personal bowl dips, and filled stadiums. There are hamburgers that look like cupcakes, cakes and strawberries that look like footballs, a cocoa-crispy football, a field of popcorn, and even football-shaped ice cream bars. Score!
---
See Also:
---
These peanut butter stuffed footballs are the perfectly-sweet game day food for all of your football fans. They are created with chocolate-dipped pretzel crackers and royal icing is used to create the classic white football stitching. The inside of these sandwiches is filled with a creamy peanut filling that will definitely have people coming back for more.
This easy football field cake is SO moist and delicious. It's made from a chocolate sheet cake with green sugar icing and has chocolates for players.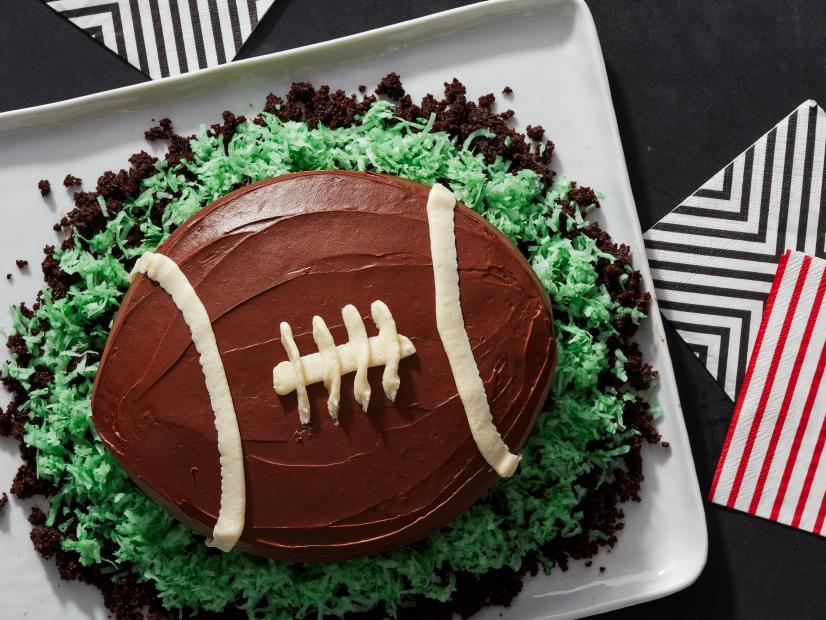 If you're hosting a larger super bowl party or even a kid's football-themed party, a cake might be the way to go. This football cake is made with fondant and some edible food dye to give it that authentic pigskin feel. It even has stitches on it! We love the addition of the grass piped around the ball with some green buttercream frosting.
These adorable football strawberries are the perfect way to get your football stars to enjoy a healthier snack. The strawberries are dipped in chocolate, then some stitching is added to them to make them look just like footballs. What a cute idea!
This savory cupcake dish will get the whole gang cheering. Easy and delicious it is a real crowd-pleaser. What a cute idea!
Chances are, you'll be watching the game on a TV this year. Popcorn is the best snack food while you're watching the big game!
This is such a fun idea! Grab some boneless wings and create a "snackadium", complete with veggie fans and a guacamole football field! Use some sour cream as your 10-yard lines and add some cups of ranch dressing into the corners of the snackadium for an added effect!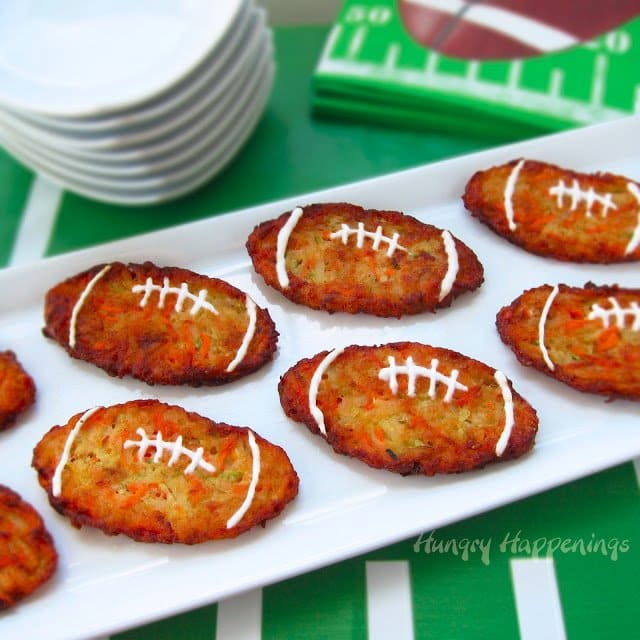 Getting your football fans to eat healthily has never been easier with these football-shaped zucchini fritters! These are easily made using zucchini, carrots, onions, and eggs to hold everything together. The classic football shape is made using a cookie cutter, then they are pan-fried before adding the lace and stitching out of Greek yogurt!
9. Guacamole Football Field
This football field is made using a delicious homemade guacamole and then assembled using tomatoes, salsa, cheese dip, and sour cream! Surround the field with tortilla chips or veggies, and watch the crowd go wild during the super bowl party! If you'd like, you can add mini tomatoes to represent the football players for an added touch!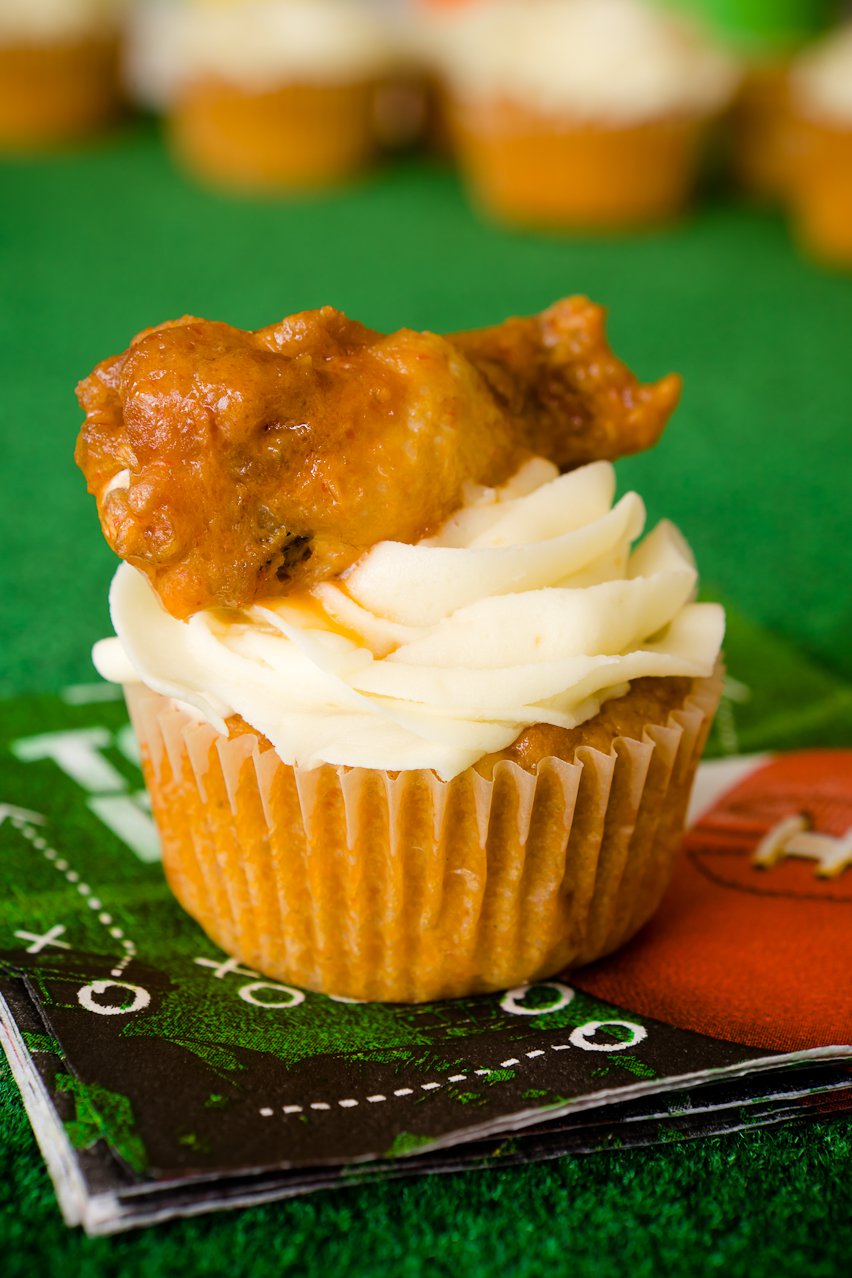 Buffalo Chicken has always been a game-day favorite around here. These buffalo chicken cupcakes are made using savory ingredients like blue cheese and sour cream then topped with a delicious buffalo hot wing! The frosting is like a sweet blue cheese frosting and goes so perfectly with the hot wing!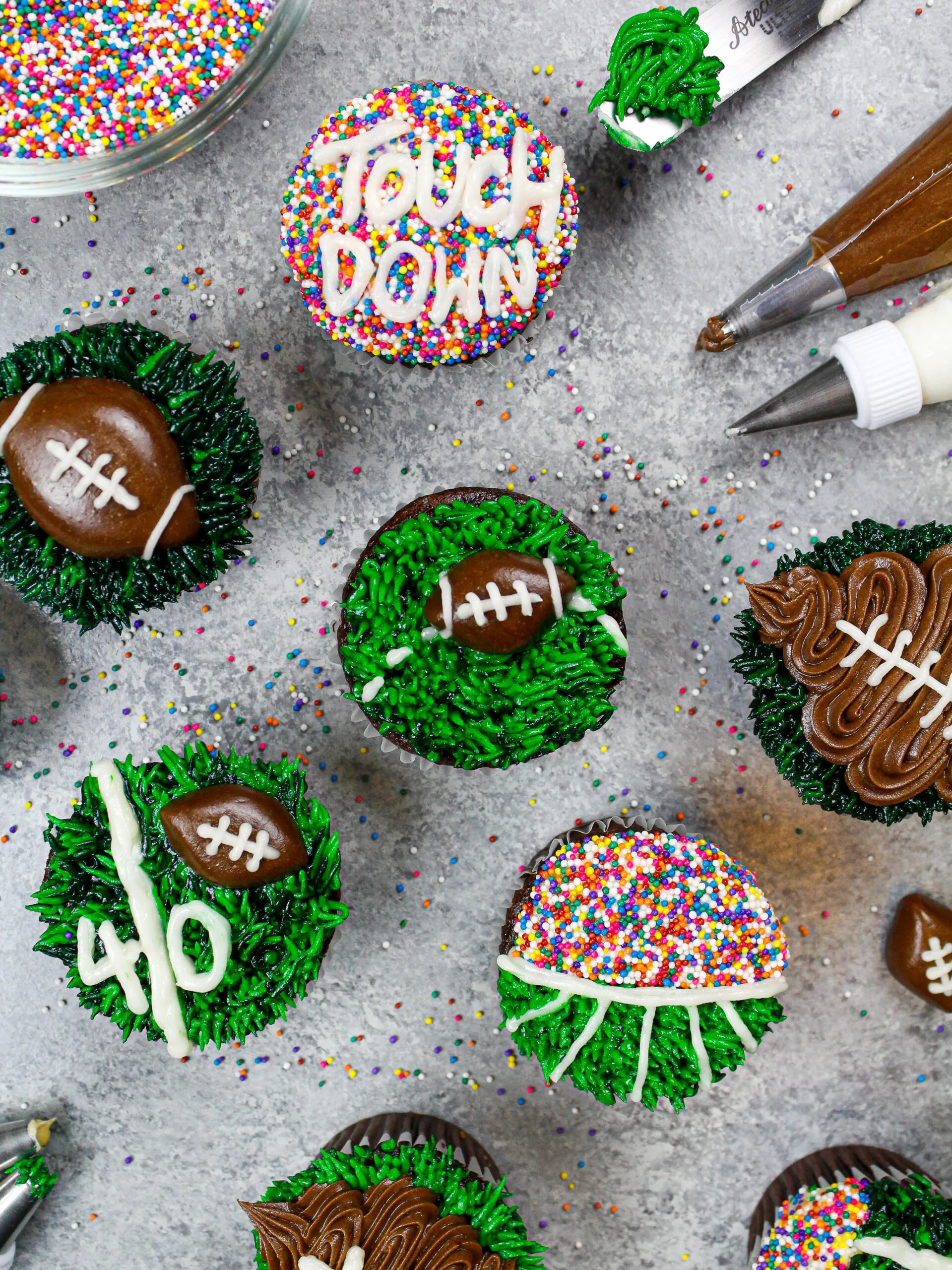 These chocolatey cupcakes are so rich and delicious. They are frosted with a creamy chocolate frosting and topped with chocolate sprinkles. Print out the football flags and attach them to toothpicks, then insert them into the cupcakes for an added football touch!

Rice Krispy treats are always a fun family treat. We love how easy they are to make for game day, especially if you forget to get a cake or cupcakes made for the big day! You can use fondant for the stripes and stitching for this, if you're in a pinch you can even pick that up at the store to save time!

This football-shaped mushroom tart is surprisingly easy to make, and it is filled with savory mushroom deliciousness! It's made using a flaky puff pastry crust and filled with mushrooms, peppers, wine, and beef stock. If you have fussy eaters at home, you can easily make this without mushrooms and add any brown foods like Salisbury steak or even apples and cinnamon!

This red velvet cheese ball is an awesome twist on a classic cheese ball and a perfect sweet appetizer for your super bowl party! It's made to taste almost like a red velvet cheesecake, then rolled in chocolate chips to create a football design! Try serving it with various cookies and crackers, it's sure to be a hit!

15. Fudge Pop Footballs
Fudge pops are a constant craving around here. These fudge pop footballs are a fun game day food for kids and adults alike! Serve them in these awesome football field bowls for an added touch. We love the icing idea for the stitching on these bad boys. Don't eat them too fast, or you'll give yourself a brain freeze!

Bacon and cheese are the number 1 most asked-for game day food around here. The cheese and bacon combo is always a perfect indulgent snack. These beer bread footballs combine those flavors with a piece of classic beer bread and turn the whole thing into a beautiful football shape. These are great and eaten on their own, but even better served with a cup of warm chili! These even have a bacon crust.

7-layer dip is always an appetizer staple. But by the time everyone has dug in, your 7 layers have become one big layer of mush. These individual cups make sure that everyone can have a perfect 7-layer dip during the big game!
Love the Super Bowl commercials? Download this commercial scorecard