19 Angry Birds Party Ideas
Table of Contents
Join your favorite feathered friends and their piggy counterparts and fly through these 19 fun Angry Birds party ideas. From party decorations to yummy treat ideas to party games and more, you're sure to have an "eggstra" good time. Throwing a high-flying, action-packed party inspired by Angry Birds just got easier!
---
See Also:
---
If you are throwing an Angry Birds birthday party or know of any serious Angry Birds fans, these Angry Birds Cookies are absolutely perfect! They are so fun to make, look incredible displayed on the dessert table, and make the kids go wild. Check out this extremely detailed instructional post that will tell you exactly how to make these cookies yourself. You will never believe just how easy they are to make yourself.
When asked by a friend to make cake pops for her son's birthday party, this blogger went all out with cake pops that look just like those crazy Angry Birds and pigs. Made with vanilla cake stuffed with sweet M&M's, these cake pops look cute and taste delicious! The amount of detail in these little guys is seriously impressive. Also, be sure to check out this blogger's expert tips for making cake pops that turn out every single time.
3. Angry Birds Cake
Every great birthday celebration needs an equally great birthday cake. This terrific Angry Birds Cake features three tiers decorated to look like a separate Angry Birds character. Bright colors and bold shapes make for a design that will be the center of attention on your dessert table. We thought it was super fun that the King Green Pig was on top!
Learn how to make these Angry Birds Cookies right at home with a simple tutorial and a few simple ingredients. These cookies are so easy to make that you don't even have to turn on the oven! Oreo cookies are coated with melted green chocolates in a circular mold and then decorated with the sweetest little faces. They would add a whole lot of fun to your party's dessert table or make great party favors for your guests.
Take a fun twist on a classic carnival game with this fun Pig Pop activity! Balloon darts are always popular with older kids, making this a great game for any gathering where a range of kids will be in attendance. Add some pig faces to lime green balloons to recreate this game at your party. You can purchase a cheap set of steel-tipped darts from Walmart for less than five dollars. Fun and budget-friendly!
Cake and cupcakes are classic party desserts, but why not take your party up a notch with delicious themed Macaron treats? These After Eight Angry Birds Pig macarons are all kinds of adorable and bring some sophisticated flavors to your dessert table. Sweet and chewy macaron cookies flavored with a hint of the mint extract are perfectly filled with a luxurious chocolate ganache. It is a flavor combination everyone will love.
We are in love with these adorable homemade Angry Birds Marshmallow Pops! Make them yourself with this easy no-bake recipe and a few creative touches. Giant marshmallows are coated with red melted chocolate and then decorated with some chocolate-covered sunflower seeds and red Starburst candies. Wouldn't these marshmallows be so cute to serve your guests? We love how they are displayed in a glass jar with M&M's and faux grass.
8. DIY Live Action Angry Birds Game
Feathers were flying at this birthday party filled with fantastic Angry Bird-inspired games. Not only was the party atmosphere colorful and fun, but the guests felt like they had been flung into the game with a life-size slingshot! A giant slingshot was made from PVC pipes and a few other simple building materials and then set up across from a cardboard box tower. Line up your guests to take turns shooting Angry Birds dodgeballs.
9. Angry Birds Fruit Tray
Get creative with some colorful fresh fruit and impress your guests with Angry Bird's fruit trays. All you need is some strawberries, bananas, blueberries, and a few sliced oranges, and you are all set.
10. Angry Birds Bean Bag Toss
Nothing is more fun than a fun-themed twist on a classic party game. This handmade Angry Birds Bean Bag Toss is a great project for your Angry Bird's birthday party. A plywood board is painted to look just like the Angry Birds background, then marked with five circular cutouts. Cut-out pigs hanging from each hole making the perfect targets! Create your own Angry Birds character bean bags or use regular bean bags with coordinating colors.
11. Angry Birds Pin The Beak On The Bird Game
Another classic party game with an Angry Birds twist. Make your own game board and then have your guests take turns trying to pin the beak on the bird! The Angry Birds have a pretty simple design so it is easy to make one yourself for the game with a piece of Bristol board and a permanent marker. Cut out a bunch of yellow beaks, pull out a blindfold, and let your party guests try their hand at this fun party game.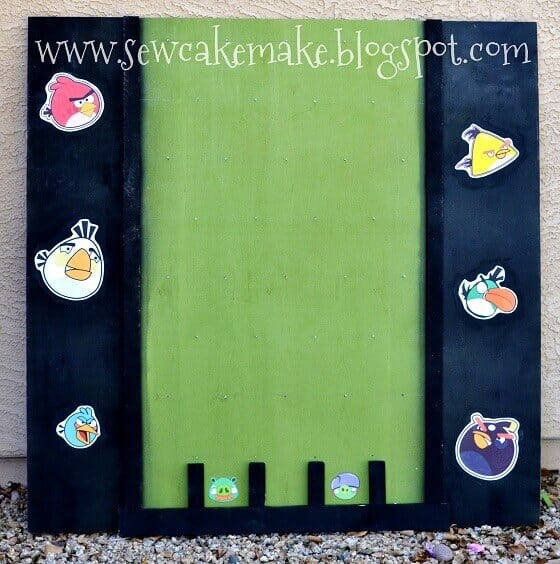 12. Angry Birds Plinko Board Game
If you can't tell by now, around here we love a good homemade classic game and Angry Birds Plinko definitely fits the bill. Plinko is one of the best party games around because it is equally fun for kids (and adults) of all ages. Slip your coin down the board to find which prize you will win. Making the board is pretty simple too. Paint the board in whichever colors you prefer, then add rows of nails to create the Plinko board.
13. Angry Birds Cupcakes
A well-designed dessert table is a highlight of every party, and this blogger designed their dessert table to look just like a screenshot of the game. Nesting among the wide array of sweet treats were these incredible fondant-topped cupcakes! Top your favorite flavored cupcakes with a swirl of vanilla frosting and then place a fondant Angry Birds character on each one. Which character would you choose?
14. Angry Birds Can Toss Game
Whether you have an Angry Birds-themed birthday party on the horizon or just want a fun game idea to keep the kids busy, you will appreciate this knock-down and get 'em game. You can also use the pig-decorated cans for party decorations on a dessert table or fill them up with treats to serve as take-home favors! They are easy to make, look adorable, and you'll feel good about recycling the cans.
This Angry Birds Bean Bag Toss game is a great activity for party guests of any age. Make a brand new bean bag toss board with simple materials from the hardware store or decorate the one you already own with some fun Angry Birds cutouts! Angry Bird-alize the board with pig face targets, labeled points, and fun colors.
16. Angry Bird's Party
Who would have ever thought a game combo with birds and pigs would become a favorite? Cookie favors, cupcakes, and a cake all carried the Angry Birds colors and images to the delight of the birthday girl or boy. Some of our favorite parts of this include the green pig and yellow bird drink dispensers, birds nest cookies, and fun tablescape!
The first of five fun-themed treats for their Angry Birds-themed eighth birthday party, these Red Angry Birds Oreo Pops are a great addition to the dessert table. These are super simple to make too! Start with double-stuffed Oreo cookies, shove a lollipop inside, add licorice lace hair, coat the whole thing with red melting candies, and use some candies to create the face. Your Angry Birds-loving birthday boy will love these cookies.
Every great party needs some themed party balloons! Get a couple of dozen balloons from the grocery store or dollar store, and then use this blogger's free printable templates to transform them into Angry Birds and King Green Pigs. Who knew that themed party decorations could be so adorable and so affordable? You could also send kids home with these balloons as party favors.
Guests definitely have to be thanked for "crashing" your kid's birthday party. These awesome TNT boxes are the perfect way to serve snacks on your dessert table or offer kids a thank-you treat. Set up a colorful table with a smorgasbord of fun items to take home. Let the party guests fill their own TNT boxes or have them pre-stocked with a bunch of Angry Bird-themed goodies.
More birthday party ideas: