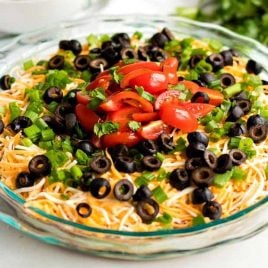 This seven layer dip, sometimes called seven layer taco dip, is the best Mexican style appetizer.
Jump to Recipe
Table of Contents
This seven layer dip, sometimes called seven layer taco dip, is one of the best Mexican style appetizers. Fair warning though, it's addictive. One dip in, and you'll be prying yourself away. It's just too good.
When entertaining guests, serve this easy recipe alongside our other dip recipes, including cream cheese dip, cold crab dip, or buffalo chicken dip. (For another classic appetizer, try these cucumber bites.)
---
MORE MEXICAN RECIPES:
Taco Ring | Taco Bake | Mexican Salad | Rotel Dip
---
SEVEN LAYER DIP INGREDIENTS
You will need:
16-ounce can of refried beans
1 ½ cups of sour cream
1 cup of guacamole
1 cup of salsa
2 cups of Mexican cheese blend, shredded
2.25-ounce can of sliced black olives
½ cup of sliced green onions
Fresh tomato (for garnish)
Fresh cilantro (for garnish)
PRO TIP: Use Roma tomatoes as they are less juicy and therefore your dip won't become too soggy.
SUBSTITUTIONS AND ADDITIONS
SALSA: A chunkier salsa tends to work best in this dip. It layers better. The thinner, more liquid-based salsas tend to give the dip a runnier texture. This can cause the layers of the dip to start to separate a bit. If you'd prefer a smoother salsa, make sure you check out our recipe for restaurant style salsa.
GUACAMOLE: I personally like to make my own guacamole to add to this recipe. Fresh guacamole is actually quite simple to whip together. And the taste of homemade guacamole just enhances the dish. Check out our recipe for homemade guacamole. If you're not up for the challenge or just want to keep this recipe as quick and easy as possible, no worries. Luckily, there are plenty of great options for pre-made guacamole at any grocery store!
CHEESE: Your choice of cheese in this recipe is completely flexible. A Mexican blend is recommended but you could also use regular cheddar cheese or Monterey Jack cheese if you prefer.
HOW TO MAKE THIS SEVEN LAYER DIP RECIPE
STEP ONE: Spread the refried beans on the bottom of the dish.
PRO TIP: Your choice of dish is fairly flexible. I made mine in a deep-dish pie plate, but you can also make it in an 8×8 square dish or even in a bowl.
PRO TIP: The beans do not need to be heated before adding to this dish. If you have made your own, let them cool before layering.
STEP TWO: Next, spread the sour cream on top of the refried bean layer.
STEP THREE: Spread the guacamole on top of the sour cream. Add the layer of salsa on top of the guacamole.
STEP FOUR: Top the salsa layer with an even amount of your Mexican cheese blend. Sprinkle the sliced green onions evenly over the cheese layer and then sprinkle the black olives on after that. You can also garnish with fresh diced tomatoes and fresh cilantro if you'd like. I love cilantro and I think the flavor is a really nice touch on this dish.
PRO TIP: You can also serve this dip with some additional toppings for people to add on as they like. Jalapeños or other green chiles for the spice lovers, onions are a great option, as well as green olives, and extra fresh tomatoes and cilantro for those who like extra flavor.
HOW TO SERVE
I personally always go for the scoops on this dish. Scoops tend to hold up really well to the weight of the dip. They also get the perfect ratio of all seven layers in every scoop.
Otherwise, any tortilla chips will do. Corn chips are another great option because they also tend to be a bit stronger and hold up well against the seven layers of this dip.
STORAGE
IN THE FRIDGE: Cover this seven layer Mexican dip tightly with plastic wrap and store in the fridge for up to 5 days.
IN THE FREEZER: We do not recommend freezing this recipe.
Ideal for sharing or keeping for yourself, this ultimate seven-layer dip recipe is quick and easy to whip up. I dare you to try just to have one taste; I guarantee your willpower will definitely be tested! This dip is always a huge hit with a large crowd and for good reason. It is full of everyone's favorite ingredients all packed into one dish. Whip up a batch any time of year for family gatherings or other large parties and you won't likely have any leftovers to put in the fridge!
FAQ
Can you make seven-layer dip the night before?
This layered dip can be made the day before and in fact, it gives the fresh ingredients time to mingle before eating making it taste even better.
How long does seven-layer dip last?
Seven-layer dip can be stored in the refrigerator for up to five days.
What are the seven layers in 7 layer dip?
Traditional 7-layer dip contains refried beans, sour cream, guacamole, salsa, shredded cheese, green onions and black olives. There is no right order though, you can mix these up or add something completely different if you prefer. You could even make this great dip a meat-based version with ground beef browned and seasoned with taco seasoning mix as one of your layers or sprinkled on top.
Do you have to heat the refried beans for this dish?
You do not need to heat the refried beans for this simple recipe. Just add them to the pan at room temperature.
MORE RECIPES YOU'LL LOVE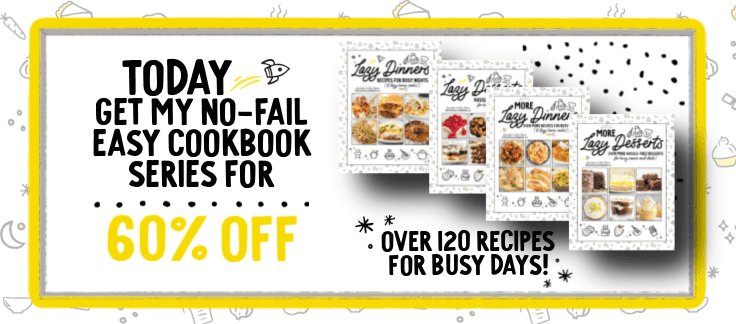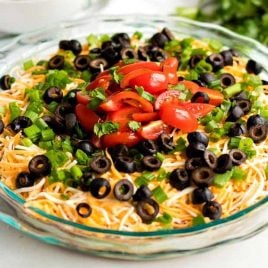 Seven Layer Dip
This seven layer dip, sometimes called seven layer taco dip, is the best Mexican style appetizer.
Ingredients
16

ounces

refried beans

1 ½

cups

sour cream

1

cup

guacamole

1

cup

salsa

2

cups

Mexican cheese blend

shredded

2 ¼

ounces

black olives

sliced

½

cup

green onions

sliced

fresh tomato

for garnish

fresh cilantro

for garnish
Instructions
Spread refried beans on the bottom of your dish. You can use a deep dish pie plate or large bowl or even an 8×8 square baking dish.

Next, spread a layer of sour cream over the beans. Then, spread guacamole on top of the sour cream and then salsa on top of the guacamole.

Top the salsa with a Mexican cheese blend.

Finally, sprinkle green onions and black olives. You can also garnish with fresh tomatoes and fresh cilantro.

Serve this dip nice and chilled with your choice of tortilla chips or scoops style corn chips.
Nutrition
Sodium:
608
mg
|
Calcium:
182
mg
|
Vitamin C:
4
mg
|
Vitamin A:
530
IU
|
Sugar:
3
g
|
Fiber:
4
g
|
Potassium:
233
mg
|
Cholesterol:
33
mg
|
Calories:
196
kcal
|
Saturated Fat:
7
g
|
Fat:
15
g
|
Protein:
7
g
|
Carbohydrates:
9
g
|
Iron:
1
mg