THIS EASY SLOW COOKER (CROCKPOT) BUFFALO CHICKEN DIP — REAL CHICKEN RECIPE — IS THE BEST!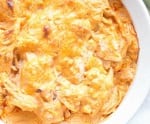 This easy slow cooker (crockpot) Buffalo Chicken Dip – real chicken recipe – is the best. I love it when I find a simple recipe that offers complex flavors. In this cream cheese chicken dip recipe, the melding of cheese, dressing, hot sauce, and chicken does something wonderful in your mouth that is almost irresistible.
I have the empty bowl to prove it. I'm also positive you should try this Bacon Cheddar Cream Cheese Dip — it's amazing as well. (For another great traditional appetizer, try these cucumber bites.)
How to Make Buffalo Chicken Dip
Although Frank's Buffalo chicken wings are traditional fare for things like football and Super Bowl gatherings, I've discovered most guests prefer this version.
It's not as messy as wings and you feel like you've actually eaten something instead of just chewed on the bones. 🙂
So I think this recipe is a keeper—a great addition to a graduation open house, New Year's Eve bash, or any holiday party but don't reserve this tasty dish for company only.
Family movie time or game night only gets better when you pull out Buffalo chicken dip.
Like many favorite recipes, another plus of this one is its versatility. From experience, I can tell you it also makes a great, quick lunch.
I like it best using freshly cooked chicken, but when you're in a real hurry rotisserie chicken or canned chicken might be your top choice. No one except you can probably tell when it's Swanson's Buffalo chicken dip!
Depending on your preferences and what's in your fridge, substitute Monterey Jack or mozzarella cheese for the shredded cheddar.
Buffalo chicken dip with blue cheese, with sour cream, or without cream cheese works too.
This version of Frank's Red Hot Buffalo chicken dip with ranch dressing is my hands-down favorite but I know some like it hot…and some don't! So just adjust to your own liking and pour it on if you like the heat or reserve a portion without the excess and serve it both ways.
Tips for Making this Buffalo Chicken Dip
And just because this dip is excellent for a casual function, don't pass it up when your menu is more extensive. Dress it up in a prettier dish because Buffalo chicken dip makes a terrific appetizer.
You'll find using a crockpot to fix this recipe not only frees up your stove when you have multiple dishes going, I bet you will appreciate not having to constantly stir it, as cheese dishes on the stove often require.
Those kinds of shortcuts matter, especially when you're getting ready for guests. Or when you don't want to stand in the kitchen.
But if you think you'll be in a huge time crunch, you can also make this a day ahead of your event. Pop it in the fridge overnight and then reheat when you're ready to serve.
Presenting Buffalo chicken dip with an array of fresh veggies makes a colorful display and it helps getting that daily quota of vegetables easy.
Carrots, cucumbers and celery are my top choices but you can't go wrong with adding red and green peppers too. The taste contrast of fresh veggies and spicy dip is delish.
Tortilla chips, crackers, bread sticks, or mini pita pockets are also excellent companions that allow the flavor of the dip to remain the focus.
At the end of the day, my favorite get-togethers are the casual kind that are the least labor intensive. Just celebrate the good times with delicious food.
Whether it's a party of one or a crowd coming over, everyone is going to love this Buffalo chicken dip.
More Dip Recipes You'll Love
More Appetizer Recipes: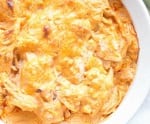 Best Buffalo Chicken Dip Recipe
THIS EASY SLOW COOKER (CROCKPOT) BUFFALO CHICKEN DIP — REAL CHICKEN RECIPE — IS THE BEST!
Print
Pin
Rate
Ingredients
frozen chicken breasts

minimum of 3 breasts

1

package cream cheese

1

cup

ranch dressing

1

cup

Red Hot sauce

1

cup

shredded cheddar cheese
Instructions
Using a large pan, place frozen chicken breasts inside. Cover with water and boil on HIGH about 20 minutes or until chicken is fully cooked (absolutely NO pink!).

In a large bowl/crock pot, mix 1 package cream cheese, ranch dressing, Red Hot Sauce and cheddar cheese.

When chicken is fully cooked, shred with a fork and toss into bowl/crock pot with other ingredients.

Heat in a crock pot for about thirty minutes and you'll have the yummiest dip! Serve with veggies, chips, or crackers. To make it spicier, add more Red Hot; or to make it less spicy, just add less!
Nutrition