31 Fun Drinks To Serve At Children's Parties (Non-alcohol)
Table of Contents
Looking for fun non-alcohol drinks to serve at your next party? We searched high and low to find fun party drinks ideas – without alcohol – that would get you inspired for your next celebration.
From glow-in-the-dark drinks to magical color-changing drinks, all the way down to frozen hot chocolate. They're all crowd-pleasers. We even found some fun lemonades, punches, and creature-themed drinks to throw into the mix as well. Special details are part of what makes a party unique. Enjoy this list of 10 great drinks that are perfect to serve to kids and adults.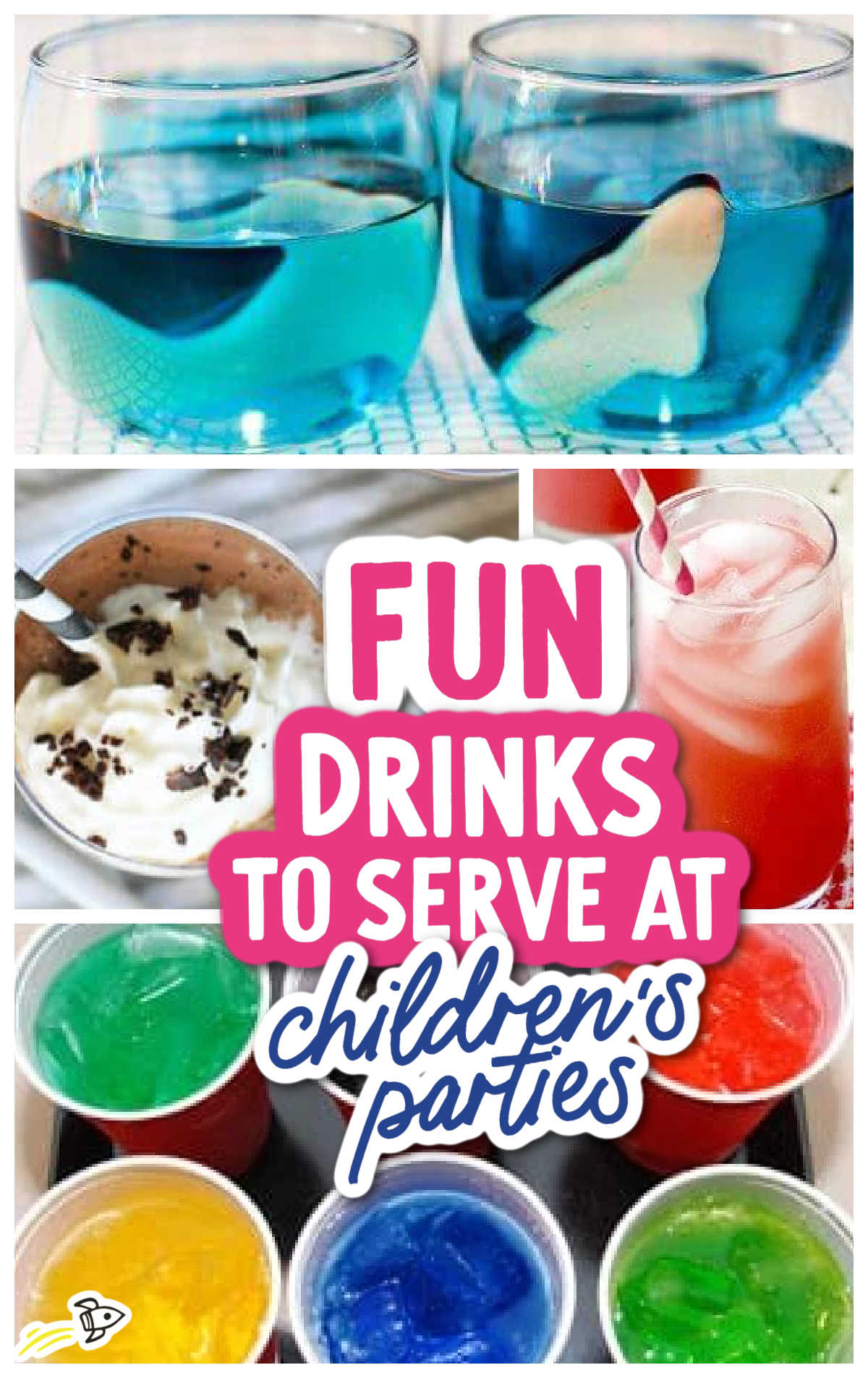 ---
See Also: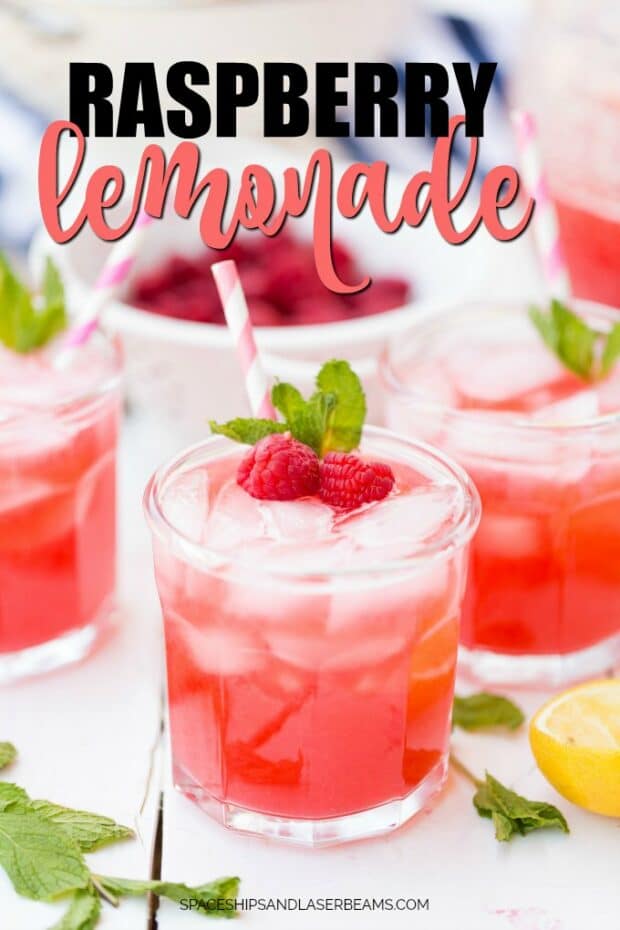 A go-to recipe that will be loved year, after year, make up a batch of this raspberry lemonade for your next children's party. It's especially refreshing on a warm day and can easily be adapted by adding other fruits. Add in a little more ice for a slushy effect.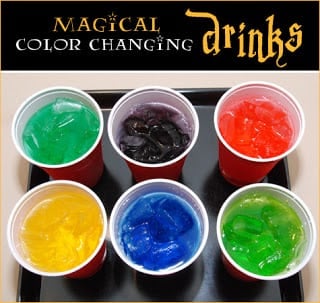 Party guests will be amazed by the seemingly magical color-changing properties of this non-alcoholic children's party drink. Dried food coloring on the bottom of drinking cups, hidden by ice, is the magic ingredient. Watch your guest's eyes glow with amazement as you pour your favorite clear beverage (Sprite, water, Fresca, Ginger Ale) into their cup and it miraculously changes color before their eyes.

A healthier drink option for a child's party, this banana-berry smoothie with meringue eyes (for Halloween) makes for a novel yet refreshing choice. You'll love all of the fresh fruit ingredients that are paired with non-fat yogurt with an optional hint of honey for sweetness.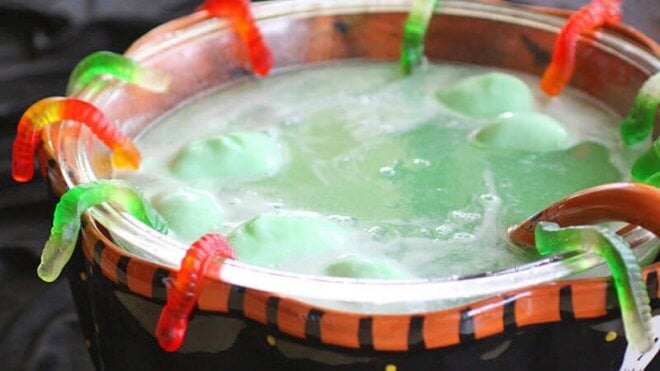 Looking for a fun, affordable non-alcoholic drink to serve at your next children's party? This is it! Only 3 ingredients are needed to make this refreshing lime-flavored swamp juice the hit of the beverage station!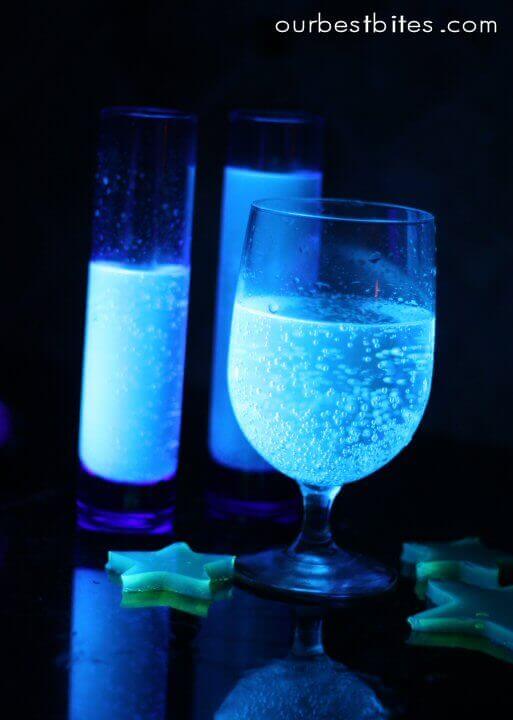 Want in on the top secret ingredient for creating glow-in-the-dark drinks? Tonic water. It has quinine, which when exposed to black light magically glows. So add a little Crystal Light drink mix with your tonic water, turn the lights off, and the black light on for a super fun non-alcoholic children's party drink.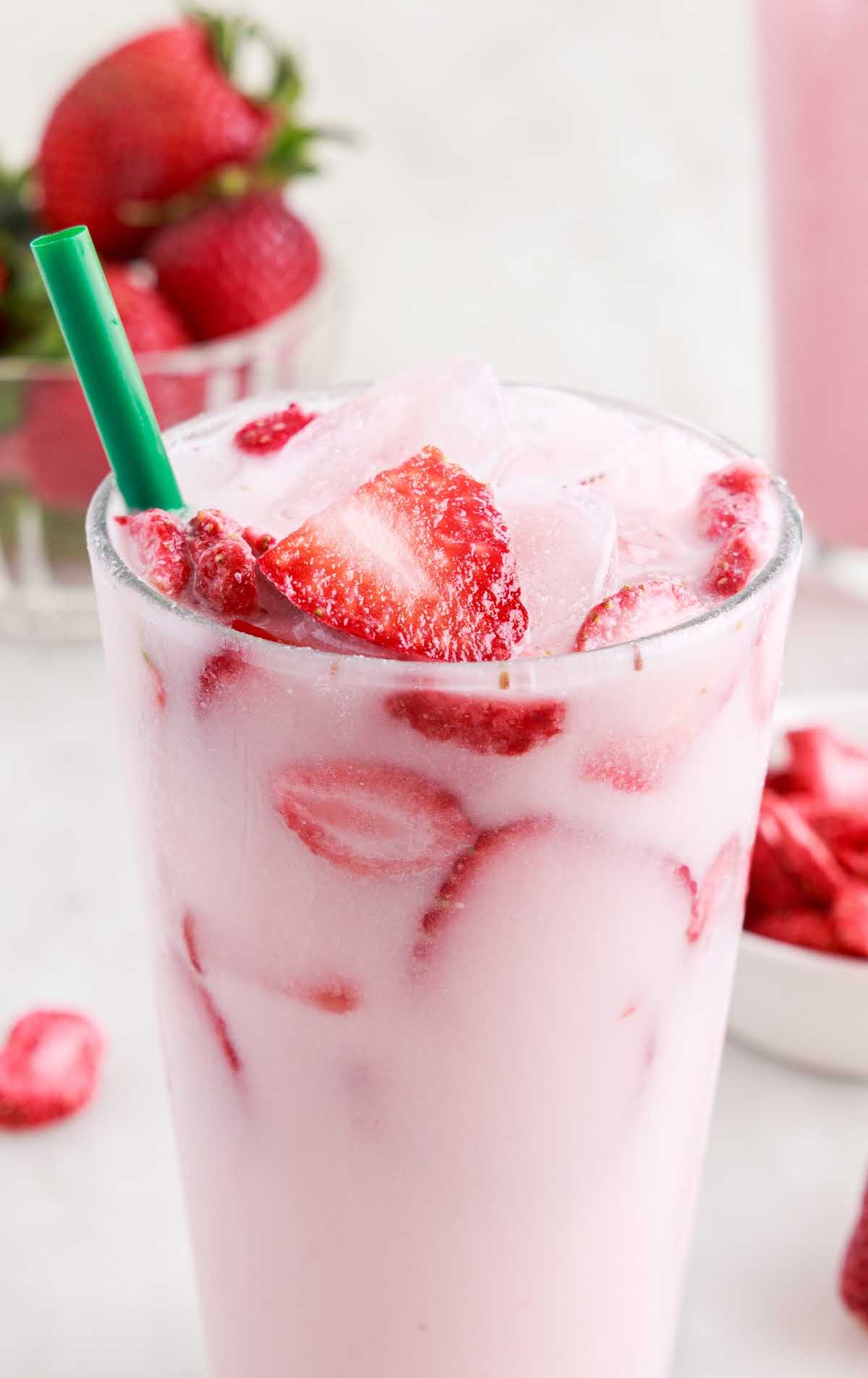 This delightful pink drink recipe will create a copycat version of the Starbucks classic for the perfect way to quench your thirst all summer long. With creamy coconut milk, hibiscus tea, and a sweet strawberry flavor, you can now make this delicious drink at home.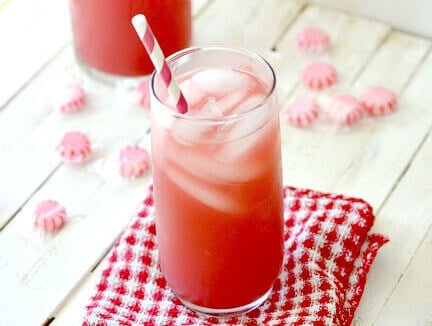 Friends don't let friends drink boring mocktails. This candy apple punch is made from all-natural fruit juices and cinnamon candies. It's the perfect children's party drink that allows you to say goodbye to boring beverages!
This copycat Orange Julius recipe brings back so many fond memories of childhood. The famous frothy drink is a blend of tangy orange juice and sweet vanilla flavors that give it that signature Orange Julius creamsicle taste.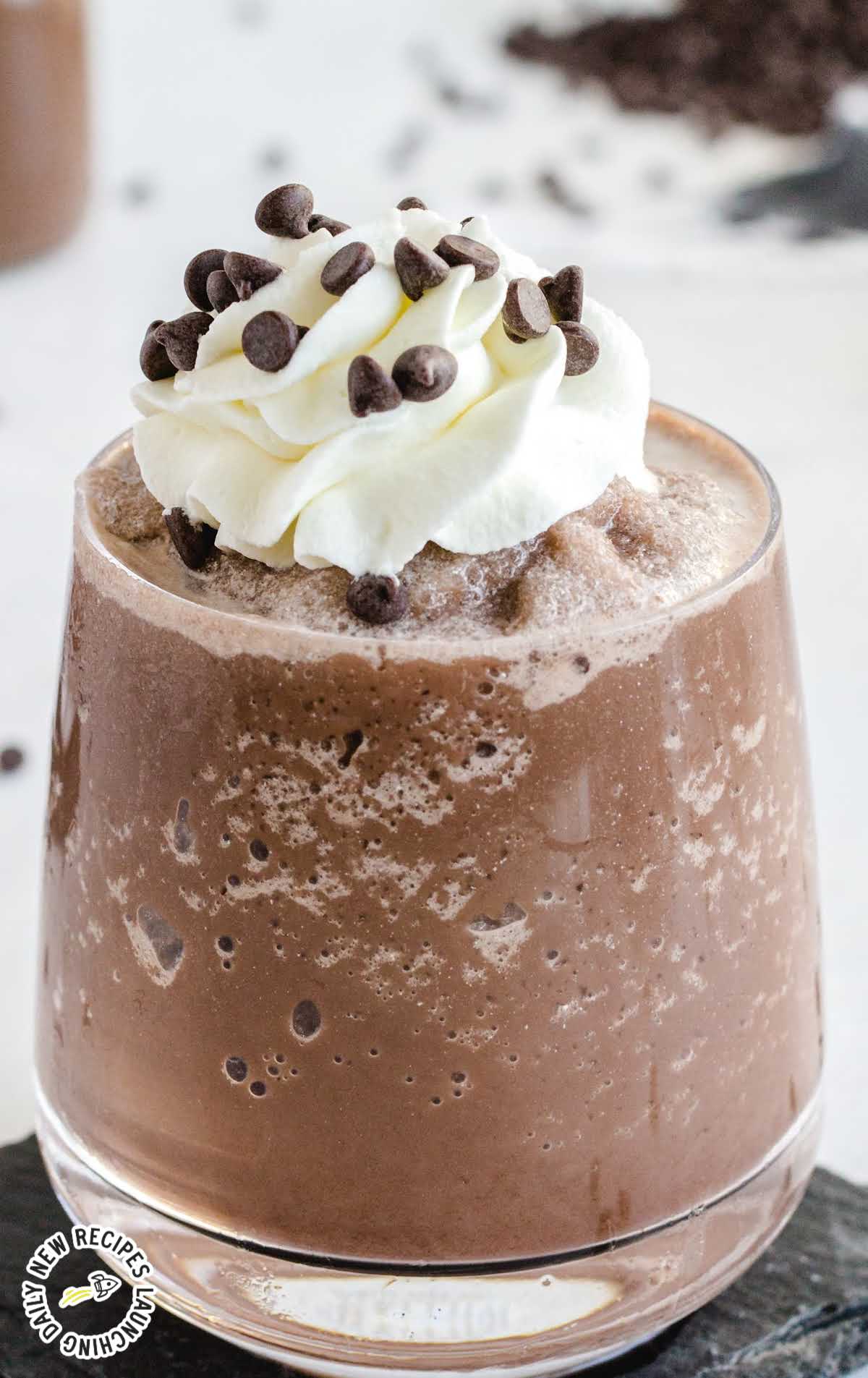 This frozen hot chocolate takes a deliciously cozy drink and puts a chilling spin on an already perfect treat. Halfway between a drink and a dessert, this creamy frozen chocolate beverage is topped with a swirl of whipped cream and chocolate chips.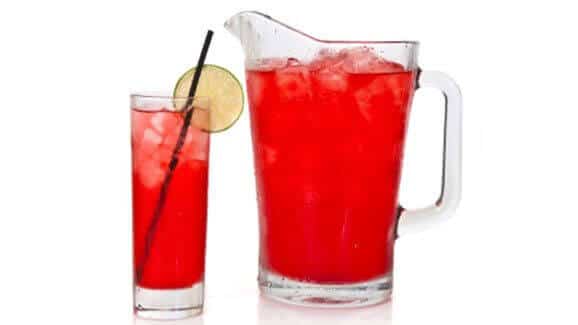 When a drink recipe calls for sorbet, you know it's bound to be a surefire hit. Make up this Hawaiian Punch summer drink and thrill all the children at your summer celebrations.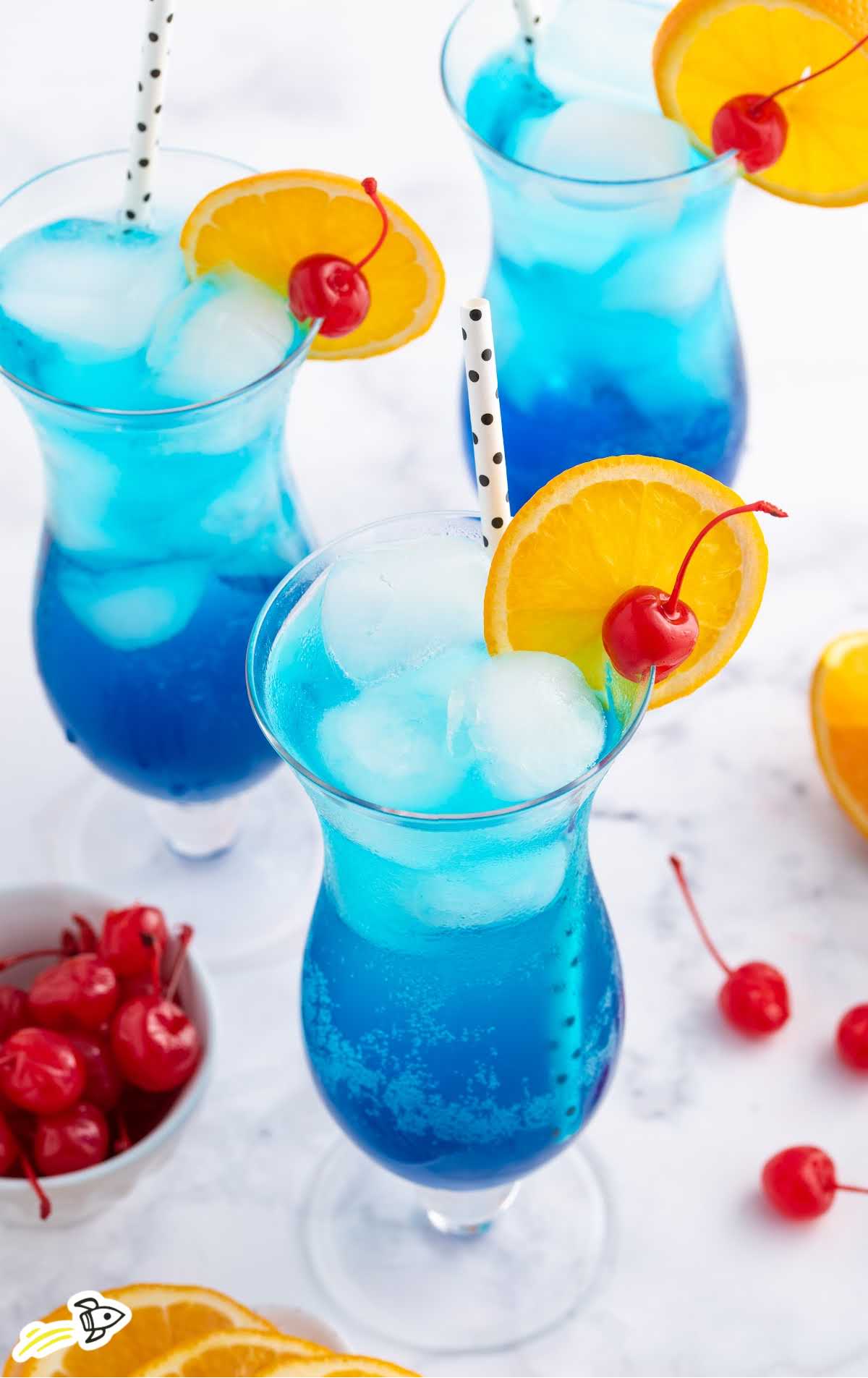 This blue lagoon mocktail is the latest island-inspired drink recipe to sip. This time, all ages can enjoy this beverage as the mocktail is non-alcoholic, and the bright blue hue and citrusy flavor of this icy thirst quencher are downright irresistible.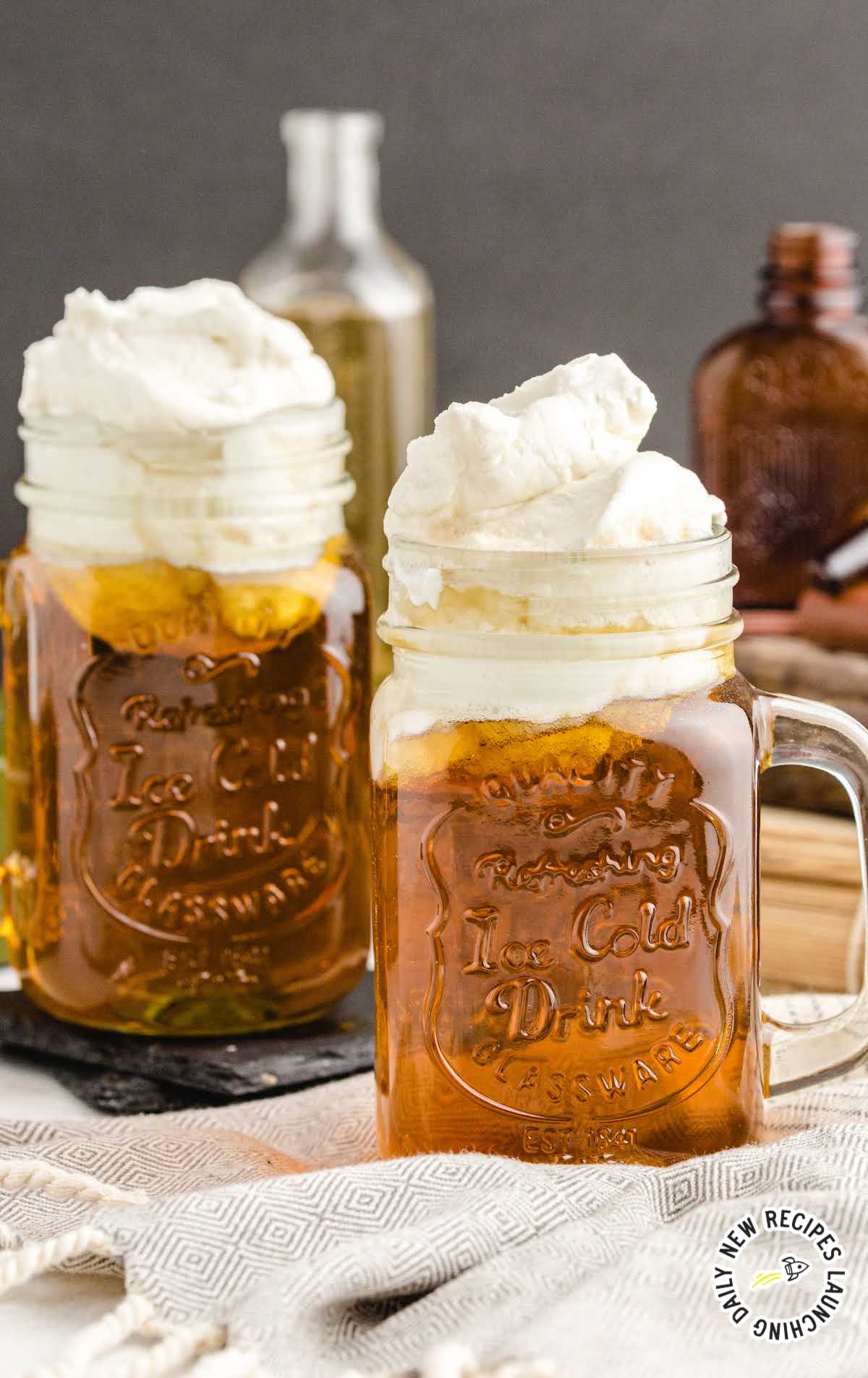 Mention butterbeer to a Harry Potter fan and they will instantly perk up and now you can easily make the best butterbeer recipe at home. The whole family will love drinking what their wizard icon drank in the books and films and it tastes just like the real thing!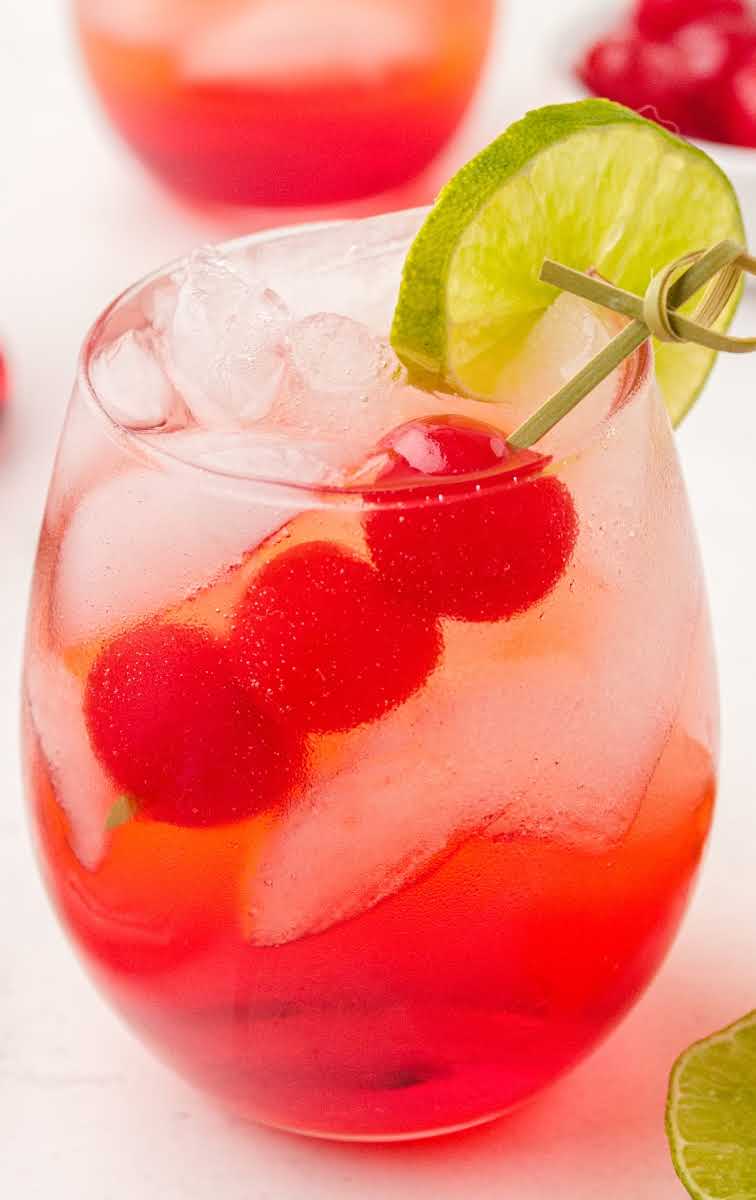 A Shirley Temple is a pretty sparkling drink with a lovely crimson color that can turn any meal into something special. It is made with a bubbly combination of ginger ale, sweet grenadine syrup and finished off with a cherry; this is a fun drink for everyone from little kids to grown-ups alike.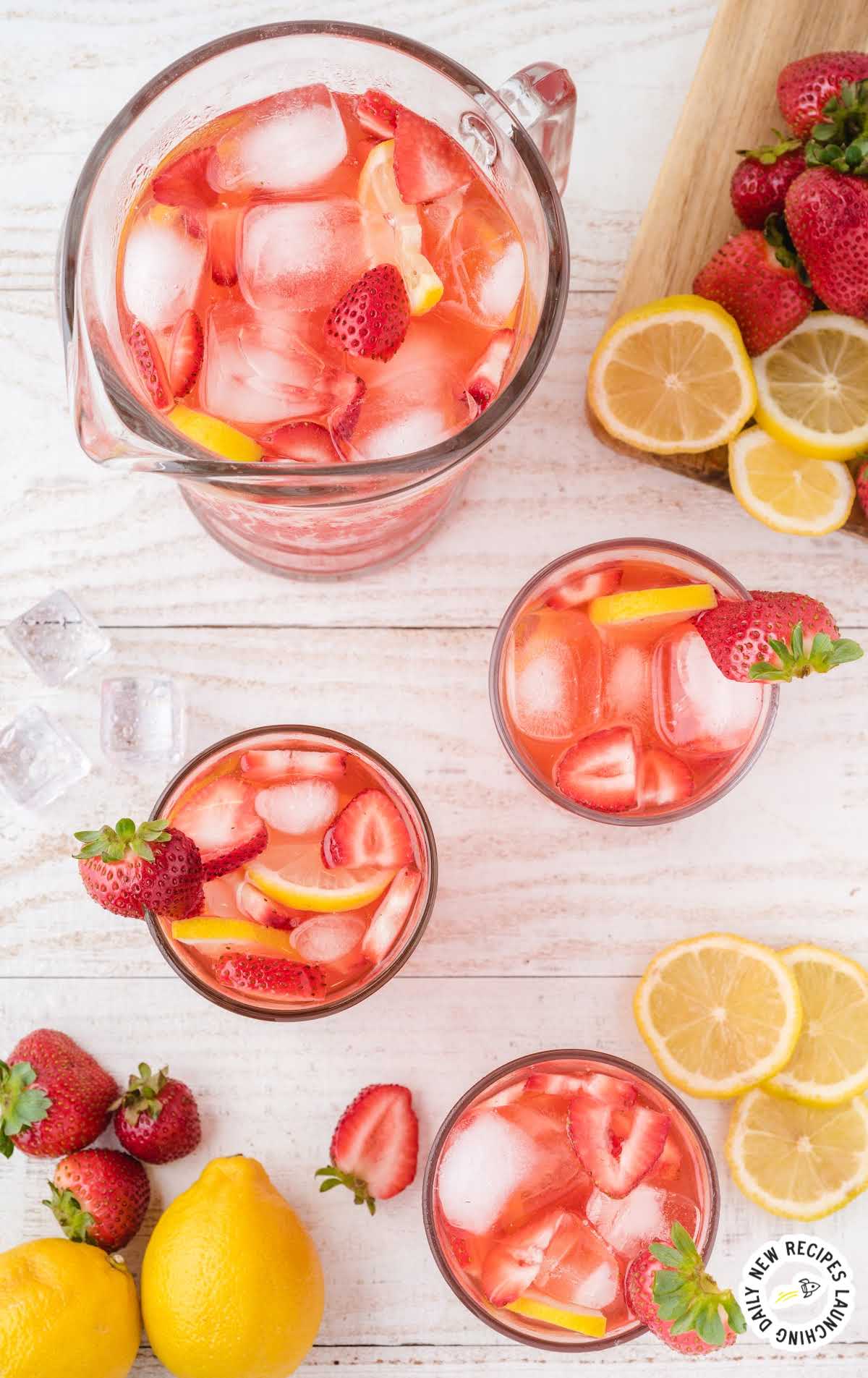 Bright and refreshing, this easy strawberry lemonade recipe will be a welcome treat to cool you down all summer long. It only takes a tangy lemonade mix and a sweet strawberry simple syrup to whip up a batch of this thirst-quenching beverage.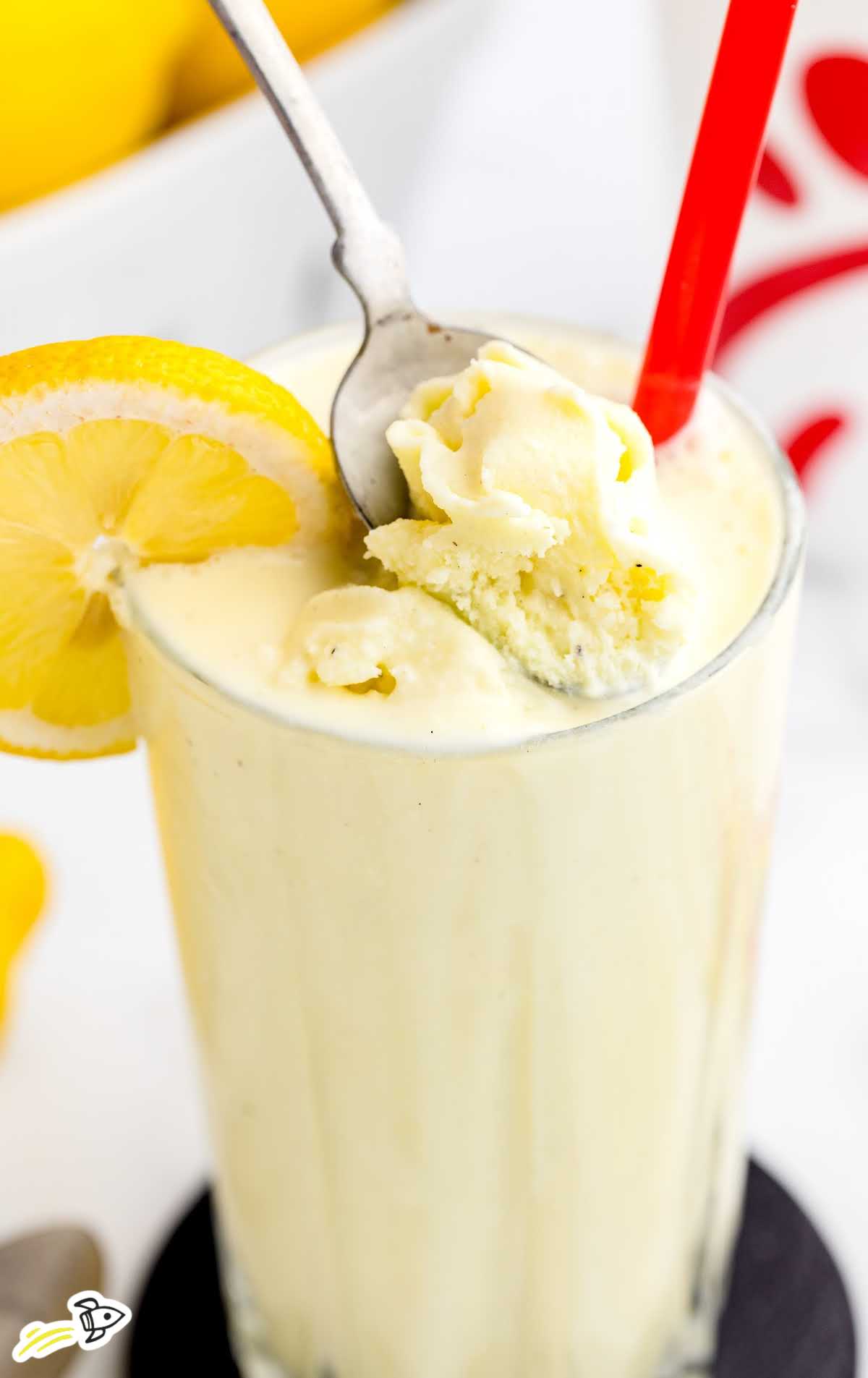 If you've never had a frosty Chick Fil A lemonade before, you're in for a real treat with this copycat recipe. It's the perfect blend of creamy, sweet, and sour, with just the right amount of sweetness; plus, it's made with fresh-squeezed lemons, so you know it's gotta be good.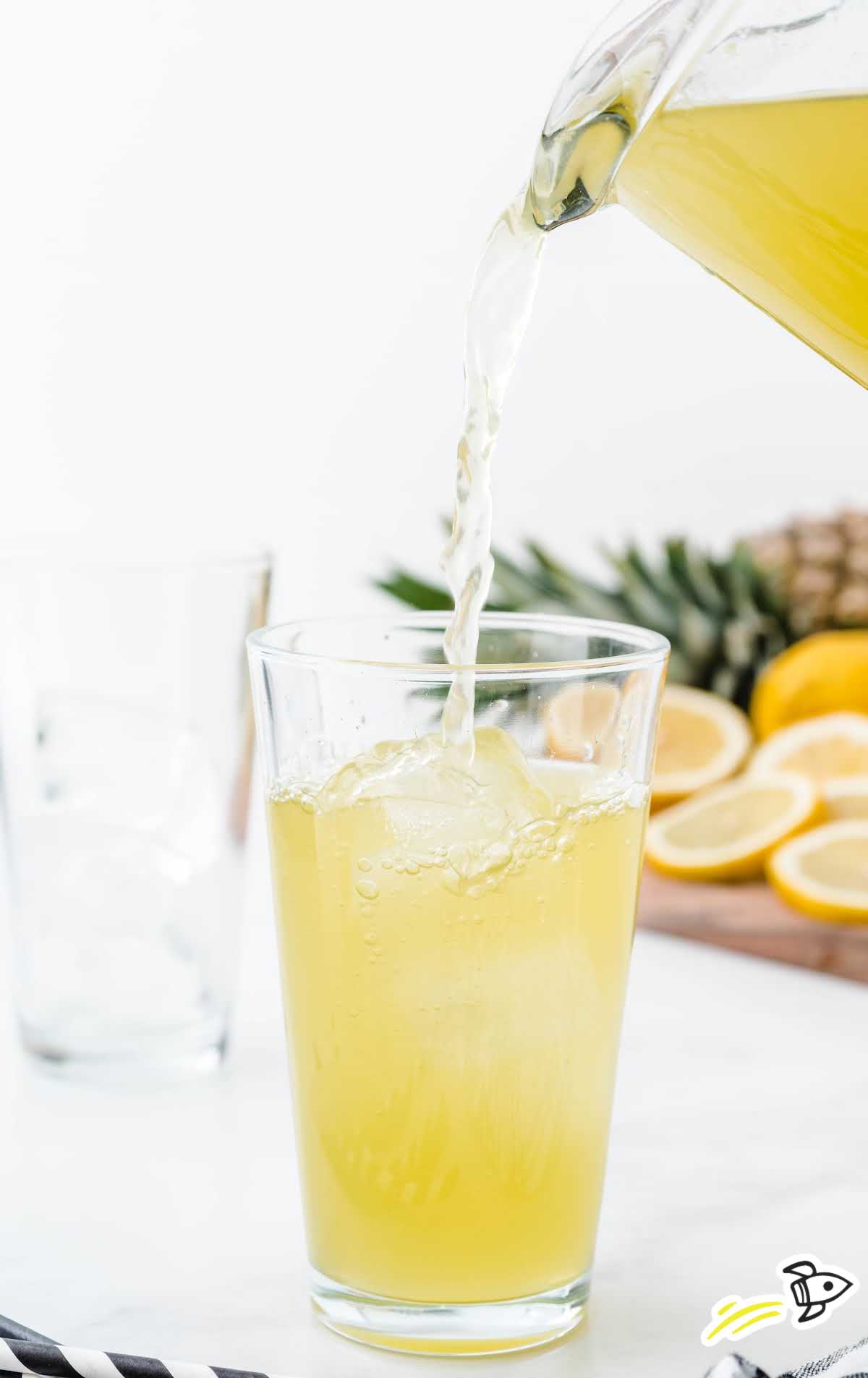 This pineapple lemonade is so full of tropical flavor and has a happy sunshine yellow color that makes it the perfect treat on a hot day. Make a pitcher of this easy fruity sparkling punch, and you will have a tasty crowd-pleaser that will leave everyone raving.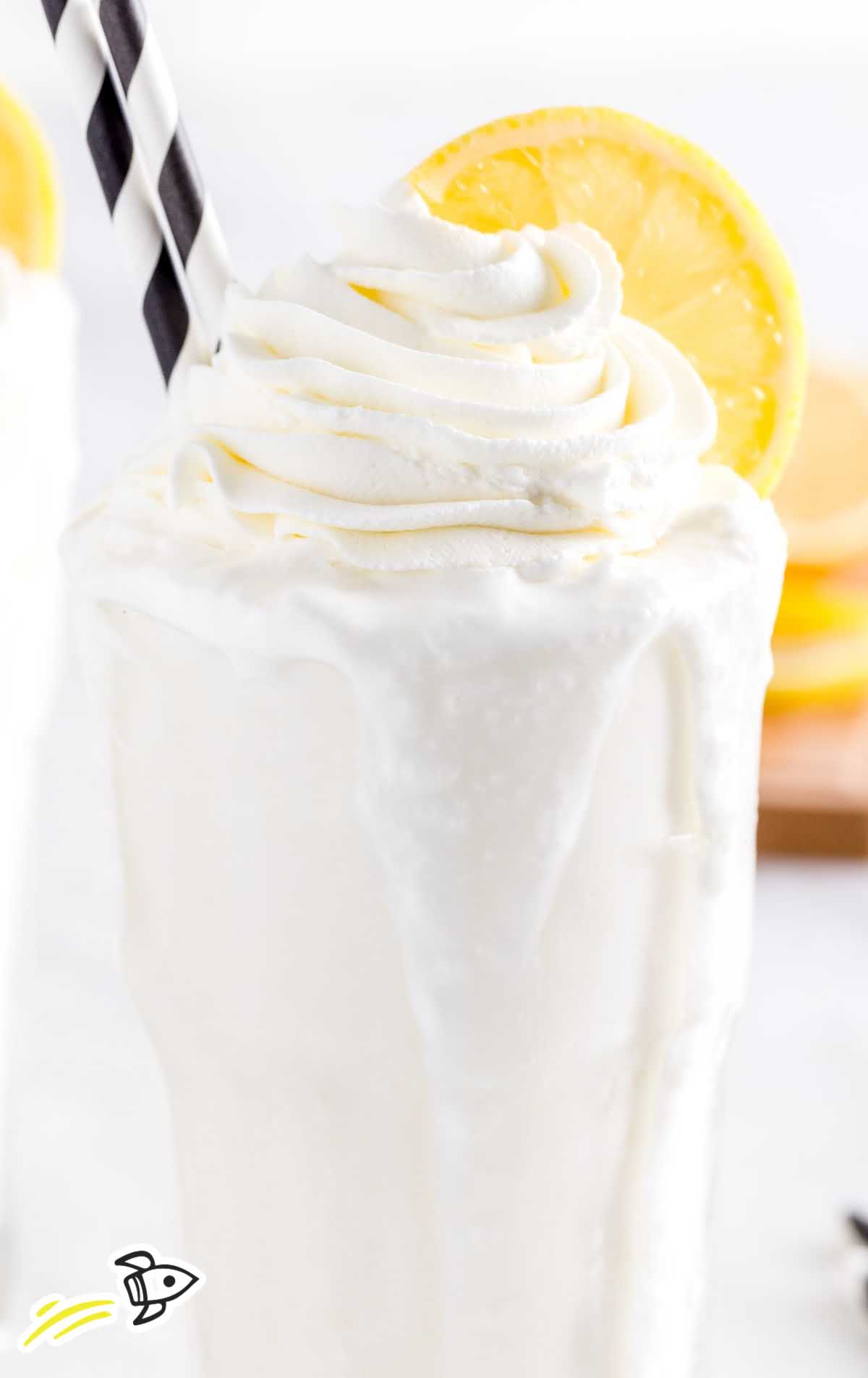 This thirst-quenching whipped lemonade is a refreshing way to cool down during the hot months. Our lemonade recipe takes your favorite summer drink to a whole new level with its rich and creamy texture and a subtle lemony flavor that's perfect for sipping on a summer day.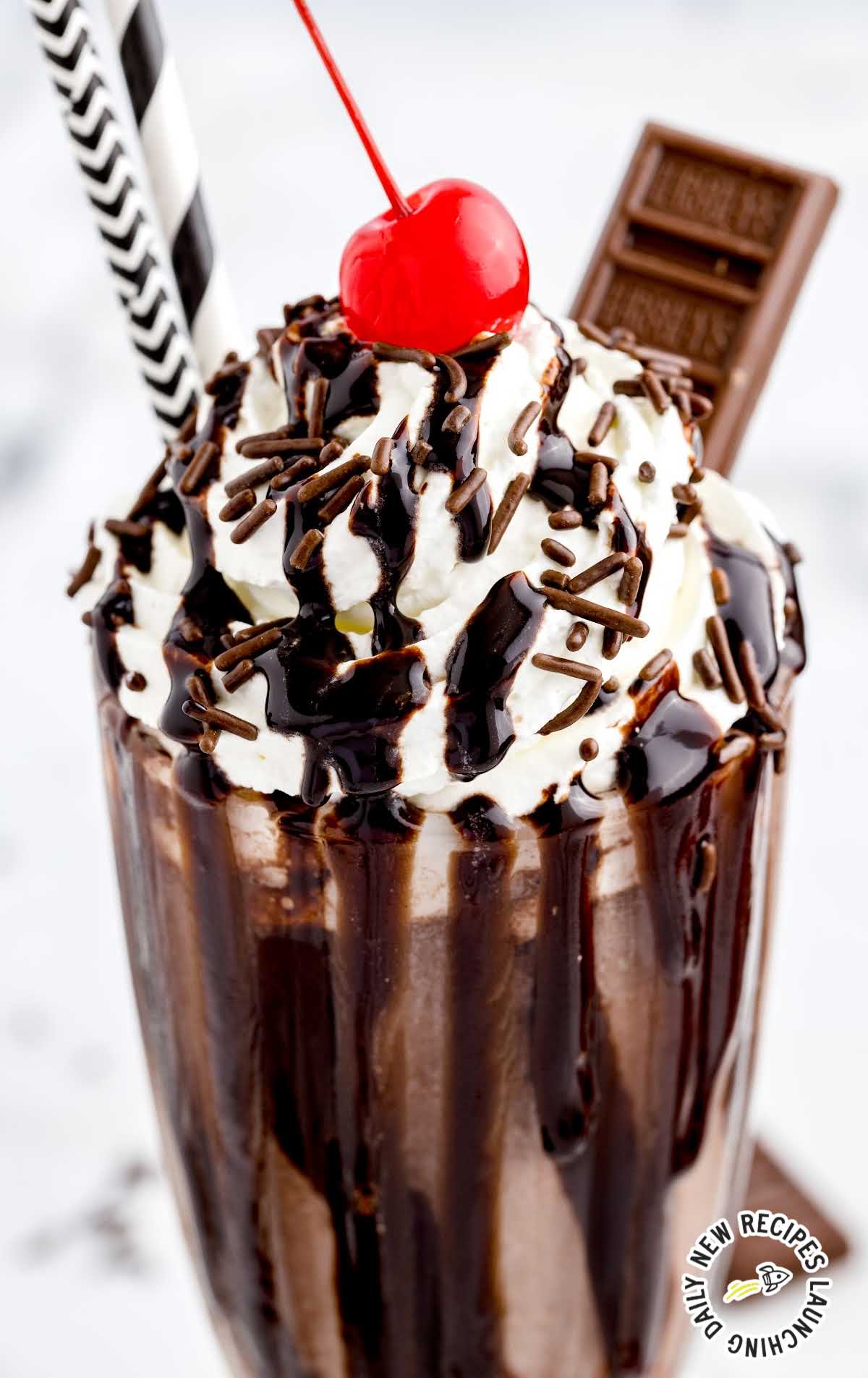 Sinfully delicious and creamy, this classic chocolate milkshake will make you think you are sitting in a diner sipping the chocolatey goodness. Chocolate ice cream, thick cream, and plenty of fun toppings make this drink a truly decadent treat.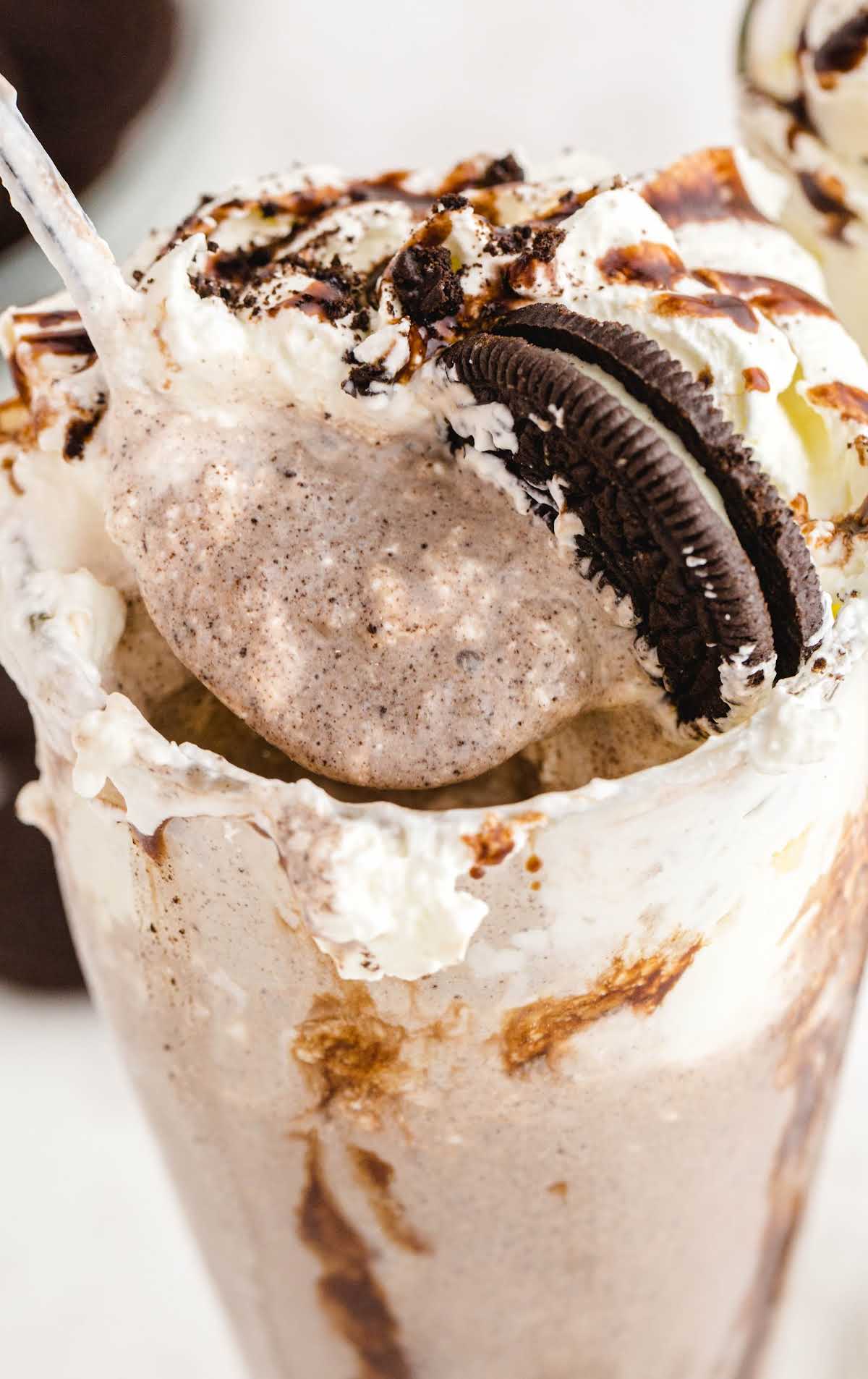 This Oreo milkshake is a chocolatey, creamy drink that needs just five ingredients to create an irresistible treat. Sweet vanilla ice cream is blended with milk and Oreos to make a classic milkshake before more Oreos, whipped cream, and rich chocolate sauce are added for a fun and delicious twist.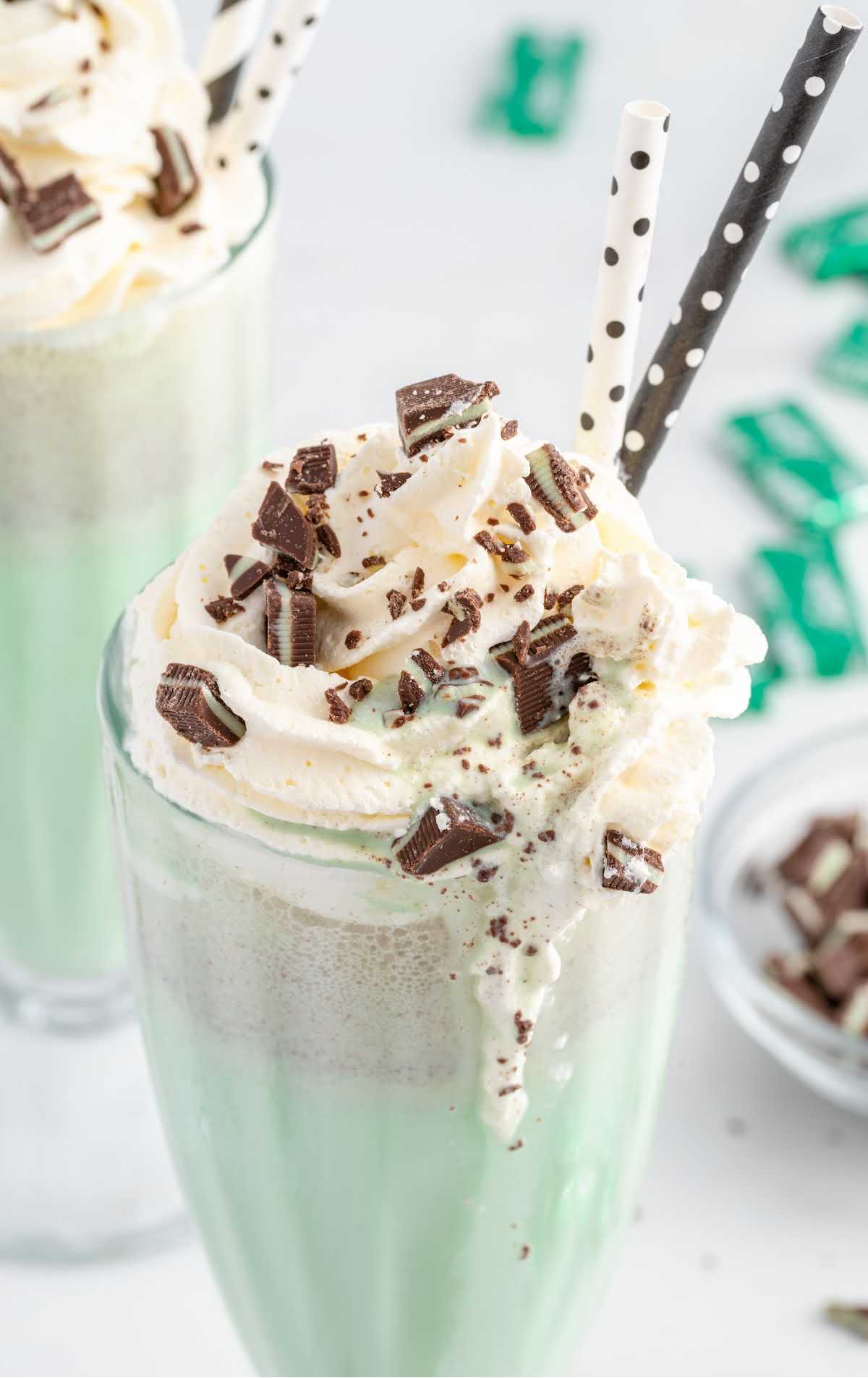 I'm not sure there's a better flavor combination than mint and chocolate, and this creamy mint chocolate chip milkshake is the perfect embodiment of that flavor combo. With rich, chocolatey goodness and refreshing mint flavor, it's like a little piece of heaven in a glass.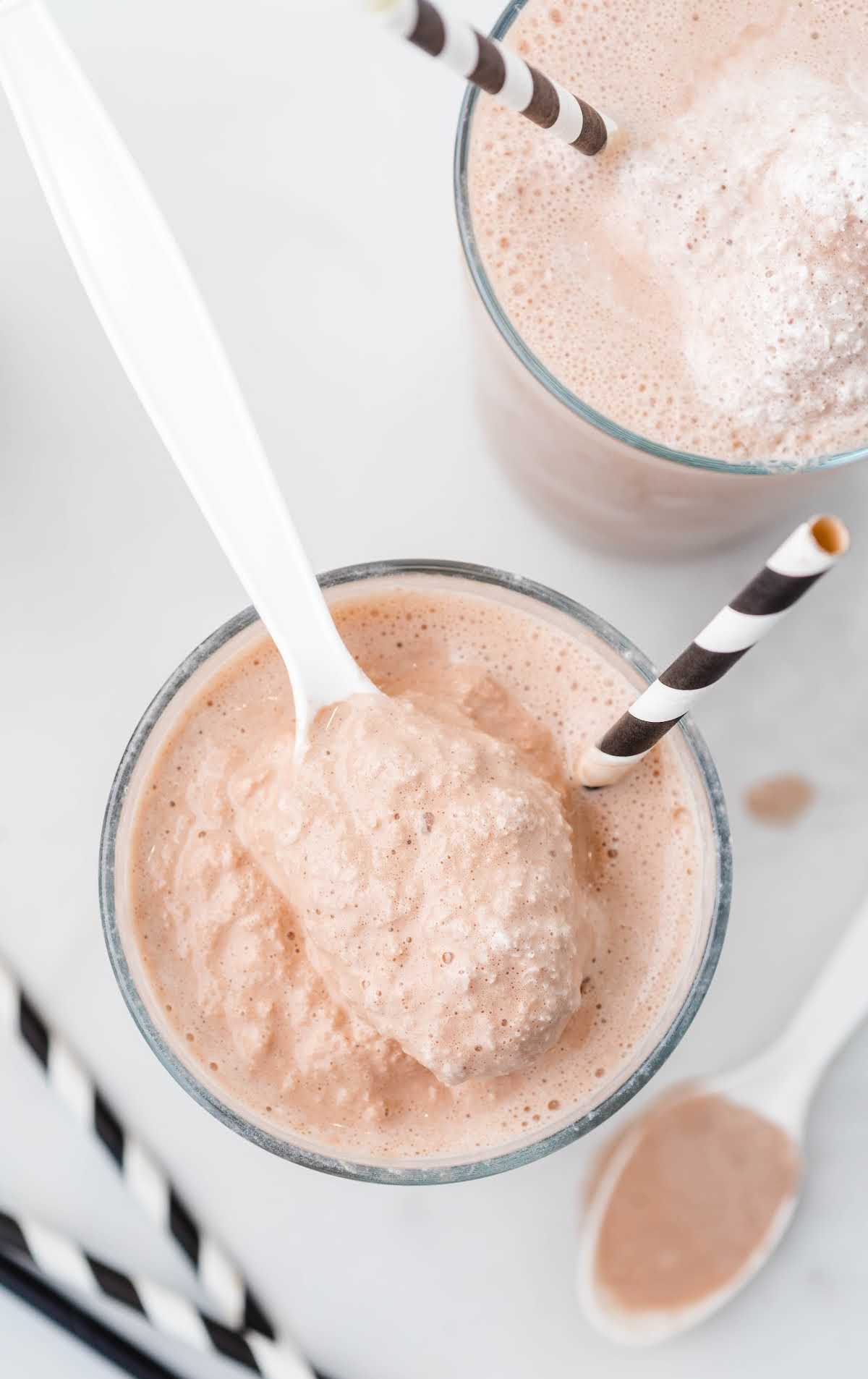 Do you ever just crave a Wendy's Frosty because I know I do, and you can skip the drive-thru line with this homemade copycat recipe. Four simple ingredients are all that you need to make this milkshake that chocolate lovers won't be able to resist.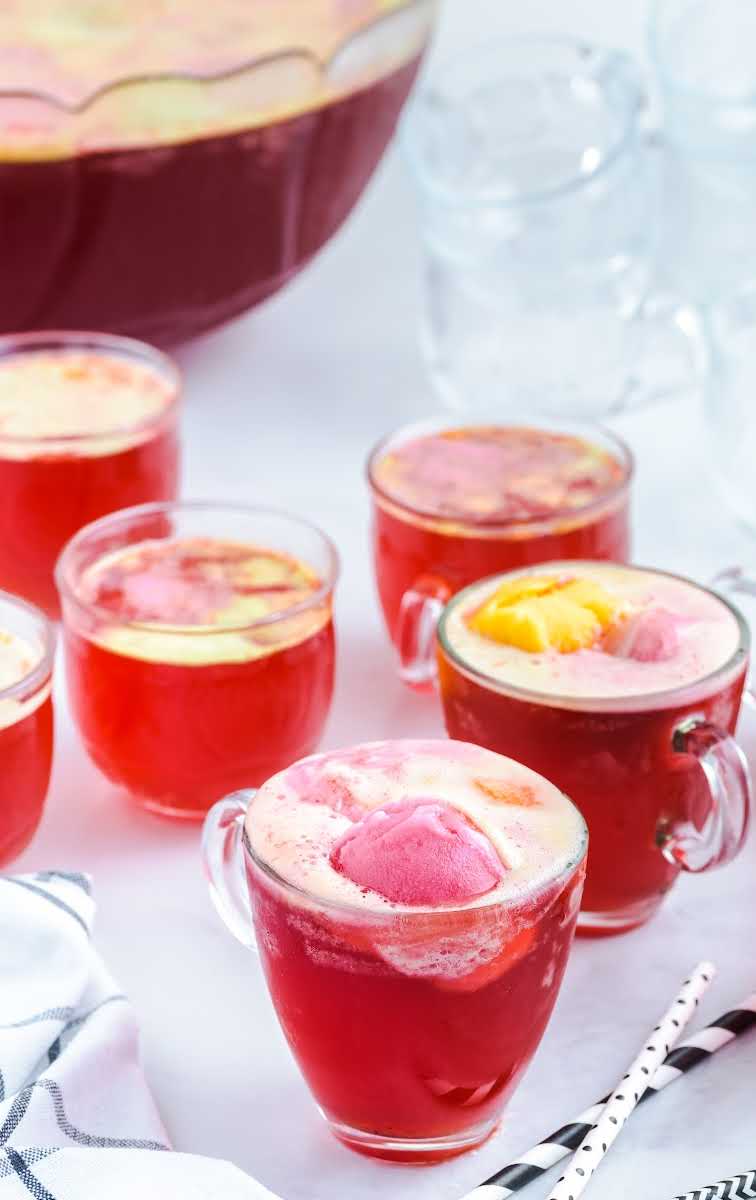 Bright and colorful, our rainbow sherbet punch would be a delightful addition to any special occasion celebration. Creamy and fizzy, you'll love the fruity flavors and the irresistible cloud of colors the sherbet creates.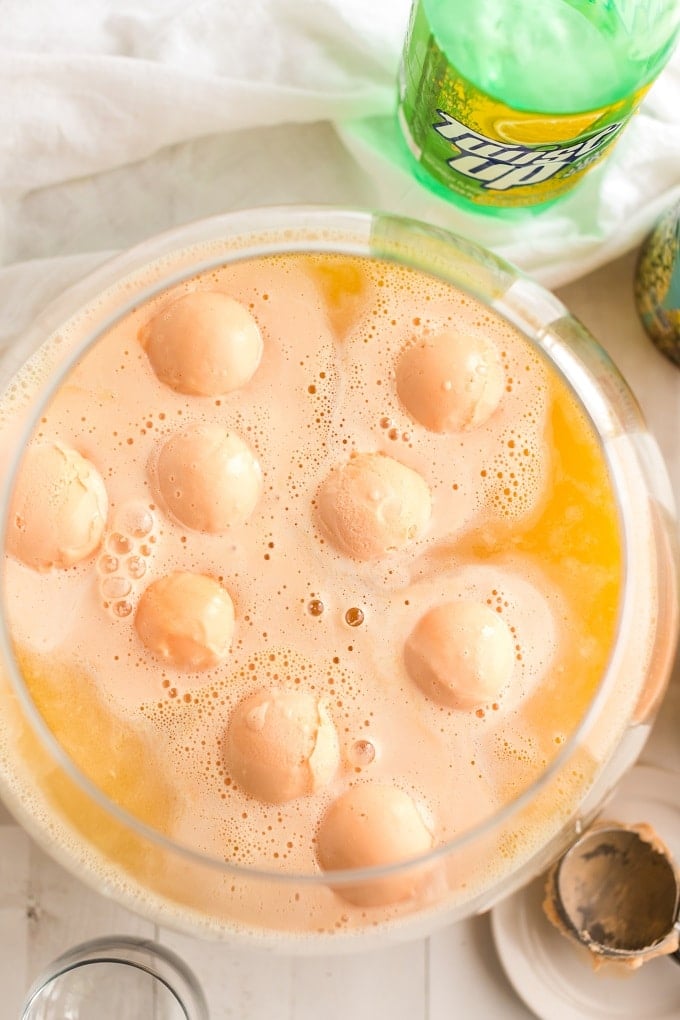 This orange sherbet punch will be a big hit at any party. Our family serves this at every holiday from our Halloween party to Christmas to Easter and all parties, birthdays, and baby showers in between. This tropical drink is made with orange and pineapple juice, lemon-lime soda, and scoops of orange sherbet for an irresistible treat.
We'd like to introduce you to a peanut butter frozen hot chocolate: a decadent combination of rich, chocolatey goodness and nutty, creamy flavor that'll make you want to curl up on the couch with a mug (or two). Trust us – this is one chilly treat you won't want to miss!
Insanely decadent and creamy, this whipped hot chocolate recipe is a fun drink that is sure to warm you up when the weather cools down. Milk is warmed and topped with a whipped, sweet chocolate-flavored cream that you can either stir in or scoop off the top.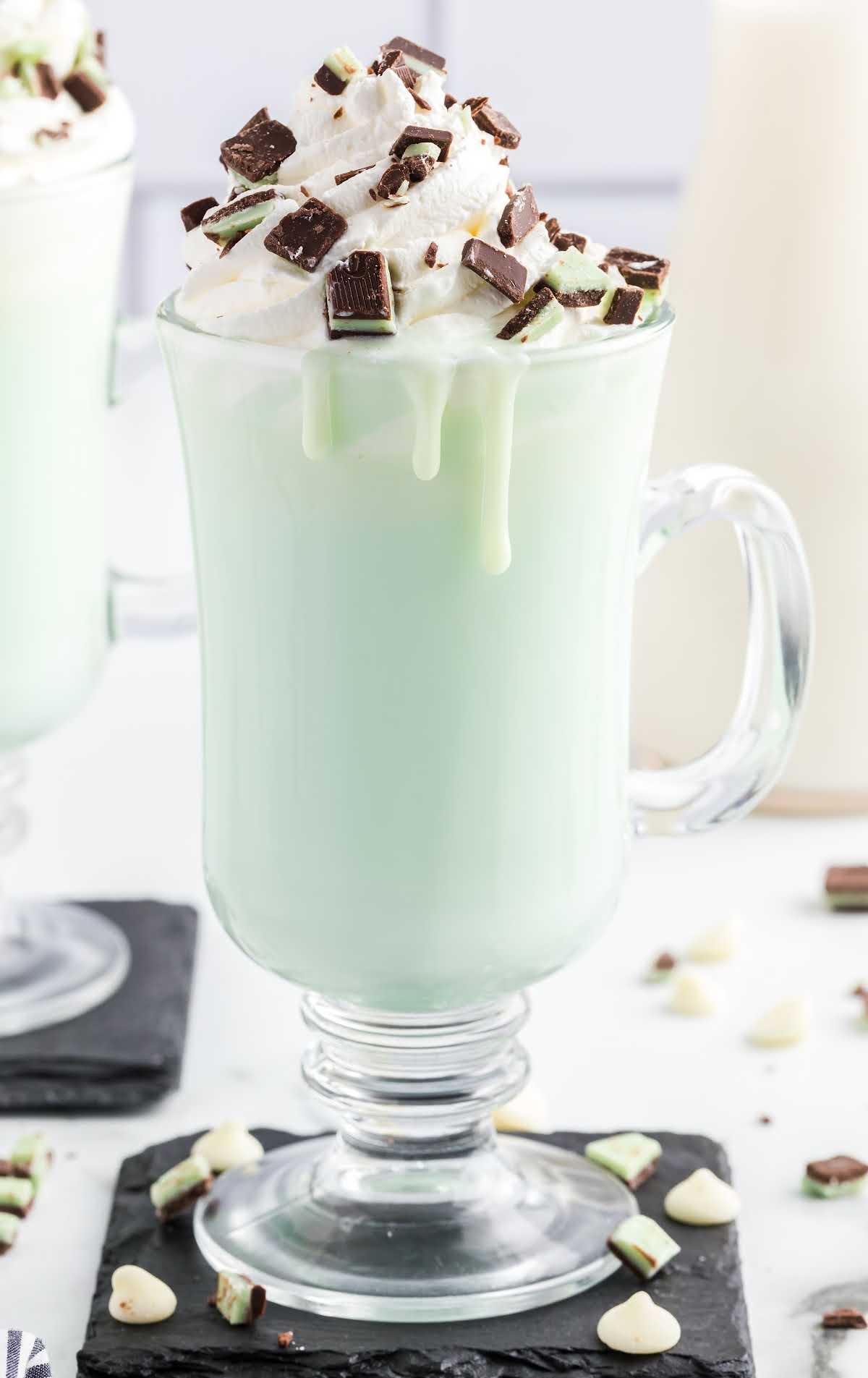 Warm up this winter with a cup of creamy mint hot chocolate. Made with peppermint extract, white chocolate, and milk, this delicious drink is perfect for a cold winter day during the holiday season when you need something to help you get cozy.
Who doesn't love a steaming mug of homemade hot chocolate on a cold winter day? This recipe is not only easy to make, but it's also delicious and satisfying with real chocolate, creamy milk, and sweet, decadent toppings.
It's the most wonderful time of the year, and there's nothing like a mug of rich, creamy hot chocolate to get you in the Christmas spirit! This recipe is the perfect mix of indulgent and festive, with a delicious hint of gingerbread, Irish cream, and whiskey to take it to the next level.
Delicious crockpot peppermint hot chocolate is an indulgent treat to serve at your holiday gathering. Super easy to make, you just throw chocolate chips, crushed candy canes, milk, and vanilla into a slow cooker and you'll end up with this amazing drink full of wonderful chocolate flavor.
The Christmas season is just around the corner and what better way to get in the spirit than with this Christmas punch. This festive drink recipe is a bright vibrant color and tastes fruity and fizzy with a delicious blend of cranberry, pineapple and orange juice. It's perfect for Christmas morning or for a holiday party.
There's nothing quite like a warm cozy drink on a cold winter day, especially when you've made it yourself with your own hot chocolate mix. This winter, skip the mix from the store and make it homemade instead since it's so easy to do, and you can customize it to your liking.
Don't miss these great ideas perfect for kids: