This refreshing homemade raspberry lemonade features real raspberries and lemon juice to make this delicious drink! 
Jump to Recipe
Table of Contents
This fresh homemade raspberry lemonade is great for entertaining and perfect for hot summer days. Its vibrant pink color is so pretty, and the refreshing sour-sweet flavor will have your party guests raving.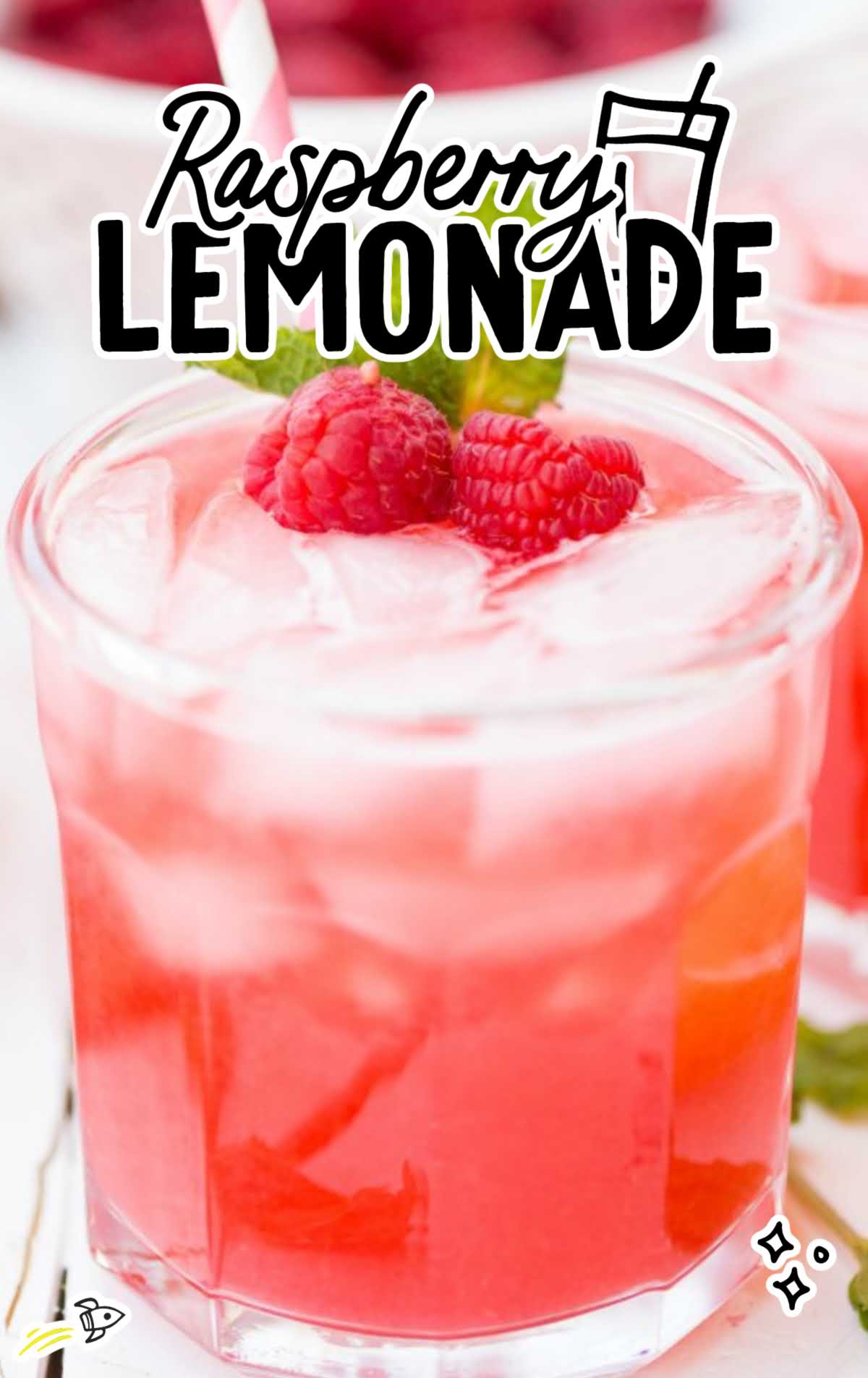 Homemade Raspberry Lemonade Ingredients
This raspberry lemonade recipe offers a blend of flavors, combining the zesty brightness of fresh-squeezed lemon juice with the natural sweetness of ripe raspberries.
A simple syrup balances the tartness of the lemon and raspberries, while a fresh mint garnish adds a refreshing herbal note.
You'll need:
1½ cups of water for syrup
1½ cups of sugar
2 cups of fresh raspberries
1½ cups of fresh-squeezed lemon juice (10-12 lemons)
4 cups of water
Fresh mint, optional garnish
Substitutions And Additions
FRUIT: We use raspberries – my absolute favorite – for this easy homemade raspberry lemonade recipe, but you can always make the syrup with other fruits.
Blackberries, strawberries, peaches, and mangos are some other amazing fruits you can use to make this yummy drink.
ICE: For the hotter days of summer, blend up some of this fruity drink recipe with ice to make the most refreshing frozen raspberry lemonade.
Garnish with a slice of lemon on the side and a little bit of mint. Maybe even a mini umbrella! That'll definitely bring down the temperature a few degrees.
ALCOHOL: For the adults, it's always time for a delicious cocktail made of this refreshing raspberry lemonade.
A splash of vodka or tequila makes for a fun afternoon in the sun.
How To Make This Homemade Raspberry Lemonade Recipe
It doesn't take long to whip up a batch of this fruity homemade drink. Let's get started.
STEP ONE: To start, take a medium-sized pot and pour in the 1½ cups of water, sugar, and fresh raspberries.
Bring this to a simmer on medium-high heat. When it starts boiling, stir until the sugar is completely dissolved.
OUR RECIPE DEVELOPER SAYS
I also like to mash up the raspberries a bit more with my spatula when making the syrup.
STEP TWO: Once the sugar crystals are all gone, turn off the heat and let the syrup cool. Pour the cooled mixture into the blender and blend until it's all smooth.
Pour the contents of the blender through a fine mesh strainer to make sure all the raspberry seeds are removed.
STEP THREE: In a large pitcher, pour in the fresh lemon juice and water, and add the raspberry simple syrup to your taste and stir.
STEP FOUR: Adjust sweetness with the syrup as needed, and serve your refreshing raspberry lemonade cold.
How To Serve
This homemade lemonade is also amazing when mixed with other drinks.
Grab some unsweetened iced tea and mix in some of this raspberry lemonade for the perfect Arnold Palmer.
Pair a glass of raspberry lemonade with a slice of cake, and soon you'll be wondering why everyone keeps finding excuses to drop by.
We love this no bake eclair cake and our strawberry angel food cake!
For even more delightful summer drinks, our pineapple lemonade and Shirley Temple drink are guaranteed to cool you down during the summer months.
Storing This Raspberry Lemonade Drink
Don't worry; we've got you covered on how to store these treats so you can savor them later.
MAKE AHEAD: Mix up the lemon juice, raspberry syrup, and water, but hold off on adding ice until you're ready to serve.
Store it in a clean, airtight container in the refrigerator for up to 24 hours.
IN THE FRIDGE: Store the syrup in the fridge for up to a week and the lemonade for up to three days.
IN THE FREEZER: We do not recommend freezing either the fresh lemonade or simple syrup. This drink is best made fresh.
Why We Love This Recipe
This refreshing drink is a favorite, here are a couple of reasons why:
FLAVOR FUSION: This raspberry lemonade strikes the perfect balance between the punch of freshly squeezed lemon juice and the sweet, tangy burst of ripe raspberries.
SIMPLE AND FRESH INGREDIENTS: We love that this recipe uses straightforward and readily available ingredients like lemons, raspberries, and sugar. It's a breeze to whip up with ingredients you probably already have on hand.
Made with fresh raspberries, this raspberry lemonade is the perfect thirst quencher to keep you refreshed all summer long. Make a pitcher to share with friends and family at your next barbecue or potluck for a great beverage option.
Frequently Asked Questions
Can I use frozen raspberries for raspberry lemonade?
Frozen raspberries work well for this easy raspberry lemonade. You can thaw them before adding them to the simple syrup.
Can I add alcohol to this lemonade?
If you'd like, you can add 8 to 12 ounces of alcohol to make a spiked version of this fresh raspberry lemonade. Try vodka or tequila as great options.
Can I make this lemonade ahead of time?
You can prepare the raspberry syrup and keep it in the fridge for up to a week or the lemonade for up to three days.
More Recipes You'll Love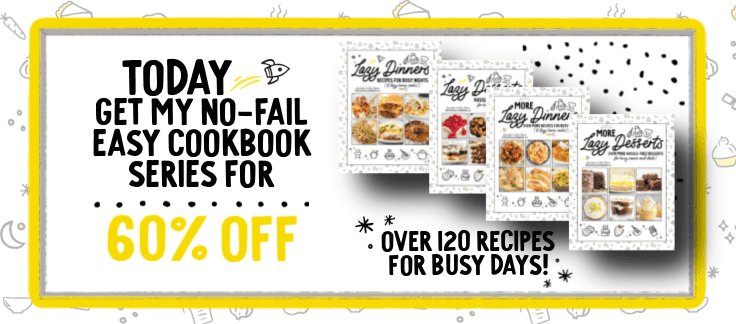 Raspberry Lemonade
This refreshing homemade raspberry lemonade features real raspberries and lemon juice to make this delicious drink!
Ingredients
1½

cups

water

(for simple syrup)

1½

cups

sugar

2

cups

fresh raspberries

1½

cups

fresh-squeezed lemon juice

(10 to 12 lemons)

4

cups

water

Fresh mint,

optional garnish
Instructions
In a medium-sized pot, bring water, sugar, and raspberries to a simmer over medium-high heat.

Once the mixture starts to boil, stir until the sugar is dissolved.

Let cool and pour contents in a blender. Blend until smooth.

Pour through strainer to remove all the seeds.

Pour lemon juice, raspberry simple syrup, and water into a pitcher. Stir.

Serve cold!
Notes
I also like to mash up the raspberries a bit more with my spatula when making the syrup.
Nutrition
Calories:
227
kcal
|
Carbohydrates:
59
g
|
Protein:
1
g
|
Fat:
1
g
|
Saturated Fat:
0.03
g
|
Polyunsaturated Fat:
0.2
g
|
Monounsaturated Fat:
0.03
g
|
Sodium:
12
mg
|
Potassium:
124
mg
|
Fiber:
3
g
|
Sugar:
53
g
|
Vitamin A:
17
IU
|
Vitamin C:
34
mg
|
Calcium:
21
mg
|
Iron:
0.3
mg