23 Oreo Cookie Dessert Ideas
Table of Contents
Check out these delicious Dessert Recipes made using Oreo Cookies! Not much tastes better than Oreo ice cream, cookie bars, cupcakes, and cheesecakes. Whoever first thought of the idea is a GENIUS. We have gathered some of our favorite Oreo cookie dessert recipes including those for Oreo cookie s'mores, butter, popcorn, fudge — and many other unique ways to incorporate Oreo cookies into baking.
---
See Also:
---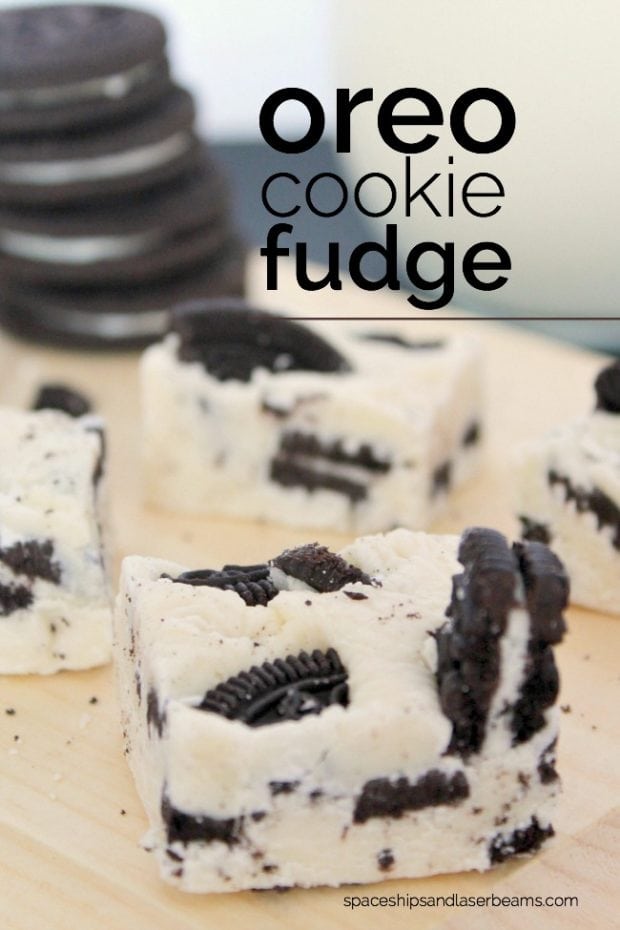 This super simple Oreo S'mores recipe only needs two ingredients and comes together FAST.
Perfectly soft and chewy, these cookies are loaded up with white chocolate chips and Oreo cookies. The gooey white chocolate and chunks of Oreo cookies baked right inside a soft and chewy cookie make the perfect snack. If you are a serious cookie lover this cookie recipe is going to become your new best friend. Trust us, you have got to make them as soon as possible.
We love a classic red velvet cupcake, but these red velvet bars are a delicious spin on the traditional recipe. Cookies and Cream Red Velvet Brownies are made of OREO stuffed homemade red velvet brownies topped with cookies and cream kisses. They make a delicious and festive treat for valentine's day, potlucks, or just because. Words cannot describe how amazing these brownies are.
No matter the season, this No Churn Oreo Ice Cream is a delectable cookie-filled frozen treat that will leave your family and friends with the biggest smiles on their faces. It's super easy to make with a delicious combination of whipping cream, sweetened condensed milk, crushed Oreo cookies, and a splash of vanilla extract. Yum!
Brace yourself, this recipe is going to blow your bind. It brings the delicious taste of milk chocolate together with some oh-so-adorable mini peanut butter cups finished with the irresistible crunch of OREO cookies. These won't last long on dessert tables at parties or at your kid's school bake sales. No one will be able to resist.
How do you make your favorite snack even better? Add Oreo cookie butter of course! This yummy butter is great for spreading, dipping, or adding as a layer to cakes and other desserts. The possibilities are endless. Fill a mason jar with this Oreo Cookie Butter and add a bow for the perfect gift for family and friends. They are sure to love every last bit of it.
7. Birthday Party Popcorn
This is a delicious recipe for Birthday Party Popcorn that is incredibly easy to make for your next birthday party celebration or as a sweet treat for a special family movie night. Microwave or air-popped popcorn gets tossed with creamy white chocolate, crushed birthday Oreo cookies, and a colorful combo of sprinkles. The recipe doesn't include quantities so you can add however much you want of each ingredient you like.
Winter is here and so are all things peppermint. Switch up the classic Oreo Truffles with this fun and festive Peppermint Oreo Truffles. They travel well making them a great option for holiday baking exchanges or dinner parties. Have fun decorating the truffles with crushed candy canes, sprinkles, or even a drizzle of melted chocolate. They store for up to a week in the fridge, or you can freeze them for later.
If you like Oreos and M&Ms, these dessert bars are for you. Is there anyone out there that doesn't like Oreos and M&Ms? You can make these tasty cookie bars in just five minutes without a mixer. They are dense, thick, and packed with rich textures. If you don't have Oreos and M&Ms, don't worry. Shop your pantry for yummy substitutions like graham crackers, fun-size candy bars, chocolate pretzels, or anything else you can dream up.
Oreo Cupcakes have to be the dreamiest dessert around town. They are truly amazing and probably one of our favorite cupcakes to make. Fluffy chocolate cupcakes are baked with an OREO cookie at the bottom and then topped with an amazing frosting that will make you want to grab a spoon and eat an entire bowl full. It tastes just like the creamy middle of an Oreo cookie.
These Oreo Cookie Cheesecake Bars start with a buttery Oreo crust topped with creamy cheesecake and Oreo middle and Oreo cookie crumbs. They have all the flavors of an entire Oreo cheesecake but are so much easier to make. You get that rich and creamy taste of cheesecake in half the time and with less than half the stress. They are quick to make and will impress anyone that eats them.
Oreo Krispie Treats are a fun twist on traditional Rice Krispie treats. Instead of using Rice Krispie Cereal, the base is made from chunky Oreo cookie crumbs tossed with some butter and marshmallows. They taste like ooey, gooey, chewy cookies and cream dreams!
We are huge fans of no-bake goodies that you can whip up in a few minutes – pop in the freezer and wow the family later after a great day of fun. This Cake Batter Oreo Cheesecake Dessert is the perfect no-bake treat to get you through the warm months or for a cool winter treat. Cake batter Oreos and creamy cheesecake flavor are pure heaven. It takes all of about ten minutes to put together!
This No Bake Oreo Cheesecake is a chocolate lover's dream come true. A super creamy no-bake cheesecake is studded with chunks of Oreo cookies and topped with even more fresh whipped cream. The no-bake dessert comes together in just a few minutes of work then you just let it set up in the fridge. It is the perfect dessert to make ahead and just pull out when it is time to eat. It will wow your guests every time.
Know any lovers of Oreos or cookies and cream? Then you have to make them these White Chocolate Oreo Truffles. The little bites of goodness are basically Oreos mixed with cream cheese and coated in melted chocolate. If you like cookies and cream flavor go ahead and dip them in white chocolate instead!
Do you ever have those days when you aren't in the mood to cook or bake anything? If your answer is yes then you are in luck because this recipe is perfect for one of those days. Actually, these Peanut Butter Oreo Brownies Cups are perfect for any time because they're delicious. Peanut butter, Oreos, and brownies are baked into a delicious snack-sized muffin cup. Plus this recipe is a mere five steps.
17. Coconut Oreo Fudge Cupcakes
Coconut Delight Oreo Fudge Cremes are a delicious treat with the most amazing flavor combination. Everything you love about cookies and cream with a hint of delightful coconut. Dark chocolate coconut cupcakes are topped with sweet and creamy cookies and cream frosting with a splash of coconut flavor to accent the fudgy cake. Garnish each cupcake with a cookie for a beautiful and yummy treat.
There is something purely delicious about a simple golden yellow cupcake with a vanilla crème frosting and a Golden Oreo cookie as its base. And let's not forget that adorable baby Oreo on top to finish it off. They are topped with a cute little mini Golden Oreo cookie, too! Kids love these tasty Oreo cupcakes and squeal with excitement when they realize there is a whole Golden Oreo baked right in.
Pick up pre-made ice cream cakes next time you are at the grocery store to make this delicious layered cake — drizzle the whole thing in a melted milk chocolate glaze.
Trifles are easy to put together, look really pretty on a dessert table, and this one is extra kid friendly! This Oreo Brownie Trifle has layer upon layer of rich chocolate brownies, chocolate fudge pudding cream cheese, and fluffy Cool Whip. Sprinkle with Oreo cookie crumbs and garnish with a few whole Oreo cookies for a rich and decadent trifle dessert. Serve with a tall glass of milk for the best dessert ever.
Easy Oreo Ice Cream Cake only takes minutes to assemble, yet it tastes and looks incredible with its thick layers of creamy vanilla ice cream, chocolate graham crackers, whipped cream, OREO cookies, and rich chocolate ganache. It is sure to become your new favorite go-to dessert for birthday parties and backyard barbecues. It's simple, tastes divine, and looks like something from a bakery.
This Frozen Oreo Dessert is a HUGE hit every single time you make it. You will have people requesting the recipe left, right, and center. An Oreo cookie crumb crust is topped with Cookies and Cream ice cream and sprinkled with extra cookie crumbs and drizzled with chocolate fudge sauce. Pull it out of the freezer and slice it up for the perfect chilled dessert on a warm summer day!
Oreo S'Mores – the perfect kid's party food! When you find something as delicious and easy to make as this you will never let it go. It's perfect for a chocolate-loving, party-throwing mom. You only need some Oreo cookies, marshmallows, and milk chocolate squares. Make them in the microwave, a traditional oven, or over a campfire. Make a whole plate full of these yummies for your next party.
Check out more great dessert ideas everyone will love: