29 Oreo Cookie Dessert Ideas
Table of Contents
Check out these delicious Dessert Recipes made using Oreo Cookies! Not much tastes better than Oreo ice cream, cookie bars, cupcakes, and cheesecakes. Whoever first thought of the idea is a GENIUS. We have gathered some of our favorite Oreo cookie dessert recipes including those for Oreo cookie s'mores, butter, popcorn, fudge — and many other unique ways to incorporate Oreo cookies into baking.
---
See Also:
---
The sweetness of our 5-ingredient Oreo fudge just melts in your mouth with its white chocolate, cream cheese, and Oreo pieces. This confection reminds me of a Hershey's cookies 'n' cream chocolate bar but thicker, richer and creamier.
This deep-fried Oreos recipe delivers a delicious, gooey bite that is a perfect copycat of the iconic fair food. Easy to make with a handful of simple ingredients, these fluffy bite-sized treats are sure to be a blue ribbon winner at home.
3. Slutty Brownies
When it comes to indulgent desserts, slutty brownies definitely take the cake. This sinful treat is made up of a chewy chocolate chip cookie base, rich chocolate brownies on top, and a layer of Oreos in the middle.
This no-bake easy frozen Oreo dessert is quick to make and tastes amazing. It has a decadent crust and topping made of crushed Oreos and delicious layers of creamy frozen cream cheese filling.
This cookies and cream cookies recipe is a brilliant mashup between classic chocolate chip cookies and Oreos. Not only are the soft cookies studded with white chocolate chips and Oreo cookie chunks, but there is also a whole Oreo baked right inside the cookie.
This Oreo pie is everyone's dream: creamy and packed with Oreos. With a crunchy Oreo crust and a fluffy cream cheese mixture that requires no baking, you will love this sweet treat.
This Oreo dip is like a little bit of heaven in a bowl with plenty of creamy, chocolatey, and Oreo-y goodness. Loaded with Oreo cookies, cream cheese, and marshmallow creme, this is the perfect dessert dip for any party or gathering.
These no-bake mini Oreo cheesecakes give you all the deliciousness of a traditional cheesecake but with a fun Oreo twist. Featuring a chocolate Oreo crust, creamy cheesecake filling, and fluffy whipped cream, they're sure to please everyone's sweet tooth.
These easy mint Oreo truffles are stuffed with Oreo cookie crunch and plenty of mint flavor, all wrapped in a rich chocolate coating. With only four ingredients, you can whip up these decadent treats in a flash.
This no-bake Oreo delight is a dreamy dessert with layers of crushed Oreo cookies, velvety cream cheese, rich chocolate pudding, and sweet Cool Whip. It's super easy to make, and you are sure to have a crowd-pleaser on your hands.
This Oreo poke cake is amazing and if you're a fan of Oreos and cake, you need to try this recipe. The cake is moist and chocolatey, infused with creamy pudding, and topped with delicious cookies and frosting.
You can't go wrong with desserts made with Oreo cookies, and this no-bake Oreo cheesecake is a dream come true. The Oreo cookie crust is filled with a creamy combination of velvety cream cheese, pudding, and whipped cream for a heavenly dessert that will disappear before your eyes.
Oreo truffles are little bites of amazing decadence made with only a handful of simple ingredients. Creamy, chocolatey centers are wrapped with a sweet white candy coating for the perfect bite-sized treat, plus they make a great gift during the holiday season.
This mint Oreo dessert is one insanely delicious recipe. Oreos and mint are a match made in heaven, and when you add in whipped cream, cream cheese, and chocolate pudding, you've got yourself a winner.
There is nothing better than sweet bite-size confections like these Oreo balls. Stuffed with creamy Oreo-infused cream cheese and wrapped in a rich chocolate coating, these delectable truffles will be a huge hit any time of year.
16. Cookies & Cream Cheesecakes
These cookies and cream cheesecakes are unbelievably delicious and decadent. Full of chocolate cookie-infused cheesecake over top of a cookie crust, you can't go wrong with these yummy individual-sized treats.
17. Cookies &Cream Cinnamon Rolls
As if cinnamon rolls are not decedent enough, we take it a step further with these cookies and cream cinnamon rolls. The soft, fluffy dough is wrapped around a creamy dream filling of a gooey cinnamon and chocolate cookie crumb mixture and topped with a luscious cream cheese frosting.
I'm not sure you can pack any more rich decadence into a single dessert than we have with these Oreo chocolate chip cheesecake cookie bars. Layers of crushed Oreo cookies, creamy cheesecake and chocolate chip cookie dough has something for everyone all packed into this one treat.
For lovers of mint chocolate, cheesecake, or decadent desserts, this mint chocolate cheesecake recipe is a perfect choice! For such a tasty cheesecake, this recipe is quite simple to bake; no more running to the bakery for expensive, pre-made cheesecake! A classic Oreo crust is topped with a peppermint-flavored cheesecake filling, and slathered in rich, Andes mint-flavored ganache!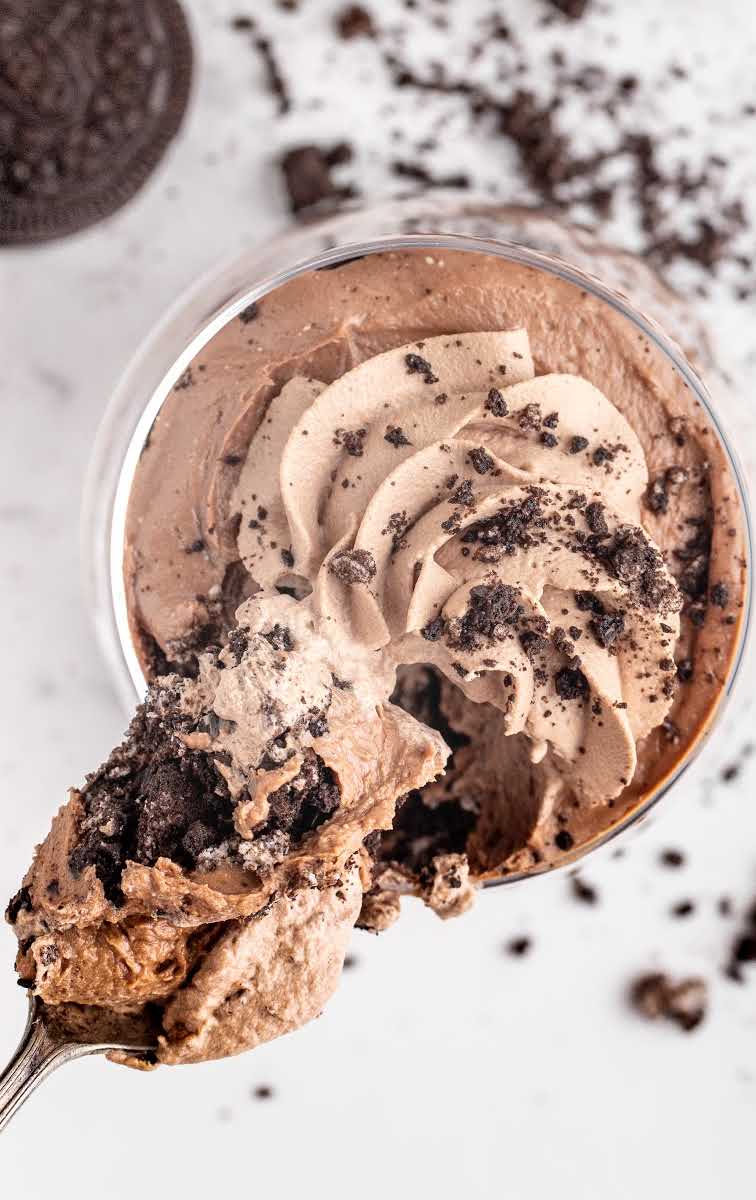 Rich chocolate, Irish cream-flavored cheesecake plus Bailey's flavored whipped cream layered in pretty glasses, what's not to love about this chocolate cheesecake trifle? The fact that this Bailey's trifle is also no-bake adds further appeal.
Nutella truffles might just be the most delicious thing you'll ever make. This rich chocolate treat is filled with creamy chocolate and cookie center wrapped in a hard chocolate shell that is so good that you'll want to keep them all for yourself!
Homemade Cookie Monster ice cream is creamy ice cream loaded with crunchy Oreos and chocolate chip cookies. You don't need an ice cream machine to make this simple no-churn recipe — the ice cream freezes overnight in a loaf pan, making it an easy and fun treat!
Light, fluffy, and creamy this decadent OREO fluff is a delicious and easy homemade treat. Cream cheese, pudding mix, milk, whipped topping, mini marshmallows, vanilla extract, and crushed OREO cookies are combined for a luscious and fun snack everyone will love.
A simple twist on classic bark, this easy Oreo peppermint bark recipe is such a great treat that is easy to make and is packed with mint flavor. Creamy chocolate is layered with crushed Oreos and topped with mints before being broken into pieces.
If you love the taste of Oreos and chocolate, you'll love our surprise inside Oreo balls. These treats are rich, decadent truffles with a creamy filling and an unexpected minty Hershey's candy cane kiss hiding on the inside.
Sweet and delicious, this layered candy cane dessert is the perfect Christmas treat. Golden Oreos, crushed candy canes, cream cheese, pudding, and Cool Whip are layered together for an irresistible, fluffy, creamy no-bake dessert that everyone will love!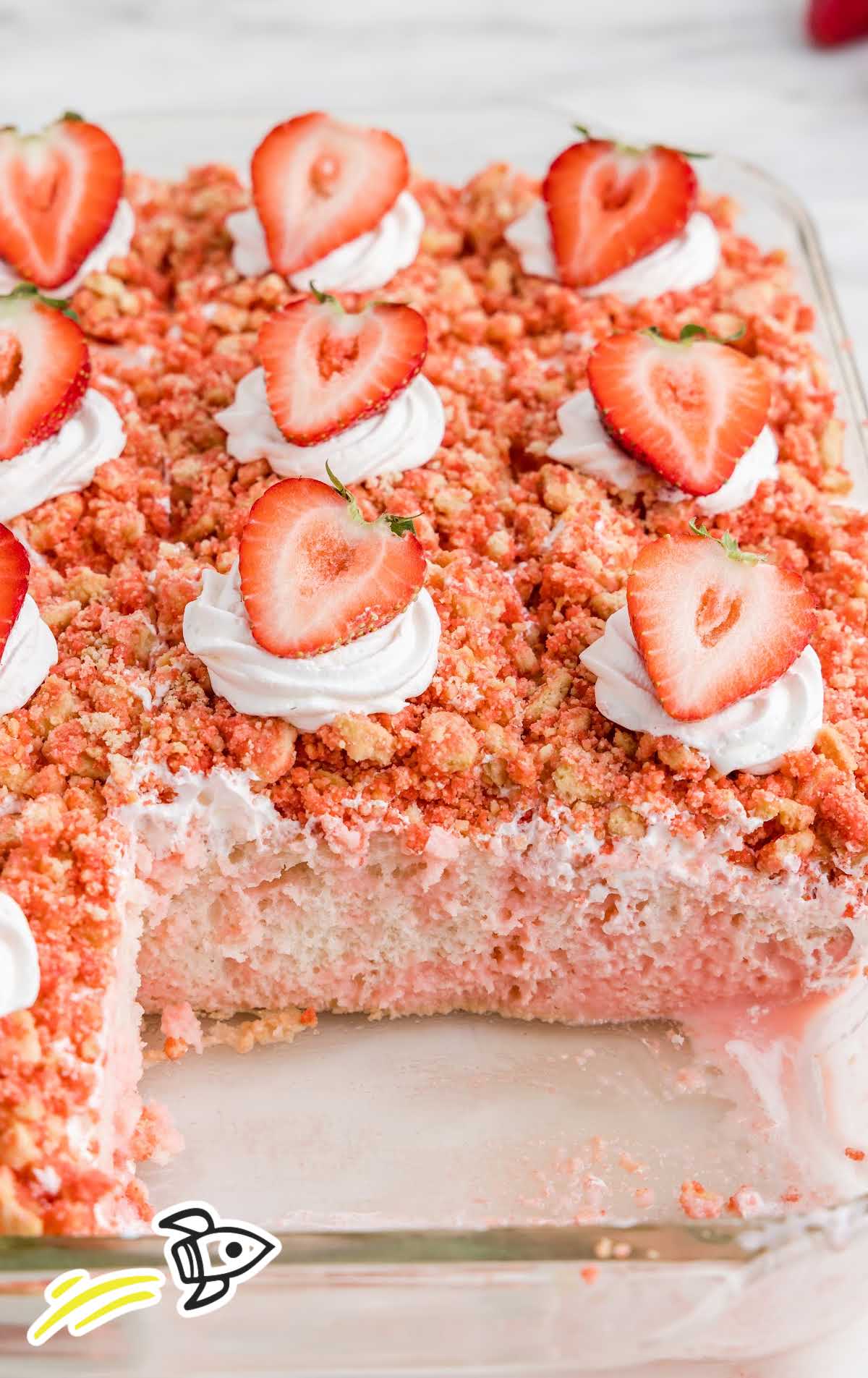 This delicious strawberry crunch poke cake will have your taste buds tingling with anticipation. Featuring fluffy cake infused with strawberry cream and topped with a creamy whipped cream topping with added cookie crunch, each bite is packed with flavor.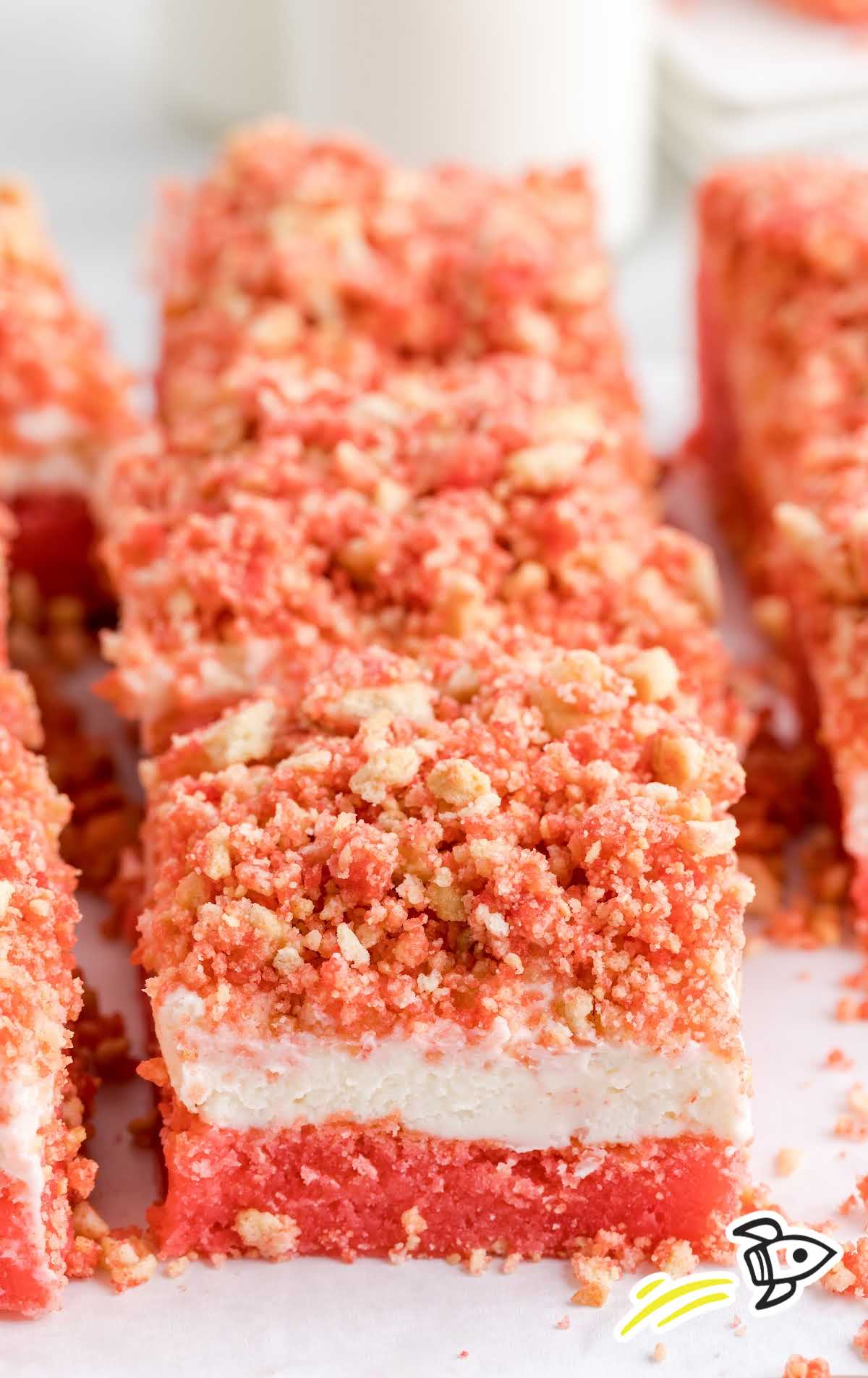 These delicious strawberry shortcake brownies will make your taste buds go crazy! With a creamy frosting layer sandwiched between a crunchy strawberry crumble top and a rich, strawberry cake bottom, these decadent brownies are sure to be a hit.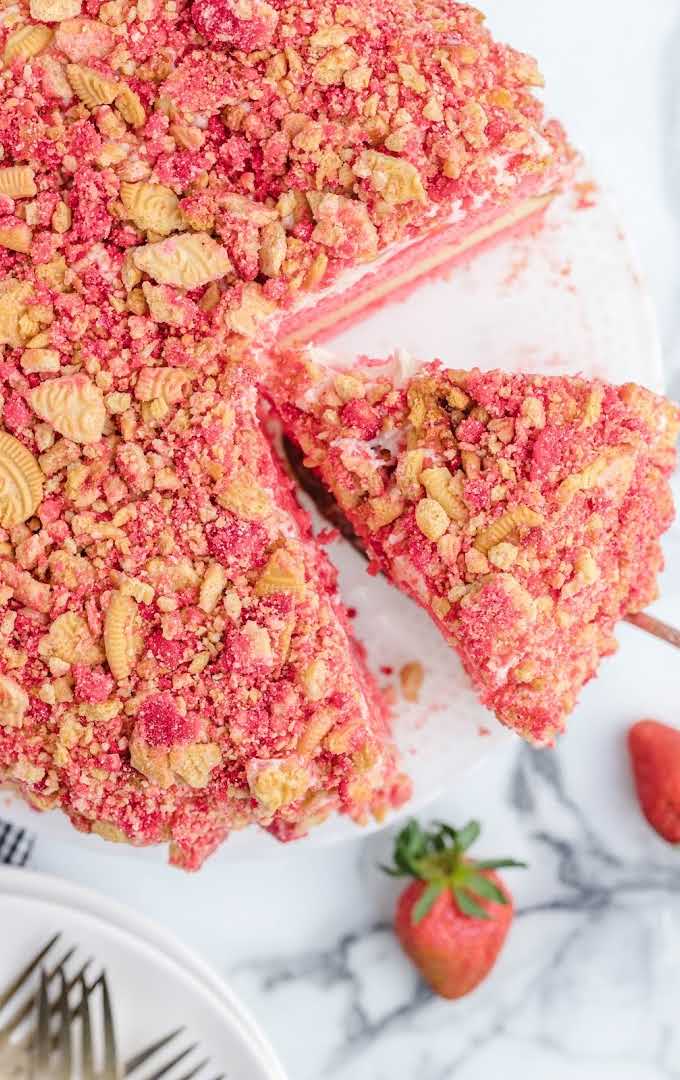 This stunning strawberry shortcake cheesecake layers strawberry-flavored cake with a rich, creamy cheesecake filling. A topping made with crushed cookies is sprinkled over the cream cheese frosting for a truly impressive recipe.
Should I use regular or double-stuffed Oreos in my dessert?
Whether to use regular or double-stuffed Oreos in your dessert depends on your personal preference and the recipe you're making. Double-stuffed Oreos will have more cream filling than regular Oreos, which may affect the texture and flavor of your dessert.

Additionally, if the recipe calls for a specific type of Oreo, it's best to follow that recommendation.
Can I use Oreos as a substitute for graham crackers in a recipe?
Yes, Oreos can be used as a substitute for graham crackers in a recipe. However, they have a different flavor and texture, so the end result will be different.

If using Oreos as a substitute for graham cracker crumbs, crush them and adjust the recipe's sugar amount. If using whole graham crackers as a dessert base, remove the Oreo cream filling to avoid melting and texture changes.
Can I use mini Oreos in my recipe instead of regular Oreos?
Mini Oreos can be used in a dessert recipe, and if they are being used as a substitute for regular-sized Oreos, they can be crushed and used in the same way.

If using them as a topping or decoration, no adjustments to the recipe are necessary. Just sprinkle them over the top of your dessert or use them to garnish the edges.
Check out more great dessert ideas everyone will love: