Party Central
Best Birthday Party Themes for Boys
By
| Last Updated:
Summer is winding down and party time is revving up! Boys of all ages will love the birthday parties featured in this collection of themes. Discover creative ideas for back-to-school celebrations, a disco monkey theme that tweens will love, and then there's Spiderman, Neverland, fishing, LEGO, hot air balloons and vintage airplanes, a pool party and an Olympic theme. The decorations and dessert tables really impress!
---
See Also
---
MY FAVORITE RECENTLY DISCOVERED BOY PARTIES FROM THE NEIGHBORHOOD
1. ONE INSPIRED PARTY :: Modern Neverland First Birthday Party – Ever pictured Neverland in black and white? Talk about fabulous: this! From the Lost Boys' Hideout to the airy custom tent for adults, the party is awesome. I especially love the shipwreck bar.
2. ARRUMADINHA ATELIE via CATCH MY PARTY :: Boy's Hot Air Balloon – I'm impressed by the presentation of a great variety of treats here! From cookies-on-a-stick to tiny clouds to multi-colored balloon toppers, the culinary treats also serve up a lot of eye candy.
3. BASH, PLEASE via STYLE ME PRETTY :: Boy's Fishing Themed Birthday Party – No one would want to worm out of this party! Antler sheds, forest greenery, fishing bobbers, skipping stone favors and plaid camping blankets make this a boyishly handsome event. Themed cookies and treats look totally satisfying.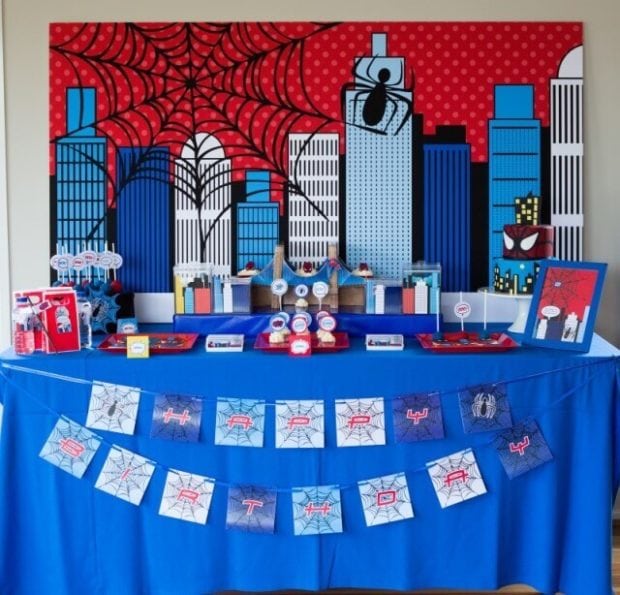 4. KISS WITH STYLE via ANDERS RUFF :: Spiderman Themed Birthday Party – The clean-lined graphics over the dessert table immediately catch attention and there are some nice details to notice, too. That bridge holding treats is one of my favorite elements.
5. GREYGREY DESIGNS :: LEGO Themed Birthday Party – Brittany always comes up with great ways to create themed elements for all of her parties and this one is no exception. The dessert table backdrop and birthday cake presentation are my favorite ideas at this celebration.
6. THE COOP via HOSTESS WITH THE MOSTESS :: Disco Monkey (Go Bananas!) Themed Birthday Bash – Think you can't use glitter and sparkle for a guy's birthday? Sure looks great at this party and the disco vibe is certain to appeal to those hard-to-please tweens.
7. ONE INSPIRED PARTY via AMY'S PARTY IDEAS :: Vintage Airplane Themed Birthday Party – Kids will be ready to soar when they see the kid-sized airplanes at this party! I'm smitten with the inter-continental food stations—so theme perfect with a great variety of food and décor ideas.
MY FAVORITE RECENT BOY PARTIES FROM OUR BLOG
8. SPACESHIPS AND LASER BEAMS :: Pool Party – One of our creative readers put together this bash for her twins—such colorful fun! Although the décor and refreshments are spot-on for a summer birthday bash, the cool ideas would work just as effectively at an off-site pool venue during cooler weather.
9. SPACESHIPS AND LASER BEAMS :: Back to School Party on a Budget – Who wants to spend tons of money on a party when they've just spent tons on school clothes and supplies?  Don't nix celebrating the new school year—just use these budget-friendly ideas to create a stylish event.
10. REBECCA via SPACESHIPS AND LASER BEAMS :: Golf Themed Birthday Party – What's the driving force behind this party?  Birthday boy's devotion to golf and Mom's devotion to the birthday boy! She aced it, too, with preppy colors, argyle patterns and polka-dots. Adorable!
11. DOLLED UP DESIGN via SPACESHIPS AND LASER BEAMS :: Olympic Themed 4th Birthday – Although the Olympic theme is especially appealing during the official games, bright primary colors, activity/educational opportunities and awards for all participants make it a timeless theme. This event is especially charming with the decorated guest table and food displays.
12. SWEET BAMBINI via SPACESHIPS AND LASER BEAMS :: Colorful Back-to-School Party – Kids LOVE to play "school" so whether you are celebrating a return to classes or you're looking for a fun theme, this Back-to-School event inspires. Colored pencil vases and a food display stand of wood rulers are perfect party supplies.
13. WHITNEY SMITH PHOTOGRAPHY via SPACESHIPS AND LASER BEAMS :: Hello Teacher Baby Shower – Here's another way to celebrate back-to-school, a birthday or a new baby—this one is sa-weet! Who wouldn't want to eat on a lunchroom tray and munch on warm cookies and milk? Show-and-tell is the most fun and chalkboard ideas are the best!
MY FAVORITE RECENT PINS
DON'T MISS THESE GREAT BOY BIRTHDAY PARTY IDEAS WE LOVE…