Best Birthday Party Themes For Kids
Table of Contents
Summer is winding down and party time is revving up! Kids of all ages will love the birthday parties featured in this collection of themes.
Discover creative ideas for back-to-school celebrations, a disco monkey theme that tweens will love, and then there's Spiderman, Neverland, fishing, LEGO, hot air balloons and vintage airplanes, a pool party, and an Olympic theme. The decorations and dessert tables really impress!
---
See Also:
---
Ever pictured Neverland in black and white? Talk about fabulous: this! From the Lost Boy's Hideout to the airy custom tent for adults, the party is awesome. We especially love the shipwreck bar.
This whimsical hot air balloon party is filled with details in beautiful shades of orange, green, and blue. The dessert table is set upon a backdrop of hot air balloon garlands and pretty patterned bunting, not to mention an impressive spread of sweet treats. From sugar cookies on a stick in the birthday girl or boy's initials to cheery marshmallow pops on patterned paper straws, the culinary treats serve up a lot of eye candy.
The ladies from Bash Please never fail to completely floor me with their events. This fishing-themed birthday party thrown together for an adorable little mister is no exception.
The party table was set with vintage plaid camping blankets smattered with outdoor finds and nods to camping life. Antler sheds, golden leaves, fishing bobbers, pinecones, and natural textures set the stage for a beautiful outdoor party perfect for a little fisher.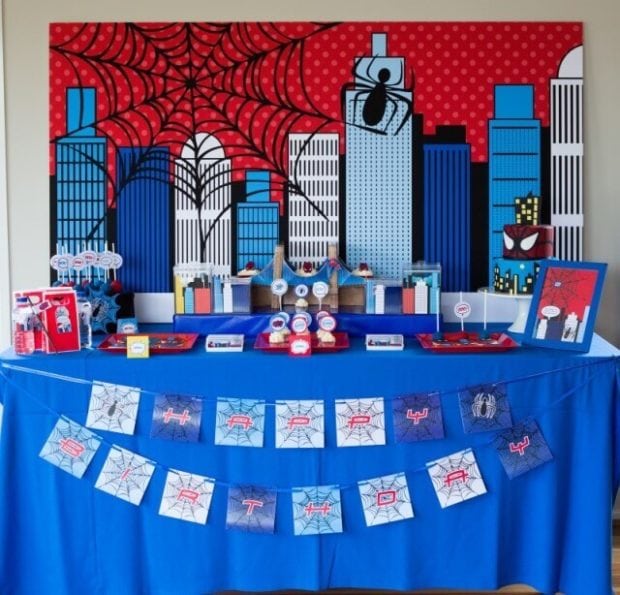 Clean-lined graphics and bold colors over the dessert table immediately catch your attention at this fantastic Spiderman-themed birthday party. The super details make a big impact at this party perfect for you little superheroes.
Our favorite parts of this party include the suspension bridge cupcake display, Spiderman-decorated sugar cookies, and an amazing fondant-covered cake that coordinates perfectly with the rest of the dessert table.
5. LEGO Themed Birthday Party
Legos are the ultimate favorite toy for boys across the world. Get inspired by the famous building bricks to create a Lego-themed party built for a building master.
The backdrop for this colorful dessert table starts with giant Lego bricks made from cardboard sheets and plastic plates. The table is adorned with a fun Lego tablecloth and a variety of Lego-themed treats. Check out the Lego brick Rice Krispies treats, Sixlets push pops, and flavored popcorn!
Think you can't use a little glitter and sparkle for a girl or boy's birthday party? Think again! This party planner created this Disco Monkey Birthday Party filled with vibrant pop-art polka dots, glittering disco balls, tons of bananas, and plenty of monkeying around.
Fun place settings included a bed of banana hard candies topped with cute monkey sunnies, and bold black and white patterned decorations adorned with banana cutouts.
We are in love with every single detail of this Vintage Airplane Party with food stations inspired by countries from around the world. It's a passport to yumminess! Guests arrived at the party through an airline counter and were invited to visit an airplane hanger complete with child-sized cardboard airplanes. All of the food tables creatively used vintage suitcases to display delicious sweets and treats.
One of our creative readers put this together for her twins. Full of vibrant and cheery decorations and a summer-inspired dessert spread, this party will have you grabbing your swimsuit.
The beach ball invitation is my absolute favorite detail, but also be sure to check out the eye-catching dessert table created on a budget! Hanging bright paper decorations, plastic blow-up surfboards, and a colorful umbrella set the scene for an awesome display.
Who wants to spend tons of money on a party when they've just spent tons on school clothes and supplies? Don't nix celebrating the new school year—just use these budget-friendly ideas to create a stylish event.
Green apple centerpieces, simple yet beautiful DIY apple plates, and fantastic cork tile place settings sit atop an adorable brown and white wrapping paper tablecloth. This party is still one of our all-time favorites!
Any type of sports party makes a fun birthday theme, but if you want to score a hole-in-one with your next celebration throw a golf-themed party!
Mom Rebecca styled this fun celebration in preppy shades of aqua and lime, mixed with argyle and polka dot patterns that really pack a punch. Just wait until you see the impressive golf-inspired fondant cake and cupcakes. Every detail of this party is perfect for a golf-loving girl or boy.
Although the Olympic party theme is especially appealing during the official games, bright primary colors, fun activity opportunities, and participation awards make it a timeless theme.
This event is especially charming with the globally decorated guest table and food display. Store-bought world flag decorations were amped up with gold star-shaped dinner plates, homemade gold medal treats, and a super cool Olympic ring display.
School bells are already ringing and what better way to celebrate a new year of learning than with a colorful back-to-school party!
This bright school-themed soiree was filled with smart ideas for decorations, themed treats, and arts and crafts activities. One of the things we absolutely adore about this party is the children's table display with hanging clear paint pails filled with school supplies. What a great idea!
Cleverly celebrate back to school or the arrival of a teacher's little one with this wonderful school-themed baby shower. The set-up is perfect right down to the last detail, including cafeteria lunch trays to eat on and chalkboard-inspired decorations!
A darling refreshment table was set with tissue poms and alphabet cards dangling from the ceiling. We also love the homemade runner that ties together all of the party colors.
Check out more great themed birthday parties: