Back to School Party Ideas on a Budget
Table of Contents

Planning a back-to-school party? Check out these party sources put together by the teacher's aides at Spaceships and Laser Beams:
Today I'm sharing a bit of personal nostalgia with you. I did this Back to School Party when Sam was just starting school. He was a little nervous. I was a lot nervous—although I tried not to show it.
Now that he has had successful school experiences, this back-to-school stuff is easy for both of us and it's fun to look back and remember our mutual trepidation.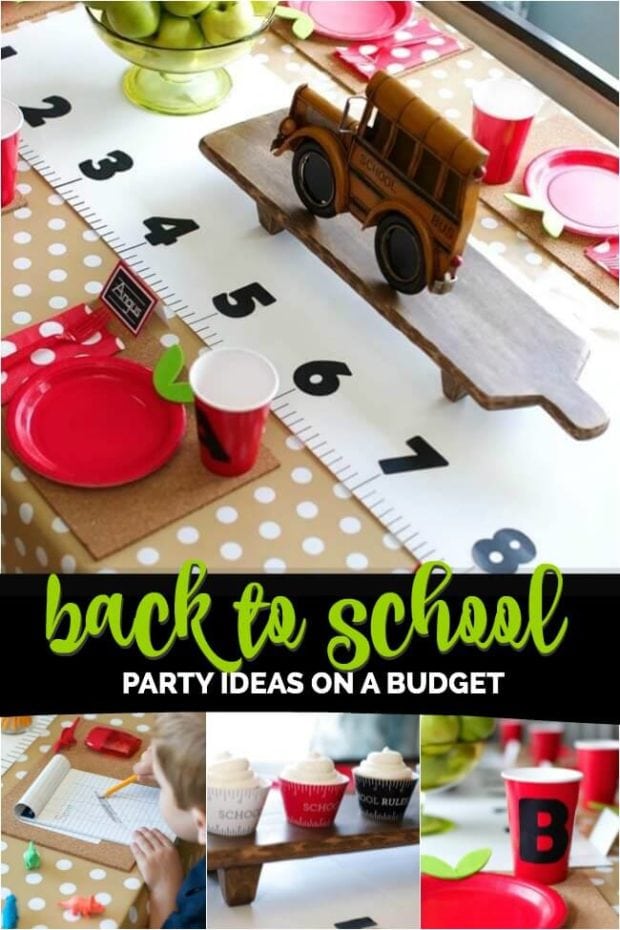 ---
See Also
Let them know you're thinking of them with these Back to School Lunch Box Notes.
---
My whole idea with this party was I didn't want to spend a lot of money. It's not necessary. This kind of party is about the experience and getting kids ready for school. I scoured the dollar store for supplies with a $50 budget and the kids had a great time (so did I!).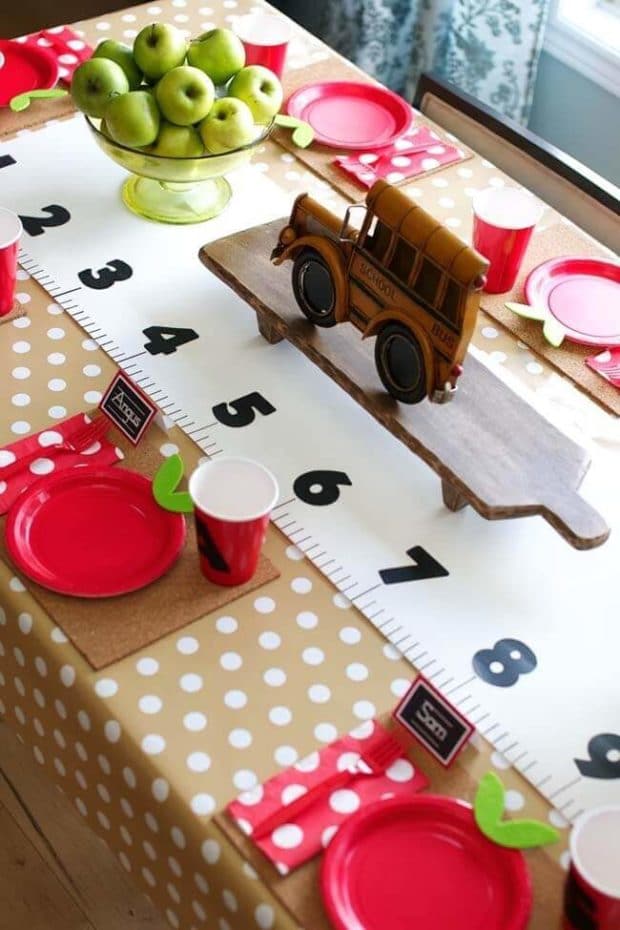 As you can see, I turned to the grocery store for centerpieces and bought two bags of green apples. They worked out wonderfully!
Even though I used paper plates, cups and napkins as well as plastic forks, I wanted to take them up a notch. I first did that by keeping them in the same color palette. But I also did it by customizing them. I turned the paper plates into apples.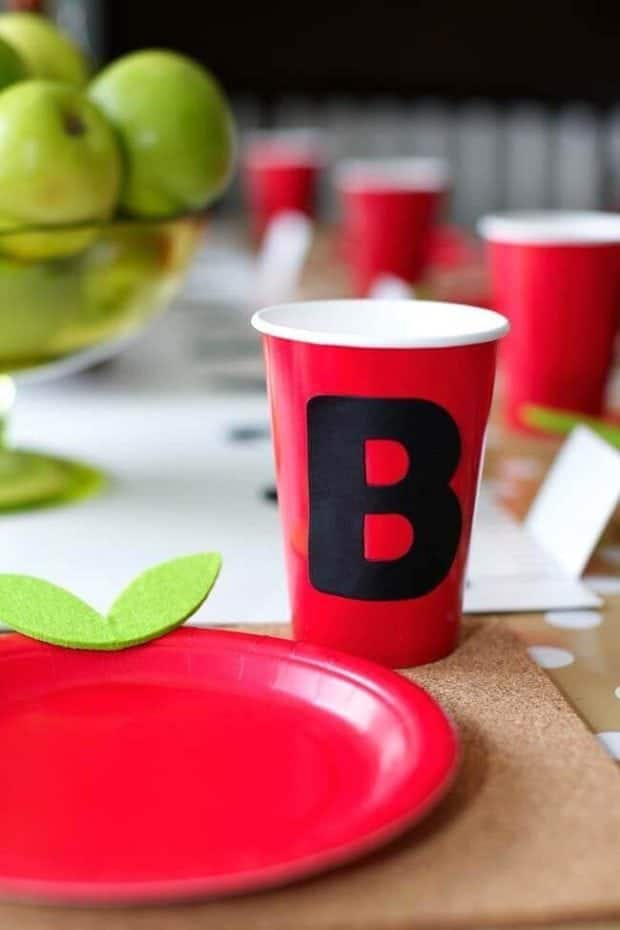 For the cups, I blew up large letters for each child's initial, cut them out and glued them to the glass. It also helped everyone keep track of their glasses!
Instead of placemats, I used cork tiles which were about 50 cents each. They are perfect to keep in place for craft time as well.
Here's a little secret: that cute brown and white polka dot table cloth is actually wrapping paper. I was getting sick of stains on nice fabric! I use it all the time instead of table cloths now. Waaay cheaper. There are tons of cute patterns and when you're done you just roll it up and recycle it.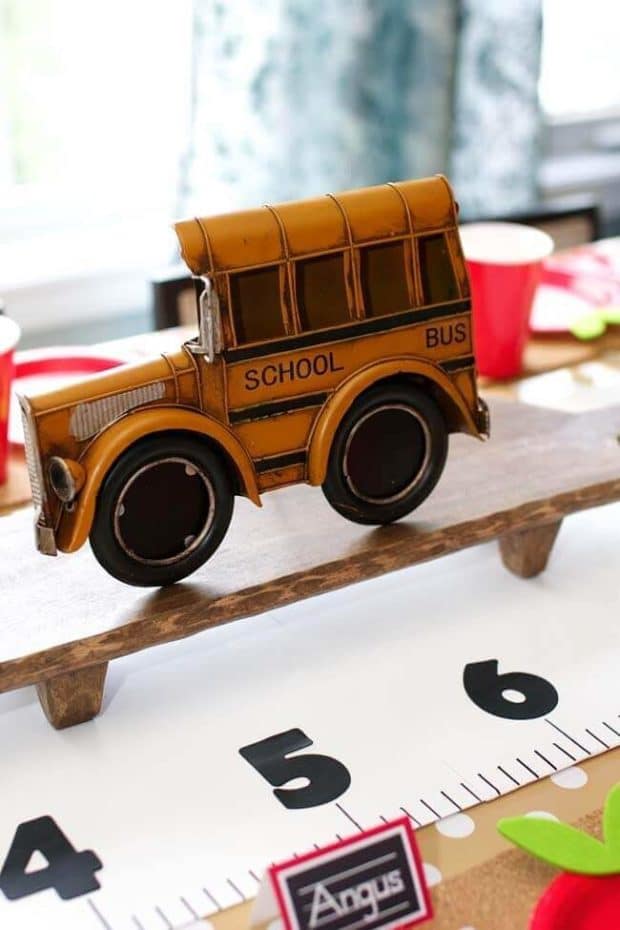 The table runner is also made of paper. You can find out how I made that big ruler here.
For the party itself, I focused the activities on things the kids would be doing at school. They had art class. The easels were from the dollar store (naturally) and came with the canvas. I ended up letting them run wild with crayons rather than paint because of the clean-up. I'm a wimp, I know this.
They practiced their math skills with a fun activity that involved counting green apples (yes, the ones used in my décor—this was a budget party!). I then cut some of the apples open so the kids could learn about the different parts of an apple during science class.
For recess I served vanilla cupcakes. They were store bought (shhh). You can get the cute school-themed cupcake wrappers for free.
As far as the menu, don't get fancy. Turn to your child's lunch box. I served sandwiches, apples and juice boxes.
I still think ramping up excitement for the new school season is a great way to begin the year and these timeless ideas will work for almost every grade level.
Planning a back-to-school party? Check out these party sources put together by the teacher's aides at Spaceships and Laser Beams:
(Amazon Affiliate Links)
Chalkboards
Tissue Apple Party Accessory
Back To School Fringe Banner
Back To School Chocolate Mold
See Thru Pail with Handle
Erasable Checking Pencils
Chalkboard Wood Frame
School Days Cutouts
School Bus
Paper Party Striped Straws
Bright Yellow Paper Party Favor Bags
Party Decoration Kit
School Days Whirls
Classroom Supplies
Be sure to check out more back-to-school ideas here: