19 Incredible Nerf Birthday Party Ideas
Table of Contents
Prepare for battle…a Nerf battle, that is. Arm yourself with these 19 incredible Nerf birthday party ideas, and you'll be on target for one awesome Nerf-inspired celebration. Find suggestions for creating a Nerf cake, cookies, push pops, and an entire dessert table. Select from several great ideas for fun Nerf-inspired party favors and games. You can even learn how to DIY your own Nerf battlefield. How cool is that?!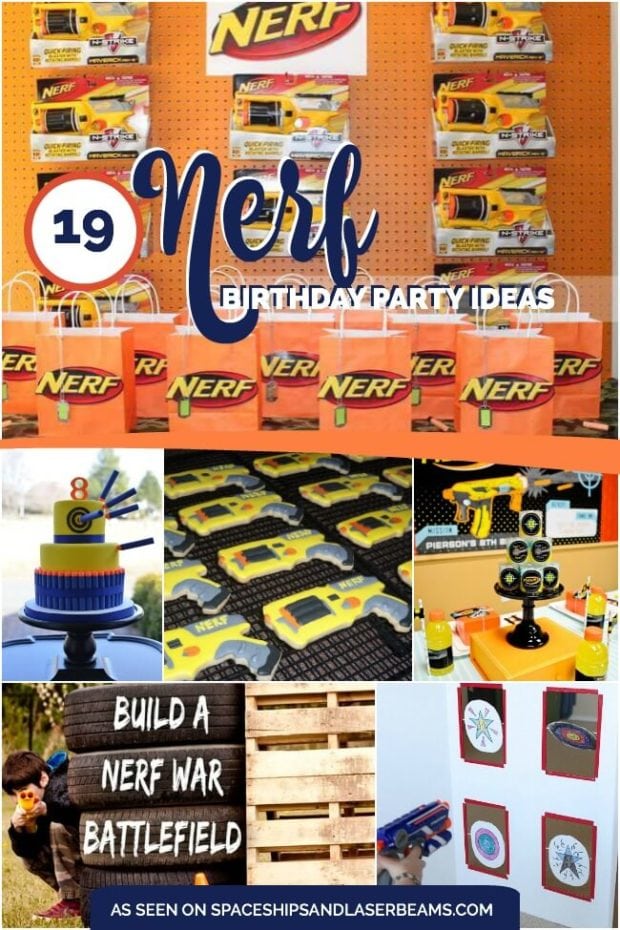 ---
See Also:
---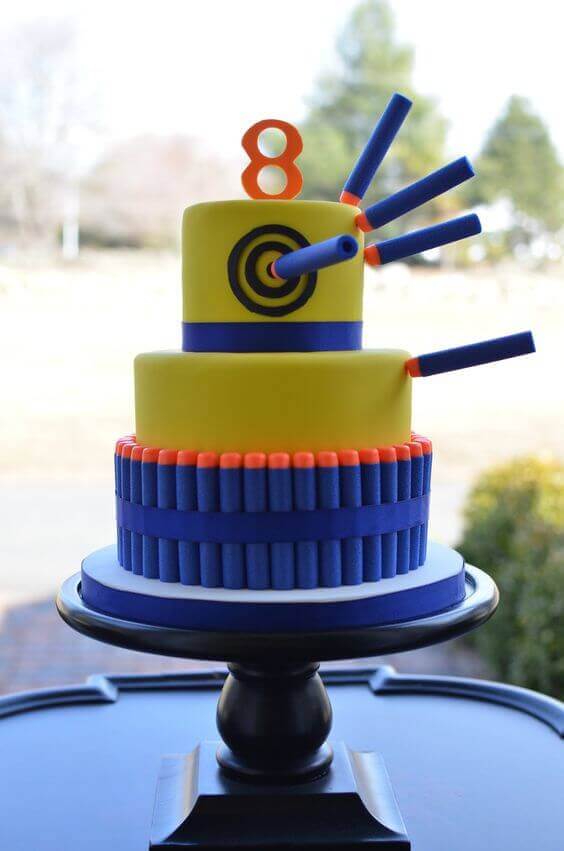 Ready. Aim. Fire. This Nerf cake is perfect for a Nerf party. We love the simplicity of the 3-tiers covered in fondant. Plus, how cool are the Nerf bullets surrounding the bottom tier? We especially love them protruding from the cake like they were shot toward the fondant target.
If you want your Nerf party dessert table to hit the mark with your party crowd, consider making these Nerf cookies. They look just like the real Nerf guns, but no misfiring with these edible guns. Who doesn't love a delicious sugar cookie? The detailing with royal icing makes these Nerf cookies all the cooler. You could even package them and send them home as a party favor!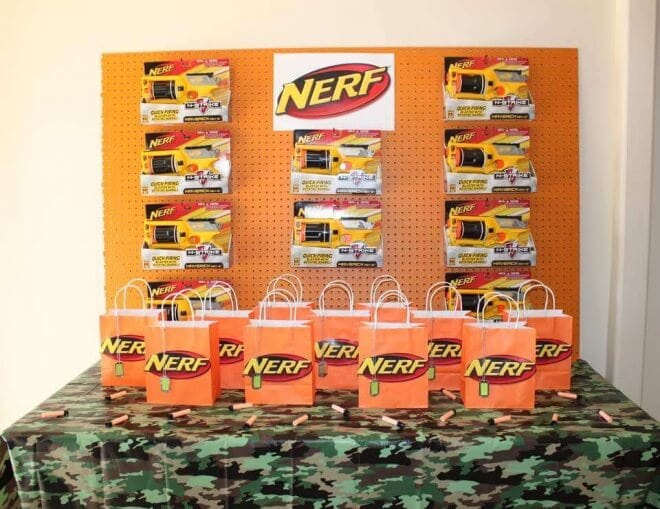 When camouflage and Nerf collide, you get an exciting Nerf war party theme. It's all the fun of Nerf, paired with the intensity of battle. You'll love the camouflage decorations (backdrop, table cover, cups, etc.…) that bring in that Nerf battle vibe, while the traditional orange, black, and yellow colors of Nerf guns and bullets are incorporated via the food and dessert table offerings, and party favor bags.
Target intended Nerf party guests with these ultra-cool printable Nerf party invitations. They can be personalized with your guest of honor's name and party details. Then, just print them from home or your favorite print shop prior to delivering them to your party guests.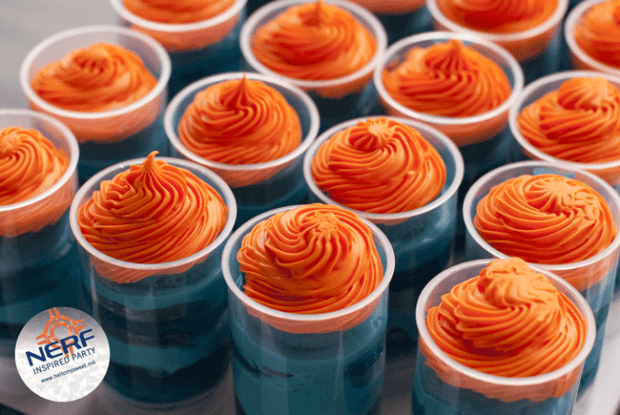 5. Nerf Gun Push Pops
Add this super cool Nerf dart push pops recipe idea to your Nerf party. You'll need push-pop containers and stand, blue raspberry Jell-O, vanilla pudding, vanilla frosting, orange, and blue food coloring, and blue-tinted mini whoopie pies. Then layer the cake, pudding, and frosting which results in a dessert that looks very much like the Nerf Elite darts.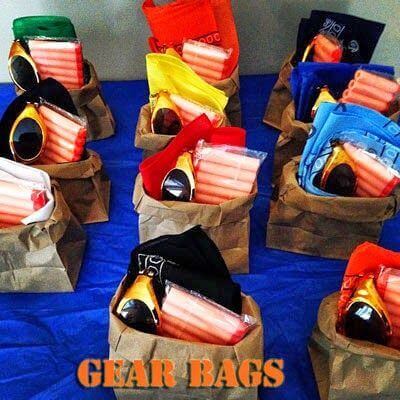 Guests can gear up for all the fun they are bound to have at your Nerf party by way of this awesome party favor idea. Make Nerf party gear bags. These are created by rolling down brown grocery bags to give that rustic look. Next, fill them with essential gear for a Nerf party. Ideas could include, a bandana, packs of Nerf bullets, a Nerf gun, and protective eyewear. Guests can use their gear for the party and take it home as a thank-you from the guest of honor.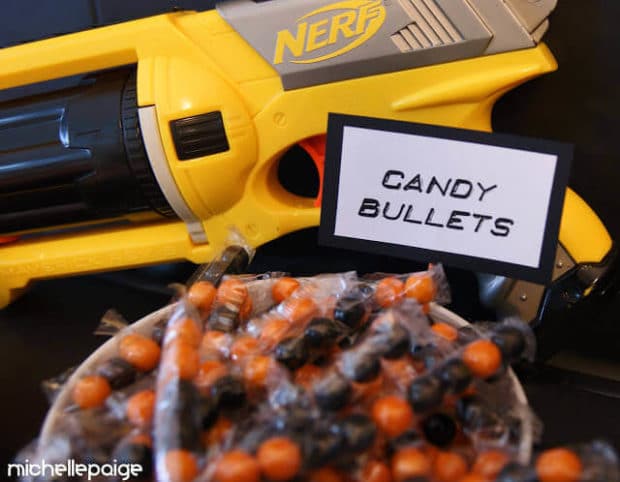 Candy makes for an easy addition to any birthday party, but is especially great for a Nerf party. Be sure to get creative with the labeling of your candy, as well as the packaging. A few examples featured here, include gumballs labeled "sticky bullets" and Sixlet candies labeled "candy bullets". Dipped marshmallows are cleverly named "bullseye bites".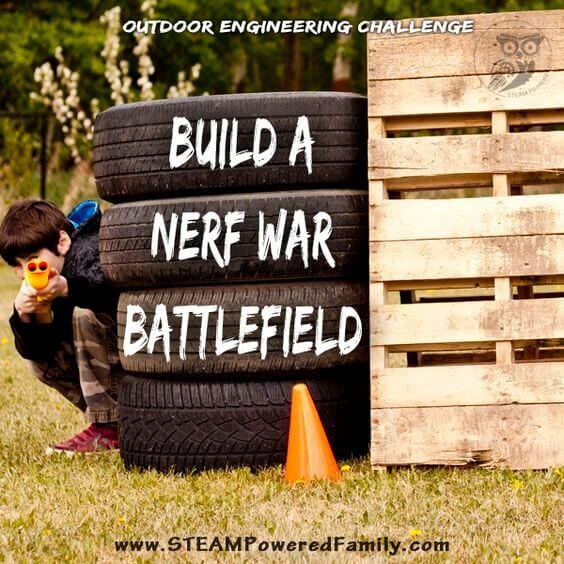 You'll be the hero at your child's Nerf party if you DIY this awesome Nerf War battlefield. It's an amazing way to upcycle materials and provides an incredible engineering challenge for kids. Plus, just think of all the playtime that will result. Items needed to construct this Nerf war battlefield include things like wood pallets, old tires, and long screws.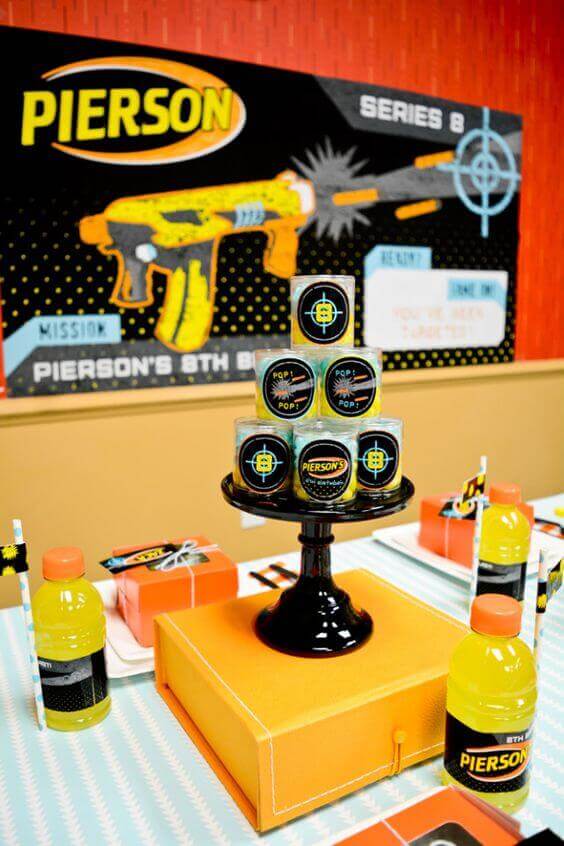 Coordinate the details of your Nerf party using a printable invitation and decoration package from Anders Ruff Custom Designs. There's everything from a printable party backdrop poster, custom cake toppers for embellishing a store-bought cake, personalized beverage wraps, party favor tags, party flags for straws, thank you tags, and customized gum and candy wrappers. You'll love the tips for quickly setting up decorations for a coordinated party in less than 30 minutes.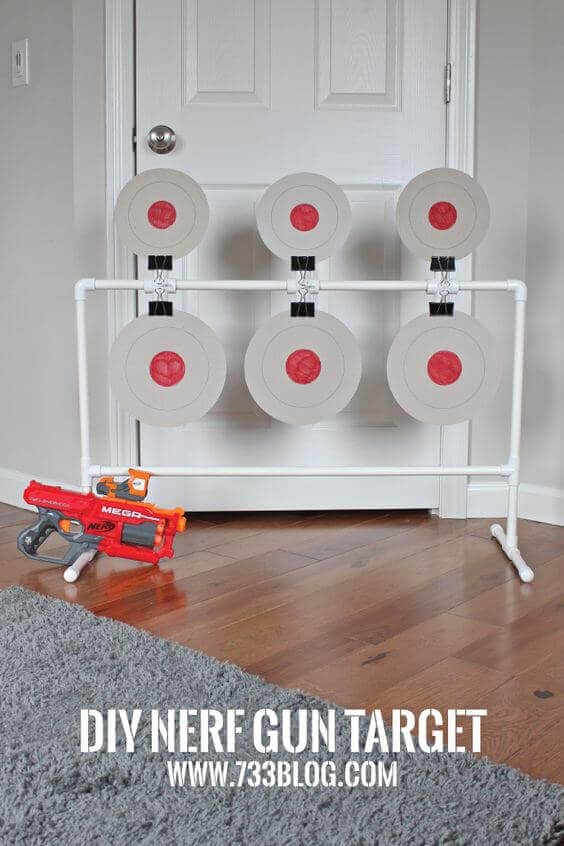 Get ready to create something epic for your child's Nerf party! This DIY Nerf gun target idea is so cool. To create the frame for the targets you'll need some PVC pipe, elbow connectors, tee connectors, and end caps. The actual targets are made from chipboard and Gorilla glue with binder clips used to fasten the targets to the PVC piping.
Engage guests at your Nerf party in a Nerf wars battle. You can DIY the battlefield by getting creative with upcycled wood pallets, stacked tires, water barrels, and wood. Adding coordinating paint and vinyl Nerf logos to the various battlefield features can really make the party come alive. Don't forget to add targets all over the war zone for shooting practice.
12. Nerf Snack Food
Kids love snacking on creative food at a party. When throwing a Nerf party, make these genius veggie Nerf bullets. You'll just need baby carrots and olives. Just cut the olives in half to create the tip of the carrot bullet. Genius, right? These are sure to be a hit.
13. Nerf Party Table
Set up a Nerf party table perfect for refueling your party guests. Use plates, napkins, favors, and décor that coordinate with a Nerf-inspired color palette. Add fun bullseye wraps to napkins and utensils, and beverage wraps to colorful drinks. "Refuel Fluid" sounds so much more fun than Gatorade or water, doesn't it? Set packages of Nerf bullets, protective eyewear, and a Nerf gun by each plate to create excitement, but also function as a party favor. Add colorful Nerf-inspired cookies, jars of colorful candy, and a cake embellished with Nerf printables for guests to enjoy.
With this easy DIY Nerf dart belt hack, kids can keep up their arsenal of darts for easier loading and reloading during a Nerf War. You'll love that no prep time is required. Just grab a roll of packing tape and loosely wrap some around your child's waist (with the sticky side out) to create a holder/belt for their Nerf bullets.

15. Nerf War Party
much fun will be had by all at a Nerf war party. This party boasts an amazing dessert table, with fabulous DIY ideas. Bullseye sugar cookies, a chocolate explosion cake, Nerf pops, target cupcakes, energy juice, and plenty of color-coordinating candy were just a few of the not-to-be-missed details.
For this fun Nerf party game, you'll be making a tissue paper Nerf target. You'll need tissue paper (yellow or orange would match best), black paper plates, and a black frame. Additionally, you'll need a paper punch, tape, and string to finalize construction. Begin by cutting out the center of the paper plates. Cut squares of tissue paper that will cover the hole and tape them to the back of your plates. Punch holes from which you can attach string for hanging from the frame. As targets are hit, replace them with more tissue paper.
17. Nerf Target Pizza
Get creative with your Nerf party food. You can DIY your own Nerf target pizza by getting creative with the placement of your sliced olives and pepperoni. We are pretty sure all eyes were on this target.
Aim high when styling a Nerf party dessert table. This one boasts a smorgasbord of orange and yellow candy for guests to enjoy. Little take-out boxes are in piles for guests to fill with their favorite picks. Check out the focal point of the Nerf-inspired cake. The fondant bullets and target are awesome.
You can get the look of a designer cake for less. This DIY Nerf cake was created on a budget. Printable cake toppers were added to sucker sticks and inserted into the top of a store-bought cake. A personalized name logo was added to the front. The base was decked out in orange gumballs. We think the cake hits the mark, don't you? Use it as inspiration for DIYing your own designer cake.
Be sure to check out more kid's birthday party ideas here: